Those who thought winning Six Nations matches alone was sufficient to make Stuart Lancaster the right man to manage England are now, I assume, preparing to denigrate him should England lose the third test in Port Elizabeth.
You can't take the results route through the mediocrity of one tournament and then change tack the moment the team face stronger and superior opposition. Those who cheered his appointment on the basis of results will be rewriting their positions with a more cutting angle ready and waiting if England are beaten, let alone badly in the final test.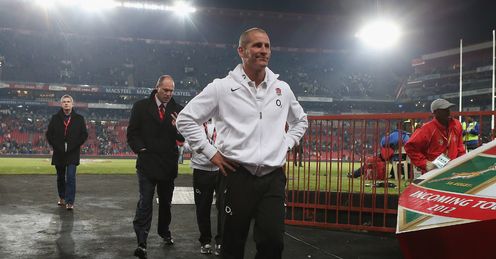 This series, done and dusted after two tests, reiterates why Lancaster's appointment was a hurried one; why no long term decision should have been made until England had experienced the greater and lesser challenges of the test arena.
I was amongst the sceptics but not in the majority who looked simply at the sequence of results. After four Six Nations wins nothing of substance was known and similarly after a 3-0 test series loss (the odds are long, Port Elizabeth is the city with the best win ratio for the Springboks) Lancaster will not automatically be dismissed as the wrong man.
The critics who base judgements and support for this regime merely on results are in a bad place.
Stuart Barnes
Quotes of the week
It was always going to be a tough series but a rotten performance and victory in Scotland has as many positives for some as an encouraging performance and loss in South Africa. The critics who base judgements and support for this regime merely on results are in a bad place.
England will not be defined by the result on Saturday. Lancaster will definitely be in place for the foreseeable future. But it is the way he reacts to the two nil deficit, not a win, loss or draw that will indicate whether or not he is the right man for the job.
To date, even though England have been beaten twice and failed to put away weak midweek opposition, his credit rating is ok on tour. The deficit was his failure to send out a team that was psychologically as well as technically up for Ellis Park. There is a sense that everything can be assimilated managerial style when inspiration and a call to arms are required. That seemed lacking as did some of the cuteness needed to check the Springbok bludgeon. It is not easy and on Youth Day, a day of great political significance in this country, England looked naive on the field for forty minutes when I suspect much of the naive nature of that half was born off it. It's just a hunch and it is one Lancaster's supporters must live with; this is not a hard- nosed management. It is fledgling and as an inexperienced team has to learn lessons so too an inexperienced management.
A win in Port Elizabeth would put England back on track although we await a blossoming of the attacking game. It has not been easy for England to make the transition from worthy defenders to cutting attackers and Mike Catt has not yet proved his credentials for the long term post. Whether that is the limitations of the English players going forward or Catt not quite capable of stepping up to test level is an unknown. It has not been easy for my former Bath colleague but in a brutal world he probably needs some sparkle in the final test to make the attack position his own.
The defeat and 31 missed tackles makes Andy Farrell strong favourite to return to the fold although it must be remembered that Farrell has never set out an England defence against a team with the Springboks power.
Selection decisions
Back to Lancaster; he impresses with his open minded thinking and everyone within the camp has nothing but good words; yet niceness is no proof of quality. The one area where he really stands out is selection. Martin Johnson prevaricated. Lancaster makes changes but he makes them with a clear idea as to why.
If anything illustrates the importance of selection it is the scenario he faces as I tap out high above the Johannesburg smog level on a Tuesday morning. He has already made the decision to award Dylan Hartley with the captaincy despite Hartley being up against the most destructive hooker on the planet in the shape of Bismarck Du Plessis.
In the second row the assumption is that Tom Palmer has been chosen over Mouritz Botha (based upon Botha's presence on the midweek bench) but now it gets hard in the back row. Chris Robshaw has been outstanding this tour, as a captain and an open side. He has made his critics look daft. His broken thumb is a colossal blow to the team. What does Lancaster do?
He is clearly and properly giving Thomas Waldrom a start but the flanking positions are difficult. Tom Johnson had as anonymous a second test as he had a fine debut. James Haskell has been removed from the starting fifteen for the midweek match and named on the bench. Could be meet fire with fire and add some ballast to an England pack that were frazzled for the first half? Phil Dowson played well against the Barbarians and is a smart man and team leader but can he match young Marcel Coetzee for speed and power on the flank? With Carl Fearns enduring a poor run of form and out of contention, Lancaster has to get his balance right. Ben Morgan seems to have been temporarily discarded; the right choice on form or panicky premature?
Affairs are as complicated behind the scrum. Ben Youngs was outstanding Saturday but he too is injured. Danny Care's sharp breaking game is a like for like replacement and Lee Dickson's start today suggests Care is back in favour but Dickson's guile is a viable option and it could be he plays today because he needs game time and with the match on a Tuesday he has another day to recover and make the test line up.
Toby Flood simplified the fly half debate which is just as well because the back line is a tangled series of options, most of them with trade-offs. Manu Tuialgi could be inside centre (he should not, he should, in fact be dropped. His form is average and his biggest asset, power, counts for less here), so too could Owen Farrell who could add extra football skill in a position for which he is currently more suited than 10 at this level. And then there is Brad Barritt. Back after injury but a player of extreme bravery and equal limitations. The long term move is to jettison him and focus on the missing creativity the short term worry are those 31 missed tackles at Ellis Park and the defensive problems.
If he gets one centre shirt will Farrell get the other, will Tuilagi move back to 13 or will Jonathan Joseph start? I would love to see the Irish centre left in his regular position with perhaps Farrell at 12 but this is an extraordinary hard selection.
Ashton will play on the right wing but as for the other two positions he has many options. Monye or Strettle, mabye even Tuilagi bashing off the wing? Maybe even Ben Foden on the wing with Alex Goode at fifteen rekindling the successful experiment of two full backs and one winger against the Springboks kicking game?
Deny the doubters
For Lancaster and his management team to get all these calls right would be astonishing. It is possibly the only way they will win the third test although South Africa have injury and absentee worries themselves. If they get most of the calls right and send England out fired and thinking and lose narrowly that will not be the end of the English rugby world; yet start as slowly as last Saturday and opt for a team without creativity in the middle, finishing power wide and the right balance possible in the back row; well then the doubters will be sadly looking right.
England DO NOT have to win to stave off some hyperbolic calamity but they must compete and they must improve on the first fortnight of this tour.
PS - Off to Potchefstroom for the midweek game against the SA Barbarians North and expecting a tougher game than last week's; both in training and on paper this team looks better. Collectively England will need to be better than last week or there could be real problems.
Christian Wade on the right wing is of long term interest. Ugo Monye on the left is part of the difficult selection process for this week, Lee Dickson needs to dominate the game and Tom Youngs starting at hooker is another example of Lancaster at his brave best, selecting for the future and not just the moment. It will be a riveting day's rugby.
Comments (18)
Gareth Davies says...
I find it difficult to comprehend that so many officials have differing interpretation of the same rules. How do players know which interpretation to play? It is time interpretation of the rules is uniformed and consistant with all officials and their 'personal' interpretation left in the locker room. It is now a professional sport but with amaturistic officials with their own version of the rule book.
Posted 08:39 23rd June 2012
Sam S says...
What really impresses me about the Springboks was the way they attacked the breakdown, they SMASHED the competing England players out of the way and set a massive statement right at the start of the game, the collision was well and truely won by the springboks and ultimately that won them the contest. Every time one of the south african players took the ball into contact, they got past the advantage line and Bismark du plessis and william alberts licked there lips at the english defence going backwards and had fantastic games. Im very glad to see James Haskell starting the 3rd test because he will bring some physicality and aggresion to the english pack and look to nail some big springbok back rowers coming round the corner. i am disappointed to see Mouritz Botha not starting the 3rd test, i know he wasn't fantastic in the 2nd test, but he does bring some grunt to an under-performing pack, and does put in some big hits and hits some rucks. the backline is struggling big time and is desperate for some creatvity, none of those players are not good enough, the management just need to figure out the right combinations, personally i dont think brad barritt will cut the mustard against the springboks, he is fantastic on defence but he was an average player when he was in south africa and he has a limited distribution game and creatvity. i would love to see farrell and tuilagi in the centers with flood steering the ship, he might be able to get this back line moving in the right direction and over the top of some springboks who get in their way. ultimately it would nice to see the english pack front up some more and attack the breakdown with some vigour and passion, so the backs can get some front foot ball. last note, the fetching work of chris robshaw this serious has been brilliant, the whole rugby world has been impressed by his foraging, massive problem that he won't be there to lead the boys out.
Posted 00:39 22nd June 2012
Nick Creaser says...
It's no secret that England have no idea what to do with the centres, other than have Manu Tuilagi in there with someone else. There still aren't any stand out candidates (Barrit doesn't create nearly enough in attack, excellent in defence though). Do you think England could be better off in trying to make their own centre by converting another player to a centre? I think Foden would have potential there, has all the necessary requirements. Handling, kicking game, speed, defensively sound. Not like this move would mean playing a weaker full back because Mike Brown is arguably better than Foden at 15.
Posted 22:45 20th June 2012
Damian Mccoy says...
Trenton Stretch I think you're being slightly blinkered here. 1st Bok try should've been a reset scrum. 2nd Bok try 50/50 TMO decision. 2nd England try 50/50 TMO decision BUT was a definite penalty try anyway. As the try was awarded it should've been a penalty restart to England. SA were better in most areas than England, but when officiating goes against a team that much in the first 10 minutes then it's always going to be an uphill climb. Performance of the weekend has to go to the Irish. That's the closest we'll ever get to getting a result in NZ. BOD is a legend.
Posted 17:04 20th June 2012
Colin Jones says...
To Gavin Hancocks, I agree both teams had to deal with the ref and his inconsistancies but from my point of view we tended to be quicker with the whistle to penalise England but I guess along with Trenton Stretch we could argue these points. I am actually in agreement with what both of you have said. Yes Lancaster does need time and yes SA redevelopment is clearly better than Englands and that would also bring in age old debate about northern v southern hemisphere rugby...but like I said England need to man up for the last test and concern themselves less with the techical aspects but deal with SA physicality...Bismark Du Plessis is a man who shouldnt be given an inch!..........I actually back Lancaster but again like I said previously he cant be judged just on this tour as its too soon. On a personal note however I will close by saying I really do not like Alain Rowland anyway as in previous games (the 2007 final for example!) he again did us no favours!
Posted 12:34 20th June 2012
Trenton Stretch says...
To Colin Jones and those that say the ref was biased and that , if not for him the scores would have been closer.' What ifs' do not detract from the fact that overall the Springboks, despite been in a massive rebuilding phase and trying out new pl;ayers and positions have dominated England in physicality, defence and attack. One of Englands tries was scored from a lineout whilst one of our key lineout players lay injured with a neck inujry. The ref played on but should have called time for a replacement..Another try was dubiously awarded to England with no proof of it ever been grounded or been over or even on the line. Supposed Bad calls should be looked at both ways dear Mr jones and on that basis the scores are more than even in my opinion. England only recovered in the second half because of Bok complacency and a number of forced changes to our side. Come on England supporters , rather than complain about supposed bad refs, look at what you can do to improve your game to reach our claerly superior level of play. More attacking would be a good starting point and settled positions would be another. It seems that England dont have a clue who the best player in each position is and there is no consistancy in selection. How do you expect your players to settle and perform. I would have a good look at your coach, he seems clueless.
Posted 11:22 20th June 2012
Richard Forbes-simpson says...
There is no shame in a brand new side and a brand new coach only losing narrowly to the second best side in the world on their home turf. In the years gone by, the northern hemisphere teams have always suffered heavy defeats in their summer tours but this year the gap is narrowing. To criticise Stuart Lancaster on the basis of 2 narrow defeats and assume everyone will turn against him if he loses the next test is just ridiculous. We are lucky to have him and already England shows far more promise than the England side that started with Martin Johnson (or even Brian Ashton). Have a little patience!
Posted 10:17 20th June 2012
James S says...
creativity in the backs being the ongoing problem could be solved by Anthony Allen. You have rated him as one of the standout midweek players and his general season form allowed his club to play some great rugby. I think he is the closest type of player we have got to Conrad Smith, able to take pressure off fly half and create space further out. Worth a go in the absence of any great success with the incumbents?
Posted 10:15 20th June 2012
Rugby Mad says...
It's not often that I agree with Stuart Barnes but.... Lancaster was a rush appointment & is not up to the job that he was given on the back of several fortunate wins in the six nations. Andy Farrell MUST get the job - he brings a killer instinct & most importantly an incomparable desire to win which seems to be lacking amongst those who are happy with mediocrity.
Posted 18:31 19th June 2012
Gavin Hancocks says...
Colin Jones seems to forget that both sides have to contend with the ref. At least one of England's tries were scored when SA were down to 14 men with Kruger lying on the floor having been injured before the penalty was awarded, and receiving treatment while it was being taken meaning time should have been called until it was clear what the situation was. This England team are growing as is Lancaster and his team. Just give them a chance.
Posted 17:59 19th June 2012
Ash Wesley says...
What has stood out for me is that England just don't have the players to compete with the SH teams. Sure we have a couple of individuals who have shown that they can perform at the required level, like Cole, Robshaw, Youngs, Ashton and Foden, but that's 5 from a squad of 40. When you look at how quickly youngsters like Coetzee, Etzebeth and Lambie have adapted to international rugby (see also O Connor and Pocock for Australia and Dagg and Smith for the AB's) , it's clear that we are producing more limited players. It also exposes the folly of the excuse that England have a young team - the SH, especially SA and NZ have a conveyor belt of talent and are constantly re-stocking. Someone like Tuilagi for instance looks the part in the slower paced competitions of the NH, but take him south where his size is no longer a novelty and his lack of skill and speed is exposed. Ditto for Hartley, Farrel, Johnson, Morgan, Farrel, Barrit, etc. How do we overcome this? Surely, we should be embracing what the England cricket team has done and employ the best coaches, regardless of nationality. We need people who know what it takes to win and know how to get there. I can't help but feel that we would be stronger for having the likes of Mallet, Smith, Kirwan, etc. involved. All we have now is a bunch a rookies, coached by a bunch of rookies. The constant excuse that we're building for 2015 belies the fact that all the SH teams are building as well and when you look at the CVs of Meyer, Deans and Hansen, it's clear that the SH are in far better shape to be successful than we are. For an example of what I'm talking about, we need look no further than Warren Gatland's influence on Wales. Since Woodward, we've thought thought and behaved like a minnow and we've gotten the results to match.
Posted 17:27 19th June 2012
Colin Jones says...
I dont think it is question of who should be selected over who. In the 2nd test we were not only up against a physical strong 1 to 15 SA side but we also had to contend with the Alain Rowland show!....SA deserved to win hands down, but I believe 2 of the SA tries given, where not trys. The ref conveniently was never in the right position to see the scrum being pulled down or the knock ons etc yet he was for England. I do think this would of changed the complexity of the game and as England proved in the second half, they had a fighting spirit and competed well at times. I think the score line would of still shown a SA win but the margin would of been a lot closer had it not been for the 2 none tries. That aside moving into the final test. Tactics need to come second and pure heart and determination from the start needs to be at the forefront and I believe whoever puts the shirt on to start must demonstrate this. For my Lancaster needs to be bold to make the changes earlier if needed if players cant demonstrate this. The series is lost and I for one didnt expect us to win but I can honestly say it has not been an embarrassment and we need to allow Lancaster to prove his worth. The internationals in the autumn should do this. This I think is were he needs to be judged, this tour came too early and he is still "experimenting" which in to my mind is a refreshing change.
Posted 16:20 19th June 2012
Yo Mama says...
The thing that the English scribes must remember is that the Roses are only narrowly losing, while being very competitive, to the second best side in the world. Woodward was awful when he began with a bunch of awful players. He was stuck with and was allowed to develop his player's skills and his team's playing style. I believe that the English are lucky to have Lancaster. If they give him the room and support, I suspect that we might have to tolerate another Northern Hemisphere RWC winner.
Posted 15:36 19th June 2012
David Richardson says...
With Robshaw now sidelined, has the team now been further exposed for not taking a specialist openside? Lancaster has said himself that the team needs a 7, but despite taking a 40+ man squad he elected not to take Armitage or Saull (and no doubt there are other candidates i've over looked)
Posted 15:06 19th June 2012
Nick R says...
Hi Stuart, far from entering into a discussion on the quality of Englands performance i'd like to raise a point which for me is incredibly obvious but is something that England have not done, which has compromised their chances of winning. England required 9 points and with just over 2 minutes to go earned a penalty. The penalty was kickable but the team kicked the ball into the corner to go for the try. Surely the intelligent thing to do would be to get the quickest score first and then hope to get the ball back into play. In my opinion, once the ball was kicked for a lineout the game was lost as the time taken to create and score a try, plus take the conversion, left no time to restart the game! Its frustrating to see such clouded thinking. I would love you to raise the point, because you will be more bale than i, to draw this to the attention of those that matter!! The same was true when Wilkinson did the same against Australia a couple of years back at twickenham. N.B. Allain Rolland is consistent only in his controversy. He seems to be stubborn to the point that he makes deliberatly provocative calls, justifying them after the event. i'd much rather an 80 mins passed without having to talk about him more than the players. Thoughts?
Posted 14:26 19th June 2012
Tristan Woodford says...
I think any comment against stuart lancaster is a narrow minded one. Stuart is a great coach who is building towards the RWC in 2015. We were not meant to win this series but give the young inexperianced players a taste of playing southern hemispher teams, to build on and get better from. I believe even Woodward had his critics in his first year as england coach, but got us the world cup. Allow lancaster the same time, and he will get us there.
Posted 12:54 19th June 2012
Ruaidhri Duddy says...
I think Wales have been thoroughly overrated this year they got lucky in the six nations and only performed well in one game (ireland) and then got beaten by a highly weakend Australia side yet i still don't think they have been taken off their high horse quite yet, maybe a thrashing from Australia will do the trick. Ireland were good on the weekend but not fulfilling their potential, still not reaching the performance aqgainst clermont in bordeaux. Thoughts?
Posted 12:54 19th June 2012
Nick F says...
Im not sure what to make of the Strettle/Moye Selections? I see them as fairly similar players, good spped, comitted and good finishers but they seem relatively unable to actually create something for themselves. Why not give Wade a go in the Test team? We cant lose the series because of a missed tackle from him so i dont think his defensive frailties should be taken into account too much but as a future star he should be given a chance as we seem unable to create anything ourselves why not give someone who can make something out of absolutely nothing...
Posted 12:02 19th June 2012