It is way too early for any judgements but from the three games I have seen to date (9am Monday morning as I write and Harlequins v Wasps, Exeter v Sale and London Welsh v Leicester have been enjoyed in varying degrees) but that seems one of the better first weekends of Premiership action.
In past years there have been some spectacular hits and grind and grit in abundance but the skill level has been close to invisible. Teams have concentrated purely on conditioning and the ability to give and take an accurate pass in front of a team mate became a task beyond professional rugby players.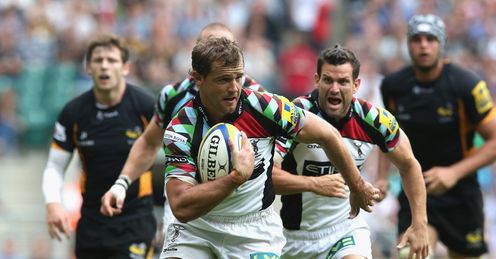 And all too often that starting point has proved the foundation for what has followed with durability defence and guts monopolising the Premiership. Don't think I am knocking these traits. They are fundamental parts of the sport. No team is going far without them but too often teams off the pace have settled for conservative rugby and a game based upon negativity; stopping the opposition before playing.
In past years teams have concentrated purely on conditioning, and the ability to give and take an accurate pass in front of a team mate became a task beyond professional rugby players.
Stuart Barnes
Quotes of the week
A little bit like the argument about newspapers. Do they influence the public thinking or do they reflect the wishes of the public, so too with the clubs and the English national team. I suspect, like the newspapers/public discussion the truth is somewhere in the middle.
England has been talking an attacking game without looking like delivering but if the players are not practised in the basic skills of offensive rugby maybe it is too much to expect them to step it up at Test match level.
If this is the case then the autumn internationals should see a more ambitious England because the early evidence was extremely positive. The key games were the Harlequins and Exeter wins where off-loading was central to the events. Both Wasps and Harlequins (the latter in particular in the second half) found the off-loads to lacerate the opposition defences. It was something the champions worked hard on last campaign and they remain the standard bearers for this season.
However they are not the only side upping the off-loading skills and quick rhythm of rugby; Dai Young has recruited Shane Howarth to add a Kiwi element at Wasps and the influence was clear for all to see. Neither coach will have enjoyed the sheer number of tries conceded but we neutrals should relish the fact that good attack will always have defensive coaches tugging at their locks.
Exeter impress
In Devon, Exeter were unrecognisable from the admittedly multi-faceted team of last season. The range of their attack was impressive with the off-load through the tackle and the rapid movement of the ball from the point of contact preventing Sale from defending on an organised front foot. The result was six tries from all angles. Sale was not good but Exeter was excellent. A word for Ali Hepher, very much in Rob Baxter's shadow but the former Saints Heineken Cup winning fly half is doing a fine job with Exeter's attacking game.
Whether they will emulate Hepher's efforts and win a Heineken Cup this season might be a hurdle too high for Exeter but as I left the press box on Saturday night I was - and remain - convinced that they could provide one of the stories of the pool stages when they play Clermont Auvergne at Sandy Park in round two of the tournament.
The sun was shining and the grounds are form but that alone does not explain the difference between this and the last several seasons. Last week I wrote that I had a good feeling about the English season and after one week the initial reaction backs up that feeling. New Zealand is setting the standards based on positive rugby. We might just be seeing the wheel turning for the better.
Controversy
Another contentious debate centres around the trialled extra utilisation of Television Match Officials. Opinion is divided and some of it is really strong. All I want to write is that one weekend does not constitute sufficient evidence to offer a sensible verdict. There is going to be a consultation after six weeks; let us wait until then and see how many more decisions are right, or how much the process is fragmenting the game before we scream from the rooftops.
To those of you talking about the hot topic of the forward pass; watch the movement of the passers wrists. It is, and not where the ball ends, which will decide whether the pass is adjudged forward. That is not my opinion but the one referees and their assistants are working to, so there's no point hollering at the screen if the ball re where the catcher is; it is all in the wrists. On that basis the disallowed Tom Varndell try was correctly adjudicated.
The theory that every try has an error somewhere in its build up seems an argument without proof. Let us see where we are in six weeks.
Hats off, Harlequins
Finally Harlequins - what an effort. Wasps were brilliant and took advantage of an error in starting George Lowe on the wing but this was championship stuff in the second half. No panic. Cool leadership; great depths of self belief and a player whose class turned the tide. Nick Evans made a try with a superb take and give. He made a second for Mike Brown (whose competitive edge enthrals) with a precise cross kick. Then he scored one himself before kicking the penalty to overturn a 27 point deficit. Sympathy for the Wasps but hands up for the champions whose second half was a convincing case for thinking they will not give up their title easily.
Leicester did all they expected and London Welsh showed enough to suggest they will not be rabbits but insufficient to change the mind of those who expect them to be relegated. If there is one concern with Leicester's game it is that their speed of ball from the breakdown remains slower than some of the evolving English teams. Against the best in the land and Europe, quicker ball might just be needed. The breakdown was an area of weakness in their pool stage elimination from Europe and still there is a habit to secure ball rather than win quick ball for the scrum half to move a la Aaron Smith of New Zealand.
Next Sunday we head for the Gardens and an enthralling contest between the Saints and Exeter. I will watch Northampton tomorrow and see if early reports on their powerful forward carrying game are true. They sounded convincing winners at Kingsholm and remember, they battered Exeter in the East Midlands before winning the crucial game at Exeter to win that fourth play- off place. Exeter was exceptional last Saturday but they travel as underdogs in a game that could be quite something.
Before then we have the return of the Rugby Championship. New Zealand are minus Sonny Bill but Argentina will need one of those Wellington fronts coming in to stop New Zealand while Australia and South Africa need more than either has displayed so far. Robbie Deans, perhaps more than anyone. Lions fans, keep a close eye on the Australians. Are they in trouble or did the fact that their last two games were against the All Blacks exaggerate their failings? Let me know what you think.
Stuart answers your emails...
Got a question for Stuart? Email him at skysportsclub@bskyb.com or use the feedback form below...
O'GARA'S SUCCESSOR?
Stuart, At the junior world championships this summer we saw the worlds young talent on display. Some shone brightly while others had mixed fortunes. I would like your opinion on one of the three definite stars of that tournament J.J. Hanrahan. Given his apparent ability to run, kick and cleverly find space for both himself and others. Is this 20 year old shaping up to be the one who will answer the great Munster question who will fill the very big boots of a Mr. Ronan O'Gara? Regards, Adam
STUART REPLIES: I saw the tournament in snatches during the England tour of SA. I need to see a lot more of this admittedly impressive performer before making him Ronan's heir...
WELSH HOPE?
Hi Stuart. It's was great to see my side London Welsh taking on a team like Leicester in the Premiership - and not getting totally blown away! Despite defeat do you think Welsh showed enough to suggest we could stay up this season? I really hope we can.
Thanks, Ben
STUART REPLIES: Ben, Other teams with a slight relegation fear would have watched the game and thought, 'Welsh are no certs for the drop' but also there is no doubt that you were not so good as to remain anything but clear favourites for relegation. Yesterday was gutsy but this is a long old season and I look at the strength in depth of the squad and worry for you.
WELSH HOPE?
Hi Stuart. I was at Twickenham on Saturday and it the Quins-Wasps game was fantastic! Do you think we can expect more great attacking rugby like that in the Premiership this season? Or was that just a one-off on a sunny day at Twickenham?Michael
STUART REPLIES: Michael, Fabulous stuff wasn't it? I am optimistic that this was anything but a one off. I have addressed my reasons in this week's column.
Comments (4)
Ric Green says...
Hi, Stuart I am watching Northampton and the Chiefs (Sunday 9 Sep JP Doyle I believe is a good referee ) I have just heard your comment on the Yellow card. Does that mean you believe that Sam Warburton (Wales) should have only had a yellow card in last years World Cup.
Posted 16:10 9th September 2012
Michael Bagby says...
Hey Stuart you said on the rugby club that you didn't expect the Saints to finish in the top four? after the first weekend do you still feel the same? and who do you think will be their challenging us for the spot?
Posted 22:00 5th September 2012
Dave Kelly says...
Stuart, today has seen Warren Gatland named as Lions Head coach which comes as no surprise. What are your thoughts on the half back and centre pairings on form to date? Im still a bit unconvinced by Priestland and we see the best of Jonny Sexton for Leinster and not at international level so Im interested to see who you would pick at 10. Flood is a contender but behind the other two in my book. Also, with players such as Manu Tuilagi, Jonathan Davies and of course BO'D what does Gatland do in the centre? Thanks. Dave, Dublin
Posted 14:18 4th September 2012
Roger Hale says...
I agree with your comments re Wasps v Quins and Tigers v Welsh. There surely won't be many if any more entertaining matches in the Prem this season than Wasp s v Quins! On this showing they BOTH will be a force to be reckoned thought Haskell had a pleasing comeback and what about Wade! What a signing! Welsh are certainly no certainties for the relegation spot and theyve Stephen Jones to come.
Posted 14:45 3rd September 2012