If Clermont Auvergne's home clash with Leinster is the Group One match of round three of the Heineken Cup, any reading of the form book has the current champions almost as far behind their French rivals as the flat race world has been behind Frankel for the past two seasons.
Leinster were fortunate to beat Exeter at home while Clermont travelled to Devon and crushed them with an outstanding second half display which is a distance better than we have seen from any other side in Europe to date this tournament.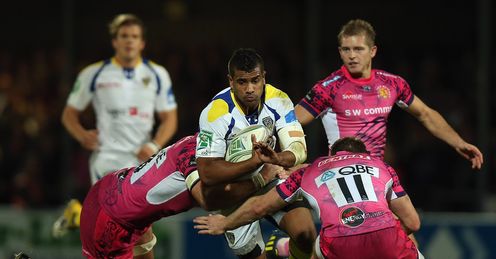 And whilst Clermont (admittedly with an extra man for a fair amount of time) topped the 40-mark against the Scarlets last week, Leinster lost their way in the second half as they eked out an important but incomplete win. On all known evidence of the first two games, Clermont are set to savage Leinster when they meet in the Auvergne in December.
He needs to respond in the Auvergne if Leinster are to come out of this match with anything but a very bloody nose. Here at least, there is hope for the champions, if the current form lines make Clermont favourites we know Ou2019 Driscoll has a habit of resilient returns to form.
Stuart Barnes
Quotes of the week
A sense of shifting power was there for all to see in the difference in the centres on display. Wesley Fofana has bulked up but lost absolutely none of his blistering acceleration. His partnership with Aurelian Rougerie was something to behold. Last season Fofana relied upon the lateness of his change of angles to slash his way through midfields. This time around he can run over as well as through his tackler. He appeared exceptional.
End of a legend?
In contrast Brian O'Driscoll was the epitome of frustration. We lovingly examined a typically competitive and technically superb turnover by the great man but the lasting memory is of Gareth Maule checking, threatening to step inside before blasting off his left foot and leaving O'Driscoll clutching at thin air. He chased back but the dive was in vain. Was this the moment we saw sporting mortality catching up with him and Leinster, symbolically left to look like the shadows of a glorious and sunny past that has slipped away?
Having taken maximum bonus points from their two games, Clermont has already acquired what could be an important two-point pool advantage. Leinster need to not just match them but claim a point's advantage from their head-to-head in December. Close your eyes and think back to the way the teams are playing and such an outcome appears well-nigh ridiculous as a likely scenario.
Clermont are more beatable than Frankel. They did not start especially well in either of their two Heineken games - although their finishing kick is quite something - and they have a few temperamental players who can be undermined. If that happens the quality of performance is no longer guaranteed.Morgan Parra strolled around Sandy Park behind a pack that delivered on the front foot. He is technically superb and a fine player to watch but there is a coltish degree of petulance when matters don't go as he expects. Outside him Brock James is talented but temperamental. Leinster will remember the quarter-final at the RDS when Clermont outplayed them but James fell to pieces. Jamie Cudmore could explode in anger and leave them light in personnel; there are a few ways in which Clermont can combust.
There are plenty of reasons to see Irish improvement as well. Joe Schmidt was concerned going into the first two rounds. He knew his team was vulnerable and worried about results more than performance. He has two wins which at the very least keeps them bang in contention (the best runner up is a significant escape clause in this pool).
Continuity has been at a premium with the build-up hampered by injuries. Well, the Autumn internationals hardly help Schmidt's cause but at least Rob Kearney will return and Sean O' Brien should too. The best player in the tournament last season and the man of the match in the last final; this is significant. Remember it was Kearney that turned the yellow and blue tide in Bordeaux.
As for O'Driscoll, we have been here before. In 2010 Mathieu Bastareaud steamrollered O'Driscoll out of his path as France bashed Ireland in Paris. We greeted the next great thing and bid a legend farewell. O'Driscoll bounced back and is still with us, still seen by many as a potential Lions leader; or at least until Gareth Maule left him in his wake. He needs to respond in the Auvergne if Leinster are to come out of this match with anything but a very bloody nose. Here at least, there is hope for the champions, if the current form lines make Clermont favourites we know O'Driscoll has a habit of resilient returns to form.
Clermont selected their best fifteen for the away game in Exeter. I do not believe they have ever done this before at pool stage. It is a statement of intent. If Leinster wins in France it will be up there with their finest efforts. It looks unlikely but it is not impossible.
Elsewhere Leicester's victory against the Ospreys was the most eye catching performance of the round. Ospreys are a good team with a strong pack but the Tigers, once they quelled a stunning Ospreys start, dictated matters with a powerful set piece. They will be all the more balanced when Julian Salvi gets back from injury and with home and away matches against Treviso have a chance to put themselves right back into pool contention. The Ospreys have a good opportunity to beat Toulouse at home and keep their own hopes alive. This is a fabulous pool to watch, a horrible one to play in.
There were significant performances from the Tigers half backs. Toby Flood probably closed the lid on the immediate debate at fly half (with England) although Charlie Hodgson was serenely superb in Brussels. Inside him Ben Youngs might just have pulled his Number Nine shirt from the clutches of Danny Care. The Harlequin has been in superb form whilst Youngs has struggled with injury and form but his splendid combination work with Flood is a reminder that a half back combination with symbiotic links is a huge advantage. Considering the pressure Care has been applying as he racks up man of the match awards Youngs came through the Ospreys with great credit.
Angry All Blacks
On the other side of the world, Australia managed to ruin the party for the All Blacks and end their winning run in time to stop the All Blacks breaking the longest winning sequence. The Kiwis couldn't quite match Frankel on the day. The result means Australia (superb at the breakdown and with David Pocock back for the Autumn likely to get better still) will be more confident and New Zealand more angry; not what you would call a great result for the Northern Hemisphere nations waiting to greet our dear friends from the deep south.
STUART ANSWERS YOUR QUESTIONS...
Stuart, With England lacking a world class 7 like Warburton or Pocock that plays in the Premiership, what reasons does Lancaster have not to pick Steffon Armitage as the starting 7 when week in week out he is doing so well for Toulon and seems to be the stand out seven of the Heineken Cup (especially ball in hand).
Gary Phelan
STUART REPLIES: Gary, What is wrong with the form of the England captain and why does he remain so unfashionable amongst so many fans? He'll do for me. As for Steffon Armitage, an outstanding player but not under Stuart Lancaster's control as English club players are (to a greater although not total extent) and also not the best seven in the HC. I give you a bloke called Dusautoir.
Hi Stuart, After Sexton and Priestland's poor kicking show from the tee (albeit with a fantastic performance from the hand by Sexton) does Flood's all round assured performance against the Ospreys bring him firmly into contention as Lions fly half, or is he still some way off?
Keith Bateman
STUART REPLIES: Keith, AARGH; We have to stop picking and choosing our Lions squads/teams on the basis of the next/last game; it is a much longer and more complex process; shall we leave Leigh Halfpenny out because he kicked badly against Toulon? Toby Flood had a fine game but has to prove an ability to control games time after time.....if he plays as he did against Ospreys he'll be in the shout up, then again Dan Biggar was pretty good behind a struggling pack...broad vision my friend, broad vision.
Stuart, Having just watched the Australia v New Zealand match, I wondered how Australia have so much more international class strength in depth than England, as they were missing a number of starters and get by with less players than in England. How does this happen?
Glenn Masters
STUART REPLIES: Glenn, I don't think Australia does have that much strength in depth but they had a brilliant game at the breakdown and a bloody good reason to ruin New Zealand's afternoon. That and some typical Aussie cussedness did the trick not great players.
Comments (5)
Anthony Campbell says...
Hi Stuart , i think you and Miles are the best rugby commentators on tv, but in the last 2 weeks i think you got your man of the match wrong . Luke Arscott was easily man of the match for exeter , and Toby flood was clearly man of the match for leicester . im totally neutral too , i dont support either club, england Saxons should draft Luke Arscott into their squad immediatley , he has serious potantial .
Posted 15:36 24th October 2012
John Molloy says...
Stuart, interesting analysis re Leinster and Clermont. Clermont def look like the form team, probably in the competition. But as a Leinster fan I'm not too worried yet. The Leinster teams that have taken the field in the last 2 weeks haven't even had 2 consecutive weeks training as a unit this season. Drico, Isa, McLoughlin & Conway were injured after the Munster game and didn't train properly prior to the Exeter match. With players coming back over the next 6 weeks we'll see an improvement in Leinsters performances. Whether that's enough to take Clermont in SMM is another question altogether. I reckon a LBP in France and a win in Dublin, no bonus point. Leinster to make the play-offs as best runner-up.
Posted 00:57 23rd October 2012
Roger Hale says...
Hi Stuart How do rate young Ford in the English No 10 pecking order? While I feel it would be difficult for him to force his way in without injuries ( which obviously we don't want) and his lack of game time with the Tigers at the moment, he surely could be better in time than Flood or Farrell.To use your racing parlance Ford is a fast maturoing 2yo with classic pretensions while Flood and Farrell are 3yos and 4yos respectively
Posted 16:22 22nd October 2012
Ian Byrne says...
Dear Stuart, What has happened to your Leinster love?!?! Only a few months ago you were waxing lyrical about them and calling them possibly the greatest Heineken Cup team ever, now it seems you think they are a washed up, shadow of their former selves with, rather than a talisman in midfield, a Titanic sinking due to Maule's Iceberg? Sure, the first two games have been well outside Leinster's normal levels but the main thing is 2 wins and time to work on it before the December Duels. We have all read your colleagues in other sport talking about teams not playing well but champions get the wins, if Leinster beat CA in December, either home or away, or hopefully in both games, will we see you swing back to championing the champions? What's important now is getting out of the groups, knockout games are a different prospect...The hatrick is still on Mr. Barnes, maybe the view is a bit blocked now but Leinster know where the destination is!!
Posted 16:16 22nd October 2012
Alan Boland says...
Stuart You should approach your analysis of Leinster with the same logic you have applied to your response to the Lions fly half query - write them off at your peril! Alan
Posted 14:52 22nd October 2012