There is no doubt where star billing belongs this weekend; Argentina's comprehensive victory against the current Grand Slam champions, Wales, was a tremendous performance and a major shot in the arm for those who feel the future of the international game requires regular international competition between the best and the rest.
Argentina have beaten Wales in the past, they have even won in Cardiff, but never in such a complete and comprehensive manner. The fact their two tries came from the wingers is testimony to the improvement witnessed after just one season's exposure to the world's best teams.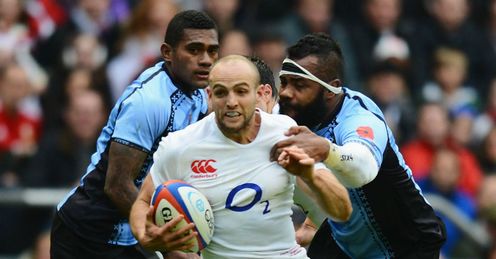 They have always been tenacious and talented up front but the rest of their game has shrivelled outside the fly half. In Cardiff they were superior to Wales from numbers one to fifteen. The sport needs nations from outside the traditional test playing countries to come through. After a draw with the Springboks and some brave losses in The Championship the win against Wales looks like a signpost to a bright Puma future.
Lacking preparation time together and many of their best players Fiji were exposed as a random collection of talented individuals thrown into an arena against one of the richest and best prepared teams in the world; it was at times an ugly mismatch.
Stuart Barnes
Quotes of the week
In stark contrast in London the fixture between England and Fiji was a little bit depressing. There was nothing particularly wrong with England. They fumbled for twenty minutes before finding some decent form. The verdict will have to wait a week. No, what soured the soul was the state of the Fijian team.
Lacking preparation time together and many of their best players they were exposed as a random collection of talented individuals thrown into an arena against one of the richest and best prepared teams in the world; it was at times an ugly mismatch.
Fiji, let us not forget, 41 years ago, beat the best part of the Lions team which would head to New Zealand and legendary status by becoming the first Lions team to win a series on All Blacks turf. Just five years ago Fiji beat Wales in the World Cup and gave the eventual champions, South Africa a rare old fright.
But last season they were one of the disappointments in the World Cup and the direction they are travelling continues to be downhill. The controversy regarding their absent players is welcome because it brings the difficulties of the Pacific Island teams into the spotlight.
Yet the simplicity and speed with which people point the finger of blame at the clubs in France (and occasionally England) is breathtaking and a reminder that the mindset of the professional game hasn't changed from the amateur days.
Then test match rugby was the only game in town but these are different times in France and England. Clubs sign players on the basis of structuring their season and planning for periods when internationals are away. Part of the plan is to sign several of the finest individuals from this rich pool of South Pacific player talent.
Pacific problem
There is no problem thus far, but when they are pressured not to play for their nation during the international periods we have the current furore. However, think of the situation in another light: think about clubs paying large sums capable of changing the lifestyle of individuals and their families. One of the reasons they are worth so much to the clubs is because they will play through the international window for their club.
Is the IRB prepared to force clubs to release players and thereby ensure the clubs will offer less money for the talented island players? For if the rules dictate they must be released why on Earth should a club not reflect the fact in the fees offered? There is plenty of talk about the perfidious French but Isa Nacewa is happy to ply his professional trade for Leinster and there is absolutely nothing wrong with that. By all means criticise clubs that backtrack on promises but remember the rights of individuals who would rather earn a more substantial salary at the cost of caps.
Until the honest over-the-counter financial incentives of the clubs can be countered by the IRB let us hold our fire before hollering 'foul play'. The IRB has only one way that I see to address the issue of the islands and that is to take responsibility for making it worthwhile for players to represent their countries rather than play the mercenary. It means more exposure to the best teams; it might mean some form of Super Rugby or Championship inclusion with real financial assistance. These are preliminary thoughts, an attempt to open our minds to this discussion and take it beyond the blame game.
Turning up every four years for a World Cup will leave the sport as transparently minority based (with Argentina the ever improving addition). Cheerleaders will tell you it is getting better because the average loss between tier one and two teams is dropping; dropping from a sporting slaughter to a one-sided hammering. Growing the international game is the major task of the sport's authorities and the events in Cardiff and Twickenham showed what is possible and what remains to be done.
Aussies vulnerable
Elsewhere on the field Dan Carter was glorious. Australia were risible and post match talked up their intensity and talked down their execution and accuracy. The latter issues magnified the problems but to say it was mainly a matter of errors and accuracy is kidding of the worst order. The Wallabies were slow, overly structured - at times they looked like recent England teams. That is not a compliment.
We have to hope the return of a number of internationals will boost their form otherwise England could beat them through the set piece and organised defence alone. England fans should hope for more from the Australians to tell us how the Lancaster journey is going. In the next few days you will hear the usual guff about wounded Wallabies. They might bounce back but they might just be flaked out and useless. The only fact is this has become a game England really should win.
South Africa were no great shakes for 40 minutes in Dublin but the manner in which they tightened their game was ominous, if rather unimaginative compared to the All Blacks. But we know they have the pack and the kicking game to force England into the higher gears. Whether England have the gears to stay in the same race as New Zealand remains to be seen. They are prone to errors and sloppy periods of play but the understanding of the game and the ability to turn that understanding into opportunities for their ensemble of talented individuals should be cherished. They are a credit to the game and their scalp a prized one.
But don't give up. The last game they played saw Australia draw with them. The next time Robbie Deans's men took the field France flattened them. The French are good but not that good...if they beat Argentina by a similar margin maybe they are!
STUART ANSWERS YOUR QUESTIONS...
Stuart, what can Australia do in a week to shore up their scrum for England? They were absolutely demolished by the French and it is not going to get any easier for them at Twickenham. If you were advising Robbie Deans what would be your tactic against England?
Alan Rayner
STUART REPLIES: Alan, Do what Australia usually do when the heat comes on in the scrum....collapse and keep collapsing and hope the referee is not strong enough to give an avalanche of penalties one way. It might also be a good idea for Australia to hold onto passes and possession and thereby cut the number of scrums in half.
Hi Stuart, Ireland missed a trick against the Boks and must be kicking themselves - I thought it was one of the worst performances from a so-called top-three ranked team I have seen in a long time - and that is saying something as I am a Bok supporter! Do you think that it was a must-win for the Springboks and that they can push on from here - especially against Scotland where we often come up short? P.S I did think Ruan Pienaar and Eben Etsebeth played well for us.
David Wadsworth
STUART REPLIES: David, Compared to the Wallabies it was a magnificent effort! The first half was flat and the second half limited but your boys did well to grab the game and play to their strengths. It might be that, well as Ruan Pienaar played, the Boks will have to play ten (or nine) man rugby as that is where his strengths lay and he seems to be the heartbeat of the team while they search for a test match ten. I thought the second half was decent test match rugby and can see plenty of improvements to come. You will not be easy to beat.
Hi Stuart, what did you make of Argentina's win against Wales on Saturday and what does that say anything about the game in the north when the rugby Championship's worst team can beat the best Six nations team?
Ian Bardell
STUART REPLIES: Ian, Delighted for Argentina. I have written about this at length in the column. As for the respective hemispheres we are on the same page, I suspect. The Six Nations is second division which is why I was sceptical about England's 'winning' team last season and why the real judgement of Stuart Lancaster's reign must be when they play the Southern Hemisphere teams. Wales won the Grand Slam and lost a series 3-0 in Australia so it is not that startling a result in many ways...but life, being wonderfully cussed, has France bashing Australia leaving Northern fans to say 'what does that tell us?' We'll all know more when the autumn is over.
Comments (7)
Roger Arthur says...
Hi Stuart Whilst I agree with all the content of your piece, I have had the priveledge of seeing one of the players embroilled in the Racing Metro, controversy grow from a mini to an Internatiional. Although not born in Fiji, he too was faced with a stark choice of the dole que, or a low paid local job, or the opportunity to become a professional Rugby Player, he did what many of us would love the chance to do, and choose to play at the top level. The accusation from his former club coach that he and two other Fijian Internationals were paid to miss the World Cup, is unchallenged as yet. However, he told his brother that the reason he was not going, was because he chose to concentrate on getting into his Club team. Exactly the same reason he gave to his Country and the press at the time. I can not even dream of him lying to his Brother! He had by the way already played in the Junior World Cup, (for which Racing had released him) and at nineteen I think he made the right decision. I also think that the Club releasing their player for the one tournament and not the other, would be a little, shall we say ODD!
Posted 09:28 16th November 2012
Joe King says...
hi stuart no doubt wales were poor and argentina very impressive saturday. im glad the welsh team has made some important changes butt the main point wich i agree with do you think sam warbourton deserved to be dropped to the bench. or are they saving him for the big guns.
Posted 17:32 14th November 2012
Roger Hale says...
Hi Stuart I thought England's performance encouraging. I am not sure about the present backrow - I would bring in Armitage @ No.7 and move Robshaw to No.6 (although he has been excellent on the openside). I know Lancaster won't do this without significant injuries which obviusly nobody wants but, surely it would make for a better team which is what he is trying to achieve With regards to the wings - I would play both Sharples and Ashton, I would keep Goode at full back certainly while the present centres are included - and maybe afterwards as well! Surely Lancaster cannot keep selecting 2 centres so simillar (or with Farrell)! I would value your views, Stuart?
Posted 12:08 13th November 2012
Peter Arnold says...
Hello Stuart, The IRB is a wealthy organisation. Why can't it fund Fiji, Samoa and Tonga in the Southern Hemisphere Super Tournament? One team can go in each pool. Alongside their other international commitments this would give them a sufficiently full fixture list to be completely professional without their players joinimg European clubs or looking for New Zealand ancestry in order to play for the All Blacks.
Posted 15:56 12th November 2012
Simon Walker says...
Hi Stuart, Do you think there is the posibility that sharples and ashton could play on Saturday? Cant help but feel thtat Monye is not the answer. Sharples was a lot busier and went looking for the ball. If Sharples and Ashton play we will have a back three that are all hungry to get on the ball as much as possible.
Posted 14:29 12th November 2012
R T says...
Thank God for Alex Goode, his display will hopefully have spared us the sight of Mike Brown starting for England. Brown is a quality club playerwith a good rugby brain but patently not quick enough for an international 15. England look second rate to me unfortunately. Too many players playing above their level. We do have the players available to be good, that is to say top 4 but some way off the ABs. Both Armitage boys need to be involved for my money. Delon is still a bit of a liability discipline wise but he has class. Monye is average at best and after seeing hime DIVE playing for England some years ago, the door should be closed for good. Good debut for Youngs, Johnson played well, Care showed well and his card was harsh. My team, injuries notwithstanding.. Corbisiero, Youngs, Cole, Lawes, Botha, Croft, Armitage Easter, Care, Cipriani, Sharples,Burns, Tuilagi, Armitage, Foden.
Posted 14:29 12th November 2012
Mick Collyer says...
Tom Youngs has come a long way in a short time since his conversion to hooker however can somebody please explain to him that on the rare occasions that the ball is not fed direct to the 2nd row's feet i.e. when Alex Goode stood in at scrum half, that the main role of the hooker is to hook the ball backwards, not just push. At the same time if Woldrom is to be retained, although I think that he is far off of international level, can he be taught how to control the ball with his feet. These 2 faults will not have gone unnoticed and will be punished by the southern hemisphere teams
Posted 11:08 12th November 2012