Oh Well, only a few months and the Six Nations will come bounding over the horizon to the rescue of England. Exposed to the best teams in the world (even one as savaged by injury and absence of leaders as Australia) the myriad weaknesses of a team are exposed.
But back in the public house traditions of Six Nations rugby and it is win at all costs that counts and earns the applause. Stuart Lancaster's England won four from five in the wake of the appalling World Cup and that was pretty much universally described as enough to make the decision to appoint him an easy one.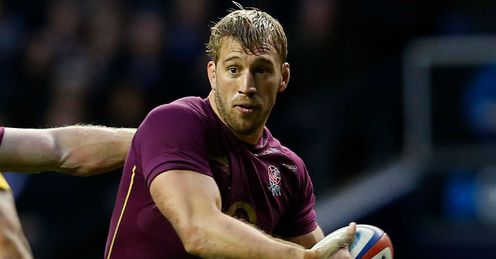 A few siren voices cried 'performance' but the delirium of beating Scotland and Italy away (and they relied on Scotland to lose a game they should have won), combined with victories against an Ireland team atomised by early scrum injuries had Lancaster appointed with the same unanimity as Martin Johnson before him. The sirens screamed 'no' before that mad appointment too.
Winning poorly against bad teams is a short term sticking plaster that does not heal the wounds. Winning, full stop is not the only panacea. But popular mandate has it differently which places England in a horrible position this week.
Stuart Barnes
Quotes of the week
Beating France away clinched the deal when holding fire until we saw what Lancaster could do against the best in the world was the saner option. Since the Six Nations England beat Fiji (irrelevant) and lost twice to South Africa, drew with credit in terms of guts if not fluency of performance and lost to an Australian team they were expected to beat.
That is three losses and a draw. As appointments are results based where does that leave Lancaster's appointment? Two more defeats will, presumably have the supporters turning full circle. If winning was all that counted in the winter months, losing has to be the only criteria in the autumn. Five losses and a draw is unacceptable, no matter how formative the team...or so it goes.
I was not one of the supporters and my fears are beginning to churn inside as I watch England play as if it is the same field made for a different audience....Robinson's excuses, Johnson's excuses and now captain Chris Robshaw's excuses remain the same; failure to finish, inaccurate passing and the failure to understand the breakdown. New names and strange faces there may be but this is the November movie I have been watching for years.
The previous regime won the Six Nations and that fooled the fans and pundits who wanted to be fooled before the awful reality came home to roost in New Zealand. It would be a bold decision for Stuart Lancaster to state the importance of the next two matches rather than hanging on for the mediocrity of our annual bun fight.
Winning badly
Winning poorly against bad teams is a short term sticking plaster that does not heal the wounds. Winning, full stop is not the only panacea. But popular mandate has it differently, which places England in a horrible position this week.
Or does it? Winning bad is not an option. If England beats either the Springboks or the All Blacks they will have to do plenty right. Lancaster has a good rapport with the English press and needs to spell this out in advance of South Africa.
The management spends a lot of time in media relations. It is an area where they are vastly superior to the Johnson regime. They can still explain the importance of performance to an industry that sees things in black and white; win or lose.
It would have helped had England been a little more critical of the quality of some of their winning performances but never mind; the management can earn some leeway in some quarters if they emphasise the need for performance.
Performance required to win is going to require risk taking; more of a gamble at the breakdown where England are second class. They cannot become breakdown experts in a week but they can throw caution to the wind and attack breakdowns - attack and defence - in numbers. Against New Zealand this runs awful counter attacking risks but isn't the game where expectation of winning is least the best time to go for it? Lancaster can take a little pressure off the team he selects by explaining winning/losing is not the criteria to judge England by.
Risk to win
To reiterate: England cannot play badly and win. And they cannot play well enough to win without a little more pace to their game which derives from quicker ball. What England should expect is the team playing as well as it can; if it does that it has a chance against South Africa. It could play well and lose; for those of us interested in the realities of rugby power as it stands that, and not simply the points on the board is a major factor in assessing the direction England is travelling.
Lancaster should take some risks with selection. Alex Corbisiero should be thrown into the game if he is match fit; if not Mako Vunipola should take the place of Joe Marler who remains a player of potential but was taught a lesson by Australia. Joe Launchbury should and will start and against the Springbok line out. Tom Wood is a better tactical option than the speedy but lighter weight Tom Johnson.
Behind the scrum England have to use first phase ball to cross the gain line. They are playing too many phases which will be right into the hands of the next two opponents; especially New Zealand with their expertise at the breakdown. A mantra for the week should be as few breakdowns as possible; more gain line breaks, more first phase strike moves and a greater willingness to offload.
Defeat does not have to be an indictment in the next fortnight; not having a go is one. If this England team is not ready to beat the best at least let us see some evidence it knows what needs to be done and progress is being made. Hanging around and waiting for the Six Nations is the prerogative of the Little Englishmen. For English rugby men, stuff needs to happen in the next two weeks.
Stuart answers your emails...
Got a question for Stuart? Email him at skysportsclub@bskyb.com or use the feedback form below...
Morning Stuart, do you think that Charlie Sharples was shown up not to be of international standard on Saturday?
Mark Berrow
STUART REPLIES: Mark, There are a lot of players of whom that question could be asked, why pick on poor Charlie? He's definitely not the best winger in Gloucester and it may be that England bite the bullet and move the individual firepower of Manu Tuilagi to the wing for this week but that's not to right him off after an awkward afternoon. I don't think he will ever be a great international but he is a fine professional who will do a decent job more often than not....that first question was a bit of a brutal way to begin the Monday morning interrogation!
Hi Stuart, I know you have said that Australia were the weakest SH side but the boks have looked pretty average - they have ground out a couple of wins but surely England will be able to match them in the set pieces and handle the physicality we know is coming - the boks do not have the brains or the flair behind their pack like Australia do.
Peter Kendal
STUART REPLIES: Peter, England can win but don't underestimate the brains of Ruan Pienaar. Just as Nathan Sharpe had more caps than the entire England pack, the Ulster scrum half has more brain cells than just about all the England backs combined (Alex Goode is an honourable exception but lacks the experience and CV to be compared with RP) and look what happened up front Saturday.
In fact your analysis of South Africa could have been an analysis of England for the last nine years! We are currently a smaller and inferior version of the Springboks and will not win without doing a few things differently; a win is definitely possible but your fair assessment of South Africa reads a little rich coming from an England supporter
Stuart, Whilst Chris Robshaw is a good player and great captain, I completely agree with Michael Lynagh that he is not a number 7. Surely now is the time to try him at 8 and bring in Saull or Armitage?
Neal Bursey
STUART REPLIES: Neal, He was better in South Africa in the second Test than he was bad on Saturday. An openside does not play in isolation....just ask Richie McCaw. You and Mike may be right but it is the overall attitude to the breakdown and not whether Robshaw is a 6,7 or 8 that is most immediately in need of addressing. It is a nine year sore that has festered within the England international game (and we are pretty average at club level too).
Hi Stuart, After Wales' humiliation at the hands of Samoa I wonder if Roger Lewis and the WRU board are beginning to regret the decision to lose the best coach on the planet for 18 months to coach a team for a few exhibition games in Australia.
People can say what they like, but not having Gatland around the squad is obviously affecting performance.
Ask anyone in Wales (or any other country for that matter) what they would rather have, a Lions win, or a 6 Nations win, the answer is obvious.
There is far too much importance put on Lions tours (especially now they are no longer 'Tours' in the strictest sense) by the marketing men who see it merely as a revenue generating exercise.
It will mean very little to me if the Lions tour is a success and Wales find themselves in the 3rd tier of seeds in a group containing New Zealand and France for example.
I thought the WRU would have learned their lesson with Graham Henry, but now the country is paying the price for administrators not understanding the dynamic of the coaching environment.
Chris Stone
STUART REPLIES: Chris, Some interesting points here although Six Nations glory suggests you are not that interested in winning World Cups. It is the here and now that matters. I think I would have shared your view and asked Gatland to stay exclusively with Wales but maybe the Lions (great kudos for a coach) was written into the contract. I feel sorry for Rob Howley who is not a Number One but that doesn't make him anything other than excellent at his day job. He is under pressure but I do not think Lewis will make a hasty and wrong decision. Gatland, as absentee boss, takes as much his share of the blame for Wales's woes as Howley.......
PS re the Lions; don't you think that in this age of grim faced professionalism the Lions tour retains a certain old world charm and yes, I know, the marketing men are certainly important cogs in the Lions wheel....I'll meet an awful lot of Welshmen who think differently next June; it has, after all, proved the greatness of Gareth, Barry, Benny and JPR in a way that the Five Nations never could.
Stuart, what do you make of the ridiculous one week ban that Adam Thomson received for a punch and a stamp? it seems that there is one rule for the All Blacks and one for everyone else.
STUART REPLIES: That was not a stamp it was a warning and the punch was in the same category. I'd ban the bloke on the wrong side of the ruck for a week. That'll cut out the niggles and speed the game up. If we all tried to play like the All Blacks (and I know they are not perfect or saints) then we would have a much better sport; you'll find no anti-All Black feelings in this quarter; Under The Posts is all for winning rugby that shows the game can be dazzling as well as tough
Comments (16)
Robin Gee says...
Lose more than 2 games in the 6 Nations and we will be looking for a new manager And rightfully so
Posted 06:03 1st December 2012
Patrick Agnew says...
In response to Conor O'leary's comment, you claim Lancaster makes the right personnel changes then went on to state Robshaw and Barritt are over-rated - these are 2 of the players who start every game . Robshaw is a good captain, Barritt is hopeless. As is Waldrom, Brown and every english hooker other than Hartley. Bring in youth and game-changers and a southern hemisphere coach who understands the breakdown and doesn't over-coach
Posted 13:38 30th November 2012
Doug Rice-bowen says...
Stuart, I was fortunate to be at Twickenham to wath the Oz game and saw the SA game on television. It is interestin how seeing games live give you a very different perspective. I think we are all missing the point of these 'close' games. The issue is not what happens in the last 5, 10 or 15 minutest but the way England butcher chances on a regular basis. Is it sacralige to suggest that Manu might not actually be the best fit for the team? If we need Barrit so desperately then we must have a creative force in the midfield. I fear we are getting into the same situation with Tuilagi as we were with tindal; he can run hard and make ground but either can not or does not pass. We must be the only test playing nation who likes non passing centres. Stuart what is to be done? On the plus side generally at least we picking the right players and they will develop up to 2015 so all is not doom and gloom. Doug
Posted 16:28 26th November 2012
Mick Collyer says...
Hi Stuart Although there were encouraging signs from the pack against South Africa the whole series has shown up the lack of quality for England at 9,10,12 & 13, none of them would get in any of the big 3 teams. Youngs has gone backwards, Care hasn't got it, Flood is average, Farell Barritt & Tualagi are all 1 dimensional. but what are the options? Goode has impressed at 15,and could play at 10 or 12 when Foden is fit, is Burns ready yet, Twelvetrees and or Allen in the centre? 9 is a big problem though as I cant see any good young talent coming through What re your thoughts Stuart
Posted 14:36 25th November 2012
Henry Steen says...
May I ask Stuart Barnes his opinion why Billy Twelvetrees is not considered for the England 1st 15? He has the size, appears to have the speed and skills and on the face of it would be the ideal 12 for England. What are the weaknesses others see in him that hold him back?
Posted 12:17 22nd November 2012
Mike Trousdale says...
Stuart, I'm a bok supporter. As much as England supporters are frustrated with their side, so are we with ours. Look, I think England are less experienced than our boys at the moment and 70% of the time that's usually the difference. I think our game is a bit more accurate than England's at the moment especially in the lineout, the maul and defence. But I think our boys are starting to suck air a bit. Our boys are tired and are looking forward to that ice bath after the game knowing they got the next 6 weeks off. I agree with Clive Woodward's half time view that England need to play the game faster. The big boys from the highveld like a scrap and like to just barge their way through without thinking like the Aussies do or finishing like the All Blacks do. England need to get under the skin of these big bullies so that they lose concentration for that split second and let someone like Danny Care to take advantage. England need to ruffle their feathers and they need to be 15% fitter than the boks. Once we get tired, we lose our ability to string together our mauls and we begin to kick the ball away aimlessly. Aimless kicking - if ever there was an opportunity to punish the boks, it's on our bad kicking. NZ do it to us now with their eyes closed... one last thing - We give a lot of penalties away. Flood has to nail all his kicks. I hope the Boks dominate, but I think England have enough to win the game if they are clever - there's always a bit of luck up for grabs in every game.
Posted 00:00 21st November 2012
Mick Collyer says...
I agree totally with .Nick Hughes. I said when the squad was announced that 10,12, 13 lacked invention. Tualagi is a 1 trick pony & Barritt is not much better. Both should be replaced with Goode, Allen, Twelvetrees & Joseph considered as replacements. In the pack Launchbury should start, and Lawes if he is fit, what does Parling do apart from run the lineout? Wood should replace Johnson, Waldrom has been awful with Haskell, Morgan, Dowson & Easter all better options.
Posted 14:01 20th November 2012
Jimi Macdonald says...
Stuart - Having been at the game against Fiji and watched closely from home last weekend I am concerned that England¿s perennial centre problem is no closer to being resolved. The balance in the midfield does not seem right. On a number of occasions Manu Tuilagi opted to run laterally with the ball under one arm and try to fend his way past opposition rather than running a good angle (which he is more than capable of) or running straight to fix defenders and move the ball wide to give our wingers the space to take on players one on one. Whilst it was a powerful finish for the try against Australia I felt it could have been finished more easily by fixing players and passing the ball (had he not been awarded the try I imagine Sharples may have felt slightly irritated!). How do you think England can address this problem? Is it a coaching or personnel point?
Posted 11:53 20th November 2012
David Paxton says...
Serious return to form Stuart. At least someone is saying it. I fear after this coming fortnight there will be a clamour to repeat it among the far less ballsy members of the commentariat.
Posted 10:32 20th November 2012
R T says...
On Saturday, too may players not up to the level required for international rugby. Marler will come good but needs to improve his scrummagging. Props need to do their job first, the loose play is a bomus. Corbs a much better be gives us both his injury record is a worry? Youngs will fair better in the tight alongside him but we need Hartley back soon.Cole, solid. Must get Lawes and launchbury in. Armitage needs to come in ASAP, Robshaw is no 7 and for me looks short of real class. Had a shocker against Oz. How many times did he clog the midfield taking the ball stationary? Easter back please. Waldrom isnt good enough. Morgan on the bench. Haskell 6. Care, Flood, Ashton, Barrett,Joseph, Armitage, Goode, with Foden to come back. MIKE BROWN ISNT GOOD ENOUGH! No pace for an international 15 is suicidal. Good rugby brain but no.We need to try the likes of Wade, Burns, from the bench, cant start them against the Boks or ABs.... In my opinion. Rant over. Oh and Lancaster... not good enough.
Posted 10:05 20th November 2012
Peter Rae says...
Results give you world ranking points not performances.....fact!!!!!!
Posted 08:29 20th November 2012
Conor O'leary says...
Stuart, I don't see how you can say England should have beaten Australia. This English team has and is completely over-rated by the English media. Australia aren't what they were, but are still a very good side, well capable of beating England, as seen on Saturday. The calls to question of Lancaster seem ridiculous to me. For once, it feels like to the rest of the world, that your team has someone who knows what they are doing. Lancaster is making all or nearly all of the right personnel changes, and trying to make the necessary tactical changes to make England a force again. And he's bringing through some quality youth, while bringing some depth to your squad. The English media need to wake up and realise how ordinary players like Robshaw and Barritt are. And while Chris Ashton is the best support runner in the world, he doesn't have many other bows to his string. Lay off Lancaster.
Posted 21:17 19th November 2012
James Curtis says...
Couldn't agree more with Mike Green. It's too easy to say what you're saying in hindsight. A young team with a long term plan shouldn't be subjected to such short term evaluation.
Posted 19:38 19th November 2012
Nick Hughes says...
When will England learn that you need more than a blunt-edged bludgeon to break down the Southern Hemisphere teams. Many well respected pundits in the lead up to this game were congratulating Lancaster for his selection of Goode ahead of Brown at full back, seen as a move aimed at bringing creativity to a one dimensional and guileless English midfield (remember Ashton has not scored a try in the last 10 tests). Yes Goode is one of the more inventive and intelligent footballers in the team, but since when did a full back ever add creativity to a midfield? This is a perfect example of England¿s flawed thinking when it comes to the attacking play - Tuilagi is not an outside centre, and probably not a centre either in my view, in the same way Mike Tindall never was. Yes Goode is a very decent full-back, but if you want to exploit his creative and distributive abilities then you need to play him in a position where he can bring these attributes to bear. Goode does have many of the hallmarks of a decent inside centre, though he would likely be judged too lightweight and not potent enough in defence for that position for the majority of English rugby luddites. For too long we have picked centres on account of their ability to make first up tackles to hold firm on the gain line. England management needs to have a fundamental re-think of what they require from their 10, 12, 13 midfield axis, because one thing is for sure a combination of Flood, Barrett and Tuilagi will not trouble sides like the Boks and the Blacks!
Posted 18:25 19th November 2012
Roger Hale says...
Hi Stuart I agree with most of your comments, at the time of writing Marler's fitness is doubtful so Corbiere looks certain to be added to the squad. If Armitage is not added (probably much too bold for Lancaster) I would include Morgan and Burns what are your views, Stuart? I would select the following for Saturday: Cole Vanipola Youngs Launchbury Parling Wood Robshaw Morgan Youngs Flood Goode Sharples Ashton Joseph and Barritt - with the bench being: Corbesiere Wilson Paice Palmer Waldron Care Burns Brown. What do you think, Stuart? Roger Hale
Posted 15:37 19th November 2012
Mike Green says...
Stuart, Stuart, Stuart...I reckon you keep a positive and negative article in waiting for each England match. I can't understand how you can agree with all of Lancaster's selections, policies and tactics pre-match only to write off his ideals after a loss. The difference in Saturday's game was merely a matter of international experience, and it will be a lesson leaned by Lancaster and his players. I think the majority know that England should have won that test on Saturday, but it was a few wrong decisions that ultimately cost them, and in time those decisions will improve. You talk about Quins and Robshaw and their ability to learn quickly so why the loss of faith all of a sudden. I think England are showing good patches of attacking rugby and they will only get better at it with more game time. Once England click in attack they will unlock defences, and i wouldn't be too surprised if they do it against the Boks this weekend. Hopefully they do so you can use the positive prepared article...even if they're a little light in stock within your desk drawer.
Posted 13:16 19th November 2012