A fourth straight win was a great result for England, although far from their finest performance since beating New Zealand.
The scrum was a struggle and the breakdown was often a battle; France put them on the back foot which resulted in England often having to withdraw to deeper positions from where attack became difficult.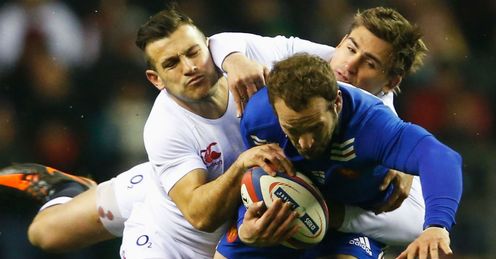 The good aspect of the game was that they understood that this was not the day to force the running rugby.
Owen Farrell was far from dominant but kept his cool and the ship in just about the right shape until Toby Flood came from the bench and added an edge to guarantee the win. The bench was full of impact.
Flood's emergence and influence was matched by Danny Care and surpassed by the excellent front row contribution of Tom Youngs and Marika Vunipola. Most important of all was the sense of poise.
England must utilise their squad and keep the contest for places sharp.
Stuart Barnes
Quotes of the week
LIVE ON SKY SPORTS
Harlequins v Exeter
3pm, Sat, Sky Sports 1 HD
Even at half time, a point behind, England exuded an aura of belief - well, I certainly believed they always had the look of winners.
But with the performance level slipping a little, changes should occur for the Italy match. England will beat Italy at Twickenham and with plenty to spare. Stuart Lancaster can have one eye on development even as he moves towards a Cardiff collision.
Care deserves a start which is not the same as saying Ben Youngs should be dropped for the Welsh game. England must utilise their squad and keep the contest for places sharp.
I would not start with Flood as Farrell will be fly-half in Cardiff and after an indifferent performance he could do with a boost pre the Grand Slam game.
Axed
Brad Barritt was again influential but leave him out and see what the longer future may have in store with a combination of Billy Twelvetrees passing game inside Manu Tuilagi. Barritt deserves a break and the Gloucester man another start before Barritt braces himself for the Welsh storm.
Lancaster does have one serious selection issue: Chris Ashton is playing himself out of the team. Had he been in form I would have loved to see Christian Wade blooded against Italy - I still would - but if Ashton is to be axed Lancaster will sensibly opt for the preferred option on right wing.
David Strettle is favourite although against the power of Wales' wide men Ben Foden would be my choice - if he can give Lancaster a reason to think he is back to form.
Up front Courtney Lawes was an unhappy blindside experiment while Vunipola was dynamite off the bench. For the moment the manager might keep him there, although he might just be tempted to give him a start.
This reads like a call for wholesale changes but it is anything but that; England have a squad not 15 starters and a few hangers on and Lancaster has to trust that squad which means playing them. He can do that at home to Italy and find his best team for the Grand Slam game AND develop the side for the future.
That is the art of good selection.
Efforts
It is not an art possessed with the French national team and the capacity to win from the bench is another weakness of theirs. The French press seemed pleased with a 10-point loss and improved performance from their opening efforts. That tells you how far and fast France have fallen.
As they fall their conquerors, Wales, stealthily rise with another successful trip to the continent. The conditions were awful in Rome but the Welsh pack was excellent with the press we have seen from their garlanded front row in a while. Like the Titanic and the iceberg, they and England are inexorably on collision course.
First of all Wales head to Edinburgh where Scotland have won two games including a first win at home to Ireland in six Six Nations attempts. Such are the facts but how is quite another issue.
Scotland had barely a quarter of possession or territory. They defended well but Ireland kicked badly and blew first half chances which would have put them in a powerful position to go and do what they usually do and win in Edinburgh.
Declan Kidney will feel the wrath of the Irish press after this defeat, yet a year ago England played worse than Ireland did in Edinburgh but nicked the win simply because Farrell kicked the goals that Paddy Jackson did not. Had England lost Stuart Lancaster would have been friendless.
Judgements
That is why it is important to think performance as well as result when making longer term judgements. There does come a time when too many defeats overrides any other factor but generally when a team keeps losing it is because they are not very good.
Scotland are looking at a third straight win when Wales visit but they will have to improve. Scott Johnson was level headed post match and summed up the need for the quality of performance to be lifted if they are to beat Wales. Leigh Halfpenny will not leave as many points behind as Jackson did. Ireland will need a performance and win to hold the Kidney bashers at bay.
It was far from a great weekend of Six Nations action but it is never less than fascinating. So too was the Premiership. Saracens made quite a statement at Leicester although the absence of key players on both sides must be noted.
Worcester, meanwhile, were hammered by a wrong decision by David Rose. When Jonny May was tripped up there was a possibility of scoring a try but with Paul Hodgson sprinting across in his usual style it was not 'probable' in a million years and for a penalty try to be awarded the score must be 'probable'. Gloucester might still have won with a successful penalty kick but for Worcester to lose it without Gloucester 'winning' it is plain wrong.
London Irish benefitted as a result, especially with the other relegation candidates losing, while Northampton and Gloucester were the winners at the top end of the table as Wasps offered a callow effort in Reading... and, meanwhile, Wales and England move slowly towards one another.
Stuart answers your emails...
Got a question for Stuart? Email him at skysportsclub@bskyb.com or use the feedback form below...
FOUL PLAY?
Hi Stuart, After watching the England v France game yesterday, It is interesting that no English commentator sees fit to comment on the cheap shot by Owen Farrell on Parra. I agree Parra went down Italian soccer style, but earlier in the game, for some reason he decides to push the French full-back, because he didn't get to him sooner. I'm sure the English management couldn't care less, but I'm interested to hear your views. By the way, I felt Cian Healy's stamp on Dan Cole was a disgrace. John Peeters
STUART REPLIES: John, cheap shot is about right and it is an annoying part of Owen Farrell's game. But it is also a part of what makes him a good player; he is fiercely competitive and in this age of open palmed pushing and shoving will never learn a lesson as we older half backs inevitably did. (That's a good thing, Farrell's constant barging around is not.)
IN WITH THE NEW?
What, if any, changes should England make for their next Six Nations clash against Italy? Should some of the back-up players such as David Strettle, Danny Care and Toby Flood get a chance or is it unwise to tinker too much? Gareth Charles
STUART REPLIES: I would like to see Marika Vunipola, Danny Care, James Haskell and Billy Twelvetrees start. I would like to see Chris Ashton omitted. His form has reached that certain point. Who plays wing is a big call; Strettle is playing well for his club but as with Ugo Monye in the autumn I am not certain whether he should be given another chance. A fit and in form Ben Foden would be the man I would want to see in Cardiff. As for the other changes, Barritt would definitely start in Cardiff, as well as Youngs and Haskell but Italy is a chance for Lancaster to think ahead to both Cardiff and beyond. Vunipola has been a tremendous impact sub and I would be reluctant to take him from that role but maybe we should see what impact he can make from the kick off.
WAR GAMES?
Hi Stuart, Sam Warburton looks unlikely to break back into the Wales starting XV for their clash with Scotland and maybe even their match with England, but surely remains the best candidate for the Lions to go toe to toe with David Pocock on the fast and hard grounds of Australia? I'm a massive Robshaw fan but can't help thinking his influence may wane if Australia move the ball quickly and keep it away from contact? Chris Everton
STUART REPLIES: Chris, I hear you loud and clear but unless Warburton proves his form his 2011 World Cup efforts are simply too far in the past with worries outweighing the hopes. Tipuric would have to go ahead of him as would Sean O' Brien - who do a breakdown job - and the maligned Robshaw who I will continue to defend against critics who keep knocking him for a weakness that is supposed not evident.
CHRISTIAN AID
Hi Stuart, Christian Wade has been in awesome form for Wasps of late - do you think he is ready for the step up to international rugby? I'd love to see him on the biggest stage. Lou Anderson
STUART REPLIES: Lou, yes, I forgot Wade from the England question. I would play him against Italy to accelerate his development before putting him back in wrappers for a match in Cardiff which would come too soon for him. He is a magnificent finisher but Cardiff might be a game too early for his positional play. A definite for the Argentina tour - that is if Warren Gatland doesn't take him as a midweek player who would score countless tries against weaker opposition on the front foot (doubt that will happen but it's an outside bet).
Comments (9)
Steve Haysom says...
Hi Stuart, As an Exeter Chiefs supporter I was delighted with our performance and result at Harlequins on Saturday. I also enjoyed very much your complementary commentary during the game. I am however intregued to know who are new player called Haydn Morgan is!? Kind regards Steve
Posted 22:44 3rd March 2013
Dafydd Morris says...
Dear Stuart I think the way he England team have won their games is to be commended but I stress this , they have won nothing yet! I love the confidence , but I feel talk of a grand slam espeially the way you the media have already all but given them the Championship is an insult to the other teams, you have two more games to go and last of all in Cardiff! I guarantee this Enland team will not have experienced a more hostile (all in good sport) atmosphere, plus the defending champions who are coming back to the form they showed last year. I would also like to touch on the War burton debate, he hasnt played to his normal standards I agree but I feel in a Lions environment where the slate is clean and its a different pressure I feel he will be the man to take on Pocock ! I am hoping Mr Lydiate will be fit and will compliment him, then you will see who is the best No7 in Northern hemisphere, I beleive England will provide a strong contingent, esp the half backs who are a class above, I am a big fan of Parling, and believe it or not think Ashton will thrive in a Lions environment, it will be important to have good blend of countries
Posted 16:18 3rd March 2013
Andy Murphy says...
Hi Stuart, I've just watched a Gareth Steenson masterclass in Exeter's win against Quins. Why isn't Kidney knocking the door down of a guy that can keep an international like Mieres on the bench ?
Posted 05:31 3rd March 2013
Dennis The menace says...
Do you think that the people who believe that the Lions must counter Pocock/Hooper with a like-for-like open side fetcher are missing the point somewhat. In fact what we need is someone who can wipe them off the ball and beat them with physicality at the breakdown - I am thinking Hill vs Smith from 2001 or even when sides have (rarely) managed to counter McCaw. If we concede that as far as open side fetchers go then we don't have anyone in the home nations as good as those two then in my opinion it makes Robshaw's case (or a similar sort of player) for inclusion even stronger. It would also lend to the notion that we are playing to OUR strengths and not simply basing a gameplan on countering the Aussies. We must also not forget that the likes of Cole, Jenkins, Healy, O'Driscoll & Brown aren't too bad at the fetching job themselves!
Posted 13:01 26th February 2013
Melvin Longhurst says...
What has Danny Care ever done in a white shirt to earn a starting place on merit over Ben Youngs? Why is Farrell anything other than a metronomic goal kicker ? Why has Ashton not been dropped? Why is Lancaster doing a Saint Andre by persisting to play players out of position with negative outcomes? Thank you
Posted 12:27 26th February 2013
Melvin Longhurst says...
Stuart Barnes shifts his posistion quicker than the Titanic . Fact is that Tom Youngs immediately delivered more than Hartley did all match and as for Care deserving a start against Italy smart rhetoric as he could not fail to shine ! In fact Ben Youngs deserves to keep his place on merit whereas Care has done nothing in a white shirt to earn a start . Farrell, Hartley Marler and Lawes on form should be dropped to the bench.
Posted 23:15 25th February 2013
Paul Jessup says...
Hi Stuart - Dont you think we should focus on the small, detail elements of the game that make ultimately big impacts either spontaneously - like England's try that should have been a scrum to France, or indeed, when amalgamated over a period of time can create "tipping point" impacts? Chris Ashton hasn't wanted to defend properly for a few games now - but it was only in Saturday's game that this detail was revealed. In this rapidly progressing professionalisation of everything in rugby, it is all about continuous marginal improvements - just look at the GB Olympic cycling team. I am as surprised as you are of the behavioural inconsistencies of some of England players, as I am with someone not giving Ashton a good talking to after the 1st time he defended poorly 3 games ago. These detail faults do not lead to enduring excellence, as exemplified in the All Black teams, and will not, if allowed to fester, lead to England rugby prevailing for years to come. I also think, though, that there should be more of this detail feedback from the BBC commentary team who increasingly seem off the pace, and armchair savvy, rather than willing to dissect and analyse key areas of the game's detail. Pair you with Moore and Greenwood and with Ryan when/if he gets off Scotland duties and Sky would do us rugby professional armchair experts much to cheer about! We dont want to lose the values that the game is built on, but I think we need more insight into the more mental and technical aspects of the game as it becomes more sophisticated...thanks for your comments!
Posted 22:26 25th February 2013
Steve Parsonage says...
Hi Stuart, Whilst I agree that aggression is an important part of Owen Farrell's game I found his late ineffectual pushes and posturing on Saturday an embarrassment but nowhere near as embarrassing as Parra's theatrical dives to the turf. Isn't it time that the citing committee took action against such behaviour before it becomes an unfortunate and accepted part of our beloved game?
Posted 15:04 25th February 2013
David Rackley says...
Hi Stuart, I think my patience has reached its end with the Owen Farrell special treatment. He finally didn't have a easy ride in a match and responded to it playing in his restrictive manner. He can't attack, it's plain to see, and when Flood came on there was indeed an edge. Moreover, Farrell's etiquette is abysmal and does not make a good role model for those aspiring to be a professional sportsman. He was very lacklustre, and surprise surprise his injury turns out to be innocuous, he is hiding, and to be frank he's sitting in his father's pocket. A lions contender? I think not, if he offers nothing but kicking it is irrelevant as Halfpenny's boot is more than adequate, A replacement to Sexton needs an attacking edge, of which Farrell has none. It's been noticed before, and nothing has changed, he should not be the England Fly Half and a good dressing down is needed to show him he is not allowed to be an arrogant, boyish rugby player. In my opinion, Flood and Burns need to be in the starting squad. I know i've been very strongly opinionated, but do you agree in any way? thanks, Stuart
Posted 13:44 25th February 2013