It seems that every game on television has more and more controversy. The match officials have been getting as many headlines as players in recent weeks with a rash of contentious decisions.
David Rose was harangued by Brian Smith of London Irish for a plethora of penalties conceded at Bath, including a penalty try for a high tackle by Topsy Ojo as Tom Biggs dived for the line (great decision) and less than a week later the same referee made the headlines as Trevor Fisher, the television match official guided him towards giving Gloucester a penalty try that garnered extra headlines because it occurred so late in the game and was perceived to cost Worcester a valuable win.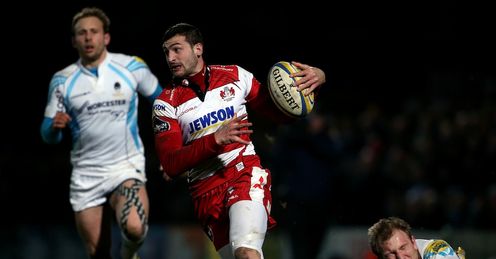 Bath v Gloucester had another penalty try and a red card for a tip tackle for good measure while another penalty try went the way of Saracens as I digested a fine chicken and cider pie on Sunday afternoon.
Forgive me if I return to a theme of last Thursday's Rugby Club but I think the issue of officiating is both important and - at times - bordering on insane. Referees are in the thick of it and inevitably receive much of the flak and frankly, as long as the tone is polite and the questioning non-abusive, so they should. The pressures and the palpitations brought on players and coaches from match changing mistakes are massive and referees should not be above open debate.
The game is in need of a radical and professional rereading and rethinking.
Stuart Barnes
Quotes of the week
However, I think the finger pointed at the man in the middle is a mistake. The rule book appears to play as significant a role in controversy as the whistle blower and his aides. Then there is 'the pressure from above' as many referees refer to the demands from the game's administrators. Finally there are the managers and players themselves who might be the victims of poor decisions but must consider the part they play in some of these errors. In particular I am thinking about the scrum.
Let's start with the rule book and the penalty try. The overriding problem is grammatical. Referees, according to the book, are entitled to give a penalty try when foul play prevented a 'probable' score. That is a subjective take on whether a try is likely to have been scored. There is no degree of doubt required. If a referee and his TMO think a try was 51% as opposed to 49% likely to have been scored the book demands the referee gives the try.
That is quite clearly preposterously wrong. A seven point concession is an immense call for an official and his team and a marginal, subjective opinion that the score would have occurred grants too much power and responsibility on the officials. Change the wording to 'almost certain' (there is no such thing as certain) or high probability and the border line calls will be eradicated with a quick change of a word. Would that Jonny May have almost certainly been scored? No way is the answer affirmative but there would have been a card and a penalty and a chance to win the game for Gloucester and an end to the headlines heading to the wrong men.
The rule book is also guilty when it comes to the scrums. Many fans and ex-players are developing blood pressure watching the blatant feeding at the vast majority of scrums. Read the rule book and it's there, the law against feeding remains as bold as ever but it is utterly ignored. One of the reasons is because of the administrator's weakness and coaching demands.
Coaches met before the 2011 World Cup and told the referees and their bosses that feeding was fine because the scrum is now about the hit, the engagement. Effectively the coaches told the lawmakers what was and what was not fine with the scrum and referees therefore ignored the rule book.
Evolve
I have a theory that when the rule book is partly followed and partly ignored the game itself will inevitably undergo a structural change as it evolves in its hybrid direction. The sport either has to take the demand for the straight feed out of the book or start penalising teams for persistent infringements at the put in.
Feeding changes the whole shape of the scrum as the technical role of the hooker lessens because of the rarer need to strike a ball. With the focus on the engagement it is becoming a world where three powerhouse pushers are in demand. We are caught between the old and new and unsurprisingly most nearly everyone is confused.
Now the managers, coaches and scrums; I call the refereeing of scrums 'heads and tails reffing'. You get the point. There is a lot of guesswork and it is deeply unsatisfying. But the set piece is not being made easier by scrum coaches who work on strategies to con officials. It has been happening forever, in the professional age it simply happens more often. If teams stayed straight and tried to scrum legitimately at every engagement there would be fewer collapses, fewer penalties and fewer complaints. Our coaches have THE fundamental role in sorting out the set piece mess. They together with some belated modern thinking as far the rules go would make a tremendous difference.
Finally the penalty tries for the tip tackle. Ask a referee why policy is so often of the zero variety and he will tell you that the word has come from on high, it is traced all the way to the men who run the sport. It was the explanation Alain Rolland used when Sam Warburton was sent off in the World Cup semi, it was the reason most tip tackles, when they go as far as slow motion replays end up red. Not always because a referee deems it right but because he is under pressure to blow that way.
When a referee says, as they do, 'I have no option I am refereeing according to the laws' remember that is nonsense; at the scrum he ignores the letter of the law every put in because the authorities have forgotten there is a rule regarding crooked feeds. The game is in need of a radical and professional rereading and rethinking.
On the field
Well done Exeter for reminding us the game is fabulous because of its unpredictability. I didn't think the Chiefs had a chance but they were deserving winners and, in the end, runaway winners against Harlequins. Will thought it would be closer than Dewi and I did but none of us saw this coming as we didn't see England beating New Zealand.
Well done London Welsh; overpowered in the end by Saracens but a display of spirit considering the demoralising events that have occurred off the field.
Well done Jamie Elliott. Five tries in two games. You are the harbinger of spring as surely as the snowdrops popping up in the fields....
Future thoughts
Let's hope (if you are English) the team is selected with Wales, the World Cup and Italy in that order. It would be an illustration of Stuart Lancaster's ability to think ahead and over the horizon.
Wales and Scotland to deliver a game at the sort of tempo that will make it worth Warren Gatland's while to watch with a view to selecting a team to face the Wallabies.
Ireland and France to perform.
John Kirwan keeps reminding us that he was an interesting contender for the England job; he has the Auckland Blues brightening up our early mornings.
Stuart answers your emails...
Got a question for Stuart? Email him at skysportsclub@bskyb.com or use the feedback form below...
Hi Stuart
What do you think Saturday's result at the Stoop says about Exeter's Heineken Cup ambitions and Harlequins' title hopes? In my opinion Saracens will edge the Premiership and Chiefs will just miss out on the Heineken Cup.
Sean
STUART REPLIES: Sean, the Premiership boils down to a final and while Saracens are in good nick it would not pay to write off Harlequins after one poor performance. And don't forget Leicester; everyone seems to be dismissing their domestic and European hopes. This is premature. We also need to remember that the top teams are all way below full strength. The semis and final will be another matter and what is happening now only has implications as one of the top three will have to win away.
Exeter did just that at the Stoop and kept their European hopes alive. Rob Baxter said they needed a win to be in contention; they got it. I still think they will fall just short this time but no more writing the Chiefs of unless they visit Clermont anytime soon.
Stuart, What are your thoughts on Ronan O'Gara's omission from Ireland's squad to face France? He's 36 next week - could we have seen him make his final Six Nations appearance?
Ben
STUART REPLIES: Ben, yes is the short answer. I love ROG for his refusal to take the easy way out and announce his retirement when he knows time is up; he backs himself. He never thinks the end is coming but his cameo horror show is probably an unfortunate end to a fine international career.
Hello Stuart. Big fan of the column. David Strettle impressed against London Welsh after being released for the game by England. Do you think he'll ever be able to pin down a regular starting spot under Stuart Lancaster?
Matt (Saracens fan)
STUART REPLIES: Matt, no. Like Ugo Monye I think Dave is playing superbly for his club but has fallen short a few times too often at international level. Club form and international selection do not always go hand in hand.
Stuart, it's been 12 months since Chris Robshaw was made England skipper. How do you rate his first year in the job?
Steve (Quins fan)
STUART REPLIES: A superb first Six Nations. A learning tour of South Africa and a few horrible moments in the autumn. The calls to axe him were ridiculously premature as he has again shown to date in this Six Nations. I called for him to be made England captain even before Stuart Lancaster was in charge and I am not going to change my mind considering the leadership he is providing. I sense an outstanding England captain in the making.
Comments (11)
John Butt says...
Stuart For me the biggest problem in Rugby Union is too many rules. My suggestion for the scrum is that any infringement at the scrum only warrents a free kick. No kicking to touch and no kicking at goal. The game will just restart where it is with a free kick. I see the problem with refs is they have too many chances to give penalty's. Its getting to the point where we might as well not have a game, just a penalty shoot out and save us the time. lets cut down the penalty's then the ref has less chance to influence the game and we will not have "bully boy" rugby at the scrum looking for 3 points every time. What do you think. Less rules not more.
Posted 13:48 21st March 2013
Tracey Agnew says...
Shaun, totally agree about this frequent method of tackling which is never penalised despite that it is not a legal tackle. Another worrying thing creeping in without any comment is players sliding into 'tackles' feet first, especially when a player is just about to score a try. The deliberate throwing or kicking a ball away to prevent the other team taking a quick free-kick or penalty is rarely punished either.
Posted 14:43 13th March 2013
John Butt says...
Stuart its because of all the rule changes these last 10 years the game is in a mess. Add to that the failure of southern Hemisphere refs to control and apply these laws to the game, and we have a farce. Its been the worse 6Nations for refereeing that I have ever seen. A disgrace. crickey they cannot even be consistant at the calling at the scrum. Not from match to match or ref to ref but scrum to scrum. Its time the refs went back to basics. SH refs only ref static rugby at the set piece. Trips stampings all missed with the ref looking at the offence. We cannot think about changing the rules. The refs cant cope with the ones they have. Cruel to confuse them further by changing the rules again.
Posted 18:29 11th March 2013
Josh Bennett says...
Lee, you have clearly miss understood my point of view I think current laws have removed decisions from referees and have gone way over the top! But I'm sure lee that you, as did I would have loved watching Jonny wilkinson tackle Justin bishop back in 2002/2003 when playing against Ireland back then the tackle was deemed fantastic but now it would see wilkinson banned for months I am I Gloucester fan yes but I was trying to see it from both side and that ref in the bath game spoilt much of the play for both teams !
Posted 12:42 8th March 2013
Shaun Briddon says...
Stuart, having been at the Bath Gloucester game on Friday, it seems that current method to stop a player is to dive at their feet! Too often i watched as the Cherry and Whites 'slipped' over at the Rec to stop the attacking player, rather than face up to having to tackle properly. Is this something that you are also seeing on your travels. With regards to the penalty decisions, i cant see how Gloucester can complain about the tip tackle. it was blatant and potentially dangerous. What is your view on the current succession of appeals against bans? Healey and now Parisse. Should be a game show panel rather than an appeals panel! Bans should be in matches and not weeks. Finally, agree with your comments on the rule book - just make sure it is rewritten by rugby players for players and not for the television eg no lineouts and scrums - go watch League!
Posted 22:33 6th March 2013
Dan Dan says...
Lee Wynd thinks that tackle is bad what about toby flood? glos hooker tackled square on it would of been a good tackle if the other player did not lift the leg. i think some people want rugby to be like football
Posted 22:31 6th March 2013
Matt Stenning says...
Question for Nick Tribe, aggrieved shed-head. If you think the penalty try decision, when Sharples tackled Biggs on the try line with out the ball, just as Biggs was about to dive on it, was debatable; what is your opinion on the penalty try awarded to Gloucester against Worcester, with May being tripped yards away from the line and defensive cover moving across the week before, that handed the win to Gloucester. Did you feel that warrented a comment about poor refereeing decisions then? I call it good Karma Happy Bath fan.
Posted 11:38 6th March 2013
Nick Tribe says...
Totally agree with Mr Bennett, shocking decisions throughout, ruined one of the classic games of the season. Sad as it seems Gloucester always seem to bear the brunt of controversial decision making. Conspiracy throughout the rugby world I ask? Penalty try was questionable, Biggs had messed up the try scoring opportunity up before he was tackled by Sharples, the red card was never a red card in a million years, momentum took control of that, countless small decisions throughout which cumulatively weakened our chances of a fair contest AND nearing the end of the game when Gloucester had momentum Stringer commited an obvious act of foul play (kicking the ball out of our scrum half's hands at the ruck). A moment that changed the game completely. Sort it out officials. Aggrieved Shedhead.
Posted 12:45 5th March 2013
Lee Wynd says...
Josh, Gloucester have been one of the most cynical and dirty teams all season, it's about time karma rewarded them! And that 'tackle' on Attwood wasn't an accident, it was malicious and designed to injure - I hope there's a significant ban in the offing. Straws. Clutching at. You are.
Posted 12:42 5th March 2013
Gordon Murphy says...
Stuart, who do you think will replace Kidney as Ireland Head Coach (if his contract isn't renewed)? Joe Schmidt and Conor O'Shea are the only clear alternatives but I'm confident both would continue their success at their respective clubs should they not receive the nod this time around.
Posted 11:20 5th March 2013
Josh Bennett says...
My email is regarding the Bath v Gloucester game at the rec. Yes I am an out and out Gloucester fan but that aside, a game that had such potential of being a fantastic game was spoilt by a shocking refereeing performance. The obvious poor decisions like the red card for the tip tackle seems a little over the top, leaving no discretion in the hands of the referee! There was the standard poor decision making at the scrum which is always the case. So neither of the above really lead me to say this show of refereeing was so poor however the main reasons were the lack of advantages played with not a single one to be seen during this game. Also the simple unwillingness to make a decision without consulting the TMO can really spoil the sport for the neutral ! I'm also the biggest fan of rugbys controlled mannerly culture where back chat on the pitch is unacceptable but the inability (through fear) of anyone of influence to criticize a referee has gone to far. This shouldn't necessarily be done publicly but something must be said by someone it's gone mad, it was a sub standard refereeing performance, poor decisions and a lack of advantages spoilt one of the most anticipated fixtures of the season. It should not go unnoticed and I feel serious thoughts should be taken before he is allowed to oversea such a prominent fixture in the feature.
Posted 21:10 4th March 2013