All rugby roads lead to Cardiff.
After England's blunt performance against Italy, Wales can retain their title. The home side can complete their recovery from that seemingly-endless losing run with a Grand Slam-depriving victory over England and even a title winning effort to cap the resurgence.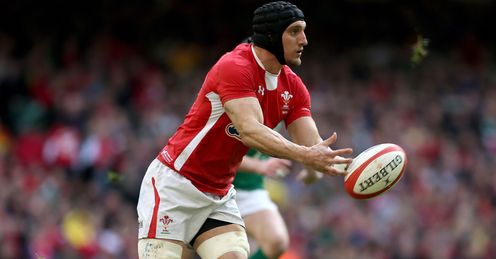 Add the sub-plot of a revived Sam Warburton going head-to-head with the England captain and the man who displaced him as favourite to lead the Lions, Chris Robshaw and the magnitude of the occasion becomes blindingly obvious.
The quality of the game is not such a banker. Wales will have to play infinitely better than they did in Edinburgh if they are to spoil the English party. Whatever failings some may have identified with the England team a loss of character and nerve is no-one's idea of a flaw - or it wasn't until the desperate effort on Sunday when they muddled their way to their worst performance of the 2012/13 season. They played as if training and when they realised Italy were for real it was too late to get their game into gear. Matches of this sort are driven by complacency. It was a rotten effort but they will be different, sharper, focussed, in Cardiff.
On the evidence of Wales throughout the course of this Six Nations it has to be England. On the evidence of the Italy game the only winner is Wales!
Stuart Barnes
Quotes of the week
Back to Wales; they will have to perform markedly better to anything we have seen either this season or even in the Welsh march to the Grand Slam. Win, lose or draw Wales have retreated from the high point of quality in their performances. Those performances were the loss against South Africa in the pool stage when Wales played as well as they have for a decade and the powerful quarter-final demolition of Ireland.
In the seeds of that win have been sown a long-term problem; Wales backs its power, pure and simple and has become so unsubtle that any side capable of hanging onto their muscular backs has a decent chance of beating them.
Like England in the early 1990s, Wales possess a team of terrific talent but the odd Grand Slam satisfaction is holding them up on the world stage where the ability to make the opposition think twice when you are in possession counts.
It was no surprise (although a disappointment in the light of the forthcoming Lions tour) to see Europe's champions lose 3-0 in Australia. The way they are performing is designed to see off physically inferior opposition. The similarities with the England team of Will Carling, a side with so much talent that never quite found its form at the highest level, are great.
There will be no soul-searching in Cardiff should Wales win whilst playing like gargoyles (ditto England - the winning is everything on Saturday) - such is the nature of antipathy between these contrasting rugby nations. Winning is clearly all that matters on the day but looking into the immediate future I would say that unless Wales (and England on recent evidence) win playing some positive rugby the long-term winners might just be Australia.
Blow for Australia
On the subject of Australia it was terrible to hear that David Pocock is likely to miss the series. It obviously helps the Lions but just as I do not want a horse I back to win at Cheltenham off the back of an injury to another horse, so should lovers of sport should not want the win at any cost to the opposition. The series needs as many of its stars playing as possible for the global good of the sport.
Staying on the theme of the Southern Hemisphere, a digression onto the subject of Craig Joubert; before the World Cup he was heralded by many (myself included) as the world's best referee. I felt he was unjustly harangued during the course of the World Cup with his final performance - although not his best - gratuitously vilified.
He has not recovered. At Twickenham recently he was hesitant and the press room in Murrayfield was full of scathing comments. Yet it is not a one way street, this officiating. We know it is not easy and it is made harder when teams are more interested in killing rather than creating. Maybe it has been the inclement autumn maybe the tension of teams seeking important wins but the dawn of the first Six Nations weekend looks false from this March vantage point.
In the Southern Hemisphere Joubert is far more certain of himself but in Super Rugby the intentions are definitely more positive than we have seen for the majority of this competition. Many of the scrum penalties were debatable but when teams work on conning referees they should not complain when other sides get one over them.
In Edinburgh, Scotland and Wales played with so little ambition that, until Scotland threw caution to the freezing wind the only area of attacking play to impress was the pick and drive around the fringes. No need to pass, no decoy runs no nothing just a referee intent on penalising sides who dived off their feet or came in around the side. It was pitiful stuff.
The sport needs a lot more from Cardiff. We are not advertising the game very well at the moment. This is not an appeal for caution to be thrown away in Cardiff. The immediate focus revolves around the Grand Slam, to win it or not to win it. Wales have the players and home advantage to make the final hurdle horribly difficult for England; whether they have the capacity to maximise their virtues under pressure is another matter. On the evidence of Wales throughout the course of this Six Nations it has to be England. On the evidence of the Italy game the only winner is Wales!
It has to be Hurricane Fly Tuesday and Gevrey Chambertin on Friday (how could I not back that horse?) as Cheltenham takes centre stage for the week. Let's hope the racing is better than the quality of the Six Nations for the last few weekends.
Stewart answers your emails...
Got a question for Stuart? Email him at skysportsclub@bskyb.com or use the feedback form below...
Stuart, who do you think will replace Kidney as Ireland Head Coach (if his contract isn't renewed)? Joe Schmidt and Conor O'Shea are the only clear alternatives but I'm confident both would continue their success at their respective clubs should they not receive the nod this time around.
Andre Welch
STUART REPLIES: Andre, Joe Schmidt would be my choice but Conor O'Shea would also do a great job. Let's leave the IRFU to worry about the future planning until they see fit to dismiss Declan Kidney, shall we? There are not that many original alternatives; expect Nick Mallett to be listed as favourite if and when!
Stuart, there seems to be a new trend of taking players out far beyond the ruck area. I noticed it a lot during the Ireland v France game where players around the ruck area were driven back far beyond where the actual ruck was taking place. What is the rule regarding this?
Cam Grenshaw
STUART REPLIES: Cam, Players should be bound to a team-mate and then the drive is permissible but the individual wipe out was against the rules last time I looked. It is perceived as positive, however, and is therefore one of the rules ignored. The law book and its guardians are in a state at the moment.
What did you think of the speed of the scrum engagement calls over the weekend? I noticed both Craig Joubert and George Clancy were pretty slow, and Clancy called out specifically that he was going to be taking it slow, which makes it sound like a directive for the referees. Surely taking the calls slower contradicts the fact that they were shortened this season?
Peter Huighes
STUART REPLIES: Peter, nail on head time. Referees rule according to the latest directive in vogue and not for the game and the players. The directive followers thrive while those who dare to think for themselves struggle. There is a corporate/political disease of the yes man creeping even into the far reaches of the refereeing industry.
Stuart, do you think that Mike Brown is wasted on the wing. Against Italy he was the one back who created a bit of space and acted as a real strike runner. Moving him back to full back gives a much better attacking threat. I understand that England want Goode to act as a second distributor but he hasn't managed to do that at any point since the Fiji game and has also looked weak under the high ball, along with missing a bunch of tackles.
Mr D Noble
STUART REPLIES: After England's problems with penetration in the last few games I think you are possibly right. I like Goode; he is a fine player but once Manu Tuilagi is shackled there is little coming through the middle. I do not think either Alex Goode or Mike Brown will make the Lions party. If they don't, then I think that Brown should be given a crack in one test at full back when England go to Argentina in the summer. With a bit of luck Ben Foden might also be in South America and increasing the options.
Comments (11)
Kevin Mitchell says...
Yet another Grand Slam failureW by England.W hen will the pundits and press start using the word CHOKERS as you are all quickly to use that word with the All Blacks.
Posted 12:02 18th March 2013
Steve Norman says...
Hi Stuart, hope you enjoyyed the Festival. I am a Stuart Lancaster supporter and I think he and his coaches will move onwards and upwards from this disappointing end to the 6 nations. However, do you think he was being a bit harsh on his players when he said "they didn't turn up". The first half was quite staggering in its intensity and physicality. England defended well and counter attacked pretty well. What did for them was a poor scrum, poor decision making and poor execution. Also, I don't think England couldn't match Welsh physicality for a lack of trying. They are just bigger. Plus, and here's the biggy, Wales were excellent. And Bouyed by a tremendous 16th man. Did England turn up?
Posted 11:33 17th March 2013
Benno Bennett says...
Perhaps the cardinals (the press and ex players) will accept that England still play a negative brand of rugby despite all the riches of their league and number of non English recruits. Stop the penalties and you stop England. How many tries in the last 3 games? Grand slam at Cardiff? Dream on. The Vatican best burn those victory banners for another year.
Posted 08:38 17th March 2013
John Butt says...
Our best 9 & 10 is Flood Youngs no doubt. Why Lancaster did not start with this against Italy baffles many. I still do not understand why Flood is now being left out for Wales. I do not rate Farrell. I think He is not only yellow card material but has no go forward. Lancaster selections let us down in the Autumn I hope he is not doing it again. Too much school teacher not enough rugby coach in my view. I cannot afford sky but with the BBC camera work wish I could. A live match on the BBC is like watching a highlight game so many close ups during play.
Posted 18:34 15th March 2013
Leigh Rogers says...
Stuart, now that the six nations is coming to a close and the lions squad announced in April who would who would you say was a potential 'bolter'? No one has mentioned Gareth Delve but he would make perfect sense with no number 8's really excelling and the fact he plays in Australia already could he be a 'bolter'?
Posted 13:43 13th March 2013
Kevin Mitchell says...
If England fail on saturday meaning more than a decade since a grand slam will the pundits start using the word chokers when discribing them.The All Blacks failed regularly every 4 years and had that label so surely an annual failure that tag should belong to England.
Posted 09:23 13th March 2013
Callum Abrahams says...
Do you think that England's drop in form is similar to 2011 when they played badly in round 4 and lost in round 5? If so do you think it will make a difference against Wales?
Posted 17:53 12th March 2013
Andrew Cavenagh says...
Stuart, England's lack of penetration glaring if Manu Tuilagi is shackled. Surely time to recall Foden at full back and give a young speedster such as Christian Wade or Jonny May a chance on the wing.
Posted 13:37 12th March 2013
Pete 2 says...
Hello Stuart,i wonder what you think about Ben Foden and Jonny May taking the wing spots and Mike Brown moving to full back against Wales.Havent heard any news on Ben Morgans injury as of late?,although England have a wealth of tallent in the back row,(if fit again i think he will have to wait for next season to challenge for a spot.Who would you fancy to start at 10 this week,could be a tough call,lucky to have 2 great tens to pick from.
Posted 13:49 11th March 2013
Nick Creaser says...
With Ashton's long run of poor performances (in attack and defense), would you play him against Wales? I was at the game against Italy and noticed that during quick team meetings on the pitch, Ashton rarely bothered to join in and instead just wondered around the pitch on his own or went for a drink. When watching on TV, you don't notice this as they always cut to replays or pitch side reporters, so does this happen often or was it just the Italy game? Also, England seem to crying out for a man with a spark who can, when given a tiny gap, use a bit of clever footwork and go through it like BOD, Fofana etc. Who could potentially be that player leading up to the 2015 WC?
Posted 13:02 11th March 2013
Melvin Longhurst says...
Stuart SL has stated that players are selected picked based upon their performance. Why does he continue to exclude Ashton from this policy because he has not performed and its putting him above the team. Wales will relish running down his channel unopposed.
Posted 12:27 11th March 2013