The book currently on my bedside table is entitled 'End This Depression Now'. It is about the altogether more important matter of the global depression we are struggling to escape but when I arrived home from the Millennium Stadium and saw it, well, it sort of summed up this season's Six Nations and the events of the afternoon/evening.
European rugby had gone from an exciting first weekend into a slump with England not having to do very much to set up a tilt at a Grand Slam. It was way, way too similar to last season as Wales gradually got worse and worse but the mediocrity they encountered could not stop their march to glory.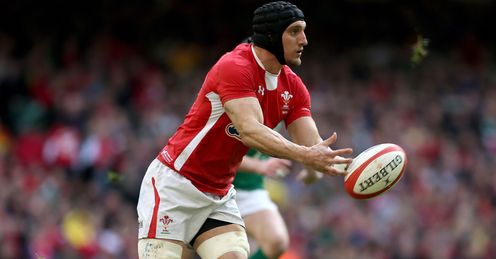 That second-rate Grand Slam turned to rubble as the reality hit home and Europe's champions became the world's whipping boys. Had England won in Cardiff I fear a similar fate awaited them unless they radically shifted the focus of their game and balanced character with youthful individual firepower; the temptation to think the pace of their development might have tempted Stuart Lancaster away from the far more ambitious course they need to take towards 2015.
It will be a painful meeting for the English coaches because NO Englishmen would make the test team on this evidence. Indeed so superior were Wales to the mediocrity of most of these matches and teams a case could be made for an all Welsh test team, a fit Jonny Sexton apart.
Stuart Barnes
Quotes of the week
As it was Wales turned up with one of the finest performances I can remember from the men in red. The defence was back to its intense best but the sharpness of their attack was something we have NEVER seen from this group of players. Had Wales played like this, they would have beaten Australia last summer; heck, they would have beaten the All Blacks. No team in the world would have lived with them on Saturday. End of depression.
England had set the benchmark for Europe with their win against the All Blacks - Wales surpassed it with a mean and magnificent effort. The unfortunate usual edge of post-match alcoholic edge was missing on the streets. Even the bad boys knew that something special had occurred. The day went from being about snuffing out the English Grand Slam to reigniting Wales's own aspirations.
But it was just one game; Wales must remember that performance counts as much as results. The last Grand Slam saw that fact forgotten and Wales slipped off the pace. England did their own slide from the highpoints of the New Zealand and Scotland performances and had nothing in terms of an attacking edge to face up to a team with another level of attack.
Lessons for the Lions
Winners and losers can take lessons from the game. What will Warren Gatland think? Obviously, he will be delighted. His team has taken their biggest step yet and without him. When the Lions tour is over he can return to his 2015 project...but first the Lions; until Saturday the most important game was England's win over New Zealand. It was the one game that set the standards. Ireland's win in Cardiff was the secondary factor, until Saturday.
The final match will have a sway on selection for the plane and the test team. Stripped of too many meaningful pre-test games the Lions management will have to consider Cardiff a full on trial. It will be a painful meeting for the English coaches because NO Englishmen would make the test team on this evidence. Indeed so superior were Wales to the mediocrity of most of these matches and teams a case could be made for an all Welsh test team, a fit Jonny Sexton apart.
The loss of Ireland's playmaker exposed Ireland and left question marks hanging around the head of Declan Kidney for not having a plan to cover his star man with someone younger than Ronan O' Gara. It was a rotten tournament for a team with plenty of talent and heads will be demanded and probably handed over to the rugby media on a plate. That is hard on Kidney because Ireland is not so far from being a decent team. Had their fly-half not been injured it could have been so different.
England's headline march has been checked and in the light of Saturday they no longer seem quite so advanced from where they were last season. New Zealand looks worryingly like a one off with the Scotland game the only match in which they fired more than attacking blanks. I'll write this for the last time. Owen Farrell and Brad Barritt will not take England to the next level. Argentina is not a chance to find players for the future but ones for the autumn. As long as England learns their lessons from Cardiff I think they will rebound; they have decent foundations but they have to start building something upon them.
Good news for Scotland
Scotland will be happy just to have re-laid their foundations. Two wins and a couple of competitive defeats is a good return. They were gutsy in defeat and have a few decent backs that can develop. Gregor Laidlaw is very clever and Matt Scott had a fine season in the centre. Scotland finished in credit as did Italy with wins against both France and Ireland. Sergio Parisse was awesome, man of the tournament. If any man has such an influence on a team as Italy's Number Eight I would be stunned. If he were available he would be my Lions captain.
France was as disappointing as Italy were excellent with Philippe Saint-Andre's reputation tumbling in Spring as fast as it rose in the Autumn. Some stability please, France. Two exceptions worthy of mention are Louis Picamoles and Wesley Fofana, who established himself as the most exciting back in Europe. It was the bleakest of Six Nations for France but they have the consolation of several extremely bright sparks who can rekindle their hopes. France was dreadful but only a fool would write them out of the 2015 equation.
Finally a word about a referee; Steve Walsh was outstanding in Cardiff; come the Lions tour let us hope the three Test referees are as sympathetic and sharp as Walsh was in every facet of play. Two teams wanted to scrum and a referee knew what was happening; it proved that a scrum contest is both possible and desirable. Well done, Mr Walsh.
Stuart answers your emails...
Got a question for Stuart? Email him at skysportsclub@bskyb.com or use the feedback form below...
Lions contenders
Hi Stuart, obviously thrilled with the result but more than anything the total domination from 1-15. Do you think that being completely outplayed in such a massive game/occasion will seriously impact the number of players who might make the Lions touring party from across the Severn? Also a note on Leigh Halfpenny, do you think he's done enough to be not only the premier full back in Europe but also, with the exception of Israel Dagg, the rest of the world?
Dan
STUART REPLIES: Dan, such a performance has to impact on Warren Gatland's thinking. The Australian teams will be weakened by squad absentees in the first test build up so this is, in some ways, the last trial and Wales won hands down in every position. Tour possibilities like Ian Evans became test probabilities and tour certainties like Leigh Halfpenny became test probabilities. I am a great Rob Kearney fan but Halfpenny has overtaken him as the likely test full back. I always thought he might end up on the wing but George North and Alex Cuthbert have changed my thinking in that area too. I bumped into Cuthbert at Cheltenham on Wednesday; don't know how he fared that day but he had a helluva day Saturday.
Frustration!
Hi Stuart , I am a frustrated England fan!! Why am I frustrated?? Despite the obvious I think today's loss might have been inevitable England are a young team and to go to Cardiff and win takes a lot of experience and international nous. However the style of the defeat could have been a blessing in disguise. I sent an email in the summer calling for the inclusion of Billy Twelvetrees in the team, and I got it. I can only describe myself as distraught to see Twelvetrees come off to be replaced by Tuilagi. Does anyone else in the world of rugby play two crash ball centres at the same time? Barritt is a work horse and great in defence, but will never hurt anyone in attack with his pace or his passing. Tuialagi and Twelvetrees makes perfect sense, I just don't understand Lancaster's mentality. Defence and a goal kicker will not win you a grand slam let alone a World Cup. We have two ful backs and an out of form Ashton in our back three, this means we will get burned on the outside by sides who can actually use attacking patterns.
Steven Brooks
STUART BARNES: Steve, I think Stuart Lancaster reigned in his thinking and tried to graft out a Grand Slam; a mistake as you write. But I do not think him quite the conservative you do; I am optimistic the tour party to Argentina will include a number of 'next wave' test players and, like you, I suspect short term will be long term gain; the manner of England's game did lack a certain spark but defeat in Cardiff should drive the point home. Don't despair, the World Cup is not tomorrow, England has time to regroup.
Pressures of Europe
Hi Stuart, Before the Six Nations started many pundits and experts seemed to write off Wales' championship hopes and hype Ireland and France's chances based on the performance of their regions/domestic sides in the Heineken cup. Obviously this has worked out totally opposite and I was wondering if you believe that the Heineken cup has taken its toll on some of the Irish players especially? (I think the French was more about bad team selections) Also interested to hear about your thoughts on the Lions captaincy. I personally can't see beyond Alun-Wyn Jones as he has so much passion, determination and class and can't think of a better second row in the British isles at the moment and although Coombs did a superb job I thought that the return of AWJ made a massive difference to the Welsh pack.
Edwyn Roberts
STUART REPLIES: Edwyn, nobody is talking about Jonny Sexton's injury fairly early in Ireland's second game with England; they should. France blew it off the field. I do not think their side's Heineken exploits are a factor. There wasn't much between the sides, it was all pretty average, until Cardiff....captain, AWJ is a possibility amongst several but lack of test captaincy suggests to me he might lose; Warburton was 33-1 before the Scotand game. I missed a chance to make a killing. He would be my fancy now he has regained his form.
Options for Scotland
Great to see Scotland placed so high on the table. Do you think that the SRU should pull out all the stops to keep the 'interim ' coaching team even if that does mean losing one of your colleagues?
Barry Evans
STUART REPLIES: Barry, we want Dean back! If the SRU do not try and keep him there is something wrong with them.....beyond that there is little I can say.
Morning Stuart, plenty to ponder over from the weekend - especially the scrum which is turning into an absolute joke. If the players don't know which way the ref is going to go week on week then how the heck are the fans! Anyway, my question is who would be in your team of the tournament?
Team of the tournament
STUART REPLIES: The scrum was ok in Cardiff. Steve Walsh allowed competition and the superior scrum prevailed. As for my team of the tournament....here we go: Thomas Domingo (when France deemed to put/keep him on the field) Richard Hibbard, Adam Jones, Alun-Wyn Jones, Ian Evans, Ryan Jones, Chris Robshaw, Sergio Parisse (captain), Mike Phillips, Dan Biggar, George North, , Matt Scott, Wesley Fofana, Alex Cuthbert, Leigh Halfpenny....obviously distorted by recent events but before Saturday the options were limited....
Comments (17)
Roger Kingston says...
I've not seen Billy Twelvetrees miss many shots at goal and he also has distance on his kick which is woefully missing in the current England squad. Just can not see why Barret got games ahead of him!
Posted 03:24 27th March 2013
Kevin Bratherton says...
England were not that bad. They threw themselves in to the game but were out played on the day. Wales had the edge - perhaps the crowd and occasion helped. England not taking their few chances certainly did. A great game full of physicality and intensity. Credit must go to Steve Walsh for an outstanding performance - good to see a meaningful scrum contest rather than a lottery of penalties being given without rhyme or reason. Clearly Wales had the dominant scrum and were rewarded as such. Rowntree whining about it does him or his team no credit. I'm sure there will be a warm welcome at Twickenham next year - we've lost by bigger margins there in the past than England did at Cardiff. C'mon the Lions.
Posted 16:14 24th March 2013
Matt Elias says...
Putting the result of last saturday aside. I think a lot of people are forgetting that Wales have beaten England in 6 of the last 9 six nations championships. Yes it is true that Wales have lost to SH sides a lot in the last ten years, but so have England post 2003. A lot of welsh players should go on the lions tour, but there are quality English and Irish players also and a few scots. As a welshman I think we all need to do more to collectively improve the quality of Northern rugby, but lets forget for all the bravado from the south their envy what we have in the north!!.
Posted 15:59 23rd March 2013
Andrew Cavenagh says...
A lot of predictable over-hype after one good - but not brilliant - performance against an overawed England side, some of whose ill-advised selections were finally found out. Ask yourself how many of this suddenly world-beating Welsh team would find a place in the All Blacks' starting line-up.
Posted 10:11 23rd March 2013
Damien Naughton says...
Steven Brooks in his statement/question to Stuart said " Defence and a goal kicker will not win you a grand slam let alone a World Cup."Sorry Steven but have you forgotten how England won the RWC in 2003,I am fairly sure if not 100% sure that it was a pack that battered the crap out of the other team,forcing mistakes and King Johnny knocking over the penalties.
Posted 14:57 21st March 2013
John Mcsorley says...
although England were totally outplayed in the 2nd half against Wales,I still think that the lions squad should still have a good deal of English forwards in it,my reasoning is because,the Celtic nations can only play with that kind of intensity against England they can't take that game south of the equator(for whatever reason).Wales proved that last summer,they were a shadow of the side that won the grand slam,they just didn't believe they could win down there,whereas English players can take their game south and have proved it on many occasion,so to not take English forwards would be a mistake by Mr Gatland.I don't believe many of the back-line should be included.Brown too slow(not a winger),Goode too predictable(his shuffle fools nobody),Ashton needs to learn to tackle and Barrit needs to learn to pass.Maybe Youngs,Tualagi and Farrel but as back up only,there are better players than them in the British isles.
Posted 19:20 20th March 2013
Dan Richards says...
Hi Stuart, Both yourself and Clive Woodward have said that Walsh refereed the game well. Do you find it embarrassing that 2 days after the game Graham Rowntree is now criticising the referee, particular as it is the area that he is responsible for coaching that allowed Wales to lay the foundations for victory. I find it very interesting to compare this with how your old team mate Richard Hill has accepted some particularly bad refereeing calls at Worcester this season. Victory is everything, but I hope our game is not beginning to lose the values that make it so great.
Posted 16:10 20th March 2013
Lee Morgan says...
I have to agree with stuart, tricks of the trade aside the English scrum was dominated. No shame as they were up against a experienced, and, perhaps the best prop in the world (Adam Jones). However I also feel the centre partnership is all wrong. I personally would play Twelvetrees at 12, Tuilagi at 13, put brown to fullback (he's class for the quins), and give Johnny May the wingers birth. All this from a Welshman!!!
Posted 15:32 19th March 2013
Leigh Rogers says...
I beleive Wales won it with there experience they won the ref and were more street wise. I can't believe you feel Steve Walsh had a good game! When Ken Owens stole that ball at the breakdown he was in from the side, on his knees and had two bites of the cherry. England need to make a decision about Tuilagi and Barrit, twelvetrees needs to play which means either dropping one of them or moving Tuilagi to the wing. Looking back we missed Foden, Morgan and Corbisero and we have been let down by too many for too long. Ashton, Care, Flood, Haskell whilst excellent for the teams seem to lose all that spark playing for England. Where is that Care that tapped and went against Leicester recently?
Posted 13:39 19th March 2013
Spidey Jones says...
Wales exposed a limited and inexperienced england team just as I had predicted all season. tulagi handling skills are awful and he is far too 1 dimensional to make a lions team, robshaw and wood try hard but warburton and turpic are at another level as are lydiate and ferris when fit. cole is very good but he is nit ahead of adam jones twhile phillips rag dolled young. the 1 england player the aussies fear and we should take is sheridan a pack of sheridan hibbard adam jones alun wyn jones ian evans ferris warburton and felatau with cole best healy hamilton and ben morgan on the bench will smash the aussies
Posted 10:57 19th March 2013
Neil Goldsmith says...
Stuart, let's face it, it was about time the welsh side showed up. They were poor in Australia, poor in the autumn and dire against Ireland. The game can be seen as a one off where everything went well for Wales. The same was true for England vs the ABs. On each occasion, a good team with nothing to lose, put on a performance. England lack a fetcher and need Morgan, or another ball carrying quick 8. The back line has been average since Morgan got injured. The positive about last weekend is Lancaster now knows he has to change some key players. It's never easy to change a team which beat the ABs. A win against Wales would have made changing personnel difficult. Now Lancaster can experiment a bit more with combinations. The scrum will improve but we do need a more intelligent attacking flair in the backs. No doubt the summer tour will give an opportunity to experiment with Burns, Twelvetrees, Wade and some natural 7s.
Posted 09:17 19th March 2013
David Dickens says...
I would agree with your view that the majority of the Lions team should be Welsh, after all they won the championship. Indeed I would urge it, it may allow Lancaster to have the majority of his players together over the summer. A plus. I would also agree its time to up the bet, and look to changing the personnel. New centers for a start, give Nick Wood a go at loose head, and Robson at lock. Bring back the Wood, Robshaw & Morgan back row, if not what about Kvesic, knutley or Wallace, and have other ball carriers such as the Vunipolas on the bench. What about Twelvetrees and Joseph at centre with Jack Nowell, Thompstone and Brown/Foden. If your going to go for it, do it. Look at Harlequins, they have to be the guide to the way to play surely. Time for Burns to be given his head. Time to follow that yellow brick road surely.
Posted 22:32 18th March 2013
Matt Slade says...
Stuart I am surprised by your backing of Steve Walsh. His management of the scrum killed the game, I lost count of the amount of Welsh infringements in the scrum and rucks. Wales were magnificent on the day, but as the guys above said without the passion of a such a fixture behind them their dire brand of battering ram rugby is depressing and wont be nearly as effective down under. The Australians play with speed and flair, lets join them rather than trying to smother them... for the good of the game!! (I am sick of hearing nothing but physicality this and physicality that) I back the English to bounce back on tour, but Lancaster needs to be assertive moving forward with positive selections - Now or never!
Posted 21:31 18th March 2013
Ray Stevens says...
This was not a surprise result only the margin of defeat.The English front row has creaked for the past 3 games.Without Corbisiero we have looked vulnerable and Lancaster should have checked on the form of Sheridan. The rest of the pack lacked a physical presence with the exception of Lawes,and it did not contain a ball carrier.The back line was one dimensional with a lack of creativity. Farrell is a fine defensive no 10 who will kick the goals when the pack are on top but does not have the speed,skills or vision to open up defences.The back line lacked real pace with the exception of Ashton and was devoid of a cutting edge.I do not feel England's game has developed and until we pick players in their correct postion and look to pick players with pace and flair - Burns, Wade, May and Fodden for example - we will not open up International defences.I fear we are going back to a pack dominated game plan without the players to deliver.
Posted 18:43 18th March 2013
Alex K says...
Stuart, I go to Saracens every week, and therefore would like to think I probably see more of Bradley Barritt than you do and the constant criticism he recieves from yourself and other rugby watchers who think a rugby game is won in 12-13 partnership is getting wearing. Take Barritt out of the England team, England get stuffed. He is not the problem with England's attack. The problem is that too often there was no gain line success after the Scotland game in the forwards - no ball carriers of any note which creates space out wide for everyone else (with the exception of Tom Youngs and Mako Vunipola). Did Twelvetrees single handedly create 4 tries against Scotland? No. Did England lose on Saturday being Roberts and Davies were magical in the centres? No. You criticise Farrell here, but against Scotland you were lauding him - especially his missed pass for Parling's try. The significant problem with England in the last few weeks is that the back row (Wood, Robshaw Croft/Haskell) is too small and too light and not dynamic going forward, while Marler and Cole were poor in the scrum and anonymous in the loose. When Morgan plays England get some go forward, they get quicker ball and the backs look immediately more threatening. To say 'well the 10-12-13 is too predictable' is a lazy analysis. Any premiership side could happily defend against any international backline if the forwards took the pounding they did on Saturday and the ball is as slow (especially when Care is playing) as it was most of the tournament. Couple that with England's perenial breakdown problem (I know you like Robshaw, but there was no contest with Tipuric on Saturday at the breakdown) and of course Farrell, Barritt and Tuilangi look pedestrian. So would Carter, Nonu and Smith if a defensive line had 10 seconds a breakdown to align themselves. Its all too easy to cast the problem at the back's door.
Posted 16:19 18th March 2013
Jack Herer says...
Must have been a great night on some red wine from the few Welsh vineyards Stuart as your judgement seems clouded. Wales was good on Sat, but the standard of rugby was not great and this same squad hasn't beaten any Southern Hemisphere team for nearly 18 months. Winning one game feuled on hate passed down by generation won't work in Australia.
Posted 15:22 18th March 2013
Andrew Hughes says...
Stuart as an expat living in Western Australia, I stayed up until 200am to watch this much anticipated game. I am an avid England fan but anyone with any level of rugby knowledge could and should have not been surprised by this result. Stu Lancaster has made some progress since taking over from Johnno but he cannot expect to work miracles particularly when he plays specialists out of their respective positions i.e Mike Brown. The centre pairing is wrong and predictable, the lack of a genuine fetcher for this game was evident. However, I suppose that it is easy for us who watch from afar to criticise. I was looking forward to the impending Lions tour but with the real possibility of a test team that contains zero poms my excitement is lessened.
Posted 13:52 18th March 2013