Is there any reason why a try cannot be awarded?
That was the message David Rose sent to his television match official, Graham Hughes in the important and finely-balanced match between Wasps and Northampton on Saturday afternoon.
Rose is following the instructions but these instructions appear ill conceived. The replays - from all available angles - showed one shot that looked as if a try had been scored but there was nothing absolute about the slow motion replay.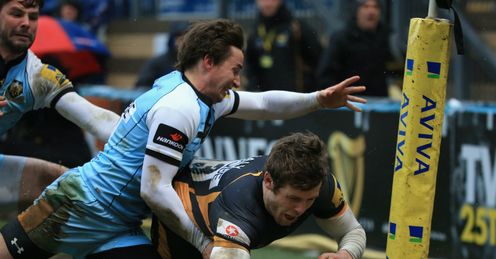 It was the Dylan Hartley try, Northampton's third, watching the action live it appeared as if Hartley had scored it. Had the referee blown immediately for the score few, if any, would have criticised the decision.
The problem arises when the referee refers the decision to the TMO and the TMO cannot find certain evidence of the touchdown. And that problem emanates from the very decision to double check. If the official is sure, he should give it but the question itself means he is nowhere near say, 99% certain the ball has been touched down.
I am pretty sure that Hartley did score but once Rose expressed doubt, proof was needed from the man in the truck. We should not be ever guessing or working on a hunch.
Stuart Barnes
Quotes of the week
If the referee is not sure and the TMO considers the try probable rather than definite we are in a confused place - for surely the evidence has to prove that a try has been scored.
This match was decided by two points; much is at stake, not least the professional reputation of the game. A try should not be assumed to have been scored until the evidence proves it.
Now that could be a referee giving the score immediately. Television cameras - unless the intriguing development of the 'ref cam' becomes ubiquitous - are not as flexible as the eyes of the man in the middle; Get himself in a perfect position and he will see a score that technology will struggle to verify. All well and good and in that situation the try must be immediately awarded and the referee's trust guaranteed.
Yet when he asks the question the element of doubt multiplies to the extent that a try should not be awarded unless visual evidence backs up the hunch. The obvious retort to the referee who asks the question (and it is one he is instructed to ask so there is no implicit criticism of the referee) is 'well, if you are not certain and I cannot see it, there is insufficient proof.'
As it is, the TMOs have a series of answers and that is most assuredly not one of them.
Being positive
If a knock-on, or an illegitimate grounding or part of the body is not adjudged in touch the TMO will say 'no reason not to award the try.' A double negative is inadequate grounds for awarding potentially match and season-changing points.
If the referee refers to his TMO, the logic suggests a degree of uncertainty in need of clearing up and not verification that there has been no obvious reason before the grounding of the ball.
Referees - if sure - must award the try, if not they should be asking a question along the lines of 'is there proof of grounding?' If a try can not be ascertained then it should not be given.
I am pretty sure that Hartley did score but once Rose expressed doubt, proof was needed from the man in the truck. We should not be ever guessing or working on a hunch. To reiterate, this is not a criticism of Hughes or Rose (although the referee might think he should be in the right position to award the try as the ball is touched down) but a question aimed at the logic, thinking and phrasing of what passes between referee and TMO.
Miles Harrison thinks diametrically the opposite to me and if a try is likely to have been scored and the referee thinks so, it can be given. This is not some angry polemic but an opinion that has been germinating for some time.
I am not claiming I am right but it is a long thought out position and I would be delighted to hear whether you broadly agree with the logic of only awarding tries when the referee or TMO is certain, or not.Of course, I am always interested in our viewers and readers' other thoughts. A Lions captain not assured of a Test berth? I like it, in a year when no potential captains appear as absolute Test team certainties, it makes sense. Or do you think a strong personality the rest of the party would look up to is vital?
Stuart answers your emails...
Got a question for Stuart? Email him at skysportsclub@bskyb.com or use the feedback form below...
Winning Wales
Hi Stuart, Last week you heaped praise on Wales after their Six Nations win, but how would you assess the state of domestic Welsh rugby?
Gavin Horesey
STUART REPLIES: Gavin, Parlous. The international team delivered a world class performance but the foundations elsewhere are not as strong. Wales has to boost the game at the professional level and come up with an immediate strategy to combat the likelihood of two Welsh football clubs in the Premiership which will threaten already small crowds as well as young player development... and we have not even got onto Wales losing players overseas. In itself I am not averse to players moving but Wales lacks the depth of players for it not to take a toll on the regions (especially if the next generation coming through want to be Gareth Bale instead of Sam Warburton).
Lions leader
Hi Stuart, Who would be your Lions captain and starting centre pairing, and why? Thanks
Mark Wilson
STUART REPLIES: Mark, Undecided as to the captain especially if WG is toying with the idea of the skipper not necessarily being a Test player. Undecided as to the centre pairing as well, which gives a clue as to the man nearest to being my idea of the captain.
Progress?
Hi Stuart, Do you think Gloucester can pinch the final play-off spot ahead of Northampton and, if not, would fifth place still be a solid effort after last season's struggles? Thanks.
Steven Anthony
STUART REPLIES: Gloucester can but need to rediscover some attacking quality. Friday night is critical with Harlequins coming to Gloucester on the back of a five day turnaround. Northampton plays Leicester the next day... can you ask me this question next Monday, please!! As for the effort, solid? yes. They have shown massively improved mental determination and look more like the Gloucester teams of yore. There is plenty of room for improvement but I think ND has probably laid the foundations for that improvement next season. I do not see Gloucester as title winners this year but expect them to be a useful Heineken outfit the next one.
Sevens heaven
Hi Stuart, What is your view on rugby sevens? Is it the perfect environment for young players to hone their technical and attacking skills?
Alex Gunn
STUART REPLIES: It is a threat to the 15 a side version because of the Olympics. Other, smaller countries that cannot compete at World Cup level could prioritise the miniature version of the sport. Imagine the sport minus Fiji, Samoa, Canade, Japan, USA. We need to develop 15s first and foremost and I think the IRB need a strategy in place to counter sevens. As for developing players, it teaches them to run into space rather than draw opponents and create space for others. It is a great game to kick back, have a few beers and a party if that is your scene and even greater for sprinters who might not fancy getting thwacked by eight hairy opposing forwards.
Comments (12)
Robert Barge says...
I,think we need the TMO for definite trys but should he be involved in other areas of play. What are the assistant referees there for?
Posted 16:48 11th April 2013
Paul Bearne says...
Hi Stuart last year they were trialing TMO at not televised games which seems to have failed as it has not been introduced. This being the case should it not be scrapped all together so that all teams in the premier league are playing on an equal footing.
Posted 09:29 27th March 2013
Jo Charles says...
Hello Stuart, in your TMO article you mentioned the decision that was referred relating to the grounding of the Dylan Hartley try. It appeared to me that - rather than starting his pick-and-drive from behind the back foot - Hartley was actually a part of the ruck when he picked the ball. You see a lot of breaks made like this too. It is clearly illegal. Should this not be policed better by the referees? Thanks.
Posted 14:28 26th March 2013
Brendan Sloan says...
I would guess if the referee and TMO conversations were kept private, rather than sent instantly to Sky, they could confer a great deal more and reach a decision based on probability. As it is, if the opposition coaches/fans and you guys in the studio get a whiff of doubt on the side of the officiating team, then the complains and criticisms will follow as a matter of course. The question "any reason I cannot award the try" leaves the TMO in no doubt to what the ref is thinking - "I think its a try, but I'm not 100% sure that I haven't missed something. Have a double check". The TMO rules in-goal by and by large work. I would have more issue with the TMO rules on dangerous play in field, I feel at times they are penalising hard, but fair play. I would go back to sanctioning, with possibly the additional measure of penalising the team as a whole (i.e. league points) for serious dangerous play.
Posted 13:34 26th March 2013
Thomas Fothringham says...
Stuart, I certainly agree with you that it can be much easier to see what has happened when it is viewed in real time, rather than on slow-motion replays. Perhaps what could happen is that, for ALL tries, referees should trust their instinct on the matter of grounding, but there should be an automatic replay viewed by the TMO to see if there was anything obvious (e.g. a knock-on, forward pass, foot in touch) that should have prevented a try. These things can be missed by officials on the ground. The utter idiocy of the present system was demonstrated in full during the 2007 Calcutta Cup, when any number of replays showed very clearly that Jonny Wilkinson had his knee in touch (not just on, but beyond, the white paint) before touching down, but the fourth official was not allowed to say so to the referee! The try was awarded and even Brian Moore was lost for words.
Posted 11:39 26th March 2013
Tom Conder says...
Shouldn't the TMO have spotted that Hartley drove the ball in, was stopped then picked it up again from the middle of the ruck before driving over the line and therefore it should have been no try and a penalty against Hartley? (in this particular case).
Posted 10:29 26th March 2013
Brian O'driscoll says...
Not sure I agree with the article. If the referee has seen the grounding, but perhaps is unsure whether a foot was in touch or whether there is an illegal obstruction from another player or a multitude of other reasons which multiple cameras can pick up. While I agree a referee's eyes are more flexible they usually do not see more than one thing at a time.
Posted 09:51 26th March 2013
Jamie T says...
But surely if a referee cannot see the grounding it is better to refer to the TMO for other angles to confirm? for example if a team mauls over the line, it can be impossible for the ref to see the grounding but it is 99% sure that a try has been scored. however it is better to eliminate this 1% of doubt and double check to make sure a minor knock on hasnt been missed or it hasnt been held up. Hence i like the question," is there a reason i cannot award a try" as a try has more than likely been scored but i just cannot see the grounding, look to confirm it, but always favour the attacking team. Also what about a joint Lions Captain? i.e. Robshaw and Warbuton or Warbuton and O'Driscoll
Posted 19:21 25th March 2013
Adam Brown says...
Stuart misses the point that the referee has two questions he can ask of the TMO, depending on his own level of certainty. In this case the referee asked the TMO "Is there any reason why a try cannot be awarded?", thereby giving the attacking team the benefit of any doubt, presumably because he was reasonably certain the try was legitimate. If David Rose had been less certain he was within his rights to ask the TMO "was it a try, yes or no?" thereby giving the defending team the benefit of the doubt. With even Stuart being "pretty sure" Hartley scored, surely the referee has therefore used the TMO system correctly. Whilst it's more satisfying to have certainty surrounding these things we also have to maintain our trust in the officials on the pitch and sometimes it will simply be the case that the limited number of cameras won't provide a satisfactory angle, especially in a situation where a ball comes straight from a ruck on the line.
Posted 17:45 25th March 2013
Paul S says...
Hi Stuart, doesn't the current system support the referee the same way that Cricket DRS system does? In the same way that unless there is concrete proof to the contrary, the on-field umpire ruling stands, by asking the correct question of the TMO does the same. "Can I award the try - yes or no?" means that the ref isn't sure so you need proof of the score to award it, just like a "not-out" call in cricket. "Any reason I can't award the Try" is the same as the "out" call in Cricket, in that you need some definitive proof to overrule the officials call. In this way the Officials aren't afraid to make the calls on the pitch and be supported by the technology, rather than the Rugby League scenario where Refs will defer complete control to the TMO.
Posted 16:21 25th March 2013
Mick Collyer says...
Now that the fuss has died down about the 6N its clear that the praise & expectations on England were unfounded and that Lancaster & his team still have a lot of work to do including the style of play and players in the team.To put their performances into perspective they were OK against a poor Scotland, ground out a win against Ireland, were lucky to win against France & Italy and were totally outclassed, out thought and out muscled against Wales, a country with a fraction of the players there are in England. I'm all for giving youth a chance but the "fast, tracking" of Marler & Tom Youngs was a mistake, neither are (yet) up to test match standard, look at how Hartley played against Wasps, his agression, experience and leadership were sorely missed by England. I think that the rest of the pack is OK but major changes need to be made in the backs if England are to win anything. Ben Youngs is OK, I think that there is a lot more to come from Farrell (as per his pass for Parling's try) & Burns will only get better and offer something different but the centre pairing is wrong. As good as Barritt is at defending he offers nothing going forward and Tualagi is a "1 trick pony" who plays like a back row forward. England had a much better balance when Twelvetrees played and he and/or another centre (Allen, Daly, May) should be tried instead of the current pair. Ashton was rightly criticised for his poor defending (a rugby league trait) but he is still a quality finisher, you can't blame him for not scoring if the ball doesn't go past the centers. Brown on the wing was another mistake, his positioning, decision making and execution were poor. There are plenty of good specialist wingers available. Goode was steady at full back but he does not give the attacking option of Foden or Brown. England need to have a more expansive game,they have the quality players available, nothing will be won by playing the percentages.
Posted 15:04 25th March 2013
Nathan Astbury says...
Hi Stuart, Not sure why you are unhappy with the process that Rose used for the Wasps Gloucester match. The ref normally has two ways of asking for confirmation, either 'was a try scored' or 'is there any reason i cannot give the try'. The ref even said when he asked the TMO on saturday that he believed the try had been scored and wanted confirmation that there was no reason to not award the try. Therefore he was doing exactly as he was supposed to be doing. I also wondered as a Sale Sharks fan who you think will go down now, even if London Welsh win their appeal (not sure how they can)?
Posted 14:08 25th March 2013