Good enough for Europe, not good enough for Australia. I hope that will not be the epitaph for the 2013 Lions.
Under the guidance of Warren Gatland and Rob Howley, Wales have lost eight of their nine encounters with the Wallabies. They know how to win Six Nations matches but the core of this team - fifteen of them now Lions - is clueless when it comes to cracking Australia.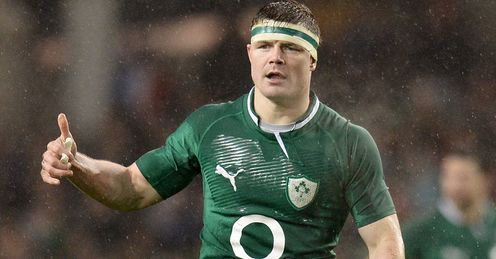 The second most represented nation, England, has a better record with two wins from six, a 33% ratio, compared to the awful Welsh return of 12%.
Ireland have only played Australia four times through these years but have won a crucial World Cup match and notched a draw for a 37.5% strike rate. While Scotland, three men selected for this tour, has a 100% record of two wins from two during the rotten run of results for the Welsh. The fewer Lions selected the better the nation's recent winning record against Australia; a paradox to say the least.
If Jamie Roberts is sandwiched between two Irishmen even the unyielding Australian defence could be stretched by the blend of subtlety and strength
Stuart
Quotes of the week
Admittedly one of those Scotland wins was against a half-strength Wallaby team in desperate conditions but, still, Gatland cannot be accused of looking backwards for men who historically know their way to the finishing line against the Aussies.
The foundation of this Lions squad is players Australia regularly beat. For a Welshman, walloping England is one thing, beating Australia quite another. The Australian media has been describing the tour party as slabs of red meat. Is the balance of the party indigestible?
The claim that Wales were desperately close to winning two Test matches in Australia last season cuts no ice whatsoever. They lost and that is all that counts in the hard bitten world of professional sport. To say otherwise is drivel. Winning and losing are habit forming and when it comes to Welshmen and Australians each group has developed an addiction; the unedifying Welsh one will not be easy to kick.
Psychologically the Australians are feeling fine. Robbie Deans thinks he knows what is coming. He has suggested the series will be 'brutal'. That is how Wales dismantled England and how Gatland likes his rugby. It is what Wales always throw at the Wallabies.
If the series is to be successful, the foundations the manager intends to lay with the quantity of Welshmen must be mixed with the quality of the Irish. Nowhere is this more clearly emphasised than in the midfield. In the absence of the underestimated Matt Scott of Scotland there is a vacuum where a ball playing twelve should be.
Irish hope
It has been suggested that Brian O'Driscoll could slot into the position if required. Yet he must be inked into the outside centre for the Test series. You can be sure that the man intended to wear the 12 jersey is the juggernaut, Jamie Roberts, a terrifying prospect for England but not for Australia.
Running into a brick wall time after time does not crack Wallaby defences. They play the All Blacks and South Africa on a regular basis and build strong walls.
The Welshman is potentially destructive against the very best but holes have to be created and chiselled. That is where all the guile and knowledge of O'Driscoll comes into its own; four years ago Roberts was nominated as player of the series against South Africa but the Irishman pulled the Springbok midfield this way and that, revealing chinks of light for Roberts to blast through. And blast through he did. It was the best British and Irish midfield partnership since Jeremy Guscott and Scott Gibbs.
The combination was not quite enough for victory but if Roberts is sandwiched between two Irishmen even the unyielding Australian defence could be stretched by the blend of subtlety and strength.
Jonny Sexton is up there among the most important players in the party. In the weeks ahead you will read that the Lions pack holds the key but how often has Australia given second best and ended up the right side of the scoreboard?Possession and territory does not guarantee glory. It has to be turned into points and Sexton - combined with O'Driscoll - holds the key to creating the opportunities which must be converted to tries and the mayhem that leads to penalties.
Sexton plays so aggressively flat on the gain line that opposition has little time to readjust to the feints and plays he can conjure. His conjuring colleague is O'Driscoll. When they get their timing right on the loop around ploys space opens up. In the claustrophobic world of Test rugby it is the greatest trick of them all.
In the Welsh shirt Roberts and the rest of his midfield end up bruised and beaten when the wall is coloured green and gold. When the magical hands and angles of the Leinster duo combine with the raw power, something less painful could be coming the Lions way.
Should Roberts suffer injury or loss of form O'Driscoll must not be the option at inside centre. Manu Tuilagi has played most of his rugby one space out but he is the like-for-like swap and the man set to maintain full power, presumably, from the bench in the latter stages of the Tests.
As in South Africa, the mega-sized centres will attract the attention of the press and public but if the soft hands of Sexton and O'Driscoll cannot worry a weakness for the inside centre to exploit it is hard to see how the preponderance of Welsh power will lead to anything other than another Lions power failure.
Stuart answers your emails...
Got a question for Stuart? Email him at skysportsclub@bskyb.com or use the feedback form below...
Stuart, what are your views on the venues for the Rugby World Cup - do you think that there should have been more rugby venues?
Mark Leaker
STUART REPLIES: Mark, I would have preferred far more rugby venues but the World Cup is now a business as much as a sport and there was never much chance of tradition winning out over revenue which I understand.
Stuart, Can you tell me what is meant by an 'out and out 7'? I keep reading "You must have an out and out 7 to beat Australia", normally in the context of rubbishing the poor Chris Robshaw. My (shamelessly amateur) opinion is that the balance in the back row and the contribution the front five make at the breakdown is far more important. Ireland beat Australia in the World Cup (& Wales in the 6N) with Sean O'Brien in the 7 jersey. I've never heard O'Brien described as an 'out and out 7'. England's Autumn was again instructive. The back row of Robshaw/Morgan/Wood, comprehensively outplayed their NZ counterparts, whilst the less balanced flanker combination of Robshaw/Johnson was notably less effective against Australia two weeks before. Surely Hooper was not that much better than McCaw? I recall the Lions' first Test victory in Australia (2001) had Richard Hill playing at openside. England's last victory in Australia (2010) had Lewis Moody at 7 - two more players who were given the "six and a half" label. Perhaps a 'natural openside' is not the only answer?
Robert, Wimbledon
STUART REPLIES: Robert, nicely put for an amateur.. .there is not much I can add. Only the current vogue has it that 'out and out sevens' are needed. The Big Three do have men whose first instinct is to win breakdown ball but Robshaw did such a job heroically in the second Test against South Africa a little under a year ago. The England captain is just not fashionable and a lot of rugby opinion simply follows the latest fashion blindly. There is a doubt about his current sharpness and the other sevens are high quality. Yet come the crunch most sevens are only as good as the front five in front of them. Twickenham showed that when the great Richie McCaw disappeared beneath the momentum of the England tight unit. A cracking question, albeit of a metaphorical nature.
Hi Stuart. I'd like to ask you a question about Gethin Jenkins. How can someone who barely features for his club team be selected for the Lions? He is a decent player but given Sheridan's form and history shouldn't Gatland be moving trees to get him in the squad? I understand Toulon are happy to release Jenkins, but this just highlights how second (at best) choice he is. I just don't like the feel of the squad, Wales were fantastic against England, but were dreadful for the previous 12 months. Furthermore Gatland has such a poor record against Australia. Picking the biggest player in every position shouldn't be the default choice.
Andrew
STUART REPLIES: Gethin Jenkins being selected behind Andrew Sheridan does not prove he is a lesser player only that Bernard Laporte thinks so. Warren Gatland has a right to think otherwise. Jenkins was very good against England, not so good on a few other occasions but that match weighs heavy in the final selection process.
Form is not the only criteria. Sheridan was roasted against Leicester and then caused untold problems for Matt Stevens who was selected two days later. Oh, it is all very Byzantine, this selection process.
Stuart, excuse my pessimism but is this going to be the poorest Lions tour in recent memory? The home nations have hardly been exciting in a lacklustre Six Nations, while this has to be an average Wallaby side for their very high standards. I would also like to know what is your favourite touring venue to cover? It is well documented that Union doesn't make back page headlines in Australia only small print - does this take a slight edge off the upcoming tour when compared to their neighbours NZ who are rugby mad?
Patrick Keane
STUART REPLIES: Patrick, can you keep your voice down? I like being in the contrarian camp and have been thinking along these lines for weeks now. On Thursday's Rugby Club I tipped Australia because of the standard of the Six Nations, the overall poor results of north v southern hemisphere and - here is where we diverge - because Australia are taking decent shape. Your pessimism is excused but whilst Australia are my idea of favourites the potential for the series to tip the Lions' way is there. This will be close. Hope I am wrong and you prove to be Cassandra.
As for touring venues, in Australia, the Sun Corp in Brisbane is the most atmospheric ground, Newlands is special in Cape Town but the best of New Zealand has been knocked down and rebuilt. It is a lovely new stadium in Dunedin but Carisbrooke was a beauty of a place to play, broadcast, write and have a pint post-match.
Comments (11)
Ian Bennett says...
Well Dan, Wales will still win the 6 nations next season, whilst your sweet chariots will be silenced by the pace and power of the Welshmen. Keep picking them foreigners, perhaps you can play in a United Nations or Commonwealth kit next season!
Posted 22:29 5th June 2013
Dan Smith says...
This Wales squad is apparently one of the best squads around and yet they still can't beat southern hemisphere teams! England have consistently been the best team at beating them even with a very, very average squad! We have such talent in England which was on show against the barbarians recently and if Lancaster had the balls to give them a run in the six nations we would have won the grand slam and with a hell of a lot more tries too! Billy Twelvetrees bossed the game at 12, physical, brilliant distribution, great kicker and big defensively, just a fantastic attacking talent! If he was given more game time he would definitely be taken ahead of the boring, slow Jamie Roberts! and then theres the big juggernaught welsh wingers who have already been found out! The best wingers are the sharp, speedy over 40m wingers like yarde, wade, walker, zebo not the boring norths and cuthberts! I would have had the pretty much the whole England back line in the lions starting if i was coach that started against the barbarians, such pace! The australians were soo right in saying Gatland has just picked "slabs of red meat!" If the lions really want big wingers then pick tom croft in the wing he is clearly quicker and a better finisher thsn both cuthbert and north! and why the hell was tommy bowe and maitland called up! Bowe has hardly played and is way off form and hasn't had ANY form pretty much since the end of the kast lions tour and maitland was absolutely anonymous for scotland in thr six nations!!!
Posted 16:23 29th May 2013
Gwyndaf Jones says...
Who has the best defensive and offensive record in the Northern hemisphere - Wales. Since the RWC Wales a small Nation suffered huge injuries. In the RWC even the All Blacks stated that Wales were the best team in the tournament on form. Lucky for a few that Luke Charteris is injured otherwise it would have meant an extra Welshman and one less English player. In the RWC Charteris was named in the World XV with Lydiate.
Posted 01:48 12th May 2013
Gav Morte says...
Well said Stuart, Wales have not been able to beat Australia and have been guilty of not getting forward. They are great at going sideways but the SH teams have worked them out. Gatland seems to have gone for like-for-like players here with no one who can really change things around. They will have to take a lot more than just the welsh contingent and welsh gameplan if they want to win in Australia.
Posted 12:43 9th May 2013
Rhys Jones says...
The truth of the matter is that it is very difficult to argue with any of the welsh selections and the likes of Biggar, Ryan Jones, Hook and Paul James are as unlucky to miss out as say Chris Robshaw and Tom Wood. The 'awful welsh' as referred to in this article have beaten scotland in their last 6 encounters. They have beaten England in their last 3, and the Irish even with their undoubted 'quality' at 10 and 13 in 3 of their last 4 games. This Lions squad may still not be good enough to win a series in Australia. However, I doubt it will be due to a selection issue. The irish, england and scottish rugby squads are not bristling with the ball players required to be able to provide an alternative game plan to the power game likely to be adopted by Gatland and Howley. The fact that Matt Scott's name is being mentioned in a lions context proves this. He is no Quade Cooper or Kurtley Beale and would be nowhere near the wallaby squad if he were australian. Tulagi and Roberts however might given that they are ideally suited to a game based on power. Mr Barnes, The Lions should play to the strengths of the players at their disposal, not those of the opposition!
Posted 20:57 7th May 2013
Mark Jones says...
No-one is rubbishing the Welsh contingent but facts are facts, Wales continually fall short against the Southern Hemisphere. It is not anti-Welsh to say that just a statement of fact. The only way for that to change is for Wales to win more than once in a blue moon. The Lions are always stronger because of what each nation brings to the party.
Posted 16:56 7th May 2013
Steve Long says...
I am looking forward to see the Lions. I don't really care what country the players come from. I would say you pick the best players on how they preform for club and country. A big Lions support here in Perth WA and one that will unite come June 5th when there take on the Westren Force.
Posted 14:35 7th May 2013
Wayne Williams says...
Hi Stuart, Words of wisdom no doubt but from a very 'British perspective' - glass of half empty rather than half full?. Rather than criticising our strengths, that being Welsh form at the business end of the six nations. How about applying reverse logic, and analysing our weaknesses. What exactly are England, Ireland and Scotland bringing to the party? Yes Wales didn't beat Australia, but this is the Lions now. Wales offer a successful base to the team, with rest filling in the gaps, what are these players or nations offering? All about perspective I would say...
Posted 10:48 7th May 2013
Ed Ocallaghan says...
Stu, i believe too much has been made of the Roberts/OD partnership. In '09 PdV at the time for transformation reasons had to pick Jacobs as 12, good player but no De Villers or Fourie who when he came on and was in tandem with JdV offered very little leeway and if not got the better of the Lions pair. Just saying, what worked in '09 might may have been exaggerated by the circumstances of the starting opposition at the time. Plan B for the centers may become an issue ?
Posted 08:48 7th May 2013
Taffy Jones says...
Stuart Forgive my frankness but you seem to have the perfect job. No responsibility, no accountability just rubbish the squad or at least the Welsh contingent and if you are right smuggly say I told you so if your wrong noone will remember what you said anyway. I don't recall you having a downer on the Welsh before the selection. Just for the record how many of the 15 would you have not taken and what happened to we are the Lions and we are all behind you come what may. Is it any wonder why it is so difficult for any Lions squad to win a series! The nationalistic fervour, mainly from the English by my observation of several rugby blog's, since Gatland's selection has put paid to any pretence of unity.
Posted 17:02 6th May 2013
Joe Foley says...
Hi Stuart. would the hard ground in australia not have suited hookers like sean cronin who comes to mind as well as backrowers with pace.
Posted 14:34 6th May 2013