New Zealand and South Africa backed up their first week wins with victories against Australia and Argentina as duly expected. Yet neither side won like the 1-7 shots they were with the British bookmakers.
Indeed anybody who had the notion of looking to make a cool 14.5% interest on an investment in the Springboks will have endured an extremely uncomfortable and sweaty Saturday night sat in front of their television screens in the UK and Ireland.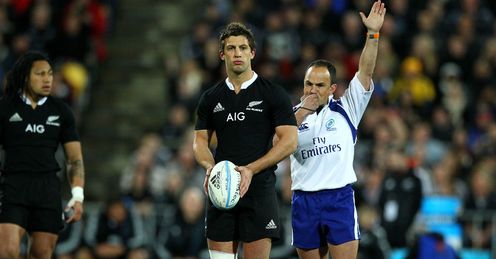 The Springboks did not seal their win until the last kick of the game in Mendoza. A sixty point margin was cut to a mere five in the space of a week. Some sort of South African complacency had to play some sort of part - they are humans after all and that 73 point pasting was simply too easy for them to believe - deep down - that Argentina could reverse the result in South America.
What is going on? Call it the Old Trafford syndrome. There is some but very little deliberate cheating in sport's officiating but there is, I believe, a subconscious pressure exerted on referees by the success of the top teams.
Stuart Barnes
Quotes of the week
From the moment Marcelo Bosch drove through a feeble Jannie Engelbrecht tackle for a try to give them a 17-10 lead at half time until pretty near the 70th minute the home team looked capable of doing just that however.
Their work at the breakdown was back to the belligerent Argentine way and their tactics in avoiding the touch line and playing away from the Springboks driving line out strength was innately sensible (expect Australia and New Zealand to look for length rather than touch when clearing their own lines against the Springboks.)
Argentina came close enough to suffer disappointment in the changing rooms post match but Felipe Contepomi was adamant that the performance was more important than the result. Having lost so appallingly in Soweto he is definitely right; these remain early days from the perspective of Argentina playing the elite on a regular basis and another heavy defeat at home could have been a substantial set back in the short to medium term for the Pumas.
As it is, they will be able to convince themselves that last Saturday was the real Argentina team and the lot that were lacerated in week one, an aberration. As their next game is in Hamilton against the All Blacks they will need all the self-belief they can find.
Awful
They will also be hoping for a better display of refereeing than Australia were subjected to on Saturday. There has been a lot of comment regarding Jaco Peyper's officiating and so there should be. He played a decisive role in this match with some awful decisions at key times.
First of all the debate about whether Stephen Moore scored a try or not. That is a matter of conjecture - the fact that he did not check with his TMO is not.
The greater worry - and this is not in regard to Peyper alone unfortunately - is the manner in which New Zealand carried out a cynical (and understandable, you play the referees before the rules) policy of killing the ball near their own try line.
They are content to concede three points and start the game again in opposition territory. And why would they not be with the fabulous finishing power at their disposal?
The penalty is inadequate. When the yellow card system was introduced it was specifically aimed at those who deliberately slowed and killed the ball, especially in what is often called the 'danger zone'. All that is forgotten now as the yellow card becomes a means of avoiding the potential red card decisions.
The All Blacks are aware of the interpretations. In Australia, Craig Joubert was criticised by Ewen McKenzie for not carding Kiwis when they infringed near their own line. In Wellington Peyper's failures may have played a critical part in the game.
Failures
In the 23rd minute the Wallabies were prevented from winning the ball, metres from the New Zealand line by Aaron Smith who did what most players would have done in his position and go offside to stop a possible try being scored.
It was in the realm of an automatic yellow but the South African let him off and New Zealand happily settled for the three point concession and territorial control.
When they should have been down a man, giving Australia a chance to utilise their extra man, the hosts struck back - and quite brilliantly - with their full quota of players. A lovely try and penalty were added while Australia should have had a numerical advantage.
In the second half Conrad Smith (as clever and influential in his own way as Richie McCaw) dashed metres offside with his try line threatened and cut off the best try scoring pass option; penalty? Yes, three points, yes, yellow card? Not a chance and New Zealand again marched up field with a full complement of players and an 18-9 lead instead of an altogether more uncomfortable 18-13.
What is going on? Call it the Old Trafford syndrome. There is some but very little deliberate cheating in sport's officiating but there is, I believe, a subconscious pressure exerted on referees by the success of the top teams.
Mate
Manchester United concede even fewer penalties at home than New Zealand do yellow cards. There is no conspiracy or bias just the subconscious pressure that comes with the expectation that such teams always prevails.
Home teams get more breaks than away ones anyway and the best home ones get a lot more. New Zealand, with their fabulous winning record, are overwhelming opposing teams and the referee.
Teams find it hard to get an even call in New Zealand. It will not be easy for Argentina who would not have enjoyed the manner in which Steve Walsh called them 'mate' from 1-15 and the Springboks by their first names.
Jean de Villiers is as decent a man as you'll find in life generally, let alone sport, but if an Argentine is 'mate' then he too is 'mate' and not the familiar 'Jean' in which the two men engaged in a cosy fireside conversational style most of the evening.
Walsh is much derided in these parts but he is good; one of the best. He would have been sterner on New Zealand but Argentina - they are only just entering the loop and the All Blacks are tying the world up in theirs.
No, things will not be easy in Hamilton.
Comments (3)
Carlos Cruz says...
I am neither South African, nor a kiwi but I love rugby! Today I got up early(for a Sat) to watch NZ V SA, and ended up seeing a match that had much less to do with the teams on the field but all to do with the ref. shocking decision to yellow card du plessi in first half. Contest over from there and all value lost. Feel short changed and will think twice about waking up early to watch a referee the next time. Waste of 80 minutes of my time! Carlos
Posted 13:40 14th September 2013
Steve Norman says...
Good article Stuart, and very true about the AB's. Your point about Steve Walsh being very good is true.... but I feel he has an "Unconscious bias" which often rears its head. Specifically, he shows patience at the break down when reffing S.H. sides but less tolerance for N.H. sides. Both can make the same mistakes. Also, while I agree he has been alot better in recent years, he still loses his pateince a lot quicker with England than with any other side.... well thats how it looks with my one blinkered eye anyway!
Posted 13:15 29th August 2013
Dylan Corrigan says...
In football when a player commits a foul preventing a clear goal scoring opportunity it's a red card, if referees and rule makers are so reluctant to brandish a red card in rugby union why not increase the time punishment to 20 minutes? If a player thinks 3 points and twenty minutes out of the game is better than just 7 points and the full compliment of 15 payers his team mates will educate him when they concede 10-15 points in his absence.
Posted 21:00 27th August 2013