The Six Nations is upon us. Never mind the quality, it's all about the results. That has been the essence of this tournament for so many years. Anglo Celtic rivalries, Franco Italian; all the matters to the supports of these nations is the final score on the day, the final position in the table.
The narrowing of ambition is the enemy of excellence however and for those nations with serious intentions towards the 2015 World Cup, the intense obsession with the next result rather than the next performance will likely count against them when the World Cup arrives in England.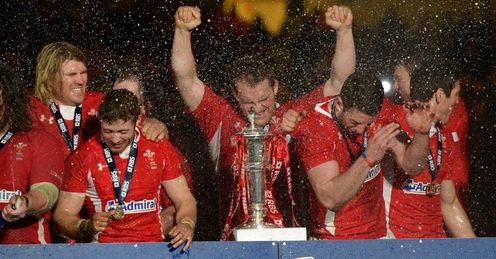 The aspirations of the six countries should not be the same. Realistically Scotland and Italy are not going to win the World Cup they are probable quarter finalists at best. And so for these teams, every international is as important as the next. Three wins for either of these sides would represent a triumphant campaign and, quite frankly, to hell with the future and the World Cup.
But the scenario changes for the other four nations, all of whom have the capacity to make a World Cup semi-final and you know what they say once a team reaches the semi-finals. There is so much talk about Wales trying to become the first team to win three outright titles (before 1994 the title was shared rather than decided on points difference).
It would be a fine achievement but an achievement on the local scale. While Wales has been dominating the European tier of test match rugby it has been utterly embarrassed by the record of results against the big three. Warren Gatland may have won two Grand Slams and a title but nothing but constant defeat against both the All Blacks and South Africa and the one paltry win against the Wallabies is not the return of a world class team; and here is the dilemma for Wales.
Experimentation
Do they wear the blinkers and continue with the power, pace and pure physical presence that has taken them to the top of the European game or do they risk a little experimentation now and then to prepare for matches against teams that are a physical match for them?
If they can sustain their first forty minutes produced against South Africa, Wales will be tough to beat but will they set themselves up for a crack at the big three next year. There has not been much variety in the Welsh sledgehammer approach. Maybe it will be enough to see them to Six Nations history but it will hinder their 2015 hopes unless there is a subtle change or two to the way Wales play.
Mix and match
The greatest European team of the century is the England one which won the World Cup in 2003. It did experiment in Six Nations matches and blew games it really should have won. The game at Wembley against Wales and a howling stupid performance in the wind and rain of Edinburgh spring immediately to mind but the best lessons tend to be those that hurt. In taking risks, in pushing the boundaries of what they could and could not do, England learned how to beat the best.
The fact that their only Grand Slam was achieved in a World Cup year is no coincidence. Winning a Grand Slam or a title is special; winning a World Cup is on a whole other level; winning the former does not always equate with performing well in the latter.
England and the other nations are desperate for wins but most important of all for the World Cup hopes is finding their best team and squad and giving key men as much chance as possible to get the test match game time on the clock to help players find their way through the pressure that intensifies when the game goes to the next global level.
Any players that are not definite starters should be tried and tested alongside those who have yet to be given the chance to prove their worth. The debate is exemplified at fly-half where Owen Farrell has strong test match credits and mighty mental strength but question marks over whether - at the highest level - he can keep leading England to victories against the elite. In Cardiff last season and in Toulouse recently there were hints that on the back foot his physical inspiration works to less or no effect. Could George Ford steer a team better on the back foot? He should be tested, this is a team still in experimentation stage and to close the eyes and stick with what feels safe at a certain (and lower level) will hinder future hopes.
The New Zealand tour is no place to fairly assess test match rookies and from autumn onwards England simply MUST keep winning and build an aura around Twickenham. That leaves NOW as the last chance to take a few risks. Clive Woodward won a World Cup because he understood the acid test for World Cup contenders came when the best teams and not the most popular tournament was at stake. Stuart Lancaster should grasp that fact and not be afraid to shuffle his squad.
The Six Nations comes around once a year. The odd defeat will be forgotten soon enough but a World Cup in your own country? None of these players or coaches will ever have such a chance again. Cold logic says the best chance is by dismissing the unthinking cliché that claims each test to be as important as any other and admitting some games - Wales and Australia in the pool stages of the World Cup for a start - are infinitely more important than others.
Ireland, under Joe Schmidt, looks to be the likeliest team to embrace the lesson. The former Leinster head coach took a hammering in the Irish press when the side were thrashed by Australia but his side were always readying themselves for a crack at the All Blacks. One week later they came so close to glory. Schmidt, shrewd and confident, will formulate a passage for Ireland through the tournament with one eye on the World Cup.
Quirky France
As for France, they should be thinking ahead but their results in 2013 were so bad that, unlike the three aforementioned teams, they need to rebuild their momentum as soon as possible. France are a quirky side and Philippe Saint-Andre an emotional soul but the basics of beating teams has to be restored before they can play the role of sage rugby union scientist.
A Grand Slam would be great news for France, it would revive a nation getting used to losing. As for Ireland, Wales and England, no side will sniff at a title or Slam but as far as the World Cup goes the next Six Nations performances are the ones that count. Winning, as ever, means plenty but in this year of all years it most certainly does not mean the world.
Stuart answers your emails...
Got a question for Stuart? Email him at skysportsclub@bskyb.com or use the feedback form below...
Dear Stuart, I find it infuriating when referees do not pick up on Adam Jones binding on the arm, I can honestly say I cannot remember a single scrum when he has bound on the shirt and remained bound on the shirt. Before the new srum laws Jones used to grab the opposing props tricep and roll his elbow inward to destabilise and collapse the scrum, now because you have to bind first (if the refs on his side of the scrum ) he binds on the shirt then changes to the tricep grip once engaged. If the opposition prop is getting the better of him, he simply belly flops, drops the scrum giving the ref the impression of "just a slip" I cannot believe he is so revered whilst every scrum he is kidding the ref.
Matt Graham
STUART REPLIES: Matt, If you are right, and Adam Jones has been the sport's arch conn for years, can you not find it in your heart to respect his craftiness. As scrums are partly the art of fooling the referee (due to the mentality of northern hemisphere coaches in particular) his results alone make him a heck of a man to have on your team.
Stuart, this QF line-up all but highlights how Irish clubs seem to be getting things right while hanging onto key player (SOB). Why are we seeing the Welsh clubs still feeling the pinch in Europe when they have as much quality as the Irish clubs. It leads me to think, money while being what the Welsh/English want, its the priceless thing of heart & guts that money cant buy and what the Irish sides have an abundance of...Agreed? They should focus on getting some soul (Leicester sure do) into the club rather than money!
Adrian Callanan
STUART REPLIES: Adrian, money is a factor but not THE factor. What it has become in England especially is THE excuse. English and Welsh club/provincial rugby simply lacks the quality to compete with the regular success of Ireland - which has plenty of money but an awful lot more than that. When the answer is spouted with such certainty and so often - i.e. money is all that has stopped English clubs since Wasps last won in way back when, you know something is up.
Hi Stuart, considering Racing Metro's poor European and domestic form would Johnny Sexton's position as starting 10 for Ireland be in considerable jeopardy? Based purely on form shouldn't Paddy Jackson be fly-half of choice in Ireland? Similarly in Wales would Jamie Roberts and Lydiate not be under intense pressure to hold onto starting places?
Adrian Hynes
STUART REPLIES: Adrian, international selection is a matter of class and form. If you have plenty of proof of class in the bank it takes longer for current form to weigh against you. On form I would not pick Johnny Sexton but I's definitely pick him for the first few games if I was Joe Schmidt. The same applies to Jamie Roberts who like a fair few centres through the decades has a knack of producing for country what he cannot deliver on a weekly level for club. Dan Lydiate is the interesting one. His form has dipped and a return to it might be crucial or otherwise to Wales's hopes given the importance of their power and technique at the breakdown.
Comments (10)
Roger Hale says...
Hi Stuart Thought England have progressed a little since last season. Was disappointing that they could not hang on for a win against France and perhaps would if Lancaster had not made premature subs it seems tome that @ approx 60 mins most coaches think they are obliged to sub- what are your thoughts? Although the subs generally did well (particularly Morgan) when Lawes and Harteley went off the line-out suffered. The modern coaches talk a lot about "momentum" but ignore the loss of momentum when substitutions are made. On the positive side Burrell and possibly Nowell are in the team to stay but personally I'm still not sure Twelvetrees is good enough. Your comments please.
Posted 16:00 2nd February 2014
Paul Newman says...
Stuart, I was told that making mistakes educates and should not be overly criticized. making the same mistakes again shows a distinct lack of learning. Stuart Lancaster has just done that. We lost against the All Blacks in the first 20 minutes and repeated that against France. In both matches we woke up and put in a colossal effort to recover and then had nothing in the tank to stop our opponents. That is down to selection and preparation. Our defence captain should have been on the pitch at the start (Barritt) and having two tyros on the wings was one risk too many - Ashton should have been there. And finally Goode has lost a yard of pace and was sorely exposed.Stuart is getting a lot right but is not showing that he is learning from his mistakes. What do you think? Paul
Posted 13:22 2nd February 2014
Neil Collins says...
Regards Matt Graham . Matt your becoming a little heavy here mate with your comments regards Adam Jones. Adam plays the opposition to the edge, as all international players do. All the Southern Hemisphere teams play right on the edge and just within the law . Adam Jones binds within the law as the ball comes in the world changes ! Grow up, chill and have a glass of something red!
Posted 16:51 31st January 2014
Sam Donaldson says...
Hello Stuart, Do you think Scotland can do well in the six nations and do you think we can get a result against England or France?
Posted 17:56 30th January 2014
Stuart Smith says...
Stuart, A very interesting article, which raises interesting debates about how the 6 nations will impact on the world cup. However, there is a far more significant event taking place that will probably extinguish any chance of England winning their home world cup. A three match tour, or should I say demolition, will leave England´s belief in their prospects in tatters. I cannot imagine who could be so short-sighted to arrange or agree to this tour that will see a team that could potentially surprise and upset the All Blacks utterly demoralised. A further point from me if you dont mind in your "Jones" scrum debate. The scrummage is at the moment the best advert for rugby league in the world. It is wasting good portions of every game with every viewer clueless as to what is going on (probably the players and referees too). If it cant get sorted, I would prefer to see non-contested league style scrums, meaning more athletic players and not just a toss-up who gets a penalty.
Posted 17:55 30th January 2014
Paul Thwaites says...
Stuart, as you point out in the six nations it should be performance and development that should count above and beyond results (although results are good for confidence). However in a world cup the result is ALL that matters, especially in the knockout stages. With this is mind why do we not consider including some of our best players, to wit some of the standout players plying their trade in the French Top 14? Not to consider them, just because they play in another (very close in proximity) country is just dogmatic, draconian and ignorant, never mind (dare I suggest) bordering on illegal?
Posted 21:19 29th January 2014
Peter Jones says...
As a former prop I am naturally reluctant to comment on any matters ranging from No 4 upwards. However, even I can see that England's attacking game is pretty average.Why do we keep picking a fly half wo is excellent at everything apart from creating chances?Farrell is in there for his kicking, I accept that, but couldn't we play him at full back and move the focus of attack from full back to midfield. I never thought I would say it but Hodgson's performance in the last Saracens game was fantastic and he brought on attacking runners from all directions.
Posted 13:00 28th January 2014
Rob Savage says...
HI Stuart, I find the policy of not selecting players currently based overseas baffling and counter productive. I believe that a mixture of playing styles and overseas experience should make a player more selectable, rather than less? Martin Johnson played in New Zealand and since joining Toulon, Jonny Wilkinson has rediscovered form that seemed lost whilst at Newcastle. Wouldn't England be a better side with an Armitage or two back in the fold. Please let me know what you think? Thanks.
Posted 08:35 28th January 2014
Matt Graham says...
dear stuart no i can't find it in my heart to respect Adam jones for his constant cheating and shame on you for brushing my comment aside in such a facile manner, i ask you again to find a scrum where adam jones binds on the shirt and stays bound on the shirt. i'm disappointed that you appear to condone cheating as i have great respect for you as a pundit. your comment ..."As scrums are partly the art of fooling the referee (due to the mentality of northern hemisphere coaches in particular)" ....perhaps if you exposed this cheating rather than thinking its acceptable the players and coaches would not continue to cheat.
Posted 23:51 27th January 2014
Dominic Dyer says...
Hi Stuart, I really feel Stuart Lancaster is going about his job well. I know you disagree with his comments that results are the most important aspect of this year's Six nations but would you not agree that England's performances seem to be improving as his reign has continued. Simply put, as long as we sort out the midfield, i think England have a real shot at the Grand Slam this year. The only game i would worry about is the Wales encounter and i feel that home advantage will be pivotal as the teams are so evenly matched. Plus, the England boys will really want to stick it to them with last year's crushing defeat fresh in their memory.
Posted 17:24 27th January 2014