This was one of the best Six Nations tournaments of the century.
It had everything. If you wanted excitement there was the ending to the whole competition, with France a forward pass from depriving Ireland of the title.
There was France's fabulous try in the dying seconds of their first round game against England which, as it turned out, probably denied England a Grand Slam.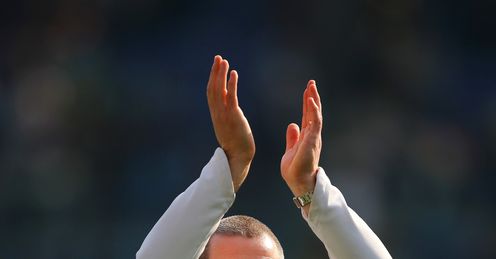 And, at the other end of the table, there was Duncan Weir's last-kick-of-the-game drop goal to condemn Italy to the Wooden Spoon.
There was an outstanding test match between Ireland and England, there was a fairy tale ending to the illustrious career of Brian O'Driscoll and there was the most exciting, intelligent and interesting England team for a decade.
This was the most exciting, intelligent and interesting England team for a decade.
Stuart Barnes
Quotes of the week
There is a body of opinion that feels England failed simply because they did not win the competition. The riposte to that is that there is a bigger picture.
Next year is the one where England need to be at its winning best. The second point is that expecting England to win time and again is something of an insult to the other teams.
The last time I looked at an atlas, France appeared to be a fair sized country with a decent sized population, Ireland had three of the best regional/club teams in Europe and Wales a smattering of world class players and a fine recent record.
Ireland took the title but England gained the edge in the race towards 2015. Stuart Lancaster's team has a younger, developing profile with obvious scope for great improvement. It has regained the love of the Twickenham crowd.
They will be difficult to beat there.
Future
Ireland has to replace O'Driscoll and all that wisdom and battle-hardened experience. Joe Schmidt has to find a way to get Paul O'Connell to the tournament in top shape, which is easier said than done when the big man plays with such integrity for his beloved Munster.
A summer off from Argentina could be a possibility whereas once England gets its domestic final out the way the objective has to be a morale boosting test win in New Zealand followed up by wins against the Big Three in the autumn. England's next seven matches are vital to their hopes of winning the World Cup.
Northampton and Saracens are favourites to be the home semi-finalists and on form the two teams to compete at Twickenham. This leaves the likelihood of George Ford starting his debut test in Auckland.
Stuart Lancaster has been building continuity in his starting line up but in the process left the cover undercooked. I think Ford should have started a game England could not lose in Rome; it is probably my only criticism.
Ford will have to be exceptional to steer a two-thirds strength England to victory or even a creditable defeat in the Auckland first test. Maybe Lancaster thinks he is that good. Maybe he is.
He'll have to be to oust Farrell whose patient treatment from the selectors when his form has dipped up and down has been rewarded with a stunning sequence of improving performances.
He and Danny Care was the partnership of the tournament (ahead of Lawes/Launchbury) although Johnny Sexton's excellence throughout, especially against Wales, keeps him ahead of the Englishman in European rankings (mine anyway).
Much credit to Schmidt and Lancaster for their four wins, much less to Saint-Andre and Gatland for their three.
Cure
Wales reminded the world against a risible Scotland team in Cardiff of their power.
Jamie Roberts, Jonathan Davies and George North were all exceptional but the comprehensive losses in Dublin and London leave Gatland plenty of work to do ahead of the World Cup. A two-test series in South Africa could be a kill or cure course of action.
France was unlucky against Ireland but so fortunate were they against England and Scotland - and so useless against Wales - it is hard to find much in the way of sympathy. They have a tough tour of Australia in which to find a top class game plan. They have many fine players but little shape.
As for Scotland and Italy, the case for a play off between the bottom of the Six Nations and the winners of the second tier tournament grows ever greater from a rugby perspective.
Broadcasters like the intense old rivalries but in the interests of the game worldwide it might be that Georgia are worthy of a chance to improve their game by a season of Six Nations rugby.
A home and away play off with promotion and relegation to the Six Nations would be a fantastic finale to the European season, more to the point it would be just. Money matters off the field should not govern the global development of the game.
Triumph
Away from the Test arena, congratulations to Exeter for winning the Anglo-Welsh Cup against Northampton.
The home crowd inspired them as they dominated the physical battle against the Saints in a way no English side has managed this season.
The return of five of Britain's best players will sort out the Saints problems and keep them on course for the Premiership title while Exeter can bask, for a day or so (probably last Sunday and that was it) before Rob Baxter recommences the plot to conquer Europe.
It was a great atmosphere in Exeter and a great day to be an Exeter fan.
Congratulations to them, Ireland, Brian O'Driscoll for his skill and his conduct throughout his career, Joe Schmidt and Stuart Lancaster to get England looking like a global force for the first time in a decade.
Unless you were Scottish or Italian it was a good weekend for European rugby.
Stuart answers your emails...
Got a question for Stuart? Email him at skysportsclub@bskyb.com or use the feedback form below...
Stuart, With the O'Driscoll-D'Arcy partnership now gone at test level, will we see a centre partnership that small again? You could see yesterday the effect the likes of Tuilagi and Bastereaud now have and that seems to be the template. Guys like that and Roberts, Burrell etc. Is this it then? Just huge players like this going forward or is there still room for the smaller, skilful player?
Jack Bayle
STUART REPLIES: Jack, Conrad Smith is no giant, nor Wesley Fofana. The trend is for the big man but the door remains open for the shorter centre in the minds of the smarter coaches.
Stuart, do you agree with Clive Woodward who said by emptying the bench at the Stadio Olimpico, England's momentum was disrupted?
Michael Judge
STUART REPLIES: Michael, possibly but I think there is an overreaction to the bench debate. There will come a time when many of the bench may be forced through injury or loss of form of others to start and at some time they need game time. We didn't see the bench emptied against Ireland and it won't happen against the All Blacks and during big World Cup games. It is not that much of an issue.
Paint it any way you want. England failed to win the Six Nations again. We are the richest union with the biggest player base. I am sick and tired of the same old nonsense of "we are a young, developing side" the academies are where players develop not in our national team. Every new coach we get says the same old nonsense. Forget about beating the AB's with their Deli belly we cannot win the NH premier tournament.
Warrick Trepner
STUART REPLIES: Warrick, Everyone is entitled to their opinion but I would rather England develop a game that gives them a crack at winning the World Cup than sticking it up their jumpers and bullying the rest of Europe. Your England failure is my England success. It has been an excellent campaign in the Barnes book.
Stuart, do you think Michael Cheika has a point when he says the scrum is wasting a lot of time? Do you think they should say time off when setting the scrum so teams don't use this to wind down the clock?
Dave Hinchcliffe
STUART REPLIES: My old mate Michael is 100% right. The scrum is not a waste of time but it is wasting time. The clock ticks far too long through dead time at the moment.
Stuart, Interesting to hear Exter want to win the HC within the next five years - how impressed were you with their LV=Cup win and can they become a powerhouse in Europe?
James Bromley
STUART REPLIES: James, I expect Exeter to become a force because they have a long term vision on and off the field. They stay true to their beliefs and lose a few games along the way. Those lost games are part of winning the war. I would be surprised if Exeter were not one of England's top teams within a few years and thereafter I see no reason why they should not tilt at Europe.
Comments (5)
David Short says...
England do look to be on the right track,improving year on year.They have a very hard tour infront of them this summer,and IF and its a BIG IF they can win one test against the ABs in New Zealand .They will put down another marker imo,for RWC 2015.Ireland are deserved 6Ns champions,and i can see JS resting quite a few players this summer like POC,Best ,even Sexton.He will be looking to develop depth in his squad,and find a new center pairing.The squad he takes will be a strong one ,As i see players like Zebo,Bowe,Fitzgerald ect all touring come the summer France are the biggest enigma in the game .One match they are DIRE the next they can be superb.PSA really has to fnd a gameplan the players can buy into.At the moment that doesnt look like its happening.The good performance against Ireland ,came about because the PLAYERS THEMSELVES WHERE ANGRY,with the press ect they had received.Not though any efforts of PSA and his team..
Posted 17:33 24th March 2014
Patrick Ronayne says...
With bod playing his last game for Ireland and Darcy soon to follow do Ireland need to change the way they approach the tackle area and the selection of the back row. Friday saw the return of Stephen ferris and sob to return soon do Ireland have to stick with pom and Henry? Because of the loss of two flankers in the centers. My opionion is that they need Henry or Pom and have one of the wrecking balls on the bench
Posted 11:22 18th March 2014
David Mckeown says...
Stuart I'd be really interested in your view on the overall quality of passing in northern hemisphere rugby . Watching the six nations there was so much slow , imprecise and inaccurate passing moves , which makes offense so staccato . I wonder if you think this is a fair point , and why it seems the Southern Hemisphere teams look so much slicker with the ball .
Posted 17:36 17th March 2014
Chris Collins says...
Hi Stuart. I've been extremely impressed with the way in which this team is being built and moulded. The earlier comment by Warwick Trepnor just does not stand up to scrutiniy. There is an excellent long term plan with players brought in on form rather than reputation and we currently look more dangerous ball in hand than I have ever seen us. I felt that Luther Burrell was very hard done by in being taken off for Manu Tuilagi so early in the second half and feel that Jonny May is struggling a little at the moment to really establish himself. He undoubtedly has the talent but is a little undercooked. Do you have an estimated time for Alex Corbisiere to be fit once more. Our scrum was ok against Italy but we are missing a real strength in order to make it a weapon at the moment. One final point, who takes the armband if Chris Robshaw becomes injured and leaves the field? He is a real asset in leading the team but I am not sure we have the right characters in the second and back row to take over should we need it.
Posted 11:00 17th March 2014
John Pearce says...
Hi Stuart, Where do you stand on the issue of the best position for Manu Tuilagi to fill - Centre or wing? It would seem harsh to break up the Burrell/Twelvetrees axis after the 6 nations.
Posted 10:56 17th March 2014