The second test in Dunedin is set to be something special.
England, at no more than half strength, gave an All Black team, themselves shorn of quality if not a quantity of players, quite a scare in the Kiwi stronghold of Eden Park.
For the first time since 2003 England is threatening the All Blacks on Southern soil. A year and a bit out from the World Cup and England are beginning to look like serious contenders. Home advantage will be a factor.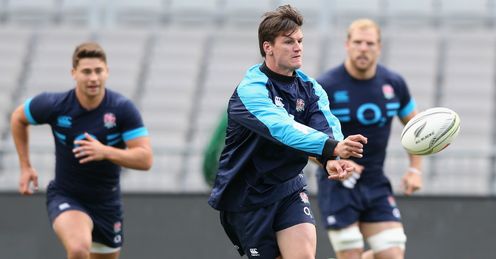 England, quite simply, would have won on Saturday had the game been at Twickenham. The subconscious home advantage came to the fore again as the visitors were victims of a series of calls that ranged from poor to inconsistent from Nigel Owens.
The moment the All Blacks cynically infringed on their own try line at 9-9 and received no more than a penalty (kicked by Freddie Burns) was to be the turning point of the game as a few minutes later, Brodie Retallick made a stunning burst through the midfield.
LIVE ON SKY SPORTS
New Zealand v England - 2nd Test
\nSaturday, 8am, Sky Sports 2.
Marland Yarde eventually hauled him down but infringed. In the process he was shown an immediate yellow card although his infringement was a full thirty as opposed to less than three out.
There was no problem with the card for Yarde but the inconsistency of the decision making was appalling. Throw in Ma'a Nonu's cynical pull back of James Haskell's shirt in the first few seconds of the game as Chris Robshaw roared through the All Black defence and England has a right to quietly gripe.
There were also a few inextricably wrong calls about knock-on decisions when the ball clearly travelled backwards; in a tight game it all adds up. Decisions go New Zealand's way in New Zealand and I am sure they will go the way of England at Twickenham.
Turnaround
When next the teams meet in England nothing less than an England win will do. But what about when next they meet at Dunedin this Saturday? It is shaping up as one of the most fascinating tests in many a year.
One-off games have a different heartbeat to a series. Inspiration has seen England home against New Zealand in Twickenham but a three-game series is an altogether different proposition. The All Blacks have been the historical masters of learning the quick turnaround lesson. They have long been the smartest of rugby nations.
In the space of a week they have to shore up their set piece and improve their breakdown when they gained less quick ball than suits them. These are the priorities along with getting the outstanding Kieran Read and Julian Savea back on the field.
And what about England, what will they do with their selection? So many fringe players played their way back into the centre of things Saturday. Stuart Lancaster has to decide whether to reward some outstanding individual performances or revert to his more tried and tested team.
In the front row, there is no question that Joe Marler will be named loose head and Dave Wilson tight. The Bath man was titanic in the tight although his handling was horrific. But what happens at hooker? Rob Webber was superb and Dylan Hartley has only played fifty minutes in quite some time?
What about second row where Geoff Parling was magnificent? Does he deserve to be dropped for Courtney Lawes? And Ben Morgan for Billy Vunipola, James Haskell for Tom Wood? These are all dilemmas in the forwards.
Behind the scrum things did not go the way of Ben Youngs and – if fit – Danny Care will definitely return. But should the in-form and goal-kicking Burns be left our Owen Farrell whose overall form and goal kicking has been patchy at the season's tail end?
Kyle Eastmond poses questions at inside centre. Options are myriad – to keep Saturday's well balanced midfield, to revert to Twelvetrees and Burrell with Manu Tuilagi on the wing?
When was the last time England had so many tough decisions to make? And to think Alex Corbisiero, Mako Vunipola, Tom Youngs and Dan Cole are unavailable along with Tom Croft, George Ford and young Nowell of Exeter. English international rugby has a depth of riches.
Loyalty
To answer the question over selection for Dunedin, I think the answer can be found, paradoxically, in Steve Hansen's justification for starting Aaron Cruden over Beauden Barratt. The latter has been the form fly-half in New Zealand all season, the former the incumbent fly-half.
Hansen backed Cruden, citing the fact that no matter what Beauden has done, Cruden has proved himself at test level and done nothing to deserve being dropped.
Loyalty to players is an intrinsic part of the All Black philosophy that turns an international team into a tight club team. Lancaster is a shrewd man and will have seen the spectacular results of such a tightly bonded team. Expect him to stay loyal to the majority of his Six Nations men who lost their place through unavailability no matter how compelling the case made by many of Saturday's star performers.
England will both expect and believe they can win but they also know New Zealand will improve for the first test. The rust is out of their system, the belief running through the English one.
I can think of nowhere else I would rather be next Saturday than Dunedin. If you can't join me in the flesh, settle down with a pot of tea and maybe a bottle of champagne on ice – just in case.
Comments (13)
World Wary says...
I'm normally on board with your analysis as it seems balanced however the (red) rose tinted glasses are on here. I fail to see how they would have won at twickenham. How exactly was the forward effort dominant? Couldn't get out of our half the 2nd half and were being smashed at the tackle and breakdown. McCaw outplayed Robshaw.The stats prove i Scrum was lucky not to be penalised for Wilson turning in on 2 occasions and going early twice (one kickable for NZ). Also the ball failed to enter once and wasn't called, NZ done second half for exactly this. Outside 2 @60min mark (which NZdid retained ball on) where was the dominance? In fact the AB's destroyed England the very next scrum. Yellows, Nonu missed but 3pts a fair return considering we knocked on 2 rucks previous & Marler was debatably obstructing for Robahaws run through. Nor was it a certain try. Feikitoa was explained by Owens and fair. Yarde was a definite, and maybe even a red. How about at 8mins when the ABs had a 3 man overlap and our player was 3m offside on our line deliberately preventing a certain try) That's a professional foul and a yellow. Or Dagg taken out in the air? (3pts us?!). I make it 3yellows Eng & 2 ABs if we want correct refing (like I say, NZ should have been feeding a scrum or taking a penalty when Nonu called). What'd you see from Eng here? I saw nothing. Fed off sloppy AB turnovers and got the luck of the bounce, May v Kaino&Dagg bounces for example or the lucky deflections around half time. At least 6 Eng points lucky (Wilson scrum,Dagg air & plus 3 Nonu re above). The ABs butchered 3 tries and made 15 unforced errors when the defence had already been manipulated. Barrett's drop, but take your pick from Smith/Nonu/Dagg) If Owens had policed offside Tuilagi would've been yellowed too. 8x plus on the wide shots we had & by 2m+. Owens so bad here he penalised Yarde! It's tactical and deliberate and kills the game.
Posted 08:35 13th June 2014
Peter Clareburt says...
The other comment I would make is that to me England play best when they have little to lose - England playing with a 4th string team against the All Blacks in a place where the All Black had not lost in 20 years was definitely a situation where win or lose England would look good as long as it was not a big score - and boy did they win on that basis. Equally when England beat the All Blacks a couple of years ago they were fantastic - had they lost well it was to be expected according to most reasonable people as long as they were close. it would have been OK The problem England needs to get over is to win - when they are expected to win - and they have suffered on that count a little bit. The All Blacks are always expected to win and that level of expectation is a massive step up in the mental side of the game. It has gotten much worse this century as they have a win ratio of 92%. As England improves and they have substantially, this is the mental game they have to aspire to and a good example of an issue here is Wales after that win against the All Blacks. So they not only have to win a game off the All Blacks in NZ the need to think about now not losing a game until they hold up the World cup in Twikers next year. Unfortunately as you get better the bar keeps getting lifted. I think they are looking good but it is an asymptotic curve to keep improving.
Posted 21:44 11th June 2014
Albert Hewetson says...
What happened to Brad Barritt...fantastic, all round centre...
Posted 21:15 11th June 2014
Tom Weir says...
Stuart, suggestions of playing Tuilagi on the wing seem ludacris to me although he may be a threat there, surely he is best positioned in the centers, committing opposition defenders and breaking the gain line, creating the potential for space outwide? Theres been alot of talk about stuart lancaster and "credit in the bank" but do you not think that replacing Kyle Eastmond this weekend after that performance would be detrimental to the team as i dont feel billy twelvetrees is good enough to add anything to that performance. Cheers.
Posted 12:31 11th June 2014
Nathan Wallace says...
Hi Stuart, If this was a half strength England team that nearly beat the All Blacks. Surely with a full strength team England should beat the All Blacks comfortably.
Posted 20:12 9th June 2014
Tracey Agnew says...
Hi Stuart, Thanks for a very accurate article. I was amazed at some of the decisions in the first test, especially the failure to dish out a yellow card for effectively killing the ball 3 feet from the All Blacks line. What do you think about Burns starting at 10 with Owen Farrell at 12 with Burrell at 13 and Tuilagi on the wing? Two ball-playing sweet passers would surely enhance England's try-scoring potential? Hope you enjoy the other 2 tests as I enjoyed the first.
Posted 15:32 9th June 2014
David True says...
I may be missing something, but why is it automatically assumed that it would be Parling that made way for Lawes? Would a Parling Lawes partnership not work?
Posted 12:58 9th June 2014
Dave Lucas says...
Least we'll be walking into the second test with a) confidence and b) a worldclass bench to compliment our XV. Intrigued by back up 10, burns looked class and at leicester could mount a serious challenge for worldcup starter, but what of Cipriani? All season I've been quietly impressed with his all court game, but never particularly excited as he's lacked his 'point of difference' his pace, then 2 mins on the field at Eden park and he unleashes the acceleration of days gone by?! I think regardless of our starter, next week and next year, cipriani must be in contention for a bench spot, he remains a game changer
Posted 11:29 9th June 2014
Rhys Davies says...
Stuart, Excellent column as per usual. As a welsh fan have to say that I'm slightly concerned by the form shown by both England and Australia. Wales certainly need to look to develop their game leading up to the world cup. The reason I am writing in is that I disagree that the decision not to sin bin Fekitoa was an inconsistent one. I think that an argument could be made to suggest that Fekitoa thought May was held up so he held onto the ball under the assumption it was a maul. So there is a case that it wasn't a deliberate infringement and therefore not a definite yellow card Yarde on the other hand very deliberately attempts to slow down the ball and it is therefore a definite yellow card. Finally, I agree that the Nonu tug back was a definite yellow but to be slightly pedantic I must point out that it was Haskell not Morgan that he tugged back. Cheers, Rhys
Posted 11:15 9th June 2014
John Mcdonald says...
Hi Stuart What a gutsy performance by England after they were pretty much written off by everyone. Heading to the world cup, what do you think of the performance of the southern hemisphere powerhouses over the weekend? Is England the only team in Europe that can stop the likes of the Springboks and All Blacks at the world cup?
Posted 11:10 9th June 2014
Tim Woodall says...
Good morning Stuart, Whilst I agree with most points in your article, I believe the one positon Stuart Lancaster should definitely retain for the weekend is that of 12. For the first time I can remember in a few years, I witnessed an English inside centre pose a genuine attacking threat and against the world's best team. Billy Twelvetrees is a good player; intelligent, a great kicker and distributor and performed admirably in the 6 nations. I have seen little of him that has inspired me against the world's best. I do not believe he has that international class which I feel, given a run of games, Kyle Eastmond would develop. He has pace, which scares the opposition and can pass. His weakness is probably his kicking game. Do you think Lancaster considers that a significant quality in his 12 to relieve the pressure on 10? Regards, Tim
Posted 10:03 9th June 2014
North South says...
"England, quite simply, would have won on Saturday had the game been at Twickenham." Are you serious? This exact game situation DID happen at Twickenham only last November: NZ not at their best, English forwards getting on top, England takes the lead into the final quarter. This NZ team possesses the ability to win when it counts, and they have that ability anywhere in the world (Dublin, Johannesburg). England are on the right track, but what makes the kiwis so great is not sugar coating reality. The All Blacks won, England lost. Let's just keep getting better
Posted 10:02 9th June 2014
Smudge Smith says...
Very tough decisions, but I would go with this XV - Brown, Ashton, Burrell, Tuallagi, Yarde, Farrell, Care, Marler, Hartley, Wilson, Lawes, Launchbury, Wood, Robshaw and Vunipola - Bench: Mullan, Webber, Thomas, Haskell, Attwood, Dickson, Burns, Foden.
Posted 09:19 9th June 2014