It's been an eventful spell in the world of golf, emotional and sad, exciting and exhilarating.
Walking around Sawgrass with all the flags at half mast was a constant reminder of the loss of Seve which even now seems hard to believe. I thought Seve was indestructible; he certainly gave you that belief when you were with him, but we all are reminded that that is not the case in this world.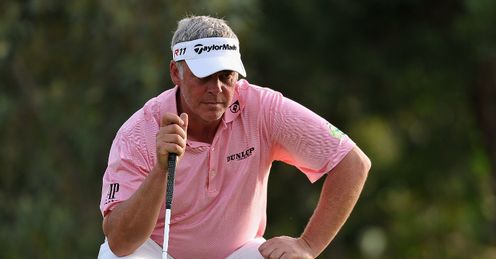 Once the emotion fades, we will be left with so many wonderful memories and images of a truly great golfer and as far as the European Tour and the European Ryder Cup side are concerned, we will forever have the spirit of Seve Ballesteros Sota.
Last week the Players Championship went to the wire as two similar players, KJ Choi and David Toms, took the event into sudden death.
Darren's golf reached a low in March, as did his belief in himself, but a change of posture and alignment gave him his old feel back.
Ewen Murray
Quotes of the week
LIVE ON SKY SPORTS
World Matchplay Championship
1pm, Thu, Sky Sports HD1
Crown Plaza International
9.30pm, Thu, Sky Sports HD3
Watch online with
Sky Player
How to
remote record
I trust you enjoyed the finish but it was a pity the tournament was won by a mistake rather than a moment of brilliance. As I said in my last column, this tournament has more substance if it is played in March, but tour commissioner, Tim Finchem, left no one in any doubt that the new May date works well for his tour and that is where it will stay.
Pity, because he will never have as strong a field as he enjoyed earlier in the year because of the Volvo Match Play and our PGA Championship.
The players will always go where the world ranking points are as many of their off-course deals are related to their position in that list. The tables are turned now the majority of the top 50 in the world rankings are international players, many of them members of the European Tour. In fact, only 18 Americans are in that top 50.
KJ Choi was a worthy winner of the Players and the Korean now boasts eight wins on the PGA Tour. I suspect there will be many more wins for his country in the future from those inspired by him blazing a trail Stateside. I love watching him play, he has a strong discipline along with a sound swing.
Paris calling
The Ryder Cup is on its way to France in 2018 and I think we all know that is a good and sensible decision.
It's difficult to award the match to a country where the course has yet to be built. What the tour have done is gone for certainty as this marvellous course is tried and tested and now it has strong funding, it will only get better.
The site, 20 miles south west of Paris, can host 100,000 spectators if necessary and its opening and closing holes are as you would expect from such a respected designer as Robert von Hagge.
Quite simply they will produce great excitement from Friday through Sunday. It will also have a lot of class with some of the functions being held in King Louis' Palace of Versailles.
The money that will be spent during the next seven years will turn Le Golf National into a world-class course and it will do much for golf in France. They have just over 400,000 golfers and every one of them will pay an extra three euros in the coming years and that will go towards building driving ranges along with six and nine-hole courses that will be affordable to the masses.
The French Open is the oldest tournament on tour outside the Open and they have been great supporters of the tour since it's inception in the early seventies. They deserve the Ryder Cup, just as Spain did in 1997 .
Exquisite talent
There was some good news in the last week for two players who have been in the doldrums of late.
Sergio Garcia found his form in the last round of the Players and his 65 is a gentle reminder of his exquisite talent.
His difficulty has been on the greens but last Sunday he found his touch and with that some confidence returned. It should stand him in good stead ahead of the year's second major.
In Majorca, Darren Clarke came from nowhere to win his first event since the Dutch Open in 2008. His golf reached a low in March, as did his belief in himself, but a change of posture and alignment gave him his old feel back.
When you are Darren's age, your swing doesn't change much, but for any player regular checks on the basic fundamentals are essential. Strangely enough, that is pretty much all Luke Donald does with his coach, Pat Goss, and that's a formula that has taken the excellent Donald into second place in the world rankings.
Darren, Luke and many of the top players will begin their preparations for the BMW PGA Championship on Monday as the tour have arranged a memorial pro-am for Seve and the aim is to raise half a million pounds for the charities that were so close to the mercurial Spaniard.
If you are in the West London area on Monday 23, come along, as it should be an enjoyable day.
I will have to dust the clubs down when I get home from Spain as Rob Lee and I are part of a Sky Sports team that will enjoy the company of Darren Clarke at the famous West Course, the one where Seve had many of his finest moments in his glittering career.
Sky will have six hours a day live from the BMW, with extensive highlights of the weekend before returning to Wales and the scene of last year's dramatic Ryder Cup for the Wales Open.
In the meantime, enjoy the Match Play from the Costa del Sol and in the next two weeks we will look forward to the second major of the year, the US Open at Congressional.