It's been a while since we talked and in that time, the Fed-Ex Cup has been and gone.
For American Bill Haas it was a hugely successful month taking home just over $11million, but does the Fed-Ex work? Have the PGA Tour got the system right? You will all have your own opinions and ideas. My own thoughts are that there is some way to go before the system is fair.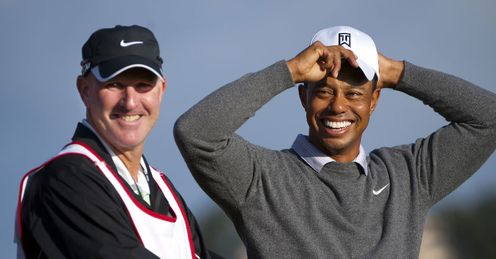 Going into the play-offs, four players had won twice since the season started in Hawaii in January. Dustin Johnson collected his first victory of the year in the first of the four play-offs in New Jersey. He went straight to number one in the Fed-Ex rankings. So much for good play from January to September then!
Webb Simpson won in Boston and took over at the top beating Chez Reavie in sudden death. Chez, who has been on a medical exemption all year went to ninth in the list ahead of Players champion KJ Choi, Phil Mickelson and Matt Kucher who had nine top-10 finishes to his name.
I hope when I switch the television on tonight, Tiger will thump a few down the fairway and when he doesn't, escape from the trees courtesy of the brilliant natural talent he has, along with holing the most outrageous putt here and there. More than all of these, my wish would be that he smiles again and his inner anger is a thing of he past.
Ewen Murray
Quotes of the week
LIVE ON SKY SPORTSFrys.Com Open
10pm, Thu, Sky Sports HD3
Watch on the move with
Sky Go
How to
remote record
In Chicago, Justin Rose won and went from 34th to third ahead of Luke Donald, the world's number one player by a distance. Luke, who had started the week in fourth place finished joint third, yet Mahan and Haas - who were looking to win for the first time this year - were not only playing for the Tour Championship, but the Fed-Ex and the pot of gold that went with it.
My reasoning for thinking the series needs tweaking begins and ends with the points system. Five hundred points are awarded for a regular tour win with that being increased to 600 for a major victory. The play-offs have 2,500 points per win with the points being reset for the Tour Championship so as many players possible can have a chance to win the $10million bonus. The rest of the year has little significance.
What happens next year if a player wins the four majors? That would give him 2,400 points. If he then plays average golf in the play-offs and Chez Reavie wins one of them and then the Tour Championship, he, not the grand slammer wins the Fed-Ex Cup! The PGA Tour need to look at that so as they don't face what would be possible embarrassment in the future.
Luke Donald could win the money list on both sides of the Atlantic. He could also be the player of the year on both Tours and he could be four points clear at the top of the world rankings. To date, he has had 13 top 10 finishes this year including three wins, one of them a World Golf Championship, and yet Haas and Mahan finished ahead of him in the Fed-Ex.
If you were a little confused watching it I'm not at all surprised, for you were quite clearly not alone. When Haas had that four-footer at East Lake to win both events and with it $11.44 million dollars, I wondered how much his nerves would be jangling. When he came to the presentation area to be congratulated by Commissioner, Tim Finchem, he said: "Thanks. Who won the Fed-Ex Cup?"! A visit to the think-tank at Ponte Vedra should be high on their agenda.
Enjoyable
The Dunhill Links Championship has enjoyed its first decade and blessed with fine weather, Carnoustie, Kingsbarns and St Andrews "Old Lady" never looked better. Just when we thought Northern Ireland had seen the last of their halcyon days, along comes Michael Hoey. Michael has been in the shadow of Rory, Darren and Graeme, but on the most famous green in the world he stepped out to join them last Sunday.
George Murray came through the Challenge Tour last year and after 23 events this year had averaged just over £2000 and event. George, who was born and raised in nearby Anstruther took home €200,000 for his tied third finish and secured his playing rights for next year. Two-time European Tour winner Marc Warren, despite taking a bogey five at the 72nd hole, has more than likely done the same.
My colleague at Sky Sports, Jamie Redknapp, shot under par for the first time in his six-year golfing career. A 71 at St Andrews playing alongside the world number one on the final day of a huge championship will not be forgotten in the years ahead and DJ Spoony did the same at Kingsbarns on Saturday.
It's without question one of the most enjoyable weeks of the year as stars from stage and screen, captains of industry and sporting legends tee off alongside the game's top players.
It's one of the few sports that can achieve this and for one week of the year it's a pleasant change of format. It does however disguise the importance of the event for those who have had average years. They can change that in the four days as Murray and Warren did and also Steve Webster who won enough to get back inside that top 115. For the amateur, it's their major championship.
Humiliated
This week sees the return to the fairways of Tiger Woods. The Fry's.com would normally be a long way down Tiger's list of tournaments to play in, but now at 51st, yes 51st in the world rankings, he has to restart somewhere. Who would have predicted that two years ago?
He takes to the first tee in San Jose alongside new caddie, Joe LaCava who was Freddie Couples long time bagman and more recently, Dustin Johnson's companion. What Tiger will we see? Well your guess is as good as mine, but my wish would be that we see a little of the old Tiger. He has made his mistakes, suffered chronic injury problems and rightly or wrongly been humiliated everywhere he has turned.
As I have said before, Tiger simply lost his way and for what he calls his "transgressions": my thoughts are he has suffered enough. I hope when I switch the television on tonight, Tiger will thump a few down the fairway and when he doesn't, escape from the trees courtesy of the brilliant natural talent he has, along with holing the most outrageous putt here and there.
More than all of these, my wish would be that he smiles again and his inner anger is a thing of he past. After the spitting incident in Dubai I have not spoken to Woods - not by choice - and perhaps never will again. I can live with that but I wouldn't want not to see him perform the way he did for over a decade. During that time he thrilled us all with his excellence and class, his miraculous escapes and his sheer golfing genius.
There are many wonderful moments to remember from many great players, but Tiger is the finest golfer I have seen and some images of his greatness will stay with us all for a long time. I still can't believe the chip from the back of Augusta's 16th green; the ball trickling down the velvet green and almost stopping to reveal the Nike "swoosh" before disappearing. The six iron from the bunker over the water in Canada, the putts on Sawgrass's 17 and Dubai's 18th green.
It's been another superb year for our sport and a resurgent Tiger Woods would make it a vintage one. I wish him well.
Comments (4)
Sam Lewis says...
Great article again Ewen. On the Fed-Ex Cup like you I've never really understood the format. Unfortunately ultimately the most consistent player over the year won't get rewarded until they sort out the system where they reward the most points to the winners of the play-off events. This is where the Pga Tour should take a leaf out of the European Tours book and reward consistent play rather than streaky play. That is why Woods got to where he did and the same with Donald.
Posted 21:40 6th October 2011
Patrick Duncan says...
great to see tiger back /lets hope he plays at his best to see how good the rest really are !
Posted 16:43 6th October 2011
Mark Armstrong says...
I'm not sure you'll find many disagreeing with you on the Fed Ex system Ewen - strangely the last four events never had the pull of prior years in terms of TV spectating - maybe a change will help.Wouldn't it be the perfect way for Tiger to start making steps forward if he were to look you out somewhere soon - admit that whilst he never appreciated your very public criticism he accepted his failing shake hands and move one - will we be left to hold our breath do you think. I recall Torrance (after his fantastic Captains' victory in the Ryder Cup) pulling Feherty and Montgomerie together to repair the now famous 'Mrs Doubtfire' sudonym that Feherty had lebelled Colin - life's too short is it not?? Finally I must admit to being stunned at various commentators being surprised at La Cava joining Woods - if he comes back as we all pretty much hope I know who's bag I'd want - not sure Butch has really ever gotten over that parting of the ways.
Posted 16:19 6th October 2011
George Mcintyre says...
I wouldn't care if Woods never played again, never mind won. Wonderful golfer though he is, I feel his influence on the game, together with his ignorant and boorish American following has been hugely negative, detracting from the sportsmanship and fair play which has made the game the greatest, graced by true gentlemen, such as Nicklaus, Watson, Palmer et al.
Posted 14:23 6th October 2011