Timothy Bradley against Devon Alexander is just the sort of fight we have all been waiting for. Both are unbeaten, both are pretty decent technically and most importantly, they want to fight each other.
They and their promoters have done everything to make sure this match gets made, while David Haye and Wladimir Klitschko can't come to an agreement and the big one - Manny Pacquiao against Floyd Mayweather - looks miles away.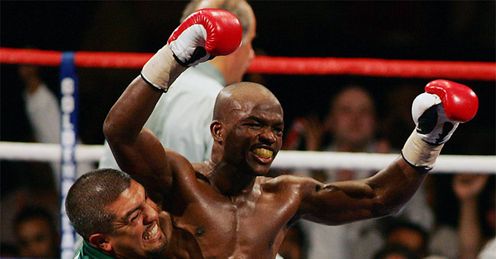 These two should be applauded for that alone because these days that in itself a rarity, never mind two world champions at their peak willing to face one another.
This is the best fight in the light-welterweight division right now and it is incredibly hard to separate these two. The only common opponent they have is our own Junior Witter and you have to say Alexander did a better job on him. But I also think that Junior was not right on that night in 2008.
Maybe the ounch power lies with Devon Alexander; Timothy Bradley has not stopped anyone since 2007 but is the better boxer technically. But they are both pretty good in terms of skill and speed and you can easily make a case for either winning here.
Jim Watt
Quotes of the week
LIVE ON SKY SPORTS
WBO/WBC Light-Welterweight titles
Timothy Bradley v
Devon Alexander
2.00am, Sun, Sky Sports HD2 & 2
With special guest Amir Khan!
The very next fight he went on to stop Juan Urango, which should not be overlooked. Every now and then a boxer comes along who might be crude, but is incredibly strong and looks like he will never be stopped - Tony Zale springs to mind. Yet Alexander took him apart with some beautiful shots and that rightly raised plenty of eyebrows.
Struggling
But the fact that the Colombian who is nowhere near as good as Bradley technically, kept it close until that eighth-round finish, is a little worrying.
I wouldn't read too much into Alexander struggling to look good against Andriy Kotelnik, because Kotelnik is a fighter who never gets enough credit - probably because Amir Khan made him look so ordinary - and is better than people think.
Maybe the punch power lies with Alexander. Bradley has not stopped anyone since 2007 but is the better boxer technically. But they are both pretty good in terms of skill and speed and you can easily make a case for either winning here.
One thing is certain, with Amir waiting, whoever does come out on top has it all to look forward to. They are both ambitious and I am sure the winner will want to show he's the outright number one at 140lbs.
I have to be honest and say I am leaning towards Bradley. The fact that he's not stopped anyone for a while also means that he is used to going the championship distance and I just think he has an edge in terms of ability and strength.
Alexander is a southpaw, which would normally be an advantage when two good fighters are so evenly matched, but I don't think that will be a huge factor.
Weaknesses
Bradley has a decent overhand right but he also has a good left hook. When I was fighting I had trouble with left hookers and I do think we make too much of certain punches working better than others; all southpaws are different, just as all orthodox fighters are different - it's just a question of finding the right punch for the right guy!
I do think Bradley can find that right punch, too. He has all the tools, but then again so does Alexander. Neither has any weaknesses, certainly not glaring ones, neither is chinny, neither has run out of steam in a fight, so this is going to come down to the smallest detail, I think.
Both like to get involved at times so there will be plenty of action, too. If there is a lull though - and with two technical boxers that is often the case - I think Alexander will be the one to feel the pressure, the one to start something.
I expect him to be the aggressor because his best bet is to make it his kind of fight. Bradley has that little bit more experience and by his very nature - and fighters take their personalities into the ring - he is the one who has shown a bit more patience and I don't think he will be too bothered if the action is non-stop.
It's up to Alexander to try and draw him in but I just hope the crowd is bigger than early ticket sales suggest. Sometimes when fights get technical you need a big crowd to get things going again and if we get a fair few in the Silverdome, I think we are in for a great one.
I still think it will be a real treat, simply because there is so much at stake. The loser can still come back, but the winner will move on to bigger things. Neither Bradley nor Alexander are going to megastars, but talented, hungry fighters who are willing to fight anyone are, at the moment, a rare breed. Luckily for these two - and us - there is another one in their division, who will be sat in our studio come Sunday morning!
Who will be fighting Amir Khan next? Well I would have to say Bradley wins this on points, providing he can fight his fight and does not get drawn in by Alexander.
But I have already changed my mind a few times on this and will no doubt change it a few times more during the fight!
Comments (2)
Joe Mitchell says...
Bradley will a wide wide UD, Alexander got exposed in his last fight against an average Kotelnik, Bradley has fought the better guys and do well beating them, I really dont think this is a pick em.
Posted 19:24 28th January 2011
Ti Ro says...
Big up to SKY for showing us this fight, they have made the public miss some real barn-burners due to their policies over which fights they choose to show. Yes, yes I know this fight is only being shown because the winner is a potential Khan opponent but SKY are putting on a real treat by showing us this fight... let's hope their recent deal with HBO will mean more of these fights come our way.
Posted 13:32 28th January 2011