So after all has been said and done on this tour, New Zealand have taken the one-day series and England the Tests.
Most people think New Zealand are stronger than England in the one-day game and I, like many, expected England to beat their hosts in the Test matches. Everyone was proven correct on all counts.
But I thought it would be a more clear-cut victory in the Tests than it turned out to be, so in one sense it has been a little disappointing for England, but it is a win - and a win away from home.
Response
There was a great danger after losing the first Test that it could have all gone downhill from there. When you lose the first game of a series the pressure can be on your back and the captain and coach are under pressure, but England did bounce back.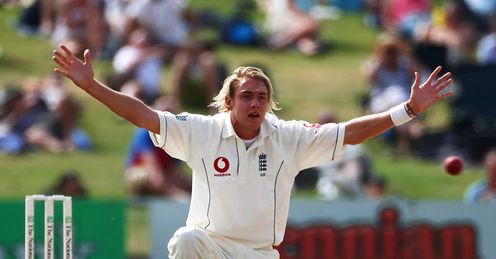 But I would stress that this is a pretty moderate New Zealand side and England should always have beaten them and by a bigger margin.
The debate about why England started the series so slowly has been running since the defeat in Hamilton and one of the main arguments presented is that England hadn't played enough first class cricket before the first morning's play.
Broad is an exceptional cricketer, the best young bowler that I have seen emerge for England since Darren Gough 14 years ago.
Mike Atherton.
Quotes of the week
CRICKET LIVE ON SKY SPORTS
New Zealand in England
Three Test Series
1st Test - Lord's
2nd Test - Old Trafford
3rd Test - Trent Bridge
From May 15 2008
Click
here
for more details of live cricket on Sky Sports
It is an old argument, one we have heard on the last few tours, and my view is that it is one we need to get beyond because modern day tours are changing.
Attack
Teams do not have the same amount of preparation time as previously and therefore it is up to the players to get themselves right and ready for the first game.
Steve Harmison is a slightly different case because he arrived late due to the birth of his child. But he has retired from one-day cricket and that probably doesn't help his case for Test selection, especially when the one-day games come first as they did in New Zealand.
The onus is both on the players and the ECB, who have the players centrally contracted, to get everyone right and ready when the umpire calls 'play' on the first morning.
It was clear that Harmison, in particular, was short of the performance and confidence required in Hamilton and he rightly got dropped.
I thought it was harsh to drop Matthew Hoggard as well though and I would have kept faith in him. He has been England's top and most consistent bowler for a good while and to drop him for one bad game was harsh. But England got it right in Wellington, winning the Test match and I don't think it will be the end of Hoggard's Test career by a long stretch.
Discvoery
Two of the great positives for England in New Zealand have been the arrival of Stuart Broad as a genuine Test prospect and the completion of Ryan Sidebottom's journey to Test match mainstay.
I called for Broad's inclusion at the World Cup because I hadn't been impressed with England's performance in winning the CB Series in Australia at the start of 2007. That was a bit of a false dawn and I would have liked to have seen him out in the West Indies, but it wasn't to be.
For me Broad is an exceptional cricketer, the best young bowler that I have seen emerge for England since Darren Gough 14 years ago. Given a fair wind, some good luck, a lack of injuries and good people around him to keep him honest I think he will be a champion for England.
Sidebottom is a rock solid performer and is the kind of bowler that the captain loves to be able to throw a ball to. He will bowl well with a new, swinging ball but he will also keep running in all day for you.
England now have two bowlers there that they can absolutely rely on in Broad and Sidebottom, so now the job is to find the third who will make up the attack with Monty Panesar.
Expectations
Monty finished the tour on a high with six wickets and England will continue to keep faith in him. He is what he is: a good, honest finger-spinner.
He is never going to be a Shane Warne or a Muttiah Muralitharan and we don't want to hold our hopes out for that. But he is a good finger spinner, probably the best we have had since Derek Underwood, and given the right conditions - a wearing pitch and runs on the board - as he had in Napier, he will play his part for England.
Michael Vaughan knows what he will get from Monty which is, for the first three days, a solid bowler who can give you control, and then when the pitch might have deteriorated after four days, he could be a match-winner.
There will be other questions asked about the make-up of England's top six for the return series back in England against New Zealand which starts in May, but I think there will be no changes and that is just about right.
Centuries for Ian Bell and Andrew Strauss in England's final innings will have eased any worries on their part and ensured their participation at Lord's.
I am not entirely convinced that England have got the order right as Strauss is not a number three, he is a natural opening batsman. Michael Vaughan should bat three and the rest can stay as they are - they have all just done enough.
Just done enough... I thought England would win with more ease but they just did enough to win 2-1. Better will be expected at home in May.
Comments (7)
Allan Gobey says...
As per usual I agree with Mike Atherton more so than any other commentator. HIs opinions always seem considered and as somebody else said, he writes about the game in the same methodical way that he plays it. I would prefer to see Strauss back as opener with Vaughan dropping to three. The others can stick as they are with Shah again being the odd batsman out. Sidebottom was heroic in New Zealand and in early May conditions, both he and Hoggard could be a handful. Broad's biggest plus over the other seamers that have been used to fill in for Harmison, Jones and Flintoff is that we don't lose control. Anderson, Plunkett and Mahmood simply don't offer the same control that he does and England often found the game going away from them as they were going at 4 or 5 runs an over. Ambrose has done enough to secure his place for both summer series and that helps the batting. Of course the big decisions come down to Harmison and Flintoff. i think it's about time the selectors stopped hoping and the commentators stopped saying "if Harmison bowls like he did in 2005 we'll be fine" the fact is he isn't close to bowling like that and hasnt been SINCE 2005, at the moment he isn't worth his place in the side. The Flintoff issue is tricky because his inclusion will radically alter the shape of the side. My own preference would be for him to bat at 7 (I don't think he's consistent enough to bat at 6). with Ambrose at 8 and Broad at 9. That is a very healthy batting line-up. Of course the problem that brings is that we only have 4 front line bowlers and will Freddie's ankle stand up for him to be a number 3 seamer, one solution would be for Collingwood to get more overs, I don't think he has been used enough by England.
Posted 18:51 11th April 2008
Richard Riley says...
I think England could be back on the right track but have a long way to go yet. I don't think we should get carried away by a good victory against a relatively mediocre New Zealand Test team. England's batting line-up has to be more consistent, Vaughan needs to be hitting the heights of 5 years ago and the same goes for Strauss if they continue to stick with him. From the point of view of the bowling it would be good to see the selectors take note of Ryan Sidebottom's step up to the Test team after time learning his trade in the county game. Stuart Broad is a very promising talent but let's not rush him up the ladder ahead of his time. Harmison would probably benefit from a prolonged spell back in the county game, I would bring Hoggard back as he is far more consistent than Anderson and knows how to bowl in English conditions as well as anyone. It would great to see Flintoff back but he should only be picked if 100% fit and if he does play he bats at 6 to allow for 5 bowlers. England should turn New Zealand over this summer, but South Africa will provide a much stiffer test. Their fast bowlers in particular may prove more of a handful than they are given credit for. Bring on the summer.
Posted 14:00 5th April 2008
Christopher Grathwohl says...
I do not agree totally with Ather's. Look how Gough's career has gone as far as International selection, look at Plunkett, look at Mahmood, all great bowlers thrown into the International game way to early and all eventually dropped, hint, hint, hint!!! Then look at Sidebottom, 10 years building developing his game in County, and now the finished product is awesome. If they continue to throw Broad into the International arena within 2 years he'll be another young English bowling trajedy. I'm not saying that he should be out and out excluded from International games, I'm just saying he isn't all Atherton is making him out to be, and the pressure that Ather's comments can generate on a 21 year old man is immense. I'd really like to see how the likes of McGrath, Botham, Willis, etc. would have faired playing the schedules of today? If Broad was allowed to develope his game for his County for another season or 2 especially where he plays with Siddy now the rewards would be far better than staying in the England side exclusively.
Posted 20:30 28th March 2008
Ryan Christie says...
I think that Strauss shouldn't open the batting with Cook as they are to similar to open together. I think Anderson should get a chance as he needs more tests to get the experience needed as he is always in and out of the test side. Sidebottom and Broad could form a good partnership and this could be the end of Harmy. I think Hoggard is far from finished and will be given other chances. Flintoff shouldn't be brought back straight away, he should be told to prove himself in couty cricket and well as Harmison. England on paper have one of the best middle orders in the world and are still young compared to Australia who are a ageing team. England have Strauss who seems to be back with a bang. Collingwood who is more than capable with bat and ball and don't forget Bell and Pietersen. These two Batsmen could well be the best batsmen in the world in a few years in both forms of the game. England have also seemed to finally find a good wicket- Keeper who can both catch behind the stumps and bat. Then Broad could follow them as an all- rounder with Ambrose and Flintoff (if fitness proven)following. Cook is still young and still learning the game and could be Englands' Matthew Hayden. And lets not forget Monty Panesar who could be a good finger spinner and is well capable.Team to face New Zealand in England if fit: 1. A Cook 2.M Vaughan(c) 3.A Strauss 4.K Pietersen 5.I Bell 6.P Collingwood 7.S Broad 8.T Ambrose(wk) 9. J.Anderson(1) 10.R Sidebottom(2) 11. M Panesar
Posted 20:39 27th March 2008
Subramani Aiyar says...
My congratulations to England for having won the Test series in New Zealand. It is more creditable because they lost the first Test badly. There are many who are baying for Micheal Vaughn's head. To drop him will be a mistake. He is fine captain as we all know. What he could do however is to change his batting position. I think he will be back amongst the runs if he bats after Pieterson. England will have to get a new partner for Cook at the top. It is heartening to see Monty turning in a match winning performance after a long period without much to speak of. I wish England would give Finn a chance early. Broad and him should serve England well in the years to come. With Flintoff getting fit again, I think England are well on their way to becoming a formidable team.
Posted 12:43 27th March 2008
David Farley says...
What has happened to Liam PLunkett? He looked tremendous down under in the Commonwealth ODI finals and bowled superbly and then never got picked again? I know the england selectors are idiots but did he get injured or did they continue on their idiotic ways?
Posted 12:09 27th March 2008
Robin Brodhurst says...
Can Stuart Broad develop into a genuine all rounder to replace Andrew Flintoff and would Flintoff be the third seam bowler with Broad and Sidebottom?
Posted 03:07 27th March 2008