The way in which England imploded after tea on the final day at Centurion does not overly concern me as I look ahead to the Boxing Day Test in Durban.
Collapses such as England's are part and parcel of Test cricket, especially on a wearing pitch against opponents of the calibre of South Africa.
The hosts were excellent as they picked up four wickets for as many runs in that last session - their out-cricket, bowling and the captaincy of Graeme Smith was superb.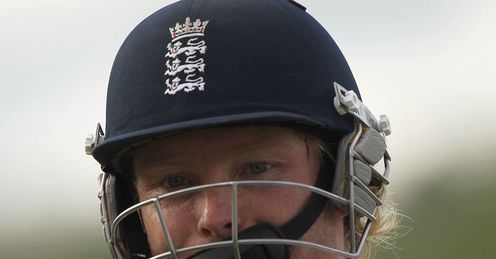 What concerns me more is that England only got on top of South Africa in two periods over five days - when Graeme Swann was in full flow with the bat and on the third morning when the hosts were briefly on the back foot.
Alastair Cook might say that England felt in full control throughout the Test but it didn't look like it from the outside.
Balance
The side England picked suggested to me that coming away from Centurion with a draw was possibly the limit of their ambitions. Perhaps, given South Africa's strong record at SuperSport Park, that is understandable - but only up to a point.
Alastair Cook might say that England felt in full control throughout the Test but it didn't look like it from the outside.
Mike Atherton
Quotes of the week
LIVE ON SKY SPORTS
South Africa v England
7.30am, Sat, Sky Sports 2 & HD2
South Africa were vulnerable going into the series and England did not capitalise. Graeme Smith's side hadn't played much Test cricket in previous months, while Dale Steyn was injured and Jacques Kallis' input - at least with the ball - was limited.
Rather than play Ian Bell at six, I would have included Liam Plunkett to give the side a better balance.
Yes, question marks still hang over the Durham seamer, not least because he hasn't had much cricket here, and to some extent it would have been a shot in the dark.
He still looks frail at times in terms of his method and technique, which he seems prone to tinker with, but he is a better bowler than Luke Wright and has worked hard on his batting in the last couple of years.
It seems that England are likely to stick with Bell at six for now, though. I would not have picked him at Centurion, therefore I wouldn't be playing him at Kingsmead, but having selected him in the first Test I can fully understand why England will keep faith with him.
Selectors don't like to make changes after just one game - it sends out a message of panic, that they don't really know what they are doing.
That said I don't believe it is England's best interests long-term to continue down this road too long given that Matt Prior is a genuine all-rounder at No 6.
Truculent
I would definitely give the new ball to Graham Onions at Kingsmead. If I was still an opening batsman, I would much rather face Stuart Broad who I reckon would give me four or five loose balls in his opening spell that would help to get me off to a good start.
In contrast, Onions doesn't bowl much rubbish and is going to make better use of the new ball.
Broad still has got plenty of work to do on his bowling and, judging by his behaviour after being given out in the first innings on review, he has got to be more careful about his attitude on the field, which is truculent at times.
Too often he's in the thick of it with the umpires and a strong word from Andy Flower certainly wouldn't go amiss.
As a player your competitiveness should be geared towards the opposition not the umpires - that's a simple line that as an international cricketer you don't cross.
Dilemma
South Africa have yet to determine whether to play fast bowler Steyn at Kingsmead for two main reasons: they don't want to rush him back from injury too early and, if fit, he gives the selectors must decide who to leave out.
On form Makhaya Ntini would be the man to go but that if South Africa were to leave out their only black Test cricketer it would raise all sorts of problematic issues.
There is still pressure on the selectors to make sure South Africa field a representative team and on top of that coach Mickey Arthur said the other day that Ntini would definitely play.
But after his fine debut performance it is hard to leave out Friedel de Wet as well, so if Steyn isn't 100 per cent fit then South Africa can probably afford to give him a bit rest.
If he is fit I really feel Steyn has to play because he's got a fantastic strike-rate and wicket-taking ability which is something both of these sides lack on the whole - collapses aside.
Comments (7)
Howard Ingham says...
Hi, I took the time to let you know how I felt about the teams negative and moaning commentry during the ODIs, I dont know what has happened, but I would now like to say, the commentry has been a pleasure to listen to these test matches, all of the team. Thank you very much.
Posted 10:46 28th December 2009
Steve Wright says...
although ive nothing against ian bell,who has been a good servant to english cricket,the side hasnt got anyone else to replace him in their squad as an out and out batsman.luke wright isnt the answer as tim bresnan isnt. thats the only reason he keeps his place.come the end of this tour i expect a change.our lower order has been week for years,we have potential all rounders in our ranks and the side on paper looks ok,theres one flaw though,we play on grass
Posted 12:48 26th December 2009
Alex Voskou says...
A draw at Centurion, where the world's number 1 test side have a great record, certainly isn't bad - even if we were hanging on by the skins of our gnashers. But we need to be more positive and select another bowler if we're to avoid hanging on for the rest of the series. Most of our bowlers can more than hold a bat straight these days - witness Swanny's superb 85 in the first test - and the selectors need to trust them like they've trusted Ian Bell. On recent form, leaving him out of a team that bats a long way down, and picking another bowler to help us get 20 wickets, shouldn't be that much of a risk. I haven't mentioned dropping Cook as we don't have any other specialist openers in the squad, alarmingly enough. I get the impression that the selectors want to shoe-horn Luke Wright into being the next great all-rounder, but I'm not sure about his bowling. Plunkett is largely untried and hasn't had much cricket out there. If it swings at Durban like it did the last time England were over there, Sidebottom could be the answer. As you say, however, it's clear that the selectors are going to stick with Bell for the next test and probably for the rest of the series. All that remains to see is whether they'll be bold enough to re-evaluate this.
Posted 13:49 24th December 2009
Anthony Harris says...
How can people continue to call for Cook to be dropped? I just can't see it. He averages 42, with 9 hundreds in 49 matches. That is a decent return! Athers averaged 37 with only 16 hundreds in 115 matches! And now he is considered a great player for England! Australia were so strong because they didn't have this nonsense. They support their players, not whinge about them! For me Bell has to go, he cannot cut it at the top level. But leave Cook alone!
Posted 12:20 24th December 2009
Gareth Walsh says...
Old fashioned stumper? This man has come on leaps and bounds and if you can find me a better batsman keeper then i will eat my hat. I see no reason why Prior should not bat at 6. Ian Bell must be on his last legs, i think it was Bumble that compared him to Mark Ramprakash, i agree totally, its time he was sent away and not seen for a few years. I dont think Denly is ready for Test cricket, nor do i think Luke Wright is, Bresnan is a good shout, and would be happy with him at 7, Broad 8 and Swann 9. Cook? Time to go and work on the suspect technique away from the spotlight i think and theres a perfect replacement for him in county Cricket, who just so happens to have a test match double hundred and is the best captain in the country without doubt. You all know who i am talking about, i just worry we will never see him in an England shirt again.
Posted 12:13 24th December 2009
Barry Cashin says...
It sickens me to see the England cricket team celebrating getting out of jail like it¿s a victory. Yet again, we nearly snatched defeat from the jaws of (a draw) due to our ineptitude. Just how many last chances are we going to give Cook and Bell? Cook needs to leave the test arena and correct his obvious flaws although he does have the class to become a good test opener. Bell, on the other hand, is in my opinion spent goods. He has flattered to deceive too many times, failed to score when his county form suggested otherwise and clearly cannot cut it at test level. Years ago, we would consign such failures to the annals of history long before so why not now? Matt prior should be scrutinized too as a modern keeper has to deliver in two areas of the game, batting and glove work. In February 2010, a highly exciting prospect qualifies to play for England and the ECB should snap him up fast. His name is Craig Keiswetter. A brilliant and aggressive middle order batsmen and sound gloveman, Keiswetter will answer our prayers in the keeper stakes. I also believe that we should blood young James Taylor in the opener's role. In my book age should count for nothing if you have raw talent and Taylor has plenty of that. The Indians are such a good side because they do not fear putting teenagers in the test arena. We should do the same. 2010 for the English cricket team should be about rebuilding. We have a good coach and the nucleus of a good side but we need more depth in all areas. Make the squad bigger, more inclusive and also consider taking on board legends for their input like Sir Ian and Geoff Boycott. If we utilise every facility at our disposal and be brave about casting away dead wood, we can make England number one in the world instead of a team who celebrate scraping home like they've just won the lottery - Barry Cashin
Posted 12:13 24th December 2009
George Staples says...
I disagree with Mike about Ian Bell. His selection like some others, is due to his being one of the favoured few. He is NOT worthy of a Test place. Prior is NOT an all rounder, he is not even the best keeper - in Yorkshire we call him an old fashioned stumper. He too is one of the favoured few and I see no reason why he has to emit a strangled cry after every ball is bowled. Leave out Bell bring in Denly, after all the South Africans like the Aussies don't hesitate when a player is in form he gets a spot. Broad is NOT an all rounder, bring in Bresnan, I have little faith in Strauss, Flower or the selectors. George Staples
Posted 11:19 24th December 2009