With the decade at an end, skysports.com has assembled its Noughties' Hot 100 - a century of stand-out sporting moments.
It covers all sports, but seeing as we have so many experts to call on, we asked our commentators and columnists to come up with their very own Top Ten from their sport.
And they have picked out one Moment of the Decade, their own personal highlight and why, from the decade - but do you agree?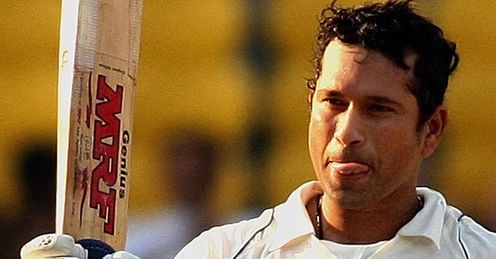 Here, former England captain Mike Atherton gives his selection, in chronological order...
Captain courageous - 2001
Steve Waugh was one of the most significant cricketers of the decade and his hundred at the Oval in 2001 said a lot about Australia and why they were such a great team. Waugh's tour looked as good as over when he ripped his calf muscle at Trent Bridge but he fought his way back. I don't think many other players would have played in the fifth Test in those circumstances, let alone go on to get a century.
Heroism on their sleeves - 2003
The black armbands worn by Andy Flower and Henry Olonga in the 2003 World Cup in South Africa in protest at 'the death of democracy in Zimbabwe' was an act of bravery that highlighted the failure of the administrators to deal with the serious issues of the decade. Their actions helped to highlight the issue and embarrass the administrators who up to that point had done very little about Zimbabwe's plight.
A Lara, Lara runs - 2004
Brian Lara's world record 400no at Antigua in 2004 - the second time he'd set a new world record for the highest Test score - was a staggering achievement, even if the pitch was very flat and England had a fairly modest attack. To score that many runs in a single innings must take a herculean physical and mental effort. I can recall scoring 268no for Lancashire and that was tough enough!
Gold Trafford - 2005
Watching 20,000 people stream down the Warwick Road and Chester Road after being turned away on the final day of the 2005 Ashes Test at Old Trafford will resonates with me because it's an image that suggests there is still a deep well of support for cricket and sport in the North West. After years of struggling to fill Old Trafford, it proved cricket could still capture the public's imagination.
England urn it - 2005
Kevin Pietersen's 158 in the fifth Test at the Oval in 2005 - his first Test century - took the Ashes away from Australia and the thrilling nature of his counterattack was encapsulated by his hooking of Brett Lee as the urn came within reach. Pietersen had already burst onto the scene in South Africa but this fantastically entertaining knock confirmed that he was going to be a serious player in the decade.
A genuine icon - 2007
Sachin Tendulkar will rightly go down in history as an iconic figure of the decade. His staggering longevity and achievements in the game have come even though his life had been subject to intense scrutiny for the last 20 years. In November 2007 he surpassed Allan Border's 11,174- run aggregate to cement his place in the pantheon of great batsmen. It wasn't long before Lara was trailing in his wake too.
Spin it to win it - 2007
Shane Warne was one of the great cricketers of the decade and his 700th Test wicket could not have been better scripted. It came in the 2006/07 Ashes on his home ground, Melbourne, when by rights he should not have been bowling. The seamers should have done the damage on what was a green top but England had reached 101-3 when Warne bowled Andrew Strauss through the gate. It was a magical moment, particularly as it came just days after he announced his intention to retire from Tests at the end of the series.
End of an era - 2007
The Sydney Ashes Test of 2007 represented the end of an era - it was the last moment that Australia was super dominant. Ricky Ponting's side completed a 5-0 Ashes whitewash for the first time in 86 years - a fitting end to the Test careers of Shane Warne, Glenn McGrath and Justin Langer and Matthew Hayden and Adam Gilchrist retired soon after Test cricket became a different place. No-one deserved a decent send-off more than Warne and McGrath, a great pair of bowlers who left the game together.
A hit of alright - 2008
The birth of the Indian Premier League was a significant development in the decade and Brendon McCullum's scintillating 158no from 73 balls for the Kolkata Knight Riders in the inaugural IPL match in April 2008 helped to highlight how much cricket had changed. The tournament encapsulated the prominence of franchise cricket, India's rise in one-day game and confirmed that Twenty20 cricket would have a major part to play in the game's future.
Mike Atherton's Moment of the Decade
I've chosen a game between South Africa and England right at the start of the decade - the fifth and final Test in January 2000 at Centurion. It was a Test that I played in but in a way it was a bit of a dead game because we were already 2-0 down with one to play. There had been lots of rain at Centurion and it sparked a remarkable last day. You don't often see a forfeited innings in Test match cricket but there were two in that game and I was sent off for negotiations with South Africa captain Hansie Cronje over the run-chase on the last day. We thought at the time it was in the best interests of cricket to give the crowd that had turned up a good game to watch. In the end we negotiated a target of 249 and managed to scrape home. But it is really the aftermath of that Test which is so important because that was the game in which match-fixing came to light. Cronje had taken money to make sure that particular game wasn't drawn. After that all of the match-fixing from the 1990s came out. Ten years on as a result of that Test we have got a clean game with no bookmakers, no match-fixing and players trying to do their best to win every game that they play in.
Do you agree with Mike's selection? Let us know by filling in the feedback form below...
Comments (16)
Azam Ather says...
lets not forget guys thiswas also and end of beautiful fast and reversing bowling as the two most deadly duo of fast bowling and pakistan''s legend 2 ww wasin and waqar was also retire aftire the drastically worldcup,and most of the batsmen of the world like lara,sachin,ponting would be relieved as they no longer to face waqar the reverse swing yorkers master,who broke the wickets 76 times into two pieces,and wasim the sultan of every kind of swing;who likes to hit the toes of the batsmen,great amazing era of fast bowling ends and now the foggy fast bowlers are present in the world who only likes to ball with the new ball,but wasim told once in an interview that he teaches andrew flintoff the art of reverse swing when he palyed with him in county cricket with lancashire,because helove that england should beat the aussie''s inashes encounter.
Posted 14:06 28th July 2010
Bernard blowers Dugdale says...
DEAR ATHERS AS LOYAL FAN TO LANCASHIRE AND ENGLAND I MUST COMMEND YOU ON YOUR SERVICES TO CRICKET AND WOULD LIKE TO THANK YOU FOR ALL THE WONDERFUL MEMORIES THAT YOU GAVE TO ALL US DEDICATED CRICKET SUPPORTERS AS FOR YOUR TOP 10 YOUPRETTY MUCHSUMMED UP THE DECADE THEIRS BEEN SOME OUTSTANDING MOMENTS ITS BEEN A PLEASURE THANKS BLOWER FROM LONGSIGHT
Posted 20:12 27th July 2010
Peggy Fairbourne says...
I think Athers has made an interesting list of cricketing achievements and notable events. As usual, his is a studied selection, which contains surprises as well as the more obvious choices for inclusion. Thanks, Athers for your continued good sense in all your SKY broadcasts, and for the giggles we listeners sometimes hear from the back of the commentary box! Cheers! Peggy F
Posted 14:05 2nd February 2010
Studders Studders says...
Maybe best to leave the KP issue to another debate. I hope that amongst Athers' real top 10 are a few from the commentary box that you can't 'broadcast'. Mike, I was at Barbados in 1994 - many thanks for something really special.
Posted 23:20 7th January 2010
Kashif Hussain says...
Saeed Ajmal Bowling out Harbajhan singh in the champions trophy, by making him look like an amatuer. Also Pakistan winning the T20!
Posted 14:56 7th January 2010
Lee Taylor says...
Let's not forget that these are Mike Atherton's opinions, and not everyone else's. He's not saying these are the definitive moments for everyone, just for him. Give him that pleasure at least guys. As for KP playing for SA, well. He may not be my favourite person, but even I can not doubt the chap's commitment to England. A slump in form does not mean necessarily mean a change of allegiance.
Posted 12:47 7th January 2010
Garry Bradford says...
Ah come on Mike, SA chasing 434 at the wanderers against Australia is the game of the century, never mind the decade. I think u need to look at ur list again mike.
Posted 12:26 7th January 2010
Nikhil Rambhoros says...
Come on Athers...if only England could feature as predominantly in World Cricket as they have in this list! I don't know where you live, but here on Earth, South Africa chasing Australia in the infamous 434 game is much more significant than Old Trafford being full on the 5th day of a test...
Posted 14:16 6th January 2010
Mark Ulyatt says...
for me it has to be the 2005 ashes test at old trafford , the whole series had me glued and i hardly missed a ball , it was a glorious afernoon and i had popped in to the back garden at my home for a crafty fag . i only live 3 miles from O/T , all of a suden a i heard an almighty roar and thought what the heck is that , i legged it inside to find out freddie had just taken an important wicket.... now the amazing thing is i have never heard such a roar form our neighbours man utd just down the road and they get about 50,000 more people in thier ground .... something i will never forget ..
Posted 23:18 5th January 2010
Harpreet Singh says...
The best moment. Shreesant catches misbah al haq. India win the T20 world cup.
Posted 20:38 4th January 2010
Jess Baron says...
what about when England beat Australia in 2009?
Posted 18:35 4th January 2010
Barry Hudson says...
Peterson is over rated i am a yorkshire man and i think he has had enough chances whats your thoughts dont tell me he is class i think hes playing for south africa
Posted 14:49 4th January 2010
Ben Caley says...
one of my favourite moments of the decade was watching stuart broad take five wickets at the oval.Australia had been costing along they had past fifty without loss then Broad came in straight after lunch and destroyed the aussie batsmen also with a assistance from greamme swann.
Posted 09:53 4th January 2010
Ian Gatward says...
I think the most defining moment was without doubt England winning the edgbaston test match by 2 runs in 2005 because if we had lost that match then I do not think we would have had the momentum to come back and retain the ashes and would we be at the point we are now with the possibility of having a great future as a number one test side
Posted 07:16 3rd January 2010
Andy Kay says...
The decade that spin bowling came back to the international game, led by Murali, Harbajin and Warne. When you played for England and before it was pretty much, pace, pace and more pace wasn't it? So much more refreshing to see batsmen having to work bowlers out and spinners looking to bamboozle batsmen.
Posted 23:57 2nd January 2010
Khurram Nawaz says...
How can all of you forget South Africa VS Australia one of the greatest run chases ever. That would definitely be up there in the top ten moments of the decade!!!
Posted 15:26 2nd January 2010