After working so hard to win the one-day series and secure a 1-1 Test draw in South Africa, one of England's primary aims in Bangladesh will be not to slip up.
Quite rightly the expectation is that England will win on the subcontinent and win easily, just as they did in 2003 under Michael Vaughan.
But this type of tour can be a banana skin for established countries, particularly as Bangladesh are more than capable of putting up a challenge at home.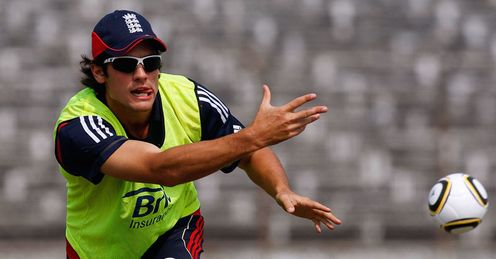 So for Alastair Cook, in particular, it is something of a trip to nothing.
He should be looking at the tour as a wonderful opportunity to press his long-term captaincy claims. If at any time in the future Andrew Strauss gets injured or stands down as skipper then he'll be able to step forward as a candidate with experience.
But if, for whatever reason, the tour doesn't go to plan the questions will land at his door.
It's good to see some healthy competition for Prior's place but I don't think England will want to chop and change their wicketkeeper between one-day and Test cricket. My guess is the selectors will feel that is too disruptive.
Mike Atherton
Quotes of the week
In that sense I feel a little sorry for him because Strauss should definitely be on part of this tour. I can't for the life of me work out why he won't be leading England in next month's two-Test series.
Yes, England do have a busy year ahead but even if Strauss played only the Test matches he would still have the best part of three months off.
Duncan Fletcher made a point in 2001 of allowing players to miss either Test matches or one-dayers but not to pick and choose their tours. Strauss has trashed that policy.
Now it appears as though the door is open for players to pick and choose their tours as they wish which seems ludicrous.
Merit
This is not a long tour so I understand why there are those who question why England have selected squads of 16 for both the one-day and Test series.
My feeling is that these guys are in on merit rather than being part of some experiment conducted by Andy Flower.
Amjad Shahzad has clearly impressed the selectors as has James Tredwell - he was by far the most threatening spinner after Graeme Swann in the nets in South Africa.
And then there is Craig Kieswetter. His call-up to the one-day squad offers him the chance to boost his claims for the ICC World Twenty20 and the World Cup to follow.
I've not seen enough of him up close to determine whether he's good enough to play as a batsman alone for England in the long-term, but everybody at Somerset says he is a fantastic striker of the ball and extremely strong.
Hitting the ball over the top with ease at the start of an innings is an area that England have struggled in since Marcus Trescothick retired.
They've tried people like Luke Wright and Matt Prior at the top of the order with not much success and if Kieswetter comes in - as looks likely - and is successful then there is a ready-made slot for him.
It's good to see some healthy competition for Prior's place but I don't think England will want to chop and change their wicketkeeper between one-day and Test cricket. My guess is the selectors will feel that is too disruptive.
England have got to a position where Prior is settled in the role and - although his one-day batting has not really kicked on - everybody seems happy with his keeping and I've no doubt he'll work hard to ensure it stays that way.
Challenge
Likewise, this is an important tour for Kevin Pietersen. I sensed that he was finding some form in Dubai after struggling in South Africa on the back of little cricket.
The slowness of the pitches in Bangladesh and the type of bowlers he will face offer him the perfect opportunity to get back to somewhere near his best. I don't envisage any one-day double hundreds in the weeks to come but there should be innings with plenty of substance.
The one possible mitigating factor is that Pietersen - and Paul Collingwood and Eoin Morgan for that matter - may be worried about their participation in the forthcoming Indian Premier League, given the security concerns that have been raised recently.
England take the reports of Reg Dickinson, the British security expert, pretty seriously.
If he advises those three players that they shouldn't go to India but they decide to go anyway it leaves them slightly open to question should a similar situation arise ahead of the 2011 World Cup in India, Sri Lanka and Bangladesh.
For now, though, England must focus on the challenge Shakib Al Hasan's side will pose on Sunday.
After seeing off the West Indies in July last year, England are the only team Bangladesh have not beaten in a one-day international and I'm sure they will be determined to put that right this time around.
This is my first trip to Bangladesh and I'll be interested to see how cricket is progressing in the country - not just in terms of the Test team but also the level below it, which always gives you a good indication of the success the country might have further down the line.
Comments (3)
Greenman Stocker says...
I like Mosh Olini's comments re the Deshis and tend to agree. Deshis should noe be in a dominant pozzie over Zimbabwe, Kenya, Netherlands, Scotland, Ireland and Namibia. Indeed the 'fringe' nations, Canada, Bermuda, Afghanistan etc can learn a lot from the Deshis and maybe should play comps with the BD's in more frequently...surely our beautiful game can only benefit. Now in my mid 50' I wish these nations had started up years ago as I think cricket is going through a most intense development and taking our rightful place in the world of sport. Going backwards, such a pity that RSA and Rhodesia were banned from international cricket in the 70's. Had they been able to play I sense Kenya, South West Africa (Namibia), Mozambique plus other African cricketing nations wouls have surged behind them. Rhodesia especially in the 70's would have fielded some very strong, competetive teams. Also genuine cricket lovers must be thankful to the Indian immigrants to countries such as Canada as it is those guys that have often been responsible for introducing cricket in some places. Where white Brit immigrants would probably merely have accepted the loss of playing as the price of immigration to a non criceting country it was our Hindu and Sikh brethren that got the whole bang shoot going...so to you pioneers...Bless You!
Posted 12:34 26th March 2010
James Ward says...
RE: the kieswetter and prior wicketkeeper decision - if england do decide to chop prior completely, and give the gloves to kieswetter it would be so harsh on prior simply because he hasn't done too much wrong since regaining his position in the side. He has got his head down and just got on with the job in a professional manner despite the same old doubters still hanging round like flies. ok, his batting scores over the past 12 months or so have been decent without being excellent, but England have now got a keeper who they 100% trust behind the stumps and who rarely misses an opportunity - something that England have not had since alec stewart. so, england selectors et all - keep the faith in prior, this england team could do with some stability in the wicketkeeper position for once!!!!
Posted 20:03 27th February 2010
Mosh O'lini says...
Athers, I loved the article, very balanced and honest view without disrespecting the opponent. I feel as tho the ENG team has been playing very well in the ODI format recently so it's a bit surprising to see so many changes. Chopping and changing has been the biggest issue in the past for England. As for Bangladesh, the third generation cricketers that the country is producing right now have much better technique and are better prepared than the previous generation mentally. If you look at reports from the last under 19 world cup, and read the Pakistan captain's comments, they will tell you that, BD u'19 team was THE best skilled team, but failed to live to expectation. The current avg age is 23 and in 3-5 years this team will be winning a lot cricket matches against the top teams. I just hope the international commentators/administrators have the will and patients to still let BD play cricket against the yop nations. and slowly develop over the next 5 years.
Posted 22:45 26th February 2010