There are those who believe England should wipe the floor with Bangladesh in the upcoming two-Test series, but I don't think it will be a pushover.
The tourists will probably win but they will have to play well to do so - if they are significantly below their best then we could see a shock.
England have performed better of late in Asia than they used to, partly because they have played more there in the last half-dozen years or so.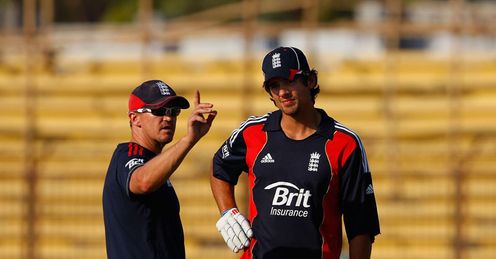 Results may not reflect that (they have won only one of their 14 Tests on the subcontinent since touring Bangladesh in 2003) but in general terms England's batsmen look more comfortable against spin these days and don't have such a hang-up about coming to Asia.
That's partly because tours of the subcontinent are less hard than they used to be; for example the hotel here in Chittagong is fine, facilities are good and the players seem in a good frame of mind as a result.
Inexperienced
Alastair Cook avoided the banana skin posed by the one-day series but he remains on a hiding to nothing as he enters his first Test as captain, aged 25. The fear of messing it up and losing to Bangladesh brings a pressure of its own.
Pietersen's been working bloody hard - harder than any player here - on a couple of technical adjustments.
Michael Atherton
Quotes of the week
LIVE ON SKY SPORTS
Bangladesh v England
First Test, Day One
3am, Fri, Sky Sports HD1
Watch online with
Sky Player
How to
remote record
He's come on during this tour in as much as he speaks more confidently and more authoritatively to the media - not that that really has too much bearing on how well you do the job on the pitch - but the key remains how well he is respected in the dressing room.
The younger players naturally look up to him but does he have the authority as he learns on the job to take the likes of Paul Collingwood and Kevin Pietersen with him? After all, he's still pretty inexperienced and naïve in leadership terms.
The simple answer is yes - but showing the type of form he did in the one-dayers in the Test arena can only strengthen his position.
Problem
As has been well-documented, Pietersen has form problems of his own to deal with at present and they are not something a quick phone call to Duncan Fletcher will solve.
More importantly, he's been working bloody hard - harder than any player here - on a couple of technical adjustments to combat the problem he has against left-arm spin.
He's trying to keep his head more in line with the ball rather than fall away to the off-side, which makes him more vulnerable to lbws.
I don't think his return of 69 runs in seven knocks will have any bearing on whether England go with five or six batsmen in the Test because they have to back him to get runs.
That said, I think the selectors will probably play six batsmen plus Matt Prior (although the camp isn't giving too much away) because they feel the spinners are going to do the bulk of the work from day one.
Risky
If England field on the first day, I'd expect Graeme Swann and James Treadwell to bowl 25 overs apiece so there's not that much need for a third seamer, particularly when someone like Paul Collingwood can get away with bowling 10 overs or so.
Ideally, you wouldn't want to play two specialist off-spinners; from a captain's point of view you'd prefer greater variety but this is the pair the selectors presently believe in.
Picking six batsmen means Michael Carberry should make his debut and, in the absence of Graham Onions, Tim Bresnan will play as the second seamer behind Stuart Broad, which is risky bearing in mind that Broad is on his way back from injury and the conditions out here.
It's getting gradually hotter by the day the further we get into March and by the end of the tour it should be pretty muggy and hot - so the faster bowlers will struggle to put in long shifts.
Shaken
The same goes for the hosts and England's batsmen know they will have to settle quickly against a three-pronged spin attack with men around the bat.
Exactly how well they fare against left-armers Shakib Al Hasan and Abdur Razzak, and the slow bowling of Mahmudullah, will be at the crux of this series.
Bangladesh have been shaken by Roqibul Hassan's sudden and premature retirement this week not least because he played so well in the warm-up game, scoring an unbeaten century and fifty.
To just jack it in as abruptly as he has done will have a disruptive impact on the squad - more so than the omission of Mohammad Ashraful - because Hassan is a player in form.
Bangladesh haven't got that much batting back-up; he was a player they couldn't afford to lose and putting together a sizeable total will be all the more difficult for his absence.
Comments (3)
Simon Greaves says...
Watching the summary of todays play and find it hilarious to hear Robert Keys saying when he plays against Paul Carberry he "Carb watches" Dont think Rob has ever watched the carbs!!!!!!!
Posted 11:19 14th March 2010
Tim Gould says...
i agree it will be no pushover to win both tests in bangladesh.We have persevered with our out of form players and they will no doubt all come good,then we will say,"told you so!!" if you get plenty of opportunities and need runs,then playing bangladesh is probably a good remedy!! I think cook has done pretty well in the first two days,he batted very well,Crazy decision to exclude Tredwell,but they have probably got enough runs not to worry about it!! Whatever the outcome of this tour it should provide experience for some or the fringe players,but lets not read too much into it!!
Posted 15:16 13th March 2010
Will Carling says...
Good to hear KP has been working hard to solve the 'problem' against left-arm spin - all batsmen have the odd weakness they need to solve from time to time and even the very top drawer batsmen like the Pontings, like KP have spells where they don't do well. BUT you get the feeling that KP has always worked hard and that there is something more fundamental here. Maybe an attitude thing, maybe it is a case of not feeling as passionate any more in the wake of Flintoff retiring (no one else quite of the same ilk to compete with); or maybe he is just in the wrong set-up for him, having to exist in the Andy Flower era where he may just be getting the wrong advice for him personally (we have no evidence Flower is really very much better than his predecessor; certainly you don't feel the team has an inspiring coach a la Duncan Fletcher, with an instinctive understanding of what makes someone like KP tick, under whom he can thrive). For the latter as the cause, which you tend to feel is the most likely explanation, just look at the way KP was picked to play at no. 3 in some of the games he didn't do so well in; this is sheer lack-of-thought on the selection side and decision-making that would fit very well in the Moores era. It ought to be obvious that Pietersen is more of a flair player; rather than Mr absolutely dependable which you need to be in positions 1, 2, 3; so you're putting KP in a position he will like as not get out early in, at no. 3. This is NOT the sensible place to play someone lacking form either; you're just going to make their job even harder and extend their out of form stretch. KP thrives best when the edge has been taken out of the new ball, this is why he was so damaging at no. 5 because he very usually didn't have to face it. It means he doesn't have to struggle through and like as not can put on a big score. No 4 was a challenge for him but one he proved up to okay; no. 3 is a step too far.
Posted 20:24 11th March 2010