England should win the second Test in Dhaka convincingly and so end what's been a long and satisfactory winter on the right note.
Winning the one-day series in South Africa and Bangladesh indicated that the work England have put into their 50-over game is paying off and, with the likes of Eoin Morgan and Craig Kieswetter making a mark, the selectors have a stronger base to choose from this summer.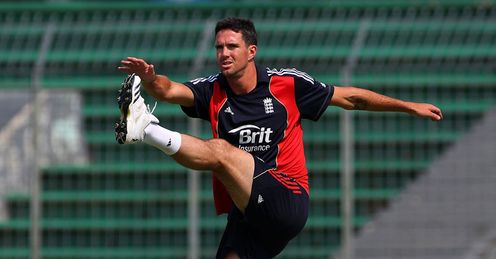 On the Test front, England can feel perfectly happy with a 1-1 draw in South Africa; it's a hard place to go and, although at times they had to hang on grimly, they also played some decent cricket and the result bore testament to their spirit.
Now - disasters aside - they have also avoided the banana skin that a tour of Bangladesh represents.
Stark
England should win by a distance in Dhaka; the first Test showed they are in a different class from their hosts, but on a flat pitch they might again have to work hard to do so if they only play four bowlers in what will be hot conditions.
If Bangladesh could develop cricket pitches that offer a fair balance between bat and ball, it would allow their faster bowlers to flourish and help to improve their batsmens' technique.
Mike Atherton
Quotes of the week
LIVE ON SKY SPORTS
Bangladesh v England
Second Test, Day One
3am, Sat, Sky Sports 2
Watch online with
Sky Player
How to
remote record
Aside from spells in the 1950s and 1960s when the game was played on matting and bowlers were a touch quicker as a result, pitches like the one we saw in Chittagong are all cricketers know in Bangladesh.
The contrast in the grass strips found here to those in England - and most other places where you see pace and bounce and movement to some degree - is stark.
If Bangladesh could develop good cricket pitches that offer a fair balance between bat and ball, it would allow their faster bowlers to flourish and help to improve their batsmens' technique.
At present those same batsmen are finding the gulf between facing their own seamers, who bowl at around 70mph, and the likes of Stuart Broad and Dale Steyn who are up around the 90mph mark too difficult to bridge.
Kevin Pietersen commented that conditions in Chittagong were not good for Test cricket and I agree with him.
The best cricket I've played and watched has occurred when the ball has slightly dominated the bat; groundsmen must realise this and understand that they have a big role to play in the game because Test cricket is under pressure from other formats.
Gulf
I've watched both teams train this week and it's clear that England are far more intense in their preparation than Bangladesh - there is a lot more energy about them and they work a lot harder both physically in the gym and in fielding practice.
There is a clear gulf in the levels of professionalism and that is reflected in the game situation where England outfield Bangladesh.
Coming from the Australian set-up, Bangladesh coach Jamie Siddons knows what professional and intense training is all about but fielding has never been a priority on the sub-continent - it's not just Bangladesh, it is Sri Lanka, India and Pakistan as well.
Fitness has never been a priority, either. It's always been the skill level that has got teams through.
All that is changing now with the advent of Twenty20 but Bangladesh are still a bit behind in that respect and there are also issues with nutrition and limited facilities for the younger cricketers coming through.
Recovery
One area I'm sure Siddons would love to improve is the number of maidens Bangladesh bowl; the hosts sent down just nine in England's first innings of 138.3 overs.
The trouble is I'm not convinced their bowlers have the ability to fulfil that aspiration. I doubt whether Abdur Razzaq would get into many county sides, while the seamers lack pace and accuracy.
For the meantime, Bangladesh may find learning how to bat for long periods a more fruitful pursuit. The certainly made a better fist of it in their second innings in Chittagong.
It appears as though they will have to contend with Stuart Broad after his rapid recovery and the seamer could be part of an unchanged England line-up.
Certainly from what Alastair Cook has said England don't appear to be contemplating making a change but who knows? Once again they are keeping their team close to their chest.
Given that the pitch will be flat and conditions hot, I would play five bowlers rather than four and the extra batsman but that's a path England appear unwilling to tread.
Comments (4)
Salman Azim says...
We admit you are a better cricketing side then us, but please the fact of the matter remains that you being the Bastian of cricket should be encouraging us instead of running us down. Bangladesh is the only cricketing nation that has improved over the course of the last 5 years, where teams like Pakistan, Srilanka, West Indies New Zealand are slowly diminishing. Therefore the future of cricket needs Bangladesh. Bangladesh could have improved further if we were allowed to draft in South African rejects into our team as well. You are criticizing the state of the pitch. If the pitch is so bad then why haven t you scored 150 runs in a session. I admit England are a better side, a more professional side, however, when Bangladesh play, even at home its like playing 11 v 13. Even if half the decisions went our way, England would have struggled to reach 300. IF you want to play on bouncy tracks go to Australia, you will get Rogered. In the next world cup if you lose to Bangladesh or even if you lose to them at home, how will you take it. There more people who would go to see Sakib and Tamim play than any other player in your current English setup
Posted 21:21 22nd March 2010
Nick Fielden says...
As much as I agree with your comments above, I just heard some comments from you on commentary which make me think the heat is getting to you. In your view the Peterson LBW shout should have been given to help the bowler out on a flat pitch?? Are you seriously advocating that umpires change their "benefit of doubt" crtiteria on the basis of how flat the pitch is? It doesn't matter if its Headingley in April or Dhaka in March - if the ball is just clipping the leg stump then its not out.
Posted 08:56 21st March 2010
Vj Menon says...
It is interesting to read about the umpire who wrote commenting on Mr. Atherton's article. I think it's a great idea to have standardized pitches fo Test matches. And drop it in. This does not necessarily mean they will behave the same way across the globe. It is likely that there will be certain weather aspects that would change the pitch. But teh base is teh same. This ought to make for some very goo test cricket. The cent Eden Gardens pitch was quite sporting and that's whats needed. So was the one in Nagpur and other s where there has been some very close scores and tons of excitement,
Posted 03:35 21st March 2010
Chris Boniface says...
hi mike, As a cricket groundsman for 25 years and having produced thousands of pitches it is time cricket pitch production came into the 21st century. It was Kerry Packer who reinvented cricket with the world series, what resulted from that is what we see today . Sadly he took no interest in Test cricket. The Test match pitch needs to be standardised by the ICC. Every test match pitch would have to meet a certain criteria. The test match pitch preparation should be under the control of the ICC, meaning each countries national cricket board would have no say in pitch preparation. I think that the only way of producing such a pitch is by the drop in portable pitch. Pitch preparation can be monitored by a laptop from a desk in a central office. This happens now with a number of premier league football clubs and clubs all over the world also in the commercial horticulture industry. What produces a great pitch is material selection, construction, monitoring and preparation. A test match pitch should have consistent fast pace and bounce, this will produce a surface for batsman and bowlers to show off there skills with no one having an advantage at the start of a match. The portable pitch is the only way of consistently doing that. Cricket tables, squares are a thing of the past, the playing area should only consist of 1 pitch and the outfield. chris
Posted 19:08 19th March 2010