Test cricket returns to Old Trafford on Friday after a year's absence to a ground that is very much undergoing redevelopment.
I'm sure most Lancastrians would prefer to see a more high-profile match than England against Bangladesh but staging internationals is not only an expensive business for many clubs these days, but a highly competitive one too.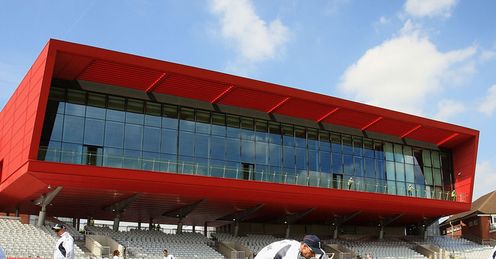 In a sense the current bidding process, in which clubs have to bid against each other, seems unfair because it ramps up the price for all concerned. On top of that there is the cost of investing in facilities to ensure that they are up to scratch.
From a financial perspective it's almost possible to argue, given the cost, that becoming a Test match ground is not necessarily central to a club's survival anymore.
Tamim won't score heavily at each visit to the crease but given how wonderfully and expressively he scored in the first Test it's only right that he's encouraged to follow his instincts.
Mike Atherton
Quotes of the week
LIVE ON SKY SPORTS
England v Bangladesh
Second Test from Old Trafford
10.30am, Fri, Sky Sports HD1
Watch online with
Sky Player
How to
remote record
But there is more to cricket than pure commercial purpose, of course. For Lancashire and the older Test match venues there is a broader point to be made about remaining true to the history and traditions of the game.
Equally pertinent is the need to host Test cricket in a large urban part of the country where there is a real passion for sport.
Perturbed
Striking the balance between tradition and progress is never easy and I'm sure there will be more than one or two eyebrows raised at the sight of The Point, the bright red, £12m conference and venue centre (which, I'm told comes complete with shatterproof glass windows) and which - for now - dwarfs the neighbouring members' pavilion.
I'm slightly perturbed by some of the comments I've heard about it this week but as I haven't seen it for myself yet I'll reserve judgement, suffice to say that any criticism of the new facility should be reserved until the whole redevelopment of the ground, which will cost £44m, is complete.
The project, which aims to raise the ground's capacity to 25,000, should be completed in time for 2013, when Lancashire hopes to stage an Ashes Test.
Given the size of the investment it's absolutely central that Old Trafford does stage international cricket in the future but as we already have too many grounds competing for too few matches that is by no means a given.
Quality
On the evidence of the first Test this is a Bangladesh side that is developing in the right direction too, at least in terms of batting. The team's aggregate score of 664 was its fifth highest in Test cricket.
England went into the match under no illusions about the quality of some of the tourists' players, Tamim Iqbal above all, but they may well have been surprised at how well Bangladesh coped with the pace and bounce at Lord's.
Playing the way he does, Tamim won't score heavily at each visit to the crease but given how wonderfully and expressively he scored in the first Test it's only right that he's encouraged to follow his instincts.
While this side is a lot better in terms of batting than the one that visited these shores five years ago, you can't say the same about the bowling which has barely gone forward in any shape or form.
In truth Bangladesh don't have a pace bowler to talk about. Despite his five-for, Shahadat Hossain remains an ordinary seamer and the spinners don't have that mystery that you'd expect from a subcontinent side. Overall, the attack is little better than minor counties standard.
That's why there will always be some people who say Bangladesh should not be playing Test cricket.
Personally, I think there is a broader argument that says Test cricket has to try and spread if it can.
Whether there is a better way of introducing teams like Bangladesh to Test cricket - through a second tier for example - is a debate for another day but it must be pretty dispiriting for the players to turn up and keep getting whacked every game.
Expectation
They'll find the going tough again at Old Trafford where groundsman Matt Merchant, who was understudy for many years to Pete Marron, is preparing his first Test wicket.
Most people say that there has been plenty of pace in the Old Trafford square so far this season so with some more decent weather England should get the hard surface they want to test Bangladesh out on.
A bouncy surface will play into the hands of Steve Finn, who now has to manage the expectation that will inevitably be heaped on his shoulders following his nine wickets at Lord's.
He is no longer under the radar so everyone will be watching him carefully to see how it performs. How Finn copes with that is one of the three main issues that now face him.
It remains to be seen how his body copes with the demands of bowling - you could see from the way that he kept falling over after delivery that he is not necessarily as strong as he might be yet - and then there is the issue of general form, which comes and goes for any player.
I agree with a lot of people who say that, from everything we've seen, he looks as though he is going to be around for a very long time and do very, very well but it's worth bearing those imponderables in mind.
Angle
Whether England should play five bowlers at Old Trafford is becoming a rather tortuous argument. Eventually the selectors should look to do so but they are not going to at present.
So who should replace the injured Tim Bresnan this time around? Really Ajmal Shahzad should get the nod because he was picked in the squad for the first Test ahead of Ryan Sidebottom. Moreover, this seems an ideal opportunity to look at him.
However, the selectors may well feel that England's attack is too one-dimensional and needs something slightly different in terms of angle.
There's no doubt that Andy Flower thinks very highly of Sidebottom - he's gone back to the left-armer often when form and fitness might have suggested otherwise. As England captain Andrew Strauss is giving no clue which seamer will play it's a case of watch this space.
Comments (6)
Shaun Hamilton says...
Athers just been listening to you with Beefy and you were saying about the performance at Lords could have been a hangover from the T20. But there are only 3 players who were represented at the T20 and played in the Lords test.
Posted 17:26 6th June 2010
Iqbal Hassan says...
Boycott's comment about Bangladesh! Well, I am not surprised! Boycott has history of doing this. I am rather surprised that media like BBC are there to bring more values to the game, not unqualified comment. To be honest and fair, Bangladesh showed lot of courage and character to their game at Lords. Nasser (Hussain) rightly mentioned that they could easily push England further and a draw was not very unlikely. Unfortunately - these boys are very young and born in the age of ILP. Were they aware about Boycott's game, a draw was definitely there on the card. Boycott - you need to talk to Nasser, Michael and the SKY team; see how they bring value to the game. Be ambassador of the game. Like them bring class and value.
Posted 23:09 4th June 2010
Norman Beavers says...
Is there a reason for the England players not wearing black armbands as a mark of respect?
Posted 14:36 4th June 2010
Mark Williams says...
Artherton as usual this morning promoting Old Trafford, no mention of the red box, what an eyesore, what were they were thinking off, my wife who is not a cricket watcher said, " whats that next to that lovely building," sums it up really.
Posted 11:12 4th June 2010
James Frost says...
I thought that Geoff Boycotts comments during the first test regarding Bangladesh and their test status were quite comical. Mr Boycott alluded to the fact that Bangledesh cant even beat the county sides. Well it was about thirty years ago, while Geoff was still playing, that English sides were being ripped apart by domestic Caribbean sides, with populations far less than our counties, before Mr Boycott makes a comment that these are infact regional country representatives. I invite his comments
Posted 05:24 4th June 2010
Shaun Ellingham says...
Given Lancashires persistent moaning about not being given a Test match, I hope they have followed Lords example and priced tickets accordingly so we see an excellent turn out like we saw at Lords A poor turn out for this test wont help their chances for holding other tests
Posted 14:32 3rd June 2010