The upcoming NatWest Series against Bangladesh offers England the ideal opportunity to rediscover the winning knack.
That may sound odd given their recent 3-2 victory over Australia but the fact is they were well beaten in the final two games, at the Oval and Lord's, so there is plenty to work on.
England regarded the beginning of that series as the start proper of their 2011 World Cup preparations and, as such, they didn't want to waste a game.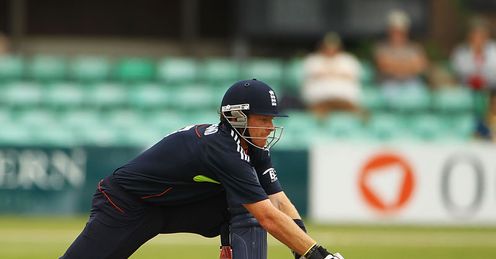 Those defeats highlighted that every match from here on in represents a chance to improve - and that must be the case whether England are up against Australia, Pakistan or Bangladesh.
Natural
The next three one-day internationals, starting with Thursday's match at Trent Bridge, are not only about consolidating the progress England have made in 50-over cricket over the last 18 months but they also offer certain squad members an opportunity to press their claims.
Bell has always been a sweet timer of the ball who is able to hit over the top in a very natural way - but he has not made the most of the plentiful opportunities that have come his way.
Mike Atherton
Quotes of the week
None will be keener to do so than Ian Bell who, with Kevin Pietersen injured, will presumably win his 80th ODI cap in Nottingham. It's a chance he has to take because, given the current competition for batting places, he may not get another.
It is 20 months since the 28-year-old made his last one-day international appearance, which suggests he has plenty to prove.
I've never felt his game has lacked power, authority or breadth of stroke-play - Bell has always been a sweet timer of the ball who is able to hit over the top in a very natural way - but he has not made the most of the plentiful opportunities that have come his way.
A return of one century from 76 knocks - 71 of which have been in the top three (26 as opener) where a batsman has time to build a big innings - confirms as much.
Bell's rapid 158 for England Lions against India A this week supports the selectors' view that he is a batsman in cracking form and therefore deserves the nod over the only other obvious alternative, Ravi Bopara.
Where to bat him in the order is more of a conundrum. England must pack at least two power-players into their top three at next year's World Cup and ensure they have more batsmen who fit that template down the order too, to ignite the innings from the 40th over onwards.
While Bell is a perfectly good player at the top of the order, it's highly unlikely - poor form or injury aside - that he will get in ahead of Craig Kieswetter, Andrew Strauss or Pietersen so he'll simply have to take his chance in the middle-order and impress with sheer weight of runs.
Improvement
Kieswetter is another batsman who could do with a score against Bangladesh after he averaged just 14 in five innings against Australia.
He is still quite raw and technically suspect but the fact that he is an ultra-aggressive front-foot player should stand him in good stead in 50-over cricket if he can tighten up his game.
With Kieswetter, Pietersen and Luke Wright all underperforming against Australia, England looked a batsman light at times.
Wickets are worth more in 50-over cricket than Twenty20, where it's not such a big issue if a batsman chances his arm to no avail, so the selectors may well have to look at the balance of the side again.
There is room for improvement on the bowling front too; James Anderson didn't cover himself in glory against Australia and will surely only benefit from a confidence-boosting run in the side, while Stuart Broad was also expensive at times although happily he still has the knack of picking up crucial scalps at important times.
Certainly the manner of some of his wickets - Michael Clarke fending off a short ball at Cardiff in particular - will have given the Aussies food for thought.
With Graeme Swann rested, stand-in James Tredwell has a chance to keep his name in the frame and the same goes for Ajmal Shahzad if, indeed, he gets a run.
Gamble
Bangladesh's only chance of winning a game depends on Tamim Iqbal firing at the top of the order, which places a lot of responsibility on a fairly young lad.
I'm very much looking forward to seeing if he can carve England all over the place again as he did with such aplomb in the Test series between the two sides.
It's also good to see Raqibul Hasan in the squad because he looked a great prospect when I saw him score an unbeaten 107 in a three-day warm-up game in Chittagong, back in March.
It was a huge surprise when he stormed off into international retirement at the age of 22 following his omission from Bangladesh's preliminary squad for the ICC World Twenty20 tournament but he's back now and hopefully all is forgiven because the tourists will need all the runs they can get - particularly if their gamble of handing the captaincy to Mashrafe Mortaza does not pay off.
The 26-year-old is an experienced cricketer who is well-respected in the dressing room, so he will be fine from a leadership point of view, but after several knee reconstructions in recent years there must be some doubt as to whether his body is up to the challenge.
He looked miles short of being the bowler we'd seen before, in terms of fitness and form, when I watched him in February's first one-day international in Mirpur and I suspect he'll need plenty of assistance from Shakib Al Hasan over the coming week if Bangladesh are to limit the damage.
Comments (7)
David Buttle says...
Hi Mike, I think this win for Bangladesh is fantastic!!!. They deserve to make to the big time and England need to a reality check. How many people has Andy Flowers got in his back room team?? Its getting out of hand agian. Two bowling Coaches 2 Batting Coaches. No one advised them , that it has'rained for two months and poor old Bell gets a big injury.
Posted 22:31 10th July 2010
George Staples says...
Mike Jones seems to be looking at England performances through rose coloured specs. England have beaten Bangladesh, Bell has scored runs, but who wouldn't against them. The World Cup has long gone, it's the Ashes that matter and with the closed shop favouredfew approach adopted by Flower, Strauss and Graveney, England is going to go into the Ashes with the same players, several probably off form and have no replacements. The excuses offered for Anderson, are regular ones, but he will picked along with the other favourites, the county players who are scoring runs and taking wickets, are just not considered i.e. Rashid, Shahzad, Bopara etc. Face facts the team is a closed shop regardless of form. George Staples
Posted 15:29 9th July 2010
Mike Jones says...
george staples, whats the matter with you, you have no faith in the management and captain after this team just went and won the world cup, then going 3-0 up against the aussies, what planet are you on? pietersen averages 50 in both 50 over cricket and test cricket and cooke averages 45 in in test cricket as an opener, facing the new ball, thats pretty good going if you ask so i do not know why youve decided to moan about them. you may of noticed but people like bell score tons and tons of runs in the county champs thats why they get picked for england, the county champs is not a high level of cricket so shouldnt be used to judge players abilites, you do you not remember ramps or hick? we have a winning team whose on a real roll at the minute shall we not support the team and get behind them? or shall we continue to moan as am sure you probaly know better hey??
Posted 01:45 8th July 2010
David Smith says...
ravi bopara also hit a fantastic 168, and has also been in very good action with the ball and he doesnt get a call up that does baffle me
Posted 17:34 7th July 2010
Bruce Duffett says...
Have no problem with Bell or Bopara. Why does no one mention Jimmy Adams of Hampshire. Most in form player does his face not fit ? or did he not go to the correct school ?
Posted 16:52 7th July 2010
George Staples says...
Whilst England selectors operate a closed shop approach, all players who do score good runs and take wickets, will not be selected if they are outside the favoured few. Rashid is taking regular wickets and scoring runs in a team that is at the top of the Championship. WHY has he been so humiliated. Bell has had so many chances, as has Prior, Pieterson and Cooke. Although the Aussies have been beaten, they are experimenting, England are not. I have little faith in Flower, Graveney and Strauss in terms of building a team. Surely against Bangladesh, even Yorkshire League players would succeed. George Staples
Posted 16:35 7th July 2010
Dave Lemming says...
Bopara also scored a big hundred in the previous match against th Windies A team. Is he also not in 'cracking form'?
Posted 13:40 7th July 2010