Hopefully the upcoming Test series between England and Pakistan will be both competitive and entertaining.
I write that because - given the uncompetitive nature of Bangladesh at Test level and a one-day series against Australia 'out of context' in a non-Ashes summer - it has been a desperately dull international season so far, and we're fast approaching August already.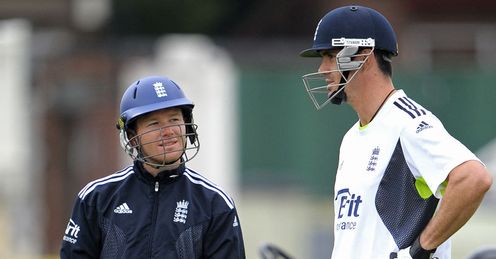 Much of the focus has been on the tourists' bowling, and quite right too because it is a decent Test attack, but the batting line-up looks feeble and England should exploit that weakness to gain the edge in this series.
One of the reasons people are going slightly overboard about this Pakistan attack is that there aren't that many decent ones about in Test cricket at present.
Is Morgan tight enough outside off-stump? How well does he play the short ball? Can he bat in a Test match context? By the end of the series the picture should be a whole lot clearer.
Mike Atherton
Quotes of the week
LIVE ON SKY SPORTS
England v Pakistan
First Test, day one
10am, Thu, Sky Sports HD1
Watch online with
Sky Player
How to
remote record
Mohammad Aamer is full of skill, ability and potential; Umar Gul is a good bowler, particularly with the older ball; Mohammad Asif is a very skilful medium pacer who should do well in English conditions; but they are not Waqar Younis and Wasim Akram in their pomp.
How big a role the spin of Danish Kaneria - and England's Graeme Swann - will play in the series largely depends on how conditions develop.
They could have plenty of work to do if each side goes in with a four-man attack. But the forecast for Nottingham suggests it will be cloudy for three or four days and as Trent Bridge has been a swing-friendly ground in recent times, the seamers should do some damage.
Questions
So England's batsmen will have to be on top of their game - not least Kevin Pietersen who has been rather short of runs of late.
Pietersen took a tumble in training this morning but is moving fine and hitting the ball well. He didn't look that motivated against a modest Bangladesh attack earlier in the summer but this is a step up and with the Ashes around the corner, Pakistan should bring the best out of him.
He is joined on the team-sheet by Eoin Morgan, who now has four Tests to press his claims for a place on this winter's tour of Australia after getting the nod over Ravi Bopara.
It's tough on Bopara given the weight of runs he has scored for Essex recently but England need to find out about Morgan now before the winter; there are questions he has to answer.
Is he tight enough outside off-stump? How well does he play the short ball? Can he bat in a Test match context? By the end of the series the picture should be a whole lot clearer.
In Ian Bell's injury-enforced absence, Jonathan Trott also has a chance to make his case. He has been scoring a lot of runs - albeit against Bangladesh - but lingering doubts persist over his temperament and idiosyncrasies at the crease and now Morgan is breathing down his neck.
Form
Wicketkeeper Matt Prior and seamer Steve Finn both return to the international fold this week with points to prove.
Personally, I think Prior will be England's first-choice Test keeper for some time and I wouldn't be surprised to see him come back into the one-day side, either.
His keeping has been sound over the last 12 months and he's the perfect player to come in a number seven, in as much as he's a selfless player whether his place is under threat or not.
On the basis of his 8-52 for Nottinghamshire in the second innings of their Championship clash against Warwickshire, Stuart Broad appears in good form but James Anderson has not quite hit his straps of late. There is nowhere better than Trent Bridge under heavy skies for him to find some form.
I'll be most interested to see how Finn goes though, given that he was withdrawn from cricket to take part in a 'strength and conditioning' programme when he was at the top of his game and full of confidence.
The question now is whether he can rediscover the type of form we've witnessed in his four Tests to date. Do you want a bowler in form and taking wickets or do you take the long view that they need to strengthen up?
I think everyone would accept that Finn needed to get his body right but the question comes down to timing. We'll find out how rusty he is later this week.
Temperament
Pakistan, for their part, should be firing and ready to go after beating Australia at Headingley to earn a 1-1 draw in the MCC Spirit of Cricket series.
There's no doubt that new skipper Salman Butt has got one of the toughest jobs around in Test cricket simply because of the unrest that surrounds the Pakistan team.
Given the changes of personnel within the team and the selection committee in the last six months, I doubt he has taken on the captaincy with any sense of certainty that he will be in the position for an extended period of time.
Despite that inherit lack of stability, though, he has made a reasonable start and it appears Waqar has been a calming and stabilising influence too as coach.
There is undoubted talent in this squad but do enough of the players have the temperament for Test cricket?
Kamran Akmal, for example, is of a generation that has been brought up mainly on a diet of one-day cricket, and in particular Twenty20 cricket, so having the wherewithal to bat for long periods of time may well be difficult.
I don't see how a captain can have an impact on that aspect of a player's game immediately.
By backing the younger players rather than recalling the likes of Mohammad Yousuf and Younus Khan, the selectors have shown great confidence in his squad but Butt may well have to accept that there will be some bad days ahead.
I can't help wonder what might lie in store for him if Pakistan do suffer a heavy defeat or two.
Comments (9)
Anthony Booth says...
Just watching Steven Finn bowl. I think there might be a slight question about his action. He appears to bend his elbow then straighten it on release.
Posted 12:21 1st August 2010
Justin Jones says...
Atherton & Warne were discussing which batsmen may need to be left out next test. Who do the stats dictate should make way....can Benedict help us?
Posted 17:43 29th July 2010
Roger Pell says...
Oh dear why does the ecb shoot itself in the foot? Surely they should have insisted that kevin played some cricket to get his form back, you cant have 7 weeks off and expect to play fluently if hants dont want him send him anywhere he is somewhat important to the batting line up
Posted 15:47 29th July 2010
Greg Twomey says...
Konnichiwa Mike San, All good points you make and it should be a fascinating series. I see that Gus Fraser and perhaps yourself are questioning the timing of the strengthening program which Finn has been through. But don'' forget that Broad has also just been through the same thing yet managed an 8 wicket haul soon after . I''m expecting Finn and Broad to both be bowling at a fair old lick in the first Test given their newly aquired super strength!
Posted 05:25 29th July 2010
Wilbur Jacob says...
Pakistan is on a high courtesy its young and exciting bowling attack and it was the bowling that primarily brought Pakistan into a winning position against Australia. However, I do not believe that Pakistan will be able to escape a series defeat against England if its batting continues to be as fragile as it was against Australia. This Pakistan side absolutely needs Muhammad Yousaf at number four with youngsters like Azhar Ali and Umar Amin playing around him . Yousaf had a magnificent series against England in 2006 in which he got a double hundred at Lords and young batsmen well learn a lot from his calmness, poise and skill at the crease. Pakistan is well-known for treating its great players shabbily. Is Yousaf the latest victim?
Posted 20:57 28th July 2010
Paul Be;; says...
I think the side that bowls better will win the series. Pakistan have shown that they have a decent bowling side. England flatter to deceive too much of the time and notwithstanding time out to strengthen and condition, they still don''t seem able to bowl the ball consistently into the right areas. Without the technical skill to do this, there is always a chance that Pakistan''s talented albeit inexperienced side will hit a few away and build on the confidence that they take into the game following the success against Australia. Don''t write them off, England - you''ll need to knuckle down and work for a victory - whatever happens let''s not see another disappointing showing such as that offered up by the footie players in the World Cup. Get stuck in and don''t be compacent.
Posted 20:55 28th July 2010
Azam Ather says...
this attack is not sort of like past 2 w were far better than this attack this looks nice but i think that pakistan should have go for the kill by including ypounis and yousuf in the team,as these two guys are not included i think they are smashing a hammer on their own feets.i just want to ask from any expert that tplz tell me how many times in all forms of game does waqar yournis had benn broken the wickets into two pieces,plz teel me,plz,plz,nasser,ather''s,bumble,plz any one can teel me,answer is must.
Posted 18:46 28th July 2010
Ishtiaq Khan says...
As Mike has stated, there is a gulf between Pakistan''s past and present bowling attack. However, this attack as compared to the Wasim and Waqar era has the ability to swing the new ball and not just the old one albeit at less killer speeds. This puts pressure on the batting team and retricts the flow of runs resulting in loss of wickets. Unfortunatley the batting is vastly inexperienced which England, especially Anderson who also swings it both ways, will be looking to exploit.
Posted 17:31 28th July 2010
Abid Rehman says...
Its a decent article.I think you have explained Pakistans situation rightly and talked about the strengths and weaknesses.It all depends on the batting line up ,If they score 350 to 400 runs in first innings than we are in for a great match.The quality bowling would make sure England work hard for thier runs.Its going to be exciting forsure,because when Pak plays,they are anything but dull....Cant wait Pak Zindabad
Posted 13:33 28th July 2010