When Inzamam-ul-Haq refused to lead Pakistan back onto the Oval field against England in 2006 some described it as one of the biggest crisis that cricket had faced.
It was a bizarre set of circumstances, certainly, but given that cricket has had to deal with issues as severe as match-fixing over the years, I didn't think the scenes were quite so shocking as was suggested.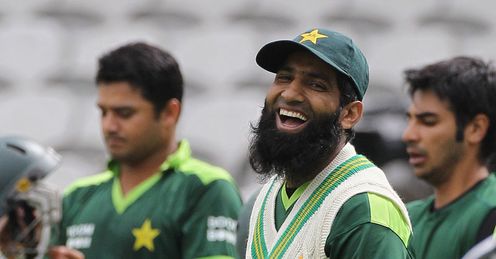 What we witnessed then was an avoidable scenario that had no lasting consequences on cricket. It boiled down to the stubbornness of one umpire, Darrell Hair, and an aggrieved Pakistan team.
Hair's subsequent employment tribunal with the International Cricket Board was unproductive and, while there was some politicking within the ICC about the result of the game, the incident was quickly forgotten - and deservedly so.
After two comprehensive defeats, Pakistan have no option to select Mohammad Yousuf for this Test - even if he is half-ready and half-fit.
Mike Atherton
Quotes of the week
LIVE ON SKY SPORTS
England v Pakistan
Third Test
10.30am, Wed, Sky Sports HD1
Watch online with
Sky Player
How to
remote record
The matter has raised its head again now because this week Pakistan will play a Test at the Oval for the first time since that infamous day back in August 2006.
There will undoubtedly be echoes of the past in the build-up because five of Inzamam's team from four years ago - Imran Farhat, Mohammad Yousuf, Kamran Akmal, Umar Gul and Mohammad Asif - could all potentially take to the field against Andrew Strauss' England. But those echoes should have little if any relevance to the outcome of this match.
Strengths
Based on what we've seen so far this summer, England should take an unassailable 3-0 series lead at the Oval providing the weather allows enough cricket to be played.
In the past, Pakistan have looked forward to playing here because the conditions and pitches have tended to suit their reverse-swing bowlers and wrist spinner.
But funnily enough Pakistan have a more English-style attack these days; Mohammad Amir and Asif aren't as quick as Wasim Akram and Waqar Younis nor do they reverse-swing the ball as much - their strengths lie elsewhere.
The one bowler who does have a bit of pace and can reverse swing the ball is Gul and he remains a doubt for the Test due to a hamstring niggle.
To my mind, Pakistan are more suited to the bowling conditions at Edgbaston than the Oval so if England can get enough runs on the board they should be able to outgun their opponents and win the game.
Bolster
After two comprehensive defeats, Pakistan have no option but to select Mohammad Yousuf for this Test - even if he is half-ready and half-fit.
But for jet-lag the former captain would have played at Edgbaston, so now he's got a few more net sessions under his belt and has enjoyed a bit of a hit against Worcester, he'll be feeling a lot better about things.
Clearly, he's not going to be the best-prepared person that's ever played a Test but he will be in better fettle than he was a week ago and he should bolster the middle-order.
Kamran Akmal also returns to the Pakistan side this week - once again just a single game after being dropped. The wicketkeeper would do well to grab his chance in the limelight. Each time we've seen him play in England up until now he's had a shocker because he's struggled when the ball has swung in the air after passing the bat.
It tends to do that less at the Oval than at Lord's or Trent Bridge so he may well find the conditions a bit more to his liking.
Zulqarnain Haider's glovework is not significantly better but it's a shame he has been ruled out by injury because I felt he showed a lot of spunk and resilience on debut at Edgbaston. His second innings 88 should be the template for Pakistan in terms of grit and determination.
Aggressively
Such is England's confidence going into the game that the selectors chose to name their team on Sunday - a surprise only because it went against what has become normal procedure under the Andrew Strauss-Andy Flower regime.
I can't see it happening too often in the future simply because Strauss generally likes to keep his cards close to his chest.
England's football head coach, Fabio Capello, got a lot of stick in the World Cup for keeping his selection in the dark for too long thereby giving his team less time to prepare as a unit.
It's somewhat different for this cricket team; throughout the summer the players have had a fair idea of who will be in the side and, if necessary, are told privately well before the coin toss.
By sticking with the same XI the selectors have shown an immense amount of faith in Alastair Cook, who may well benefit from his semi-final knock for Essex on Friends Provident t20 Finals Day.
I hope he goes out and plays as positively and aggressively at the Oval as he did on Saturday and puts thoughts about technique largely to one side.
I don't believe he's one of England's best six batsmen at the moment but, given enough chances, he will come good at some stage. If those chances run out soon, however, I would have no problem promoting Jonathan Trott to open.
The 29-year-old needs 78 more runs at the Oval to take his overall Test tally past 1,000 in fewer innings than Kevin Pietersen needed to reach the same mark.
While he has scored heavily against some modest attacks - his 226 against Bangladesh at Lord's springs to mind - he has also performed against some decent bowlers, most noticeably against Australia on debut last summer.
Trott rather blew up over the winter in South Africa, where he averaged 27.14 across four Tests, but technically he is still very strong and tough at the crease. In short, he looks a very good player to me each time I see him and that does bode well for the Ashes.
Comments (8)
Gareth Hodgkinson says...
So, the bowlers did mange to almost level the game, just a shame that captain sprout embarassed himself again. There maybe 3 days to go, but i dont think the pakistanis will need all that time to complete a well deserved win over the poor batting of england. Ponting may not be so optimistic after all.
Posted 18:36 19th August 2010
Vince Shacks says...
The ICC have again proved that they are a spineless old boys entity which loses more credibility each year. I am writing this on Atherton''s blog because due to his shameless moaning yesterday about no English players in the ICC cricket awards, the ICC have now very suspiciously cooperated! Last year, not a single South African featured in these awards after finishing as the best test team, having the best fast bowler and best all rounder in the world (players like Onions however did crack the nod). Atherton and the experts at Sky would not have this though, and continued to moan the english player into contention. Yes Swann should have been there, but he wasn''t - deal with it. I have stopped watching the test match in fear of having to endure more moaning than commentary of the game being played, ridiculous!
Posted 15:12 19th August 2010
Arshad Khan says...
Could someone please tell me (preferably a SKY commentator) as to what the difference is, between a ''seam movement'' and a ''swing movement''? Shouldn''t the "swing" be induced by a certain position of the "seam"? and (b) Why do they call a certain ball a "leg cutter" or an "off-cutter"? shouldn''t that be called a swing or a seam bowl? Thanks.
Posted 14:48 18th August 2010
Gareth Hodgkinson says...
Small mercies, they have at least got over the100 mark. Will they be able to reach 200 and give our best players(the bowlers) a chance to save the game, and maybe a bit of pride. The target it to not lose a match, but to win them all.
Posted 14:27 18th August 2010
Mark Deakin says...
Normal service has returned to English Cricket! this must spell a winter break for Cook and maybe KP also! Bell should come back in. I do back Strauss however for not walking, that''s why we have umpires and the referral system.
Posted 13:48 18th August 2010
Gareth Hodgkinson says...
I totally agree with John Hardy. It looks like the best England team possible, not only includes out of form batsmen, but less than honest ones as well. Yes, roll on the ashes!
Posted 13:23 18th August 2010
Gareth Hodgkinson says...
This is going to be one embarrasing few days for english cricket. Why were the selectors and strauss the only ones whon thought cook could bat. Singlr figure again, not a suprise. If we do come thru this match, and cook is selected for the last one, god help us when the ashes start!!
Posted 12:30 18th August 2010
John Hardy says...
After Andrew Strauss was dismissed this morning,caught behind after obviously nicking the ball, but standing his ground and waiting for 3rd umpire decision. Mike Athertons opinion was,"He knew he`d nicked it, but is entitled to wait for the decision". My opinion is, that if a current and former captain of England, do`nt even consider walking, then the game is going to the dogs
Posted 12:15 18th August 2010