Fragile, vulnerable and uncertain how to win.
Such was England's lot in 2006 after defeats to Pakistan at Lord's and the Rose Bowl left them staring at a 2-0 one-day deficit.
They rallied at Trent Bridge, however, to end a barren run of 11 limited-overs games without a victory and then tied the series 2-2 with a three-wicket win at Edgbaston.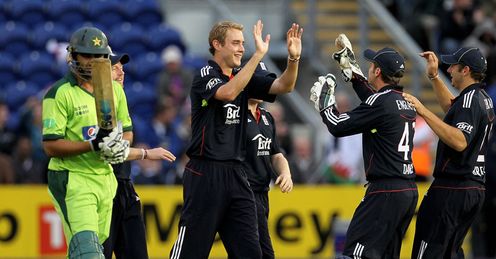 How rousing it would be to see an equally-competitive contest played out over the next 12 days or so as England and Pakistan line up for five one-day internationals.
Sadly, as much as I'd love to be proved wrong, the chances of that appear slim. Instead, a strange atmosphere is in the air ahead of the first match at Durham on Friday.
Pakistan look like a team totally bereft of spirit - one that is embarrassed by its recent performances and struggling to focus on the task in hand given the events of recent weeks.
Pakistan can take heart in the fact that England are a good 50-over side but not the world-beaters they are at present in Twenty20 cricket.
Mike Atherton
Quotes of the week
LIVE ON SKY SPORTS
England v Pakistan
First one-day international
10am, Fri, Sky Sports HD1
Watch online with
Sky Player
How to
remote record
But there's also a feeling amongst fans that we've had too much cricket this year, precious little of which has been brilliant.
Each of these aspects came together in Tuesday's grim Twenty20 non-contest at Cardiff in front of barely 5,000 people.
Competing
I hope Pakistan can turn their form around in the weeks ahead, much as England kicked on in 2006, but I fear the timeframe is too short, the confidence too lacking.
The tourists can take heart in the fact that England are a good 50-over side but not the world-beaters they are at present in Twenty20 cricket.
They have more chance of competing in the longer format, where there will be more time for quality players like Mohammad Yousuf to settle in and contribute match-winning innings.
By all accounts Shoaib Akhtar is bowling quickly and challenging batsmen - a genuine plus in the absence Mohammad Amir and Mohammad Asif - and with 35 years on the clock he'll give everything for one last hurrah in England.
Plus, Pakistan have Shahid Afridi's mercurial talent to fall back on and they should use that wisely depending on the conditions they encounter.
The ball is likely to zip around under lights in the three day-night games and, if I was in charge of Pakistan, I'd be tempted to keep Afridi in the middle-order so he can cause mayhem later on in the innings.
But there are also two day games in this series and if, all of a sudden, Pakistan find themselves on a flat pitch I'd promote Afridi up the order. Flexibility has to be the key.
Tactic
Whatever the line-up, Pakistan won't put big runs on the board unless their batsmen improve their technique against the shorter ball.
For a long time in one-day cricket bowlers put the bouncer away (there was even a period when they weren't allowed to bowl them) and slower balls and yorkers were perceived to be a greater containing threat.
But around a year ago we noticed that Stuart Broad had started to bowl a lot of cross-seam deliveries in one-day cricket.
It was a tactic that took one or two by surprise but one that is now emulated by many - a sure sign of its effectiveness and evidence that, in Twenty20 cricket at least, other teams are trying to catch England up.
Pakistan have been caught off guard themselves, not surprising perhaps given their tradition of playing on pretty slow, baked wickets at home where reverse swing rather than swing is the key weapon.
They are not alone though. I have yet to see a batsman who can cope consistently with the slower-ball bouncer. Most seem to be through the shot early and therefore don't generate enough power in their shots.
The varied pace of the cross-seam, short-pitched delivery is equally tough to deal with. Sometimes the seam will grip on the pitch, on other occasions the ball will hurry off the pitch. Good luck scoring off that delivery under lights on a dewy pitch!
Pressure
Given the challenges that lie in wait this winter, I suspect England head coach Andy Flower would like his team to be put under pressure in the series ahead.
I'm sure he felt the Test series was a good wake-up call for his batsmen, a reminder that they are not quite as good as they or others think they are, particularly against the moving ball.
It's difficult to see what England will gain from a facile victory over Pakistan other than confidence and momentum, which in itself is no bad thing ahead of the Ashes.
No-one, perhaps, is in more need of runs than Paul Collingwood. England's Twenty20 skipper says he is happy to hand back the captaincy to Andrew Strauss, although my own view is that if he was offered the chance to lead the 50-over game he'd jump at it.
It's by no means certain yet who will lead the side in the World Cup, although Strauss has to be the favourite as things stand.
Collingwood, of course, has seen it all before. Eighteen months ago he couldn't buy a run and was virtually on the way out of the side, so he knows things can change very quickly in cricket.
There's always an incentive to perform and produce and by doing so make yourself an invaluable part of the side.
With the Ashes on the horizon, I'm sure that will be in the back of every England player's mind in the coming weeks including Michael Yardy, who back on debut in 2006 contributed 3-24 at Trent Bridge against Pakistan to help turn England's fortunes around.
Comments (5)
Debanjan Khasnobis says...
End of the road of a great hero.I celebrated both 2005 and 2009 ashes victory as i fully support England. victory came due to Flintoff.
Posted 08:01 17th September 2010
Subramani Aiyar says...
It is certainly very sad and unfortunate that Aamer has got himself into this mess at such a young age. But Pakistan are doing so badly not because Aamer and Asif have been suspended. They are doing badly because their batting is very bad and their fielding is not of international level.Till they remedy these shortcomings, I am not sure they can really match their wits with the better teams.In fact in Sri Lanka in 2009, they lost the Tests 2-0 against the bowling of Kulasekhara and Herath. Considering that Sri Lankan conditions are fairly similar to their own and also that Yousuf and Younis were also present the should have a fair idea of their batting. Pakistan will always have great bowlers. There is no doubt about that. But they have to match it with batting and fielding. The game is not just bowling.
Posted 08:49 14th September 2010
Mike Ginnelly says...
Although I fully agree with your comments in the Times re Twenty/20, I feel the fact that a ground that was awarded an Ashes test 12 months ago, can now only attract 5,000 patrons for an international Twenty/20 gives the lie to this being a part of the country that deserves top level cricket. Pakistan were certainly embarrassing, but given that the people of Wales had months to buy their tickets, wasn''t the Welsh attendance even more embarrassing? Or are they just saving their money for an Ashes test in 2013. Kind regards Mike Ginnelly
Posted 01:52 10th September 2010
Abdullah Leghari says...
Although the situation can be described as no more than a disaster for Pakistan cricket and its followers, yet i think that the players might just be able to come out of it soon enough. one has to keep in mind that it is absolutely tough for Afridi to cope up with the task on immediate terms as a certain frame of mind with which he took over as the captain was totally shattered when the scandal broke out. in my opinion just one win could bring back the team on track as the captain is also determined for a competitive one day series. but regarding the strategy and tactics to be right, time is the key and players will have to gear up on their recovery phase.
Posted 21:09 9th September 2010
Laieq Hashmi says...
i was talking to my 12 years old nephew on phone back home in pakistan he was asking chachoo(uncle) why Amir is not playing in T20 he is our favourite and said most of his friend start bowling with left hand who used to bowl right hand .i did''nt have answer for him was very embaraced by telling him truth i tiold him he is injured he replied u lying he is banned for taking money and bowling no balls,i was shocked.Its one of the biggest loss for our cricket where it is second religon people are crazy about the game even there is no international home cricket.already we suffered from taliban terror,flodding,vulnerable political system,ethinic differences and it was only cricket who always brought us together .T20 WIN IN 2009 was celebrated even in all parts of Balochistan where sepratist movement is going on it was realy amzing how our nation forgot all differences bcoz of cricket .But now Its not fall of our cricket its fall of our nation
Posted 17:01 9th September 2010