Any sadness Andrew Flintoff feels on his retirement from cricket is likely to be diluted by a sense of relief.
The decision when to call time on his career has hung over him for some time; now he has made it he can move on and enjoy his life as best he sees fit.
In the end his body could take no more. His attempts to overcome a long-standing knee injury proved he felt he still had plenty more to offer but I've always felt he should have bowed out from all forms of the game rather than just Test cricket after the 2009 Ashes.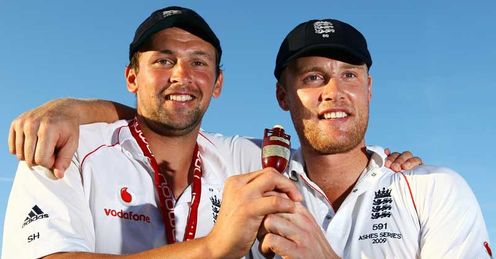 I wrote as much at the time - and was criticised by a few for doing so - but the challenge looked too great, the hope too ambitious even for one of England's greatest scene-stealers.
Potential
Flintoff will be remembered as England's best bowler since Sir Ian Botham but, of course, it took time for him to grow to that stature.
I remember him turning up at Old Trafford as a teenager - he was tall and thin with nothing on him. He played a few games as a young kid but couldn't bowl because his back was troublesome; the potential wasn't obvious.
It all came together for Flintoff at the right time in the 2005 Ashes - one of the great Test series and one that will always be linked with his name.
Mike Atherton
Quotes of the week
LIVE ON SKY SPORTS
England v Pakistan
Third one-day international
12.30pm, Fri, Sky Sports HD1
Watch online with
Sky Player
How to
remote record
It was only when he started to develop and improve his fitness that I started to realise just how good he might be.
The selectors saw it too and after spells captaining the England Under 19s in 1996 and 1997 he made his Test debut against South Africa in the fourth Test at Trent Bridge in 1998.
He removed Jacques Kallis in the first innings but otherwise didn't shine immediately; like many people before him and since, it took a while for him to come to terms with international cricket.
Indeed, I remember he bagged a pair in the next Test, at Headingley, falling to that great pairing of Allan Donald and Shaun Pollock and he quickly realised that he needed to be fitter and stronger if he was to succeed at the highest level.
Even back then he thought of himself as a batting all-rounder whereas to my mind he was a better bowler.
Tactical
Of all the people that have been tagged 'the next Botham' he carried the tag the best, hitting the ball hard, catching brilliantly at slip and running up to the crease aggressively and fast.
It all came together for him at the right time in the 2005 Ashes - one of the great Test series and one that will always be linked with his name.
He shook England up in the pivotal Test at Edgbaston by scoring quick, aggressive runs and removing Justin Langer and Ricky Ponting in quick succession in Australia's second innings to help set up as tense a Test finish as you could wish to see.
Flintoff also won one of the key tactical battles of the series, his duel with Adam Gilchrist - a man who too often in the past had rescued Australia just when England appeared to be in the ascendancy.
This time Flintoff had the wood on him from around the wicket and Gilchrist, who finished with a Test career average of 47, barely averaged above 20 in the series.
Inspirational
It is for feats such as this that Flintoff will be remembered rather than his captaincy, although he did lead England with some distinction in India in 2006.
He got the job rather by default, though, after Michael Vaughan got injured and Marcus Trescothick returned home and it all went horribly wrong in the 2006/07 Ashes series, which England lost 5-0.
He wasn't a natural captain and preferred to be one of the lads; the pedalo incident at the 2007 World Cup and his drinking exploits at Trafalgar Square both neatly fit the myth of Flintoff and neither should detract from his career as a whole.
History will regard him as one of the finest all-rounders, a player who raised his game against Australia in 2005 and again in 2009 when he could still change a game even though his influence had dwindled. His match-winning spell at Lord's and his direct hit to run out Ponting at the Oval were both inspirational.
But if England did worry about life after Flintoff, they needn't have; Andrew Strauss and Andy Flower took a decision early on in their tenure that he was finished as an international player and the side has moved on pretty seamlessly without him.
The wheel continues to turn and, while we may not see Flintoff's like again for some time, the point where England relied on him has long since passed.
Comments (4)
Matt Clark says...
I think that we will not see some one of Andrew Flintoffs ilk and pedigree and ability, again for some time. Once in a generation player. What I liked about him was his ability to, in 2005 understand when and where and how to change matches in key sessions. Credit has to be given to the then captain Michael Vaughn, who knew how to get the best out of him, They played great mind games with the Aussies! Bring ing him on at key stages to put pressure on the Aussies, by changeing sessions both with the bat and ball. (We do not have that at the moment I feel) They respected him and I think could not get to grips with him in that series. Confidence and belief that in that series he had the better of the Aussies at key moments. I think he loved the fight as well, and he knew he was world class and their equal if not better during that summer I guess when you get to that level as all of you have experienced. You have to want to be playing in that intensity and pressure and enjoy it. Andrew Flintoff loved it you could tell but also that defining image of him with Brett Lee. time will define him and the 2005 series, Sands of time had caught up with him which is a shame as he thoughthe had something to offer still. But history will be very kind to Fred.
Posted 23:39 16th November 2010
Dave Bowerman says...
Much as Flintoff has had some great moments, his overall performance was average. I believe he became increasingly self centred in his career and focussed on making money(no problem with that). I feel the current team is better without him, and I feel the team management feels that way too. They must be really fed up with the media frenzy about him and the incessant questions. Nevertheless he was still a good player, good luck to him
Posted 10:20 17th September 2010
Chris Sunter says...
cricket isnt my top sport or one that i love to watch, but when flintoff was playing i could watch all day long, he is a true sporting hero and one of the best all rounders i have ever seen play. thank you freddie flintoff.
Posted 02:51 17th September 2010
Lewis Glover says...
I am english, living in Australia and i will never forget watching Freddie in the 2005 series at an unearthly hour, making me jump around my living room like a lunatic. He brought something special to the game, and it is such a shame he was so badly hampered by injuries. To all of his critics and naysayers and those who say he stats dont add up, what you fail to see is the importance of the wickets Fred took, or the runs he scored, or catches he held on to. He was an inspiration to fans and teammates who was second to none, a man who led by example. He may not have been an Ian Botham (another English Legend) but there wil never be another Andrew "Freddie" Flintoff. I hope you find happiness and success in what you do next Fred, all of England wishes you the best, and thanks you for all you gave to cricket.
Posted 23:45 16th September 2010