Can Mitchell Johnson do it again in Melbourne? That's the question that nobody knows the answer to, least of all himself I suspect.
Things were obviously right for him in Perth where he took six wickets and tore through the England line-up in a devastating second-day spell. However, he had a nice shine on the ball and, unusually for the time of year, an easterly breeze blowing through the ground.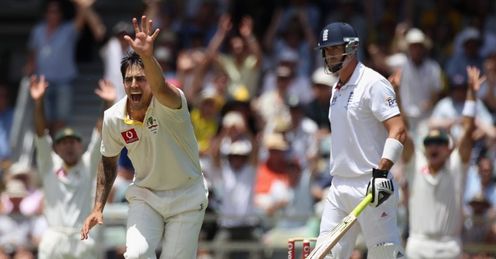 Were the helpful conditions more responsible for producing the swing or was it all down to him? We'll find out the answer at the MCG this week.
All of the bowlers were able to swing the ball at the WACA, but perhaps Johnson has made a slight adjustment to his technique and that's what helped him. Time will tell, but there's no doubt he is a much more dangerous bowler when he swings it.
There are still a lot of vulnerabilities in this Australian team. England bowled them out for 268 and 309 in the last Test match and if that happens again, you'd be confident that would be good enough for England to win the game - providing the batsmen do their jobs.
Mike Atherton
Quotes of the week
FOURTH ASHES TEST
Australia v England
11.30pm, Sat, Sky Sports HD1
Follow the Ashes
wherever you are
- on Sky Sports HD1, Sky Player, Sky Mobile and skysports.com
He remains crucial to the hosts' Ashes hopes because there isn't much else to worry about in the Australian attack. Ryan Harris is a good under-rated bowler, who has pace, good length and can move the ball away and although there are question marks regarding his knee problems, he is fit enough to get through a Test match.
However, beyond Johnson and Harris there is little to concern England's batsmen. They won't worry too much about Peter Siddle and the same can be said for Ben Hilfenhaus, who is a steady bowler, but has only taken two wickets so far in this series.
Then there's the rookie spinner Michael Beer, whom I suspect they won't use here; I don't think Ricky Ponting wants to play someone who has never played in a Test match before and I think he'll stick with the four guys who helped him last week.
England need to learn a few lessons from that defeat at the WACA. Clearly they need to play Johnson better, particularly if he swings it back to the right handers. They must try and play him a bit straighter, rather than around the front pad, as they were guilty of doing in Perth.
They also need to think more quickly on their feet when something out of the ordinary happens and it's important that they don't become distracted by an increase in verbals. I feel one or two players were affected by the Australian sledging in Perth and I don't think that helped England's cause at all.
Furthermore if they get into a strong position, which is something they did in that third Test, then they've got to make sure they don't allow Australia back into the game.
Wasteful
Remember, there are still a lot of vulnerabilities in this Australian team. England bowled them out for 268 and 309 in the last Test match and if that happens again, you'd be confident that would be good enough for England to win the game - providing the batsmen do their jobs.
Andrew Strauss has faith in the batting line-up and has stated there will be no changes to the order or the personnel. Eoin Morgan is the spare batsman, but has had no cricket apart from a few minutes against Victoria and he understandably looked a little out of sorts in that game.
Like many others, I would be in favour of moving Ian Bell up the order ahead of Paul Collingwood because when he comes in at number six there's a greater chance of him being left with the tail. When he's in such good form, it seems a little wasteful to have him coming in so far down.
To be honest, moving him up wouldn't make that much difference and eventually he should be looking to go even higher and play at three. That said, you might as well have the guy who's playing better at five, but it seems England are reluctant to do that.
However, the selectors appear uncertain over whether to keep Steven Finn in the side. Both Tim Bresnan or Ajmal Shahzad are being considered for inclusion in this Test match, but I would go with the same side; I simply don't think either of the other players has made an outstanding case.
Tiredness should not be an issue for Finn. At 21 years old, he is not as strong or as battle-hardened as he will be in years to come, but he had a week off before Perth and a further four days off afterwards. Strauss has said he is 100 per cent fit, so why drop a bowler who has taken more wickets than anybody else in this series?
Quicker
I also expect a bigger role for Graeme Swann in Melbourne. The seam-orientated conditions didn't help him in Perth - Australia didn't even play a spinner - and while you could argue that England should have bowled him more on the third morning it was always the seamers who were likely to get the wickets.
That will be different on the slower Melbourne pitch and I expect to see a bigger role for him here. He could be a big player for England in this match.
Nobody really knows exactly what to expect from the drop-in pitch at the MCG, but I'm sure it will be quicker than the one England played on in a three-day game against Victoria here at the start of the month.
The curator was preparing two pitches, one which was a dry and bare but he'll now use the greener option. The ball will go through a bit more, but the pitches in Melbourne have been pretty good in recent years and I don't think they'll favour the seam bowlers massively.
I said before the last Test match that Perth would provide Australia's best opportunity for a victory and so it proved. The dynamic of the series has slightly changed and the hosts are now much more confident.
But I still feel England are the better side and have more players in form. It's imperative that the first four get runs, particularly in the first innings, and then Swann could have a big role to play.
Overall, I'm more confident of an England victory here than I was in Perth.
Comments (7)
Dan Chambers says...
Mike, im a 15 year old opening batsman and off spinner. I play against Manchest Grammar (which we beat) where i believe you went. Its a question really not a comment, i have noticed cook, strauss and trott move across there stumps and play a full pitched ball onto the leg side into a gap, today strauss got bowled playing across the line attempting this shot. If i played that shot in a match my coach would not be happy with me, so why at international level do the top 3 england batsman play across the line of the ball to a full straight ball? i have always been told show 'them the maker' ? Thankyou for your time !
Posted 09:49 4th January 2011
Scott Moore says...
All very quiet on here when the Aussie's are getting hammered.
Posted 08:57 26th December 2010
David Neale says...
Mike, agree with you and the comments by Dave C above. We are the better side, sure Hussey is a class act and Ponting The best Aussie Batsman since Alan Border, but that top six is the most Vulnerable Aussie line up I have seen since the 1986/87 series. We let them get 30or 40 more than we should have first innings, but bowling them out for circa 260 is not a crime. Sachin Tendulkar showed last week what was required when batting to save again. I'm afraid our guys are too attack minded. During every test series sides are called upon to bat for a draw. KP can't do it, neither can prior. Strauss can bat more reservadly but usually loses patience and goes after the bowling. I have to commend the selectors for mainly sticking with the same side for the last 10 or so tests, and if they would have listened to the press at the Oval in 2009 , Broad and Bell would not have made the contributions they did. On Johnson. lets not get carried away, he is an Aussie Devon Malcolm. He'll be quite ordinary for the rest of the series unless they really doctor the wickets. I still think England 3-1 but the lads woudn't surprise me if they left it to the last test in Sydney.
Posted 20:16 24th December 2010
Femi Arans says...
Mike first, why move Bell to number five? what message does that send to Collingwood, I think that would do harm to his confidence. Then i think until we see what the wicket is going to be like at the MCG we can not predict if a seamer would be effective. Our bowlers i believe have what it takes to finish the Aussies, despite what happened at the WACA, they are fragile and are also desperate. By the way can you please tell me if a bowler has ever been England captain or indeed captain of any other 1st class test team ? thanks
Posted 18:49 24th December 2010
Andrew Kenneally says...
Tobh based on current consistency Bell should be coming in after Trott & based where things are when KP then comes in he can play accordingly. Are batsmen really so fragile mentally that it makes that big a deal where you come in once you're not at the top of the order? - or that it should be worried that accepting the realities of 'current form' & making the odd tweak in lineup will be interpreted as some kind of panic in the ranks? But for starters there's not even anything to really think about regarding Belll or Cgwood at 5 ot 6, it's a decision as clear as day. Is there a fear that if Cgwd is dropped down it might affect him mentally & he'll get even less runs?
Posted 11:48 24th December 2010
Salvin Hannie says...
I like everything that's said, ecxcept it wont make a dime of difference if bell is moved up the order, the tail will still follow!
Posted 05:44 24th December 2010
Dave Cooksley says...
How can dropping the leading wicket taker in the series even be considered? There hasn't been much wrong with the bowling at all so far, just two dismal batting performances in Perth. It is the top order that need a kick up the backside, not the bowlers.
Posted 18:06 23rd December 2010