Mumbai will come to a standstill on Saturday for the World Cup final of India's dreams.
The government has declared a special public holiday for the occasion so that millions can hopefully see their team emulate the feat of Kapil Dev's side of 1983.
Naturally, all the talk is of Sachin Tendulkar's destiny as he aims to score his hundredth international century in his home town.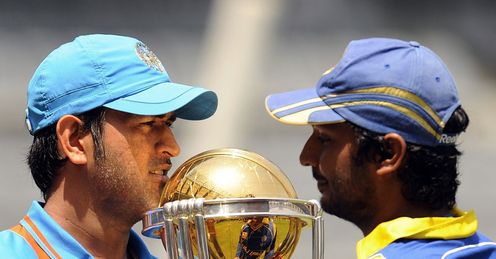 Victories are primarily for teams and nations rather than individuals and India and Sri Lanka each boast a number of good, influential players in their ranks.
But in this case the pull of seeing two of the greatest players to grace the game - Tendulkar and Muttiah Muralitharan - oppose each other in such a showpiece occasion is irresistible.
Sublime
Tendulkar wasn't at his fluent best in India's semi-final victory over Pakistan (even if his scratchy 85 did earn him the man-of-the-match award) but his play has been sublime in other games; his half-century against Australia was near perfect.
LIVE ON SKY SPORTS
ICC World Cup Final
Sri Lanka v India
9am, Sat, Sky Sports HD1
How to
remote record
This final should boil down to a battle between India's powerful batting attack and Sri Lanka's bowling, which is the best I've seen in the tournament and edges India's on all-round strength.
Lasith Malinga and Zaheer Khan have been the best seamers on show in this World Cup and are both masters of their art.
Zaheer cuts down his pace with the new ball and tries to swing it back into the right-handers, but cranks it up with the old ball; he's got tremendous control and is very effective in batting powerplays or at the death, particularly if it reverse swings.
Malinga's unique action makes the ball more difficult to pick up; he's not as good with the new ball as Zaheer but he's every bit as good - if not better - when it's old and with a fantastic slower ball in his armoury, he offers greater variety too.
Remarkable
Variety is, of course, a quality Muralitharan has never been short of.
His journey to this point in his career has been nothing short of remarkable and now that the game's focus is on 50 and 20-over cricket, I can't imagine we'll ever see anyone surpass his tally of 800 Test wickets.
There will always be those who persist in questioning his action despite all of the tests and trials Muralitharan has come through but once in retirement he will be remembered as one of the greatest cricketers to have played the game.
Any captain would kill to have a bowler of his calibre and experience on board and Kumar Sangakkara is street-wise and smart enough to get the very best out of this great player.
I've been impressed by the captaincy of both Sangakkara and Mahendra Singh Dhoni over the last few weeks.
Dhoni is the perfect leader for India; he remains cool and calculating despite all of the pressure and expectation on his team and isn't the type of person to get carried away or flustered too easily.
Similarly Sangakkara is very smart and with over 400 runs to his name, he has managed to lead from the front with the bat in the way Dhoni (batting further down the order) hasn't.
Concern
I imagine Sangakkara's greatest concern will be over the strength of his middle order. Sri Lanka, like India, have a terrific opening partnership but after Sangakkara and Mahela Jayawardene have been and gone at number three and four the line-up looks a little bit flaky.
India's weaknesses come in the fielding department and their lack of a fifth bowler. Yuvraj Singh has performed so well in this competition that it's hard to call him a part-time bowler, but it's a big ask to expect him to continue in the same vein.
The home side should be used to that type of pressure.
In the eyes of the home fans, India were winners before this World Cup started; it's almost as if they hadn't contemplated any other outcome.
With that level of home support India will start favourites but to my mind Sri Lanka are the best side in the tournament - and I'm siding with them this time.
Comments (6)
Arun Kumar says...
Muhammad Danish... please keep rooting for Sri lanka as you did for pakistan.. and then we will have even more comfortable victory over Sri Lanka.. cheers,
Posted 15:59 1st April 2011
Ajay Lele says...
Yes Clearly India in India is definately favourites. look at last year Sri Lanka has not done well in India. its India's.
Posted 15:49 1st April 2011
Pravina C says...
Team India should maintain their cool and not be overconfident. They cannot be complacent against the Lankans . An allround performance from the Tigers should make the Lions bite the dust and the team India will be the "Champions of the world "! De ghumake !! Just get it done .
Posted 15:15 1st April 2011
Raj Singh says...
Whoever plays better cricket wins on saturday. But I'm very happy with Indian team's performance so far. They have beaten pakistanis in the SF and that itself is world cup victory for me.
Posted 14:56 1st April 2011
Muhammad Danish says...
Hello Atherton,i am siding with Sri Lanka too...i think they have got a much balanced side with both their batting and bowling looking in perfect shape...being a Pakistani,i will surely be rooting for Sri Lanka... Come on Sri Lanka!!!
Posted 14:05 1st April 2011
Arun Kumar says...
Sorry Michael, you are just going by the way the lankans defeated England, but Murali and cos will not be as dangerous for indian's as they were for England. I feel Indian fielding is as good as Lanka's fielding now, Murali, Mendis, Tharanga and Samarveera are slow. They are going to miss Matthews big time .Nehra is out so we will have Ashwin who is very good fielder apart from good bowler and good lower order batsman. india will be champions.. for sure...
Posted 13:49 1st April 2011