Michael Vaughan's timing - just as it was at the crease - is spot on if he does announce his retirement on Tuesday.
Michael has always been a fighter - as his very first Test innings in 1999 showed - and part of me thought he might play on and delay his decision until the end of the Ashes even though I couldn't see him batting on beyond that series.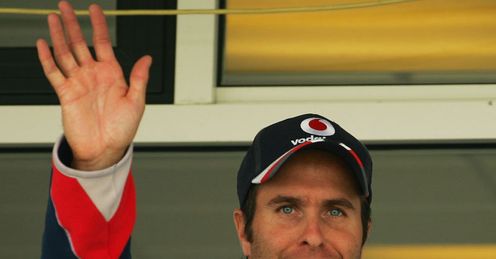 But after failing to win selection for England's training squad and the England Lions, and with his body giving way, now is the right time to go because it allows the side to move on.
With the Ashes coming up, England cannot afford confusion and uncertainty in the camp. Shane Warne has already stirred the pot by questioning Ravi Bopara's big-match mentality.
You never doubted that Michael was in full control. Whoever called him an iron fist in a velvet glove was spot on.
Nasser Hussain
Quotes of the week
LIVE ON SKY SPORTS
England v Australia
First Ashes Test
10am, Wed July 8, Sky Sports 1 & HD1
The last thing Bopara and his captain Andrew Strauss need is Vaughan's shadow hanging over the squad and when things aren't going right for people to say 'Vaughan would have done it like this or that'.
So all credit to Michael for making the decision before the series starts; I've the utmost respect for everything he has done for England. He was a joy to watch bat and became an exceptional leader of men.
Tuesday will be a sad day for him and the first couple of weeks away from cricket will hurt, as I know from personal experience, but then you get on with the rest of your life. Michael has got a young family and he'll be successful in whatever he does because he is that sort of guy.
Composed
My impression that Michael was a quality batsman were instantly confirmed when he made his Test debut against South Africa in Johannesburg in 1999.
He came in with us 2-2 on a nightmare, wet wicket against Allan Donald and Shaun Pollock and very soon we were 2-4. Michael might have only got 33 but it was the way he did it that sticks with me because he looked so composed at the crease.
Sure, he only averaged 37 in first-class cricket across his career but that innings showed me we had a high-quality person and player in our ranks who could handle the big occasion well.
When he first came into the dressing room I knew I wouldn't have to worry about him; he looked after his own game and was always prepared; in short he was a class act.
Calmer
If you want to make a template for an international batsman then you should turn to Vaughan and the same goes for an international captain.
When I first handed over the captaincy to him both Duncan Fletcher and I were worried about Michael's tactical ability and he himself will admit that to start with he captained by committee but it was amazing how quickly he adapted and grew into the role.
Some of his fielding positions were unorthodox but there were times when everything he touched turned to gold.
Different eras need different styles of captains. Under me, England were plodding along and they needed someone to be bit aggressive, to shout at them and find out why they weren't performing.
But Michael, with the likes of Andrew Flintoff, Marcus Trescothick, Ashley Giles and Steve Harmison, had to go about things in a calmer manner and get players to express themselves yet still be firm and in control.
You never doubted that Vaughan was in full control. Whoever called him an iron fist in a velvet glove was spot on.
Momentum
It's my view that he became England's best post-war captain - certainly he was up there with the likes of Peter May and Mike Brearley. He commanded respect and got respect from every other opposition captain and player.
I couldn't have wished for a better bloke to hand the captaincy over to. He continued that forward momentum with Fletcher and I'm sure Fletcher was the first one on the phone to him to thank him for all of the work he did. They were a good team.
He will always be remembered for leading England to the Ashes in 2005 and rightly so. He led his team against an awesome Australia side that was one of the best teams to ever play Test match cricket and he captained England to victory.
That is his legacy - he is an Ashes winning captain. England don't have too many of those!
But his captaincy should not overshadow his batting. As captain on the 2002/03 Ashes tour it was a joy for me to watch him score all those runs, especially the three big hundreds, and the manner in which he got them.
Even the Australian crowd admired the way he scored those centuries, which speaks volumes in itself.
Comments (5)
Lynne Lee says...
Totally agree, l was a huge fan of Michael Vaughan as Captain and batsman, he could be a wonderful batsman, and became a great Captain, tactically and phycalogically, found a great partner in Trescothic, all leading to the ashes win for England. l often thought he didnt quite get the credit and appreciation in the uk as he did in other countries, the oz players particularly rated him high. Of course it was bad luck he was out for such a long time with injury, which was a disastrous time for england cricket without him in oz. He came back but never quite reached that peak again, and with his batting not as successful it played on his mind too much hence his resignation. He wasnt a big showy player or one to blow his own trumpet, but if any sportsman deserves a knighthood its Michael Vaughan, l,d also like to add that Yorkshire or England should offer him a coaching job now he,s free.
Posted 00:50 8th August 2009
David Neale says...
Nass- 100% echo your views. From the 2000 home series againsty West Indies, he looked class.In full flow Vaughan was a pleasure on the eye. We'll never know whether captaincy robbed us of a batsemen who'd have a career average over 50 if he would have stayed as a batsmen only. Pleasingley for a fellow Yorkshireman,he had the respect of cricketers worldwide. Anyone who has read Steve Waugh's autobiography knows few English cricketers recieved any positives from him- Waugh gave Vaughan lavish praise indeed for a pom! As a Yorkshire fan - before he got selected for England, he was part of a very strong batting line up, and after a ropey beginning you could see him develop firstly with Moxon and Byas, and then in the late 1990's, he seemed to go up a gear when we signed our 2 Aussie batting gods (Darren Lehman and Michael Bevan). Having seen him play many innings , I'm baffled why he never got a ODI ton though. Got to confess I had a lump in my throat when he got a comeback hundred against the Windies at Headingley. The noise from the crowd was awesome that day.
Posted 21:19 30th June 2009
Stewart Mursell says...
I found his press confrence very sad as he is such a great man it would be nicer to go out on a high like Nasser Hussain did at Lords -Lets hope he joins the SKY SPORTS team because he has a great opinion on the game and the way it is played at the highest level
Posted 14:58 30th June 2009
Neale Vaughan says...
It is not often I would praise an English Crickteer but Michael Vaughan was up there with your best ever Captains and Batsman. None of us Aussies will be sorry to see him retire as his Captaincy played a big part in England winning in 2005. A great career Michael,congratulations.
Posted 02:40 30th June 2009
Subramani Aiyar says...
Nasser Hussain is spot on in his tribute to Michael Vaughn. He always came across as a great role model for international cricketers in the way he carried himself on and off the field. I can only think of Rahul Dravid amongst his contemporaries who wore a similar personality. When in great form as he was when India visited England in 2005,he was truly worth going many miles to see in action. Sadly, his sublime form deserted him not too long after that purple zone. Even if his statistics as an international may not be enough to consider him truly great, I for one would always consider him one of the great players from Yorkshire, who went on to play for England. It is possible that players of the mindsets of Vaughn and Dravid get done in mentally by the media as much as fitness over the years. That is very sad. But then I suppose one can say that one has to be stone headed as well to be successful even if one is exceptional as a player. If he does retire as he has said he would, I can only hope that he makes a comeback like Colin Cowdrey did against Lillee and Thomson. Cricket lore will be richer if another Vaughn special comes along then. Yes. Yesterday Once More
Posted 13:08 29th June 2009