Alastair Cook is in a bad place as a batsman right now but I'd have no hesitation in picking him for England's final two Tests against Pakistan.
It's clear his technique has gone backwards to where it was before he began working with Graham Gooch in South Africa and Bangladesh over the winter.
A strong technique has never been his strongest asset - that's been his mental strength, his hunger to score runs and his professionalism and dedication.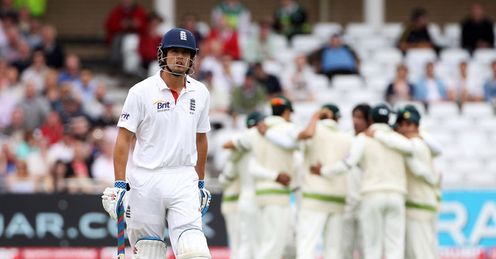 His alignment looked much better in South Africa where he left the ball well and his stance was more solid but that's not the case at present and it's reflected in the lack of runs he's scored throughout the summer at Test and county level, outside of the one-day games he's played for Essex.
His game is in tatters and it has been further exposed by two pitches, at Trent Bridge and Edgbaston, which have helped the bowlers.
One thing Andrew Strauss and Andy Flower must do next summer is get Pietersen signed up with a county that is prepared to give him a game when necessary.
Nasser Hussain
Quotes of the week
LIVE ON SKY SPORTS
England v Pakistan
Third Test
10.30am, Wed Aug 18, Sky Sports HD1
Watch online with
Sky Player
How to
remote record
But, as tempted as the selectors may be not to pick him for next week's third Test at the Oval, I think they should stick with him because he has to prove that he is an England player.
I don't see any sense in sending him back to county cricket to get some runs for Essex for the simple reason that they will count for very little in Australia.
Instead, he must play on two good pitches at the Oval and Lord's and prove he can still cut it against a potent Pakistan attack. That way the selectors can make a proper judgement on him.
Temperament
As things stand there would be a strong argument for promoting Ian Bell up to three if he wasn't injured and asking Jonathan Trott to open up with captain Andrew Strauss.
Trott's attitude impressed me at Edgbaston where he scored a couple of important half-centuries without getting much credit - but I think that suits him.
He strikes me as someone who is happy going along under the radar. In fact Trott's temperament reminds me of that of one of his heroes - Jacques Kallis.
He's very calm, composed and happy to get the job done behind the scenes; I think he's got a very long Test career ahead of him.
The same, very clearly, goes for Kevin Pietersen who I'm sure cannot wait to get back to the Oval - one of his favourite grounds - and end his wait for that 17th Test century.
He's still not in form but I'd back him to get runs at the Oval where there's pace and bounce - conditions that suit his front-foot technique and allow him to go at the ball.
Lesson
He'll be better for the time he spent in the middle but he's still a long way away from being in tip-top form. He could do with a hit on Twenty20 finals day but I'd understand why Hampshire might be reluctant to give him one.
He's not been there for them much over the last four years due to his international commitments and they've got to Finals Day without him so why should they leave one of the players out who has contributed to their progress?
Pietersen admitted this week that he took his eye off the ball after a fine World Twenty20 campaign and it looks like he has learnt his lesson.
Going forward, I believe he has to be affiliated to a county. I know the modern-day schedule doesn't allow international cricketers much time to play county cricket but the odd game here and there helps to keep things ticking over.
One thing Strauss and Andy Flower must do next summer is get Pietersen signed up with a county that is prepared to give him a game when necessary.
Freelance cricketers such as the Andrew Symonds of this world soon find their form fading away unless they keep their eye in playing some first-class games.
Attitude
Graeme Swann is now up to third in the world bowling rankings behind Dale Steyn and Mohammad Asif after his career-best six for 65 in the second innings and he deserves his status as the world's best spinner.
He gives the ball a huge rip but also turns the ball at pace on a full length rather than bowling darts. The ball he bowled Imran Farhat is an early contender for ball of the century!
I like his attitude too - he's a cocky street-fighter who likes the big stage which means he won't ever freeze or fear anyone.
Stuart Broad is another exceptional cricketer who just needs to make sure he keeps his aggression in check. He's the type of character I would have wanted in my side - someone who is prepared to fight and take the battle to the opposition.
People like that are going to step over the line occasionally - just as he did when he threw the ball at Zulqarnain Haider on day three. He deserved to be fined for what he did because that type of behaviour isn't on - just as you can't appeal without turning around to the umpire.
He's taken his punishment. Now he's got to move on and prove he has learnt from the episode.
Looking forward, Mohammad Yousuf must play at the Oval next week because Pakistan's batting is as ordinary as it comes.
They must get more runs in the first innings to put England under greater pressure and they've got to catch a million times better.
The first you can sort out reasonably quickly by letting Yousuf loose on a good pitch at the Oval, but the second is going to take decades to sort out and it would be a major surprise if England don't get a few more let-offs in the field in the remainder of the series.
Comments (12)
Naz Ali says...
Nasser, just to advise you me and my mates have destroyed our 20/20 tickets to watch pakistan, I will never support Pakistan ever again, I must remind you that the man who has been arrested Mazer Majid he is a very close colleague of Mohammed Amir and Asif, When pakistan lost the 2n test match at trentbridge, this bloke was with Mohammed Amir outside the parkplaza hotel at approximately 7.30pm and he was giving him a new Diesel top, I clearly remember the blokwe as I went up to Amir for his Autograph, these people should be banned from cricket for life, I don''t agree with Mikle that they should be given a second chance, Mohammed Amir has played a handfull of test matches and one dayers yet he is a multi millionair in Pakistand same as Mohammed Asif where have they got the money from, Clealry match fixing, I agree with you nasser if they are not guilty why did they not come out and train, not only thet did you see Amirs face and asifs as they came of teh coach, guilty? am sory to say but they should be banned for life from cricket and any mone they made should be taken of them, cricket authorities should make an example of this idiots.
Posted 14:20 29th August 2010
Matty Spencer says...
i think cook is a good batsman just if he works on that front foot defance and attack then he would be good but it is staying straight he doesnt bend it so he isnt getting the power behind the ball as well as he should be.
Posted 00:43 28th August 2010
William Hannam says...
Cook should go - no technique. Replace him with Lyth. Broad should go - poor sportsman and poor average as well. Replace him with almost any body. Strauss should go as captain - not an original thought in his head and poor field placings and bowling changes. Replace him with Collingwood.
Posted 14:32 18th August 2010
Wahib Yousaf says...
Don''t take it personal, I like Cricket too :) Just made football my favourite because there''s a column for it. Anyway, as a British-born Pakistani, I feel I could happily back either team here. England have been playing strong, beating the Aussies in the T20 World Cup, and making great use of opportunities given by Pakistan''s half-efforted fielding and not-exactly-best bowling either. I''m wondering whether the Pakistani team is ''entirely'' fasting today? Because it''s the month of Ramadhan, and how might that affect their play? Or how would they cope with playing on ''hungry stomachs''? :)
Posted 11:13 18th August 2010
Stew Ohoiehwoi says...
ram take a look at this with regards to swann: http://www.youtube.com/watch?v=N0N4VL7MYqo swann bowling ponting!
Posted 16:24 13th August 2010
Ram 007 says...
Swann -world''s best spinner.???????joke of the century,hi nasser,please ask swann to bowl one maiden against India, srilanka and Australia ... Sehwag will murder his bowling..... he will never be able to dominate against the likes of sachin,ponting,Jayawardene, who are class acts
Posted 05:02 13th August 2010
Vishal Raval says...
As considering the form of A cook AS IT WOULD BE NOT IMPORTANT TO REPLACE THE ENGLISH OPENER FOR THE ALL IMPORTANT AUSTRALIA TOUR LATER THIS YEAR.
Posted 13:36 12th August 2010
George Staples says...
I disagree with Nasser over Cook''s inclusion. Why are some players cemented into the England squad regardless of form and technique whilst others are either humiliated (Rashid) or dropped never to return? Why will Flower and Strauss endeavour to find a county for Pieterson? He is not a person who is welcomed into many dressing rooms and he has the tag of belonging to the favoured few who will be guaranteed an England place. Puieterson was lucky to achieve his recent Test score being dropped several times by a poor Pakistan fielding side. Let Pieterson, Cook etc. work with the performances squads as others have had to do. Stop this favouritism and pick players on form. As was said earlier, it is easier to stay in the England squad than to get into it.. That is WRONG The Aussies are waiting!! George Staples
Posted 11:31 12th August 2010
Steven Firth says...
I''m sure a young Hussein waiting in the wings whilst centrally contracted players with flawed techniques continually fail in the Test arena would have been extremely unhappy about the current Cook situation. It is much harder to get out of the England team than to get into It. There should be no more than 8 central contacts and players mest be picked on merit. This cosy clubbiness is detrimental to the game in the long term.
Posted 14:59 11th August 2010
Mark D says...
Stuart Broad exceptional cricketer - test bowling average of 35? Naz, look at the figures. He is a petulant average bowler! Cook,Completely out of form with an inept batting technique! Couldnt agree more about Trott, really has the temperament! If we want to win in Oz we must clear the deadwood of Broad and Cook!
Posted 09:02 11th August 2010
Philip Beacock says...
I agree we must stick with cook in these last 2 tests and give him the chance 2 make a score which will give him some confidence back. At any point in time a team will always have a batsman who is out of touch but usually that player will sooner or later rediscover his form. Swann is without doubt our most improved player over the last couple of years and at last we have a world class spin bowler.
Posted 16:31 10th August 2010
Gary Bolton says...
The cook debate is interesting, but we have to stick with him. He is still averaging 42 and has played over 50 times for England at the age of just 25. He has a great relationship with Gooch and needs to spend some time honing his techique. I don''t think we have a tailor made replacement at 3, as I totally agree with NH in that Trott bats simliar to Kallis and I think he will be the number 3 for years to come. Cook will go to Australia and hopefully make some runs!
Posted 15:17 10th August 2010