Cricket finds itself in a terrible position and Pakistan fans in particular have every right to be fuming following Sunday's allegations.
Normally they are very loyal, passionate followers of cricket. You barely have to say a word against one of their players and a host of emails arrive in that player's defence.
But the accusations of spot-fixing levelled at some of their team - coming as they do at a time when the floods are causing such devastation at home - appear to have turned opinion.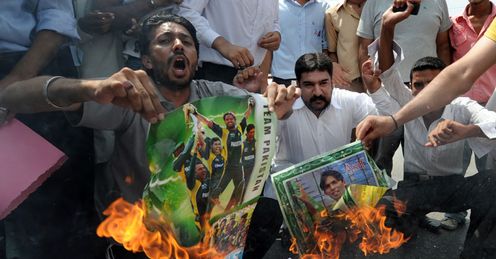 Pakistan fans seem to be thinking 'if these allegations are proven to be true, then the players have really let us and the country down'.
In that context, it's incredibly hard to see how Pakistan can prepare in any meaningful way for the upcoming Twenty20 internationals and ensuing one-day international series.
You can already see evidence that a siege mentality has set in and there must be whispers in hotel corridors about who may be involved and who isn't, all of which his hugely destabilising.
How can we ask viewers and spectators to watch the games when there is such a level of uncertainty that every no-ball or wide bowled is questioned?
Nasser Hussain
Quotes of the week
LIVE ON SKY SPORTS
England v Pakistan

First T20 international
2pm, Sun, Sky Sports HD1
If the rumours are true that several of the players don't want to play under one-day captain Shahid Afridi, then I really do fear for Pakistan cricket over the next few weeks.
Pakistan Cricket Board chairman Ijaz Butt has stressed that there are no plans to suspend the four players implicated - Salman Butt, Mohammad Amir, Mohammad Asif and Kamran Akmal - but if that scenario does evolve how will a weakened team perform against England? I dread to think.
Investigation
On Sunday morning I said I felt that every player should be regarded innocent until proven guilty, and I stand by that.
However, I did receive a few emails pointing out that "in the proper world people implicated in wrong-doing are suspended until an investigation is completed into the allegations against them".
So there are two very different arguments out there and, as I see it, there's no definitive right or wrong answer as things stand.
From a cricketing perspective, though, I can't see how the upcoming Twenty20 internationals and one-dayers can go ahead with the four players implicated playing for Pakistan.
How can we ask viewers and spectators to watch the games when there is such a level of uncertainty that every no-ball or wide bowled is questioned?
My gut feeling is that people want the whole matter cleared up before any cricket goes on.
If we lived in a perfect world where we didn't have to worry about television contracts, finance and spectators who have bought tickets, we wouldn't see another ball bowled before we have a resolution.
We need to find out who else might be involved, what else might have gone on and which matches might have been affected in a similar manner.
As a cricket fan and someone who has been involved in the game for at least the 20 years I would like the issue to be cleared up before Pakistan bowl another ball in international cricket, but I can't see that happening because it takes time to solve these things.
Therefore, we are left with the middle ground - namely to suspend the four guys who under investigation until they can clear their name.
Even that would leave me with a weird taste in my mouth. It would feel shallow and hollow to commentate on a fixture that resembled England v a Pakistan second XI. We could be going around in circles for a while.
Rulings
As someone who has been involved in cricket for well over 20 years, Sunday's allegations in the News of the World didn't come as a shock for me. That might seem very cold and calculated but it's the truth.
Rumours have been abounding for years about Pakistan cricket and what has allegedly been going on.
What did upset me though was that Amir has been dragged into it.
I had hoped that when the story broke that it wouldn't involve this new breed of cricketer that Pakistan is trying to produce; I really hoped that it hadn't contaminated down to this young team that they are trying to nurture for the future.
A teenage player can't be treated differently from everyone else, though, just because he is young and has vast potential. There may be mitigating factors but we can't have special rulings for individuals, no matter how bright their prospects. That's not how the way it works.
But as Michael Holding and I said on Sunday, you do generally have to give people a second chance in life. That's my opinion.
In a funny sort of way, Sunday's revelations may turn out to be good for the game because it has given the ICC's anti-corruption unit fresh evidence and renewed impetus to address the problems.
I do also believe that you have to be very strong in this type of situation because the game is bigger than individual; it has to be cleaned up.
I've heard people on radio phone-ins saying the game is corrupt. No, the whole game isn't unless I've been incredibly naïve for the last 20 years.
I don't agree with those who say it will be difficult for England to prepare for the one-day series. They are very professional under Andy Flower and are hungry to win games; they will look at what they are dong and continue building towards the World Cup.
I know it's easier said than done, but they will try hard to blank out what is going on around them and do their job.
Comments (57)
Arshad Mir says...
Spot fixing is a complicated issue. I think if ICC relies on newpapers reports, then they are totally wrong and my question is what ACU of ICC is doing since last 10 years. I can observe a lot of sopt fixing in IPL matches and then think where is News of the World reporters and where is ICC? I was watching the First Test match between India and S Africa at Centurion and I saw that Indian fast bowler Sreesanth bowled the first ball of innings as real Wide, so it is my question that was that spot fixing? I am not blaming the bowler but it can be big problem if we are suspicious about all No balls or wide balls.
Posted 18:14 28th December 2010
Tariq Masaud says...
At age 67 and having watched cricket passionately for last 55 yrs,its heartening to hear and read Nasser Hussain''s comments.Betting goes on in most sports depite being banned in Pakistan. Rates come out from BOMBAY and all bets are placed with bookies there.If ICC is serious in curbing match/spot fixing,then Indian govt.should be requested to help finish illegal bookies.
Posted 19:24 20th September 2010
Alan Proctor says...
the pakistanis should be banned forever because of this scandal. i watched the no ball incident on t.v. and find it hard to believe that you commentaters were discussing the incidents in great depths for the t.v. viewers, only to come out and state in the press on sunday that youknew it happened all the time.it seems to me you and your commentater friends need to be banned too
Posted 10:19 8th September 2010
Dave James says...
Suggest you are wrong in one respect. next week or so they will all be watched too closely to cheat.(successfuly)
Posted 19:12 7th September 2010
Colin Da''silva says...
Nasser may be right but perhaps the Pakistan Team are aware of the clash with the football and are doing all that they can to make sure we can watch both.
Posted 19:01 7th September 2010
Umair Anwar says...
I only have one word...."ENTRAPMENT". This is NOTW we''re talking about. The sleaziest of British tabloid sleaze, and that''s saying something! Both the Mazhars (Majeed and Mahmood) are in cahoots. Why would Majeed make sure he is fully recognizable in every video? The video in the car..he sits under the only cabin light that''s on, looking directly into the camera several times, and after giving the jacket to W.Riaz, he conveniently turns around and looks straight into the camera, so we see not the unrecognizable back of his head, but full frontal glory. The conversation with Y.Hameed is just speculative banter. It is not an interview, its just someone chatting with guests/friends. Not really evidence for anything. And I forgot to mention that in the Y.Hameed video, they have got the translation absolutely wrong. He is clearly talking about things he has heard and read in the papers, specifically from the NOTW story. At one stage he says "god knows what was going on" (meaning only god knows if it was happening or not) and this has been captioned as "god knows what the players were thinking". I urge every journalist to ask someone who speaks Urdu to verify the above before using it in a story. The actual full conversation rather than conveniently edited/translated snippets is what we need. NOTW have also posted a video in which they wrongly identify a random person as Umar Gul, the Pakistan bower. So it all is getting a bit desperate, trying to validate while implicating whosoever they can. The CCTV footage? Means nothing. It only shows the dates/times of the meetings, done for the sake of CCTV. How that proves the NOTW videos were recorded before the no balls is beyond me. There WERE no CCTV images within the room, right? So meet for the CCTV, and record later. The players were duped into meetings, conversations, texts, everything else is a scam. How much would Majeed have gotten to play his part?
Posted 09:58 7th September 2010
Abid Rehman says...
I would just like to clear a misconception that Pak players are paid poorly...They earn some where in the region of Rs.200000 to Rs.2,50,000 per month ...Add the match fee to it..which is equivalent to the per month salary...All the players caught in the scandal are from category A of PCB....earning the maximum...Plus they play for different departments(Banks,Airlines,Research organizations,Army,Customs etc)..They get a fixed amount plus job security from them...Then the same players play for regions(Lahore,Karachi,Islamabad etc)...The regions also pay them...And when you consider the money from county cricket and sponsors ,I am sure all the 4 players earn some where in between Rs.1 Million to Rs.1.2 Million per month....(£ 7000 per month)...And when you consider that a PhD from US working in Pak as engineer earns Rs.2,50,000 per month, it becomes evident that cricketers are the Kings in developing country like Pakistan...So dont think that they are not paid well...There are no taxes in Pak..And bieng an agricultural country,cost of living is much lower then in any cricketing country..Greed is the only reason for betraying your country
Posted 12:50 6th September 2010
Paul Humphrey says...
There seems to be an assumption here that this is just a Pakistani problem, the IPL and India need to be our under the microscope. Also the ICC need to look at England''s lack of declaration''s in some of the games some of this summers games.
Posted 14:58 5th September 2010
John Miller says...
Sorry Nasser, think all the cricketers if found guilty should be banned for life, even Amir who you plead for as being a youngster. I also believe that the country should be banned as well, in this case its Pakistan but if it happend to be an English player my feelings would still be the same.
Posted 14:41 5th September 2010
Abdullah Khan says...
hello i like u and u r all comments of cricket u like a pakistan team best of luck nasir bye
Posted 14:17 5th September 2010
Irfan Khn says...
What on the earth is going on with pakistan cricket, it is not just to leave all the burden on the pkistan cricket board when we are discussing the present plight of the Pakistan cricket one haveto stroll through the string of the series , i would like to throw the light on the Indian rage towards Pakistani players , look what they did in the IPL the way they insulted the Pakistani players during the ipl auction, then the incident against srilankan team in lahore just to humilate and deprive Pakistan from hosting any international cricketing event,either its taj mahal hotel incident or any terror activity in india , they just don¿t leave any chance in blaming Pakistanis, what a pity , I must urge here even there is a very little evidence which adds the ivolvemnet of Pakistani players in the present crickret scandal but international cricket community have to consider that all of these spot fixing and other cricket related bookies are based in india where international cricket council is blatantly blaming Pakistan and its players they have to uproot the Indian bookies element first.
Posted 12:51 5th September 2010
S Kayani says...
Untill betting is there, this problem will keep coming back. Specially in crickets, there are thousands of things that you can manipulate without any suspicion. How many times can you do sting operations?
Posted 07:18 5th September 2010
Raza Mahmood says...
I think that these pakistani minds have been corrupted by no-one other than their nearest neighbours and most biggest rival india. If you have read about all these illegal scams and betting then you will cleraly know that it is all operated in india, i myself would not be surpised if it is these very same "bookies" who are targeting the poor players of pakistan are the same bookies gathering the funds to play the huge amounts of money that these IPL players recieve. Now match fixing is nothing new as we all know about hanse cronje, we also know that from what he said from his case was that he was approached by an "INDIAN" bookie. So basically what i am trying to say is that it is the indians who are ruining this sport. India is the core of all the match fixing scandals and that is why they can afford to have the IPL, have Nike make their kit and pay silly amounts of money to people who have not even the quarter of the talent that the likes of mohammed aamir and asif have. Now ive always believed that to eradicate a problem you must first find out how the problem started, none of this spot betting or match fixing would have ever occured had the indian gouvernment done something about this and until they do stuff like this will continue happening because it is india started it and it will be only india who can finish it.
Posted 04:34 5th September 2010
Mubashir khan Bangash says...
Assalam-O-Alaikum and Ramadan Mubarak! ICC is acting as a blind and Dull party and punishing some1 without proving any evidence. ICC purely supports the agenda of removing Pakistan from International Cricket but v The 175 Million Proud Pakistanis wont let it happen. V will make their dirty dream a dream forever... Why ICC dont take any action against IPL, the whole world knows about massive curruption in IPL but they are silent. Why? Why? Why?
Posted 18:13 4th September 2010
Tom Henderson says...
Its a shame a proud cricket nation like Pakistan has been tarnished once again by a few individuals looking to make quick money. Surely the honour of representing your country should be enough. However where money is involved crime and corruption is never far away. The players only receive a fraction of the amount of money involved in these activities but they seem to be the ones who pay the biggest price once caught. If they are found to be guilty then the ICC must send out a clear an concise message that anyone caught in the future will face the same punishment. Not being able to earn a living and represent your country playing the sport you love has to be the ultimate punishment.
Posted 10:03 4th September 2010
Dr Jo says...
I have had very mixed emotions over the last week. Anger at the ineptitude and incompetance of the PCB and ICC, pity for Pakistan''s cricket loving fans that once again their team is getting dragged though the mud (especialy since the attack on Sri Lanka and the current appalling flood). And exasperation that there seems to be no country that remains untouched by the illegal mafia gambling syndicates. Australian and Bangladesh players have seemingly all been approached recently and it would not surprise me if players from all teams have been targeted over the last few years. There is now a huge difference in the financial earnings of the various teams, the IPL and central contracts have made some cricketers millionaires, whilst others earn barely more than a european dustman would. You cannot compare English, Australian or South African earnings with other International players. There are also underlying indications that violence, coersion and blackmail have been involved before, so before we all jump to judgement, it is worth finding out whether it''s greed and/or need for money, or whether there are darker and less obvious motivations for these unacceptable actions. I do think the players are innocent until guilty, should not play until a resolution has been reached. I also think that waiting to pass judgement is also required. If any cricketer is found to have accepted money for any other reason than trying to win with his team, then a life time ban should be exactly that. If, on the other hand, threats of violence, blackmail or corsion have been used, then there are, in my view, mitigating circumstances.
Posted 15:01 3rd September 2010
Shazad Ahmed says...
Hi Nasser, I think what u have said is absolutely right and maybe it will be good for cricket in the long run that this story has come out because as u said it can now help the Anti-corruption to try and tackle this problem head on. I also beleive that the majority of cricket is clean. As a huge Pakistani fan i can''t tell you how dissapointed and hurt i am. The day these allegations where revealed i did not sleep for the next 2 days & actually had tears in my eyes when i realised the full extent of the damage this will do to pakistan cricket & especially all us honest fans! I think you are right when u say that these type of stories have long been connected with Pakistan cricket it is about time our very very weak cricket board got sum backbone and done something about it that can be used as an example for future players. they need to come down very very hard on these players if they are found guilty. Another thing that has made me really really angry is everybody jumping on pakistans back, i understand that this is how the media works but i think it is wrong just to pick on all of pakistan and players from the past aswell, and in some cases people need to look at themselves before trying to judge others. For example Shane Warne in my eyes is the best spinner the world has ever seen but for him to make comments that they should all get life bans is wrong because he was no Mr Squeaky clean himself, I think it is rich coming from him although i do agree that they should get life bans if found guilty. I hope u will pass on my thoughts to him as he is a friend of yours. That said i still have huge respect for him as a player but its like the kettle calling the pot black!
Posted 11:39 3rd September 2010
Keith Bates says...
Hi.. some of the comments above are EXCELLENT.and truly reflect a DIRE situation for Pakistan Cricket. Its such a crying shame.....Probably the MOST passionate fans a Cricket Team could wish have.....These people live breath and love the game....to them it not a sport......ITS A WAY OF LIFE..But the corrupt minority unfortunately rule the vast majority..corruption is a word that goes right through the Pakistan Nation and Government unfortunately and if the guys at the top are NOT setting an example then how on Gods Earth can guys at a lower level follow suit I feel extreemly ANGRY for ALL Cricket supporters who subscribe to this farce through Television and the Turnstiles.i Amire, Butt, Asif innocent till proven guilty....but seriously with your hand on heart can you ever see a verdict but GUILTY with the damming evidence thats stacked up and being uncovered against them, is it their fault NO its their culture they live in and this has to change before Cricket in Pakistan can become clean. Are these players guilty NOT UNTIL PROVEN but maybe the WHOLE Pakistan Government are GUILTY maybe these are the people that need sorting out FIRST and then MAYBE things like Cricket Corruption will be a bye word in Pakistan. I feel VERY VERY SORRY for the Pakistan People ...the Majority who live in abject poverty and Cricket is their only little bit of pleasure that gives them pride,whilst being surrounded by poverty, terrorism, corruption,and floods PAKISTAN GOVERNMENT......GET YOUR ACT TOGETHER...so the people of this great nation have something to be proud of instead of exporting terrorism and corruption. To highlight everything The Pakistan High Commisioner making absolute crass and irresponsible statements about these players being "set up" which sums up nearly everything I have written If you ban these players and if guilty should be,then you might as well go the whole hog and ban Pakistan Cricket en bloc.
Posted 10:10 3rd September 2010
Salman Jamil says...
Hye Nasir, What do u think about shud a guy with the age of jst 18 be punished?Keeping in mind that he worked under 5 captains in a year,No IPL for Him when bowlers like viney kumar earning Millions in IPL.ICC didn''t allow the champ.league for pakistan, so with this sense of injustice in mind and having big names around him who can twist this 18 years old exceptional guy to any where...don''t u think even if he has bowled the deliberate no Ball he desreves a chance...we look around in india and their Board use powers they have ipl, they declared ICL rebel,.. ICC has no say due to indian Mucscle...ICC itself doesnot want to get rid of this corruption as Indians are inlvoved in it big time Look at Lalit Modi, Sharad pawar''s history they are maligned Power Hungry plitician....Please spare this young 18 years old guy from the dirty political culture of this beautiful game of Cricket for God''S sake
Posted 05:43 3rd September 2010
Azi Khan says...
hi as a british pakistani i belive that this allegation have brought shame on us but after watching all recent headlines and articles different stories are coming out to me the video is fake it released friday night and also has no time and date and also there is no response from news of world so strngly states that its all money making scam all media and papers will be at it peak of sales. curruption is all over world the western countries should realise that in 3rd world countries mafia and dons rule life threats kidnapping etc so its not easy to get away from them i think pakistan cricket need totally new management and some players and also a new government. whenever pakistan come to england its always in headline 92 2ws reversing ball which media said was cheal 99 world cup was fixed then 2006 darrel hair blamed us for ball tempering and had no eveidence and now this. Whole world knows pakistan has talent espeicially in bowling but we dont stick together we need to be with our players till they are proved guilty or not alright for some to say they should be banned look at broad ball tempering in south africa with anderson recently were they banned no warne waugh cronjie lara tendulka azuraddin etc all done it , i hope we all stand up and stick up for our team like and hope icc find a way of stopping curruption and also taking action agint news of world if proved guilty any 1 can make a video after studying the innings hope for the best for pakistan team and start off with a brand new team and kick all the guilty and cuoorupt players if guilty.
Posted 03:12 3rd September 2010