This is the best England performance I've seen. Ever.
It is a massive comment but it is how I feel after watching England boss Australia from the first ball to the last in Adelaide.
They won every single session - as they have done for the last seven days of Test cricket now - with a complete all-round performance.
Magnificent
There were plenty of questions flying about before the tour began about whether Jimmy Anderson could deliver in Australia with a Kookaburra ball and he's answered every single one.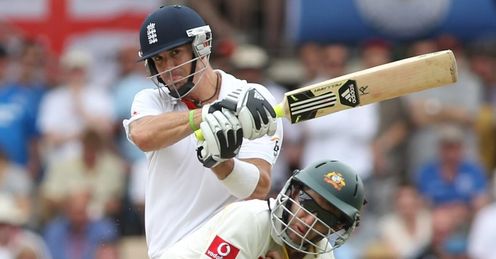 The way he bowled first up on day one was magnificent; that first half-hour cost Australia the game. They never recovered from being 2-3.
Jimmy's a lovely lad and I'm really pleased for him; I've had a soft spot for him ever since he was part of my squad for the 2002/03 Ashes tour and now he's more than fulfilling the potential I saw in him back then.
England's batting line-up is weakened by Broad's absence but the way the top six are seeing it, I don't think Ponting's main concern is who is batting at No 8!
Nasser Hussain
Quotes of the week
He put in plenty of hard yards in Brisbane, where Steven Finn got the wickets, so he more than deserves his success here.
Belief
Alastair Cook is another player having a stand-out series.
He's proved that you don't have to over-worry about technique so long as you are mentally strong, focused on the job in hand and have desire in abundance.
To follow up a double-hundred in Brisbane with another century shows how hungry he is to get big scores. He's a good solid character and any captain will tell you that you need characters in your side.
Given his balance at the crease and his fine footwork, it seems amazing that just a few months ago he was struggling just to play the forward defence.
It shows what a bit of belief and faith can do; England have stuck by him and he's looked a completely different player since he decided to go back to basics.
I can't remember too many people who have remodelled their technique and had great success - nor are there any players out there, if any, who have a perfect technique. Sachin Tendulkar and Jacques Kallis are perhaps the closest of all.
After a difficult summer he has now dispelled any doubts that he should be in the side but any talk of him being England's future captain should remain firmly in the future, for now.
There are other candidates around - Ian Bell is pushing up the ranks - but all that can wait so long as England have a very solid captain-coach relationship in Andrew Strauss and Andy Flower.
The last few months have shown how fortunes can change in either direction so England must simply keep trying to improve.
I would invest more in this England side than any in world cricket. With the possible exception of Paul Collingwood, they are all of the right age to kick on and try to become the best side in the world.
Driven
If England are to go on and become world No 1 then they need Kevin Pietersen to fire exactly as he did here.
England have some very, very fine players but Pietersen is the man for the big occasion; he can do things that others can only dream of, in particular score runs very quickly.
A couple of hours after England wrapped up victory it absolutely chucked it down here; if Pietersen hadn't scored his runs as quickly as he did, England might have run out of time.
I know not every England fan warms to him but I wish that those who don't could see Kevin around the ground, in the gym, at the hotel, in training.
He likes his own company and is more than happy to go off and work on his own game; he really does do everything possible to give him the best chance of succeeding, which is all you can ask for as a supporter, team-mate, manager or captain.
If Pietersen is doing that then players coming into the side like Eoin Morgan take note and realise that's what they have to do to be a world-class player.
He is an incredible athlete who is incredibly driven. In the summer he lost some of that drive and focus and England did the right thing by leaving him out of a few one-day games, which gave him the nudge he needed.
Tough
Like everyone I'm sad to see Stuart Broad's tour ended by injury.
It is tough on the lad because he'll watch the rest of the series at home and either be wishing he was out here helping England if they are doing poorly or wishing he was out here winning the Ashes with them.
England do have very good replacements waiting in reserve and their batting line-up is weakened by Broad's absence but the way the top six are seeing it, I don't think Ponting's main concern is who is batting at No 8!
Personally I would play Chris Tremlett at Perth and encourage England to continue playing the positive, attacking cricket that has already brought them success.
Australia tend to play good cricket at Perth and perhaps that will prove England's stumbling block but there is such a large gulf between the sides at the moment that it's hard to see how Australia can get back into this series.
They look like they are going to go round and round in circles when it comes to team selection - which spinner, which left-armer, which batsmen should they play?
It's a shambles at the moment and they are going to get lambasted in the week ahead, which will only encourage England to greater heights.
Comments (64)
Keith Roberts says...
Why are Aussie batsmen wired up in todays T20 Do they need instructions on how to bat ?!
Posted 10:38 14th January 2011
Mick Lakin says...
family &friends live in Perth , lots of banter night &day great result good in all dept,s.Barmy Army amazing like playing at home , Aussies gracious in defeat . Lets carry all before into the Summer tests against India great to be English !
Posted 16:33 7th January 2011
Robert Bailey says...
you have to go back to the 5 -0 thrashing to see what this means england have gone away and changed things both on the field and off it for the good where as austrialia havent thats probably the key to the success, hats off to england long may they continue to improve as there is a long way to go india and south africa to beat abroad
Posted 01:17 29th December 2010
Adam Ahmed-hassim says...
@ Ross Cameron....eating some humble pie now ?
Posted 19:48 28th December 2010
Andrew Kenny says...
Thoroughly enjoyable read in light of the events of the past few days, Naz.
Posted 06:08 19th December 2010
Ross Cameron says...
England, England, England is all I can read here. I think your batting line up is a good one, with all the South African's. But they looked as sad as Australia, when the ball swings. By the way. All the Australian bowlers got the ball to swing. Anderson is a great swing bowler. But the only swing bowler England has in the side.
Posted 14:52 18th December 2010
Mike Healy says...
Could someone please congratulate the Ashes team out in Australia. You are a team of articulate individuals, unafraid of expressing your opinions (even though they may conflict) and do a great job in giving the viewers a real insight into the mindsets of the professional cricketer. I am beginning to regret having focussed my attention on football all these years; what have i missed? Well done guys. Mike
Posted 07:26 18th December 2010
Steve Kendall says...
I was wondering about the australian bowler "johnson" His arm action doesnt seem right to me it looks more like hes throwing the ball down rather than bowling in the standard action. What are the rules on bowling actions and has anybody looked into how Johnson's arm action effects how the ball is delivered ?
Posted 03:48 17th December 2010
Jack Gray says...
Here Here to Zach, nice to see someone being positive and passionate. I disagree with a lot of what people have said, usually English cricket fans are in despair its rare that the team play such consistent cricket as they are now. You say that we are bad winners and bad losers, i have a lot of respect for the aussies but they are the worst of the lot. I believe English fans/players are some of the most down to earth, we are playing great cricket and consistently, which is where i think we have improved so much. We have earnt the right to enjoy this, all the others who try and put a dampner on our success are just jealous and love to put England down. The team is improving and we seem to be in a purple patch so we should 100% enjoy it, who cares if we get a bit carried away.
Posted 18:28 16th December 2010
Jonathon B says...
Hi guys, I just want to congratulate Nas on his typically aggressive opinion at the end of the 2nd test - that the England selectors should avoid the conservative selection of a bowler-batsman and be positive by picking a pure strike bowler to exploit the pace and high bounce of the WACA pitch - namely Tremlett. Well said Nas. Nas for perm England selector! Proud of the team, our positive attitude and enjoying the shift of power in the cricketing world from the southern to the Northern hemisphere. Keep bouncing 'em cos the don't like it up 'em! Jonathon,  loving the coverage and watching on Sky HD with a huge smile from Kentish Town, London p.s. For our delight could Nas pop another chair down on old man Gower's foot?? :)
Posted 03:43 16th December 2010
Darwin Niraula says...
its the worst aussie side i have ever seen.......... england are good but not outstanding and i think sa is the best test team......... india have only played in sub contitent for last 18 months....... so their real test is coming and they will surely struggle in sa..........
Posted 12:04 15th December 2010
Zach Chambers says...
At Abhijit Guha - To say that England's batting line up is ok is laughable. Two players have made a double century against an under-rated aussie bowling attack and also Trott has an average at about 60 which is better than any Indian players. Peitersen on his day is the BEST batsmen in the world. Also to call the aussies an ordinary side is niave as last year they battered India in an ODI series. There bowling attack is not as bad as everyone is making them out to be, remember that Johnson has been nominated for player of the year for the last 3 years in a row and also Siddle and Harris are very decent fast bowlers, and you are not giving enough credit to England's batsmen. The fact you think that Swann "is not a magician" also proves you don't watch cricket, the guy is the best finger spinner in the world and he probably is the best spinner in the world at the moment. We have the best swing bowler in the world in Anderson and one of the best young players on the earth at the moment which is Broad. We have the most consistent keeper in the world in Prior and we have the best opening batsmen in the world in Strauss. India would not beat England right now no matter where it is played at. India have the most hit or miss batsmens in the world in Dhoni and Sehwag. Y Singh's career hangs on the six sixes off Broad. You rely on one batsmen and that is Tendulkar. You will get convincly beaten by South Africa and then it shall be England vs South Africa for the number one spot in world cricket
Posted 09:04 15th December 2010
Evan Townsend says...
I never said they weren't good, a few of them are great, some of the best of their generation and possibly all time, but lets not deny the fact that their averages would not be what they are if they were forced to play under more bowler friendly conditions. That's just a fact there's no point denying it. I see a lot of Indian fans coming on berrating the English for our pride after beating our arch rivals who have dominated us in their back yard for the past 20 years but the second anyone has one derogetory word to say about any of the Indian team they're jumped on. Please lets just keep this about England and Australia from now on and wait for India to tour here next year :)
Posted 22:04 14th December 2010
David Spandler says...
hey i thought this was a ashes website and to be honest all i care about is retainig that little urn in the aussies own backyard nothing can beat that ! so dont really care about being number one and dont think there is a stand out team at the moment i think the top five teams are closely matched and that includes australia there batting is still strong if not there bowling .As for all those indian supporters out there i think you need to calm down a bit this is a improving england team which is getting better so who knows how far they can go and to be honest i would expect this team to beat india on home soil in a tight series with south africa back on top but as long as we win that urn who cares !!!
Posted 21:27 14th December 2010
Abhijit Guha says...
to evan townsend--- what ru talikng about? the averages theplayers have in this particular indian side is because all of them are fantastic players.. 1)sehwag- he has scored centuries in australia/sa/eng/nz and at the same rate, plus the average is almost the same.2) gambhir- this i his first tour outside the subcontinent 3) dravid 4) tendulkar 5) laxman -- need i tell more? 6) raina- first tour outside subcontinent 7) dhoni -- rmember eng in 2007? when he singlehandedly saved the first test and then we won the second to win 1-0 in ur conditions? ot have u forgotten? its all about adaptability-- out batsman can play in any sort of pitch .. but ur batsman-- in subcontinental pitches they just fizzleout ? why ?becasue they ar not adabtable.. so Mr townsend.. please check ur facts and then scream.. as for next year in 2011 in eng .. we will all see what happens.. tralior we will see in sa within a couple of weeks..
Posted 10:13 14th December 2010
Leslie Noronha says...
Reading some of these comments, I'm confused. India are not even playing in this series and yet there is so much negative comment about India and the IPL. What does that say. There is an elephant in the room and you are afraid of it - or even jealous? A bit more dignity and fairness would be more becoming. These kind of comments only serve to support the view others have of England - poor losers and even poorer winners, on the odd occasion it happens.
Posted 14:56 12th December 2010
Evan Townsend says...
I'm truly baffled by the influx of Indian/SA fans who feel the need to post here. Lets just see what happens in England next year, there's no doubt India have a great batting lineup but lets be honest guys a lot of their averages are so high because of the pitches they play on, on a regular basis. It will be very interesting to see how they cope up against this England attack in the next year. As to "A.G." you're living in a dream world and to call somebody else clueless and then claim that you would fancy Zaheer Khan and Ishant Sharma above, in particular, Jimmy Anderson, especially in English conditions, makes me think you are the clueless one my friend. As for the Ashes, Australians atleast can take comfort that they can't get any worse!
Posted 10:08 12th December 2010
Samuel Mayer says...
England deserve all the praise they are getting, they played superb cricket, the best I've seen them play for a long time.I would however question some of the Australian selectors decisions, Hauritz is an experienced, quality off spinner, to drop him on a pitch which was offering fast turn, is questionable to say the least. Also, Hillfenhause is one of the most accurate, relaible seamers Australia have, not to pick him on a grass top, which was offering assistance to the seamers, is again questionable.
Posted 17:07 11th December 2010
Fiona Miles says...
Good piece that points out the truth that Austrailia were outplayed in every department .Unfortunately as usual attempts to bash us mean that people havent properly read the article nor admit that they are accurate before they have a whinge Get over yourselves people....
Posted 10:17 11th December 2010
Harish Ramesh says...
@all the indian fans - i do not understand the logic behind u people talking about the past. Rite nw england are playing really well and becoming the no1 side in the world is not far off if they r consistent and win test matches in the subcontinent. The no 1 spot is still up for grabs.I say this because, India has never achieved victory in australia r south africa.Until they do that , dey cannot be called the no 1 side in the world. And look at their recent performance in the test series at home against new zealand where they only managed to squeeze a 1-0 result.A top side or the so called no 1 side in the world should av won the series atleast 2-0 if not 3-0. I recon it il be quite hard for them to beat south africa in south africa.Id be surprised if they manage to draw the series.
Posted 19:16 10th December 2010