A change of captain won't solve the fundamental issues facing Australian cricket but it will buy the selectors some time to make a considered decision on Ricky Ponting's future.
This week's match in Sydney is Australia's last Test until August so once it's out of the way they'll have several months to decide if it's time to make a fresh start.
Before he got injured I was already of the view that Ponting should give the captaincy away after Sydney anyway, regardless of the result.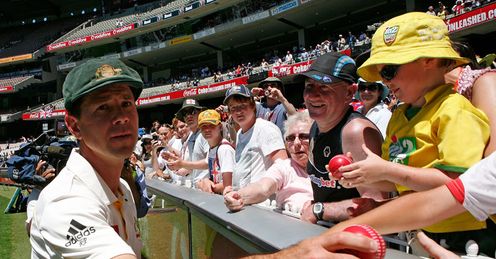 It's clearly been weighing on him; he's tried to be a leader in all things, from dealing with the media and handing out balls to the crowd at the end of a day's play to his performance on the pitch.
He looks frazzled as a result and that's affected his batting to such an extent that this great player has averaged just 16 in the series.
His brain is scrambled and that has created technical issues in his game, chiefly the way in which his bat is now coming down from gully across the ball.
After all these celebrations and hype, if the final series score reads 2-2 then I know two Andys who will be very, very disappointed.
Nasser Hussain
Quotes of the week
FIFTH ASHES TEST
Australia v England
10.30pm, Sun, Sky Sports HD1
Follow the Ashes
wherever you are
- on Sky Sports HD1, Sky Player, Sky Mobile and skysports.com
If Ponting decides that he does want to continue his Test career next year - and the selectors give him that opportunity - then he should slip down the order a place or two and simply concentrate on his batting, much as Sachin Tendulakar does these days.
Worse
Losing Ponting won't make Australia a better side - if anything they are going to be slightly worse without a world-class cricketer of his calibre in their side, even if he was out of nick.
Let's face it - passing the captaincy on to another top-order batsman who is equally short of runs is far from an ideal situation.
Michael Clarke's credentials as a Test captain are unproven and there are rumours doing the rounds that he wasn't overly-popular as skipper in the limited-overs game.
Only last week Greg Chappell said that there aren't many good candidates lining up to replace Ponting, which is hardly a glowing endorsement.
It goes to show the type of mess that Australian cricket is in at the moment.
My gut feeling is that the onus should be on moving on and rebuilding for the future because Australia are only going in one direction at present and it is the wrong one.
Perhaps having the captaincy will rejuvenate Clarke - it may be exactly what he needs at this point in time. He was born and plays his cricket in New South Wales so the SCG could well be the perfect stage for him - but we'll simply have to wait and see.
The one thing Australia shouldn't do in this situation is panic.
England had fundamental issues of their own when I took over as captain in 1999 and people wanted Duncan Fletcher and I to get rid of Michael Atherton, Graham Thorpe, Darren Gough, Andy Caddick, Alec Stewart and the rest.
We didn't; instead we kept half-a-dozen senior players that we believed could create an environment for the likes of Michael Vaughan, Marcus Trescothick and Andrew Flintoff to flourish in.
There's little point bringing in 10 new players under a new captain because you will lose a lot of games and not learn a lot along the way.
I'm all for Australia taking a look at younger players such as Usman Khawaja but there is no point throwing them in the deep end without some strong senior figures alongside them.
Dominant
Looking back, the image that will stay with me most from England's momentous win at the MCG is the scoreboard after day one.
There were a lot of nervous England fans around in the build-up to the Boxing Day Test after what happened at Perth.
So you had to pinch yourself to see England 157-0 after bowling Australia out for 98 in front of 85,000 people. You can't get a better day than that - it is game over there and then.
Before play began Strauss told his players to try and silence those Australian fans; by day four they had not only silenced them but driven them away, they were so dominant.
When we wrapped up our coverage at 6pm on the final day, some five hours or so after the end of the game, Jimmy Anderson and a few others were just coming out of the dressing room a little bit worse for wear and it was great to see!
That's the enjoyable part of moments like this - being in the dressing room and savouring your success. I hear the families went along and it must have been a great, great time for all of them.
The players probably all had a few too many and may be regretting it today but they will get it out of their system and come tomorrow they will start focusing on the cricket again when they get on their flight to Sydney.
Andy Flower and Andrew Strauss will continue to impress on each and every player that they haven't won the series yet. Yes, they have kept hold of the Ashes but I don't think that's enough for this particular side.
After all these celebrations and hype, if the final series score reads 2-2 then I know two Andys who will be very, very disappointed.
No-one wants to come back to Australia in four years time and have to say 'it is now 28 years since we've beaten them on their own patch'. The time to set the record straight has come.
Nasser's MCG blog
Comments (7)
Phil Stoneham says...
Does it really matter if England draw this game, they've still won the series 2 - 1
Posted 00:28 7th January 2011
Lewis Gunn-colling says...
I agree with you there Terry Pearson, if collingwood would have reviewed that on the grounds of a no-ball shout, would it be a no-ball because only his toe is grounded over the crease, or should it remain the decision that Billy gave?
Posted 00:42 5th January 2011
Terry Pearson says...
Since M.Beer consistantly plants the toe of his front foot over the line and never lowers his heel, Should'nt he be no- bowled
Posted 07:20 4th January 2011
Jason Johnson says...
hi i would just like to say a fantastic england performance they can rule for years to come on the point you press guys and pundits keep making saying we have to win the 5th test no we dont put simpley we just must not lose therefore we win the series 2/1 end of no worries
Posted 21:58 3rd January 2011
Robert Clifford says...
my most enjoyable came in the second test where we had the aussies three down before they have ven got to five. however i think that the aussie problems are not as bad as thought. the main problem they have is being consistent. on there day they have two of the best bowlers in the world with johnson and siddle. along wiht this they have many high class batsmen who just haven't stepped up. watson. hussey has been great most of the series, however hes had very little support, haddin provided some, but he bats too low down the order, and wtson has isuues about getting past 60. to solve this drop smith and bring in specialist batsmen. to fix the bowling problem they need to find a monty type spinner too controll one end. fit hey cant find one godd enough they hould send him to sussex, the hove pitch can make him a great spinner.
Posted 00:44 1st January 2011
Mohsin al belushi Abdul wahid al belushi says...
english team deserve to win series 3-1 this time. i think this is unlikely to aussies to draw the series now unless english team allow them.....
Posted 00:03 1st January 2011
Gary Collins says...
One of the most satisfying things about the way England went about their business at the G was that they refused to get involved in the war of words that the Aussies seemed to be dragging them down to at the Waca. This was summed up by the sheer look of silent contempt that Jimmy gave Steve Smith when he bowled him on day 3.
Posted 21:16 30th December 2010