Getting hammered 7-0 or 6-1 will do England no favours before the World Cup so they must win several of their remaining one-day matches against Australia, if only to boost their confidence.
I'm not that worried about how the side performs at this stage because I know this is a good unit made up of very capable individuals, but I do believe they need to rediscover that winning knack before heading off to India, Sri Lanka and Bangladesh.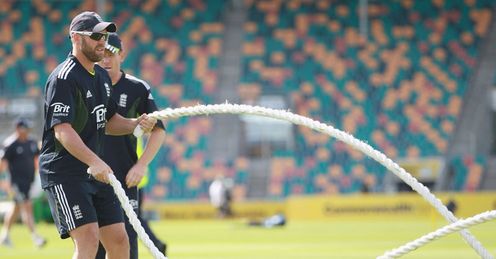 They'll now have to do that without Graeme Swann and Tim Bresnan, both of whom have picked up injuries trying to cope with a schedule that leaves a lot to be desired.
The amount of cricket on this tour is absolutely ridiculous and I hold the ICC and both boards culpable. They need their heads examining if they think the players can consistently perform to their best in a raft of limited-overs games after such a massive Ashes series.
They need their heads examining if they think the players can consistently perform to their best in a raft of limited-overs games after such a massive Ashes series.
Nasser Hussain
Quotes of the week
LIVE ON SKY SPORTS
Australia v England
Fourth ODI
3am, Wed, Sky Sports HD1
Fifth ODI
3am, Sun, Sky Sports HD1
Watch online with
Sky Player
How to
remote record
There is a real danger that the quality of bowling around the world will deteriorate significantly if we continue to ask players to play so much and I wouldn't be surprised at all if the likes of Swann and Bresnan are quietly quite pleased to get back home and rest up for the World Cup.
I fear for someone of the calibre of Brett Lee - a high-quality bowler who we want to see out on the field - if we continue down this road and I'm sure Australia will grab the chance to give him a wrest if they wrap up this series in Adelaide.
The last thing they need is for Lee to break down so soon after a long lay-off because he's played seven games in two or three weeks.
Jaded
Both sides have jaded players in their ranks and neither has played their best cricket as a result; Australia are deservedly ahead but they and England will have to improve markedly if they want to be serious World Cup contenders.
England have tried to play the brand of 'no fear' cricket that earned them the World Twenty20 title but its impact has been limited.
It doesn't worry me if the batsmen get out having a go but I am concerned by the number of soft dismissals we've seen - batsmen falling to long hops from Steve Smith and David Hussey, two part-time spinners, or running themselves out.
You can't afford mistakes like that - particularly when you are trying to carry two players as out of nick as Matt Prior and Paul Collingwood.
Problematic
I've got some sympathy for Prior; it's never easy being placed under the microscope, as England have done by preferring him to Steve Davies, especially when you are trying to fill that problematic opening slot.
England have tried 17 different combinations since the last World Cup in their attempt to find long-term successors to Marcus Trescothick and Nick Knight and in some respects they are no nearer.
The best sides benefit from long-term planning which is why I would have stuck with Davies.
But now they've chosen Prior the selectors have to give him a run. I've always believed that if you invest faith in someone then you have to give them a chance and I don't think two games is sufficient in Prior's case.
Now's not the time to shove Ian Bell up the order, even though I believe he's talented enough to bat in any position. What if he'd got two good balls and a couple of low scores - would we now be questioning his role in the side?
I'd stick with Prior and see how he responds in what have become even bigger games for England.
Comments (4)
Rick Parker says...
Agree with your comments about too much cricket. It is completely preposterous to have 7 one day internationals. Cricket Australia has always been greedy with ODIs during their summers of cricket Down Under. The three team format they used to have involved playing up to 11 games if your side reached the final and went the distance in a best of 3! At least they put that competition out to pasture. Being resident in oz for the past 15 years I have seen how ODIs have slowly fallen off the radar for most spectators. Last year I went to an ODI at the SCG where Australia played the West Indies and the ground was barely a third full and it would have been a lot less had the free tickets not been given to the hundreds of school children present. The ICC needs to wake up from its slumber. In terms of the England team I can't believe that Prior has been picked above Davies on the back of an Ashes hundred at the SCG! Prior has had numerous chances in the one day format and failed every time. Davies has that unorthodox style about him and his keeping looks sound. In regards to Bell, I do think it is worth giving him a couple of chances at the top of the order. What has England got to lose? If he fails, he fails and we move him back down. There is no way his position in the side should be questioned whatever happens. Personally, I can't see England or Australia making much of a stance in the WC. The winner will come from India, South Africa or Sri Lanka in my opinion.
Posted 00:35 26th January 2011
Adrian Bennett says...
nass-i think i may go into management as i would put trott in to open and drop prior into Collingwood's place,and get Strouse to get a grip when things don't go his way because to me you are as good as your last game and as a captain he was negative. I honestly think they are upsetting the team just to make prior fit in,what did Davies do so wrong,and will he get you less runs than Collingwood in this form
Posted 22:49 25th January 2011
Adrian Shotbolt says...
Totally agree Nass, far too many one day games. 3 is enough, players look jaded and quite frankly after watching the Sydney match look disinterested.
Posted 20:55 25th January 2011
Robert B says...
Nasser Sorry, but i don't buy your comment about Bell - the four/five experiment has been a failure & will probably continue to be one. He needs pace & fielding restrictions to flourish - he's not going to get them in those positions!
Posted 12:38 25th January 2011