Having worked with Duncan Fletcher and watched him operate from a distance, I can say with absolute confidence that India have appointed an amazing coach.
Securing Duncan's services at a time when their team is on a high is a real scoop for the Board of Control for Cricket in India, particularly with a tour of England on the horizon.
He is the perfect person to build on the considerable successes of Gary Kirsten, a man who in many respects is Duncan's protégé.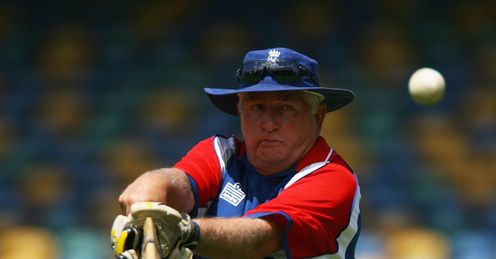 The two know each other extremely well and communicate on a constant basis, so Duncan will certainly be well-briefed about his new role.
It won't hurt either that he knows India's current bowling coach, Eric Simmons, very well from his Western Province days.
Persona
Fletcher's persona should fit in perfectly with the Indian set-up because he is a man who achieves his best work behind the scenes.
Duncan is smart enough to know that if he continues Kirsten's good work he will be a god in India and if not, the pressure on him will be incredible.
Nasser Hussain
Quotes of the week
LIVE ON SKY SPORTS
Kent v Worcestershire
1.30pm, Sun, Sky Sports HD3
Yorkshire v Derbyshire
1.30pm, Mon, Sky Sports HD2
Watch online with
Sky Player
How to
remote record
Naturally his knowledge of modern cricket and current players is vast and his understanding of the game's techniques extensive.
But he won't try to take on the Indian media or the team's star players in the same way that Greg Chappell did, nor will he interfere unnecessarily in the way Mahendra Singh Dhoni leads the team and as a result I'm sure coach and captain will get on well together.
When it comes to improving world-class players, Duncan prefers to take things right back to bare basics such as grip and stance rather then make wholesale changes for the sake of it.
Duncan is smart enough to know that if he continues Kirsten's good work he will be a god in India and if not, the pressure on him will be incredible.
In that sense you could argue that Duncan could not have picked a worse time to take over because Indian expectations are so high.
They sit top of the Test ratings and second in the one-day rankings having just won the World Cup on home soil, so no doubt many fans will expect them to win everything from now on in.
But that won't trouble Duncan - he knows how the ground lies. There's an old saying in cricket - 'you only win if you win' - and Duncan will focus on the positive rather than the pressure.
Calibre
Duncan's appointment is a timely reminder to England that they must do everything in their power to look after Andy Flower because coaches of his calibre are in short supply.
By the end of his time with England in 2007, Duncan did look tired and jaded - as would most people after dealing with the media on a constant basis for eight or so years - and there is a warning there.
Nevertheless, he remained a very honourable, trustworthy and decent guy.
One of the first things Duncan said to me was that we should trust each other implicitly and never speak about each other in public.
Privately we had a lot of arguments but publicly we always backed each other to the hilt and that trust and honesty is what he brings to his side.
These days coaches go through just as much if not more than the players. When the players have rest days they are invariably working on something to try and give their team the edge.
The demands are huge but so are the rewards and I'm sure Duncan would like nothing better than getting one over fellow Zimbabwean Flower and England this summer.
Don't forget that Duncan doesn't just know the England players very well but has a great understanding of how to achieve the best results in English conditions.
If England didn't know so already, they can expect India to provide a genuine test this summer.
Comments (4)
Ramachandra Shenoi says...
I just hope, that this guy picks and inculcates some temperament and fitness in some 5-6 fast bowlers out of around 25 ' fast ' bowlers we had over last 8 years! That he did with England atleast. Its a shrewd appointment I feel, although I am quite impassive on this. It will be a very different team 2 years from now. But certainly almost the same team some 8-9 months from now, within which we have a tour of England and Australia, especially Australia. We have won in England, but this England is a very different unit. Its Australia that the officials are targeting after which the core will certainly change. So his job for the first year will be to just get on with the group and may be find a group of fast bowlers for these 2 tours. We had a great unit last time around in England. And with Ishant's spell yesterday, it seems he will be there, although I am not sure of IPL performances. Fletcher's job after that will probably be to build a core with talent and temperament. that year if we wins more than he loses, he will probably continue till the next world cup. But easier said than done, the biggest challenge [after the public and media of course] is the lack of temperament in most 'talents' out here. So to build a reasonable core, he will need to be the recalcitrant autocrat he is supposed to be. First whiff of the public pressure was sensed yesterday as worldwide trending list had his name on it. I am sure he wont be rattled/intimidated by it. ;)
Posted 03:24 29th April 2011
Gurpreet Dhingra says...
Agree with Nasser...........love to see how he gels with little master(sachin) though because this is very important if he wants to get some respect from other players.........
Posted 01:46 28th April 2011
Mohammed Haris says...
Appointment of flutcher will spice up the test series between india and england more.cant wait for the first test to begin in lords.Intensity from both teams would be as high as an ashes series.It gona be an fascinating contest between indian batting and england bowling.
Posted 19:03 27th April 2011
Sanjayn N says...
Nasser worked very well with Fletch, and so it's no surprise to hear his ringing endorsements. I enjoyed listening to Nasser's commentary over the winter, perhaps he may himself consider coaching in the future. Meanwhile, it will be interesting to see how well India perform under Fletcher. I agree that Fletcher's knowledge on all the intl cricketer's out there is vast. Also, he's worked very well with Jacques Kallis, I see no reason why Tendulkar can't improve further! Bad news for some bowlers, I reckon.
Posted 18:24 27th April 2011