We should see some pretty decent one-day cricket this summer, starting at The Ageas Bowl on Saturday - weather permitting!
For England it's the beginning of life without Kevin Pietersen and in his absence Ian Bell returns to the 50-over squad.
Potentially that means England's top three could read Alastair Cook, Bell and Jonathan Trott - no bad thing in a wet summer when the two white balls are likely to hoop around corners.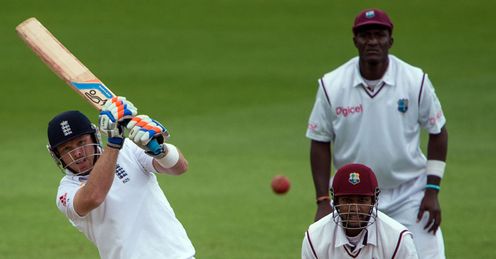 That's when you need your experienced players to lead the way, your proper batsmen to get you off to the best possible start rather than the pinch-hitters.
Bell, of course, is no stranger to opening for England and if he does come into the side in that role he deserves the chance to have a decent run at it.
At present his record is somewhat ordinary (he averages 34 in all ODIs); like Matt Prior, who should be a fantastic one-day player, there have been times when he's tried to go on the offensive too early.
If I was advising Bell, I'd just say 'play normally. You've got enough timing to lean on one in the one-day game; the field's up and you'll get your boundary. You don't have to go over the top even after a maiden, you'll quickly catch up.'
Nasser Hussain
Quotes of the week
LIVE ON SKY SPORTS
England v West Indies, First ODI
10.30am, Sat, Sky Sports 1 HD
Watch on the move with
Sky Go
How to
remote record
It's as if he's felt that he's had to show everyone that he has all the shots - and as a result has played out of character.
If I was advising Bell, I'd just say 'play normally. You've got enough timing to lean on one in the one-day game; the field's up and you'll get your boundary. You don't have to go over the top even after a maiden, you'll quickly catch up.'
England have got enough decent and young middle-order players - the likes of Jonny Bairstow, James Taylor and Ravi Bopara - to up the ante when necessary. For me, though, the key is Eoin Morgan. Up until now England have had two dynamic one-day players that most sides in the world would want.
Challenge
Now that Pietersen has gone, all eyes will be on Morgan. We've hardly seen him this season because away on IPL duty but the way he smashed Lancashire around the other day should remind us what a fantastic player he is.
Most of the time Morgan will have the luxury of playing the same way; he'll get himself in and then accelerate towards the end of the innings.
In contrast, the hardest thing for an opener is judging exactly what a good score is. Sometimes you'll get 300 and you lose but sometimes 220 is enough; if you play at Edgbaston after the covers come off then 220 might be plenty.
The challenge is to be mentally strong enough to work that out and then adapt and play as required in different conditions.
The only thing that worries me is whether a top-order of Cook, Bell and Trott will give England enough power somewhere like India, where you need a Chris Gayle or an Adam Gilchrist to get you off to a flyer to give you a chance. That's when you might see a Steven Davies or a Craig Kieswetter play a more prominent role.
But 50 overs is a long time in England - particularly when there is weather around and you're up against a couple of bowling attacks that are very decent with the new ball. Given good conditions and the sun out, the West Indies have a very good team with the likes of Gayle and Sunil Narine, who is a better bowler in one-day than Test cricket, being a handful in particular.
Temptation
On the Twenty20 front, I'm pleased that the selectors have resisted the temptation to include Cook in the squad.
I know they thought about keeping him on for the T20s after the 50-over series in the Emirates but with a World T20 coming up his presence would only cloud the issue of the captaincy.
Whoever comes into the side in Pietersen's absence will have the shadow of KP hanging over him.
That man could be Nottinghamshire's Alex Hales - he's got to have a very good chance - but we shouldn't judge him on one knock, particularly if he is given the role of teeing off.
That's where our domestic T20 has an important role to play - we should take a close look at who is performing in that competition and then pick on that basis over the course of the summer.
We're lucky that there are some really good cricketers out there - I'll single out Taylor for one. The other night he scored one of the best domestic one-day hundreds I've seen and yet I'm sure he'll be disappointed with the amount of cricket he's got.
But that just underlines how playing for England should be; if you get that one chance you've got to make sure that you take it.