Plymouth v Cardiff
Saturday, 5.15pm, Sky Sports 1
Over the last few weeks I have discussed various clubs and waxed lyrical about their managers and that is because there are so many good managers in the Championship at the moment. Dave Jones is no exception.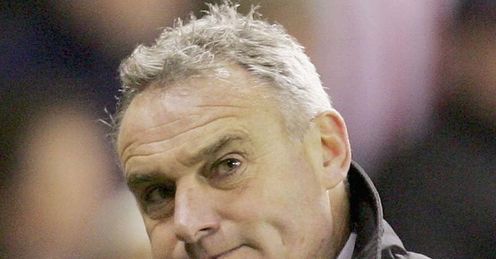 He has done a brilliant job at Cardiff City. They made such a great start last season but fell away because they didn't have any money to invest in January and ended in 13th position.
This time around he has had to bring in a few faces - a few familiar faces. Robbie Fowler and Jimmy Floyd Hasselbaink have been brought in for nothing, although they are on relatively high wages for the Championship.
When you look at the Championship there are so many teams that are close to each other and have a chance of winning that golden ticket to the Premiership and Cardiff are amongst those teams.
Top scorer last term Michael Chopra has gone to Sunderland - £5million was an offer Cardiff just couldn't refuse.
But if Dave can get his team to supply enough chances for Fowler and Hasselbaink they will score goals as they are both born goalscorers. And if they do that I can't see why they can't be in the play-off shake-up.
Dave is in the same mould of the likes of Sam Allardyce and Harry Redknapp in that he looks to bring experienced players in and revitalise their careers. He believes he can do that with Jimmy and Robbie.
I spoke to Dave just before the season started and he was quite optimistic about Cardiff's chances this season. When you look at the signing of Fowler in comparison with other signings in the division it was a no-brainer for Dave.
Robbie is only a year older than Lee Trundle who cost Bristol City £1million. Cardiff have got Fowler for nothing and Dave told me he knew which of those two he would like to take!
Fowler and Hasselbaink won't play every game so there's no telling exactly how prolific they will be, both individually and as a partnership. Robbie has had a few injuries throughout his career and Jimmy hasn't played a full season for the last three seasons.
But Dave is expecting a good contribution from them both.
Great expectations
The Cardiff squad has a nice blend of experience and youth. They have the old heads of Trevor Sinclair, Riccardo Scimeca and Stephen McPhail but they also have some talented youngsters in Chris Gunter, Joe Ledley and Peter Whittingham.
The expectation levels from supporters is so high. Some might say they could be false expectations given the little money that Dave has had at his disposal, but he is very ambitious and will look upon the job at hand as a challenge. He will be expecting his team to make the play-offs.
When you look at the Championship there are so many teams that are close to each other and have a chance of winning that golden ticket to the Premiership and Cardiff are amongst those teams.
And finally I would just like to say that Peter Ridsdale is doing a great job at Cardiff. Ridsdale wasn't responsible for Leeds going down to League One. He was responsible for wasting a lot of money, allowing David O'Leary to buy players he didn't need and putting the club's future at risk.
I think it was totally unjust the stick that has been directed at him for Leeds' relegation from the Championship last season.
Now to your email...
Hi Kammy, I would like to know your thoughts on Watford's start to the season? And also, what do you think of the signing of Nathan Ellington? Rikki Aldridge
Kammy replies: Ellington has been brought into the mix which will provide Watford's strikers with some competition, but the one thing they can't do is upset either Darius Henderson or Marlon King by dropping one of them. Aidy Boothroyd will be hoping to keep them all happy and he believes that he can handle that situation. If he can then they should score a lot of goals this season. Aidy will be delighted with the start they have made - the one game they lost was the one they expected to win, against Leicester. Watford are one of the teams that I cannot possibly see being out of the top six all season.
Hi Chris, What's going wrong at Hillsborough this season? Four matches, four defeats! After finishing ninth last season I thought we were on the up but the start to the season has been woeful. I'm not too sure that Brian Laws is the man for the job. What do you think Kammy? Derek, Sheffield.
Kammy replies: At the end of last season people were saying that Brian was the right man for the job and now they are saying he is not. It's been difficult for Sheffield Wednesday - having to sell their best players, the flooding and changing things around. And to get off to such a bad start isn't healthy at all. But Lawsy hasn't become a bad manager overnight. I know it's hard at the moment but the fans just need to be patient. The form they showed towards the end of last season they can produce again. The club have had too many managers over the last decade through knee-jerk reactions, chopping and changing. Let Lawsy sort it out. Obviously there may come a time but at the moment it's too early for them to make changes. Lawsy knows it's a results business, he's not stupid and they haven't had much luck so far this season. But he will hope that once they get everybody back fit they will start winning games.
Hi Kammy, I'm a mad Orient fan and just want to know if you think we can sustain our position at the top of League One? Dave, Basingstoke.
Kammy replies: What a wonderful start for my mate Lingy. Martin Ling was very unlucky not to have been named Manager of the Month for August, only Leeds' amazing form stood in his way. Lingy and I played together at Swindon and he was a fantastic lad who is turning out to be a great manager. I love the chairman Barry Hearn to bits because he gives his manager a real opportunity. He is the Steve Gibson of the lower divisions and has given Ling time to develop as a manager. Leyton Orient's squad isn't the strongest and if they can get through to January and stay within touching distance of the top then I know Barry Hearn will give Lingy some money to try and get Orient to the next level.