Manchester United are a machine. No matter how much pressure is applied they just seem to get better.
Everybody wants to play for them. Maybe Cristiano Ronaldo's tantrum didn't look too good, but you've got to admire his desire to win that Golden Boot. He can't do that while he's sat on the bench.
There's no chance of them throwing the title away now, even though they've got to play Arsenal.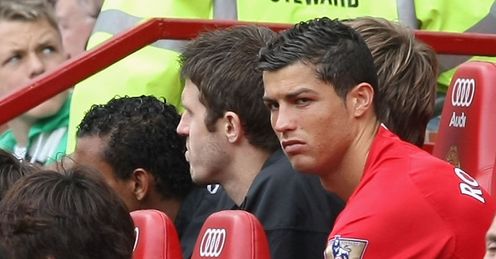 To be honest, Arsenal won't even be a tricky game because they just want the season to end. Their players want to get out of here and re-group over the summer.
At the moment Arsenal are a million miles behind. They found out in midweek they are nowhere near as good as Manchester United and then on Sunday they found out they're quite a way behind Chelsea too.
As long as he stays at Manchester United and Sir Alex Ferguson keeps him at his top level, then we are witnessing the best player of all time.
Chris Kamara
Quotes of the week
Arsenal are clearly ahead of the other 16 teams in the Premier League, but the experience, the know-how and the quality just isn't as good as the teams above them.
Which Arsenal players would get into the United, Chelsea or Liverpool sides?
Maybe Cesc Fabregas, but he wouldn't be able to play in his current position behind the striker in any of those teams.
It's going to be difficult for Arsene to reshape that football club. They are close, but there are two or three ingredients missing.
Kammy's Picks of the Week
GAME - Manchester United 2-0 Manchester City

It was a tricky game for United, but you wouldn't know it the way it turned out. Carlos Tevez had a point to prove, Darren Fletcher was a wonderful engine for them and when you looked at the bench and saw Wayne Rooney, Paul Scholes, John O'Shea and Michael Carrick they had so many options. I was very impressed.
PLAYER - Carlos Tevez

There was a lot of pressure on him following all of the newspaper stories about him wanting to leave. In days gone by he wouldn't have been near the team, but Sir Alex understands the need for freedom of speech, picked him and demanded a performance. He certainly gave him one.
TEAM - Stoke City

They secured their safety after a tricky game away at Hull City. For them to have survived with two games to go is absolutely incredible when you condsider how many people were writing them off early on. Tony Pulis gets so much out of his players and the organisation is just tremendous.
GAFFER - Sam Allardyce

He got his team safe as well. They're up on 40 points so they can't be caught. Once again he has sorted them out with organisation and sticking to a game plan. They lost Jason Roberts and Roque Santa Cruz, but instead of panicking and changing the system he put Christopher Samba up there and he had an influence on the win over Portsmouth.
GOAL - Liam Lawrence

It was a great goal from a player that's got bags of ability. Whenever you speak to people about Stoke they tend to tar them with the same brush and talk about Rory Delap's long throws, but the skilful players like Ricardo Fuller and Liam Lawrence don't get the credit they deserve.
SAVE - Dean Kiely

There were some wonderful performances from goalkeepers this weekend. Jussi Jaaskelainen made some good saves and Sunderland's Marton Fulop made a really good save to deny Bolton. But Dean Kiely was outstanding for West Brom and I'll give it to him for his double save against Wigan.
GRIPE - Portsmouth's penalty

To be honest, the referees had a relatively decent weekend. The only dodgy decision was in the Blackburn game when Mike Riley gave a penalty against Keith Andrews, even though it was virtually impossible for him to get out of the way. In the end it made no difference because John Utaka put it miles over.
Kammy answers your questions...
Do you want Chris Kamara to answer YOUR question? Email him at skysportsclub@bskyb.com or use the feedback form at the bottom of the page.
RONALDO RESPECT
Ronaldo... Typical... If that is professional then he is being paid too much money for setting an example to children. He knew that the cameras were on him and clearly showed dissent towards his manager and the faith in the ability of his fellow players. It's in his make up, he wants to be the centre of attention and it shows. He needs to grow-up, if he wants to see how it is done, let him come and watch our Under10's at AFC ROSEHILL in Carshalton they know how to behave, they have heard of the RESPECT campaign... has Ronaldo? Thanks, Bolty in Carshalton...

KAMMY SAYS: It's easy to forget how young Ronaldo is. Maybe in three or four years time when he's got a bit more experience he won't react like that. He wanted to stay on and try to score more goals to win the Golden Boot, but Sir Alex quickly diffused the situation because he knows he needs his star player on his side.
For me he is the best player in the world and possibly even the best player I have ever seen. Even Lionel Messi can't do some of the things he can do; Messi can't score goals with his head or free kicks from 30 yards and he hasn't got the pace that Ronaldo has got. I think he is the complete footballer.
Diego Maradona was a wizard and Pele was a genius, but there's things that Ronaldo has that even they didn't have. As long as he stays at Manchester United and Sir Alex Ferguson keeps him at his top level, then we are witnessing the best player of all time. He'd be an absolute mug to leave that club.
ARSENE SPENDER
Seeing Nicolas Anelka score against Arsenal made me think of the times that Arsenal were one of the biggest clubs and were a team that nobody wanted to play. Losing 4-1 is a disgrace. We need a new defence that has experience not youth. Where do you think Arsene Wenger should strengthen in the summer? Joe Mccallister

KAMMY SAYS: As I mentioned earlier, there are a couple ingredients missing in the Arsenal team. One is somebody who can tackle and the other is experience and leadership. Arsenal's football gets lots of plaudits and I'm sure that philosophy won't change, but they need to compete more and become harder to beat.
We saw the importance of experience on Sunday. From Alex to Terry to Lampard to Essien to Drogba, Chelsea had it all over the pitch. Yes, the future looks rosy for Arsenal, but how long can you wait? The other sides aren't going to experiment; they are going to keep buying the best players. Arsene Wenger is a genius and he has achieved some wonderful things, but he does need some senior players there. The reason why he was successful originally was because of the experience of guys like Tony Adams, Steve Bould, Ian Wright and Dennis Bergkamp. It seems strange they have moved away from that as much as they have.
Comments (31)
Craig C (Manchester City fan) says...
if every team had a single one player taking EVERY free kick, EVERY penalty, despite whether their other team mates would like a go. and to spend the whole game just wondering around upfront and wait for the ball and do nothing else but that. then maybe there would be more competition for the golden boot than just ronaldo...or is it just me? i remember in the game against porto in the champions league ronaldo actually injured carrick tackling him for the ball! his own player! to take the ball off of him! are you sure this is the best player in the world? and how often does ronaldo actually get passed a player with all his step overs he does? hardly ever! thats why his goals are from set pieces almost every time!!
Posted 11:14 13th May 2009
Kevin Annonymous (Manchester United fan) says...
Im sory mr. Kamara but i have to disagree. Wit Ronaldo its like a lovehate relationship, u see him do sumting brilliant nd u love him, u see his body language and the way he conducts himself on and off the pitch it makes u feel bitter but as a Manchester United fan nd d hype and propoganda is starting to annoy me that Ronaldo is the "best player of all time" i mean cmon hes still not done enough for me as a fan to even put him in my top 5 United players ever.Ronaldo for me anyway has to stop being a brat and offer some degree of loyalty to be compared to people like George Best, sir Bobby Charlton, Eric Cantona and even Ryan Giggs, maybe Beckham also who are the type of players i wud associate with as being true legends of the game. At the moment the best players at this football club not in terms of ability or individualism but in the respect of what they offer to the team and the football club and not to the camera and not media propaganda i wud have to go with Vidic and Rooney. Dont get me wrong, as United fan i too am guilty of, and understand why we worship him bcause of his talent(possibly the best in the world right now) and it is hard not to adore but as United fans we have to look at the bigger picture and see that the man( a footballing genius aswell) is a liability to the club as he seems to be showing blatant lack of respect to Manchester United football club at the moment and publicly and deliberatly shows lack of respect to our manager and maybe even contempt to have to play at old trafford. Possibly we are misinterperating it but it is unacceptable behaviour. The player is nowhere near as big as the club and im only happy to see him wearing a united shirt and sing his name If he changes his attitude and if he just gets over imself and the real madrid situation nd gets on with his career.He shud atleast honour his contract at the club for 1 more yr and den he can get his "dream move" and rot at Madrid.
Posted 23:35 12th May 2009
Tony Mckinnon (Liverpool fan) says...
I just love how all you man u fans think that you are on the same league as us liverpool fans, come on now... you are about to equal one of our records which has taken you long enough . I mean in the last twenty years we haven,t really had the same money as you have had and we haven,t really had a regular manager . The reason all you man u fans are the way you are is because you dont really appreciate football all you understand is what that old woman misses fergerson has taught you and in all fairness thats not much , lets look at it for example you dont have a clue about football you are bad losers anyway the old mans time has come and gone just like your diving queen hell be in europe before you know i ,, and to all the gunners sorry you didnt do the buisness against that shower of rubbish
Posted 18:50 12th May 2009
Chris Horsman (Manchester United fan) says...
How can you say Ronaldo has no left foot, and Messi is devastating with his right foot. Messi is one of the most one-footed players i've seen along with Robben.
Posted 15:32 12th May 2009
Mark Talbot (Arsenal fan) says...
The moment that brought home how bad the Arsenal team has come was when the Sky cameras panned over to our bench during the CPL Semi 2nd leg, we were 2-0 down and we had the choice of Denilson, Bendtner, Adebayour, and 2 other kids in there push chairs....none of them are match winners, the only good thing coming from Adebayour signing a new contract last year is we can sell him for more this summer! Also how has Denilson managed to play more games than any other Arsenal player....he is to weak for the role he is supposed to play, i can't believe we let Gilberto and Flamini go and replace them with Denilson??? Like already said we need a tough tackling Central Defender, a CM who will do the simple things like win the ball back, hold it up and pass it on and a true striker to partner RVP. The time has come to stop playing kids, I for one along with many other fans have had enough, I pay good money to watch.....i dont expect to go from winning and contending every year to being bulldozed. I don't mind losing to Man U / Chelsea every now and again as it is inevitable, you cant win every game against the other big boys but when you get bullied by Stoke and Hull then there is something seriously wrong. Come on Wenger, wake up and smell the coffee...stop deluding yourself as we can all clearly see kids (especially our ones) will not win anything! Oh and Ronaldo could become one of the greatest players ever (not the greatest as that accolade belongs to Pele) if he stops diving, stops stressing and just plays football.
Posted 15:23 12th May 2009
Chris From australia (Everton fan) says...
Yes Ronaldo is a diver, and it is the worst thing to see in football. But what team does not have a player in it that dives. Most players do. He plays to win and to score. Whether or not he's the best player who cares, I always love to see him shoot.
Posted 15:22 12th May 2009
Adem Lead (Tottenham Hotspur fan) says...
stop with this complete player. ronaldo is not a complete player by a long way. firstly he hasnt got a left foot and if u say he does ur wrong most of the time its a miss-hit whereas messi can use his right foot to devastating effect. messi not a complete player?? oh dear, he may not head the ball but that doesnt mean he isnt a complete player since he doesnt attack the ball in the air due to his size and Gugliermo I. a weak body? im sorry but didn't u see messi shrug terry to the floor and terry's no small man. i think u biased ronaldo/manutd lovers have to get ur head out the ronaldo/manutd clowd and have an unbiased opinion
Posted 14:31 12th May 2009
Stuart Ho (Arsenal fan) says...
Being an Arsenal Supporter for so many years , I have to wonder what Arsene is thinking of his choices for his team. Not only at the back have very much gotten worse but also at the front of the attack. Youth on defence was no where good enough compared to the other top 3 sides whom have experience and more stronger built . We get out muscled everytime now. Arsenal are definately a good technical side to have fast free flowing passing play , but upfront becomes a joke when you see the ball being passed to Adebayor and Bentner. You will always see Adebayor pass the ball back and not try to turn and run to shoot. He's just too slow and cant really shoot so well. He gets the one off goal or two after so many chances. And Bentner cant do anything either , there is no class or flare between these two players. Unlike Van Persie you just feel for him since he's a top player but no good partnership upfront. So I feel Arsene should sell Adebayor and Bentner since they are no where top class .Their okay for lower half Premiership side but in BIG games you dont get that much chances that you must take . And so both Adebayor and Bentner wastes chances which fustrates me just as i'm sure fustrates the whole squad . Just remember why Arshavin scored a tight goal chance from one of his games, because Bentner had so many chances and couldnt score. We need better defence and better upfront and one defensive midfielder and definately need another keeper since we always let in rediculous goals. Also I question why Arsene plays a 4-5-1 in champions League over the two legs against Man Uted when they are better playing 4-4-2 and won 2-1 earlier of the season .
Posted 12:24 12th May 2009
Nick W (Manchester United fan) says...
Firstly, Rooney is the World's best player, he's the best team player in the world, plus of course he's got individual brilliance to dominate any defence in the world. My first vote is Rooney, 2nd is Ronaldo, 3rd is Messi. Many of you critcise Ronaldo for his unwillingness to defend, He has a role to play, attack and score goals, NOT to track back and defend. Alex Feguson obviously doesn't have too much of a problem with it and of course, his opinion is the only one that counts (in regards to Man Utd starting XI).
Posted 12:03 12th May 2009
Jeremy Ullmann (Manchester United fan) says...
I completely disagree Kammy on your comparison between Messi and Ronaldo. Ronaldo, even if he is an incredible football player does not have an ounce of Messi's natural talent. Messi certaintly can score from a freekick 20 yards out just with a radically differen technique than Ronaldo. You're right about heading of the ball but still, to label Ronaldo as a possible 'greatest player ever' is laughable. Pele and Maradona? It doesnt sound like you've seen any of these players play Kammy. To top it off, 24 is no longer an age to describe 'a young player'. Look at players like Fabregas, Messi, Walcott or Pato when you're predicting the greatest player ever.
Posted 11:22 12th May 2009
Double Dd (Blackburn Rovers fan) says...
To me Ronaldo WILL be the best player we have seen, just not yet. Let him sulk when he's off the pitch, it just makes everyone laugh and it's not going to get him back on is it. The only problem I have with him is when he's on the pitch. If he doesn't get his own way he'll sit on the grass after a tackle with a 'why havn't you give me that' face for at least 10 seconds. There have been plenty of times when either United have been on the attack and the ref has stopped play or he could have actually been in a better position if he'd have got to his feet and carried on instead of sulking. One more thing is that if he didn't go down so many times then he would have also had many more goal scoring opportunities. A ref will bring it back if it's a foul and it just makes people hate him the fact that he doesn't seem to EVER try and stay on his feet. I'd have a lot more respect for him if he didn't go over so easily because he's a strong player - and diving isn't and shouldn't be part of todays football game. Man up or go and play in another league.
Posted 09:41 12th May 2009
Trevor Naidoo (Manchester United fan) says...
In a final, which is a one off, either team can win. A team losing in the final does not necessarily make them a bad team (unless chelsea fans think they were BAD last year - remind me what they won again?) So even if Barcelona win on May 27, which is not certain as they could not put away a Chelsea team that was mediocre by there standards, will not make them the better team or Messi the better player. However, if you consider the season as a whole, I would have to agree that Messi's performances where better than Ronaldo's.
Posted 07:54 12th May 2009
Andrew Nickols (Liverpool fan) says...
The problem I have with Ronaldo is that he is a cheat. He is a quality player but it is just shadowed by the fact that he dives and acts very immaturely. This isn't a good example to be setting to children who are going to be our next big stars. My mate's son, only 6, is in a football team, he supports Manchester United and his favourite player is Ronaldo. At a game he was playing in the other day after being tackled he jumped on the floor holding his leg. My mate, knowing his son was play acting said "What do you think you're doing?" to which the 6 year old replied "I'm diving...Ronaldo does it!". I was watching Messi the other day playing against Villareal. The guy has velcro feet! At one ponit he was surrounded by about 4 players, ever one of them fouled him but he carried on until one of them finally brought him down to the ground. He doesn't dive or whinge to the ref when he get's tackled he just gets up and carries on. This is the type of behaviour Ronaldo should show, otherwise I will never see him as one of footballs greats.
Posted 07:54 12th May 2009
Daley Palmer (Chelsea fan) says...
Tarun Y, and your words would look remarkably silly if Man U win the Champion's League and Portugal win the World Cup! Both eventualities have about the same probability. In fact I think your comment is 'remarkably silly' regardless. Kammy is awesome and his views are forthright and justified.
Posted 04:45 12th May 2009
Gugliermo I. (AC Milan fan) says...
Tarun Y you seem to forget a few things... Pele and Maradona's best days were in their peak and Ronaldo is hardly 23. Not to mention the Portuguese team isn't anywhere near the best in the world, while Pele and Maradona were surrounded by the best in their day. Ronaldo is one of the most complete players to ever be at the helm of world football, after Zidane. He is only 23, and by the time he's at his peak at 28/29 he'll have improved massively. Where was Zidane at 23? 1995.. At Cannes or Bordeaux doing nothing? Ronaldo has already won World Player of the Year. I agree with Chris and feel he'll be one of if not the best we'll have seen in the world by the time he retires, provided he keeps on improving and maturing as he is doing. He's already a more physical and technically rounded team-player than when he burst onto the scene at 18!! Make it a privilege to watch him and stop hating. Every great footballer had their problems, and Ronaldo's still a kid, Messi will never be a legend or reach the heights of Ronaldinho, Zidane, Pele, Maradona etc. He just can't improve anymore... and he's far from being a complete player. He's severely one-sided, he can't head a ball... he's physically 'cursed' with a small frame and weak body. What he can do, he does it the best... for now. The fact remains he can't do many things... So he'll never be the best, whether he wins Player of the Year or not.. whether he wins the World Cup or not.
Posted 01:36 12th May 2009
Monch A (manchester united fan) (Manchester United fan) says...
i see theres some bitter chelsea fans leaving comments hey? atleast man utd are in the finals, although i do admit chelsea were extreamly unlucky. Theres no shame losing to barcelona in the final, but that wont happen anyway. Ronaldo is awesome, one of the best, but if im honest messi is probly better, but we will find out after the finals wont we?
Posted 01:23 12th May 2009
Usman Azher (Manchester United fan) says...
The reason Portugal are not successful is that they do not have a good enough TEAM. An individual can not win you trophies alone. Messi is up there among the legends, but Kammy is right to say that right now Ronaldo is better than Messi. Ronaldo scores with both feet and his head and is one of the best free kick taker around. What Messi lacks is obvious. Maradona was ahead of time. Football has changed a lot since his time. If he was to play now, he would be in no way, the best player. So, fact is Ronaldo is the best in the world!
Posted 00:40 12th May 2009
Tomo Armstrong (Arsenal fan) says...
nar i dont think so ronaldo to become best player ever. he can lace up the boots of pele, maradona, ronaldinho, daglish, rush, beckenbauher ,azico and others like that he not the best now he'll never be the best ever and thats final. he has to dive to get free kicks and he only put 1 out of about 32 in. he has 1 piece off skill thats it and hes got pace thats all. he cant do any skill that ronaldinho pele or maradona could do(in the matches aswell)
Posted 23:57 11th May 2009
Ernie Gastone (Manchester United fan) says...
i hope, sir Alex will not make a mistake to let tevez go.among best strikers united ever had.As a united fan i'm disappointed they're treating him this way.man utd will regret dearly if they let him go.tevez is better than berbatov,Rooney best attacker man utd have had in yrs,he deserve better than that..............shame on you united.i will no longer support utd if they let him (no offense )to anyone that's just my opinion.
Posted 22:54 11th May 2009
Toon Boy (Newcastle United fan) says...
i think in a year or two ronaldo will be the best ever player, he has a lot of aspects of his game to improve . this includes diving.
Posted 22:48 11th May 2009