Every Saturday afternoon, Chris Kamara heads to stadiums up and down the country to deliver his unique match reports for Soccer Saturday.
On Sundays you can see him back in the Sky Sports studios as he brings you all of the highlights on Goals on Sunday.
And then on Mondays you can find Kammy right here on skysports.com as he brings you his picks of the weekend. Join us every week as he runs through his highs and lows as well as answering YOUR questions...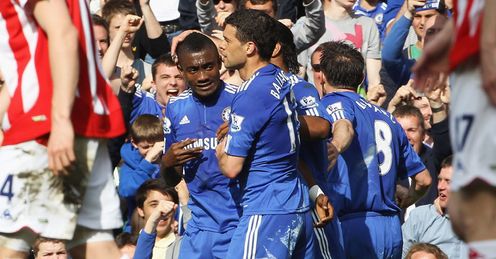 GAME - Chelsea 7-0 Stoke City

I think if anybody scores seven goals in a Premier League match, it has to be seen as an incredible game. It's especially true this week because the pressure was on Chelsea but they dispensed with a Stoke side that are usually so well organised. I presume that's Tony Pulis' biggest defeat in his time at the club and I'm sure all of their players will be back in training on Monday morning. But you can't take anything away from Chelsea.
TEAM - Chelsea

Because Manchester United played first - and won - the pressure was thrown right back onto Chelsea. There was a steely determination about Chelsea not to falter and they took the pressure off themselves straight away. I like the fact they didn't play a holding midfielder and I don't think they need one in their home games. Occasionally it's useful away from home because it stops them conceding goals, but at home it restricts them because they have more men behind the ball than in front of it. It was totally different on Sunday and they were an attacking machine.
PLAYER - Scott Parker

I think Parker deserves some credit for what he's done for that football club. He's an unsung hero of the season, but not at West Ham. If you speak to their fans, they all say if it wasn't for Scotty Parker they'd be playing Championship football next season. I agree with that statement because I've seen them surrender in games such as the one against Liverpool. He's been the man to keep them going and he showed on Saturday how much the club means to him. His goal celebration also showed how much he respects the manager.
GOAL - Nani

Parker's was a great goal and Steven Gerrard scored a cracker for Liverpool, but I'll go for Nani's outstanding finish against Tottenham. I'm picking that goal because it was such an important goal for United with the scores tied at 1-1. He showed great coolnees in front of goal and it seems he's growing into the Manchester United shirt at last. He now has a place in the team ahead of Antonio Valencia, which is no mean feat.
GAFFER - Mick McCarthy

It's a wonderful achievement for Mick McCarthy to keep Wolves up and it's pretty much gone unnoticed. They have worked so hard over the last month to grind out a few draws and make sure that they're safe. Perhaps if Burnley and Hull had kept a few clean sheets like Mick has done at Wolves then it would have taken them to the last day of the season. Mick's philosophy has been to not give goals away and that always give you the chance to win football matches.
GRIPE - Aston Villa's penalty

I thought it was a difficult decision for the referee from his position, but his assistant really should have given him some help. The problem for the referee was that Roger Johnson's touch directed the ball in an unusual direction, in the way the attacker would take it. But from the side of the pitch, the assistant should have been able to see the contact. Far too often they don't want to get involved. There's no team-work between the referee and the assistant and they should really help each other out!
Kammy answers your questions...
Do you want Chris Kamara to answer YOUR question? Email him at skysportsclub@bskyb.com or use the feedback form at the bottom of the page.
BOSSES TO BLAME?
As a West Brom fan, I would like to express my sympathy to the fans of Hull City and Burnley but I can't help thinking they got the managerial decisions wrong. Do you think Dowie and Laws should still be there next season? Simon

KAMMY SAYS: Burnley appointed Brian Laws in case they went back to the Championship, so it doesn't make any sense to get rid of him now. Maybe you would question the board and ask if they gave themselves a chance after Owen Coyle left. Firstly, did they get the right manager? Secondly, did they give him enough money to try and keep the club in the Premier League?
As for Hull City, it's quite uncomplicated. Adam Pearson decided to get rid of Phil Brown, the best manager in Hull's history. People seem to forget that he got them up and kept them up and instead they focus on the team talk on the pitch, the singing on the pitch, the story about him talking a woman out of suicide and his players fighting in front of the Women's Institute. All of that clouded the fact that he's the best manager in the club's history - and he might have been able to keep them up again this year. If Pearson had got that decision right, we'd all have been saying what a great move it was. Unfortunately, employing Iain Dowie just didn't work.
Hull City fans won't accept Dowie now. He's the manager who took them down. Dowie was in a difficult situation, but I know him very well and he wouldn't have taken the job if he didn't feel he could keep them up. He will have placed a lot of responsibility on his own shoulders.
SPOILING YOUR VOTE
In the PFA team of the Year, how is Fletcher ahead of Lampard when Lampard has had his best scoring season ever? And also how is Valencia ahead of Malouda when Malouda has scored 14 this season and Valencia has scored five? Josh from Huddersfield.

KAMMY SAYS: This was the choice of the players. The votes go in early and we have to accept the decisions that the players make. We all have our own opinions on who the best players of the season were, but in this instance we have to accept what they players have decided. Frank Lampard has had a fantastic season, but maybe the players have looked at Chelsea's season and decided it wasn't as successful as it might have been. Well, of course they could win the double and prove them all wrong!
We live in a democratic society and if you get the most votes you get in the team. I'm sure Lampard will be the first to say it's not a problem. Maybe he voted for Fletcher! Maybe Malouda voted for Valencia! That's something we don't know.
Comments (15)
Paul Collins (Arsenal fan) says...
lampard just like gerrard has despite is goals as hardly doen much else in games, he doesnt turn a game on its head or drag it by himself. when the world cup comes we will falter with him and gerrard theyve never been good enough for england. scott parker, bobby zamora, darren bent shud all go but i bet they dont despite been on form other than rooney the best 3 english players this season
Posted 15:44 26th April 2010
Prathamesh M (Chelsea fan) says...
Same rule could be applied to Rooney as well.Rooney when playing takes several spot kicks for Man U so has 26 goals to his name. Drogba never takes spot kicks as its considered as job of lamps.Also Drogba had more number of assists in goals where as Rooney doesnt feature in Top 20 in BPL when it comes to assists. Even Lampard has good Number of assists and also has 20 goals to his name including spot kicks. So they deserve the honor of being Player of the year and being in Team of the year respectively.
Posted 15:02 26th April 2010
Matt Johnston (Stoke City fan) says...
I think chelsea were too good for us on the day, i am ashamed to see such an amzing away record slip, but the ref Steve Bennet was awful, Kalou on Sorenson, should of seen a red and then we still have a chance, did i mention he gave a penalty, nice dive saloman
Posted 14:48 26th April 2010
Mat Allen (Aston Villa fan) says...
I'm sure they'll say i'm biased,when i first saw it at full speed i thought definate penalty,after seeing all the angles and slow motion i'd have to say no,after hearing all the 'experts' ex players and refs etc,all the rules(i don't really agree with them),it was a penalty,most people i've spoken to seem to say anywhere else on the pitch it's a free kick so why should'nt it be a foul because it's in the area?
Posted 14:41 26th April 2010
Andrew Lariviere (Manchester United fan) says...
liverpool will beat chelsea rafa said he will go out 4 the win
Posted 14:31 26th April 2010
Daniel Potter (Hull City fan) says...
chris after the game on saturday i knew we were going down but dowie didn't have enough time as george boateng says it was since man city in 2009 the confidance went. when dowie it was back and the fact is that they need dowie time to see if they cam go back to the prem
Posted 14:02 26th April 2010
Dave Willis (Wolverhampton Wanderers fan) says...
Kammy... Now that Wolves have stayed up on a tight budget showing it can be done, by looking after there wage bill etc... Do you not think it should be down to the governing bodies to make a stand against the £150k per week wage bills, and massive signing on fee's that can cripple clubs??? I know it is for every club to decide how they spend there budget, but surely a level playing ground on wages can't be a bad thing? It would then be down to each player to sign a contract with bonus' included on how they played, where the team were in the league table etc, etc to make up their money... This would benefit in 2 ways... It would give the lower teams a chance to compete, and also allow the club to benefit from the way the team performs... We all know that their are players who have had 1 good season and are now happy picking up their wedge, without playing etc, etc... I used to play as a professional for a few years until injury, but know from playing in the 2nd div that every player there wanted to do well for their club as it made a massive difference in what we took home at the end of the Month... Your views on this would be interesting to read.....
Posted 13:44 26th April 2010
Steve Wright (Chelsea fan) says...
knowing lian well,youll fight for his corner,but mr dowie was never the greatest fotballer,palace and west ham amongst others will tell you,and he's even worse as a manager.Ok phil brown about 15 months ago had a bit of a beef on the pitch,but although maybe a wrong thing at the time,he cant be blamed to where hull are today.....his passion was there for all to see,his resourses were limited and to be honest the club arent fashionable enough to stay in the premiership,although they deserved their time there on merit.reading through the papers this morning,george boetang blamed him for the unity going within the camp after the pitch fiasco,a fair amount of players that are there now wernt there then.the goalscorers have hit 8 goals between 6 strikers this season and it want browns fault nobody fancied playing there.i see they are considering offering the job back to him,YOU KNOW WHAT ID SAY.....
Posted 13:41 26th April 2010
Rob Prince (Aston Villa fan) says...
I am a Villa fan and therefore I'm slightly biased on the topic of the Villa penalty decision. BUT! I'd like to put forward, for discussion, the fact that Johnson touching the ball doesn't mean that it isn't a foul. The rules of the game state that a direct free kick or penalty can be given if a player trips an opponent irrespective of the position of the ball, providing it is in play. What's your take on this?
Posted 13:39 26th April 2010
Anoop Momi (Manchester United fan) says...
The battle for fourth place seems to have gotten even closer after a win from Villa and a Manchester City draw! How much of an impact do you think the loss of Shay Given will have on City's hopes?
Posted 13:36 26th April 2010
James Aghabi (West Ham United fan) says...
As an avid West Ham fan, I have to agree completely with Kammy.....Scotty Parker has been our best player by a long way! When we sold Reo Coker to Villa and brought Parker in, it was a fantastic signing and in my opinion, he should be going to The World Cup because you wont find a player who will put his heart, soul and body on the line for his team. He is respectful, talented on and off the ball and is better than Barry, Carrick and Hargreaves!
Posted 13:29 26th April 2010
Mark Griffin (Aston Villa fan) says...
I am really tired of all the hype around penalty disputes! We had one our way on Saturday and we have heard nothing but gripe about it! We had two clear shouts for a penalty in the finals and the semis,neither one was given. Do you see any Villians complaining???? NO! Get over it as far as I am concerned some times you get the call and sometimes it goes against you,that is part of the game and what makes it such a great game! The decision of the ref stands and we need to respect that! You think it is easy to ref at that level??? If all stands as it is then the Villa still have one more shout coming there way before the end of the season. Mark my words Villa will snatch fourth and everyone in the premier league will be pig sick!! Up the Villa!
Posted 13:14 26th April 2010
Yac Rawat (Chelsea fan) says...
pfa awards, actually any other awards have stopped confusing me. i long accepted chelsea will get looked past no matter what we do. When we won the title back in 06, the awards were given to gerrard and henry for average seasons anyways. So if anything, im surprised gerrard didnt get into the team considering he has his place nailed on, and im surprised they let something as irrelevant as henry being in la liga stop them from voting him! main awards no arguments (except joe hart, should have been young player) but as for the team, its a joke that malouda has been over looked, same with ashley cole, lampard too has done the business again, but is it any surprise that despite scoring 93 goals this season and playing some great football, we get over looked for man utd, who even they should admit have been solid but unspectacular. that said, i am pleasantly surprised ivanovic has been given a mention. he has had an under rated season, so good for him
Posted 13:05 26th April 2010
Shuja Ahmad (Manchester United fan) says...
Hi Kammy, love your blog. I have spoken to lots of Liverpool fans over the last week or so and i haven't come across one that wants Liverpool to beat Chelsea. Every Liverpool fan wants chelsea to win regardless of whether Liverpool have a chance of 4th spot. I get the feeling that Liverpool players may feel the same - i can't see gerrard & carragher busting a gut to try and beat chelsea. What do you make of the Liverpool - Chelsea game? Do you think Liverpool will lie down for Chelsea?
Posted 12:46 26th April 2010
Michael Strauss (Manchester United fan) says...
Im pretty sure around ten of lampards goals have been from the penaltly spot. Its not all about scoring goals, Roy Keane made the team for several years, how many goals did he score? Fletcher has been outstanding this season, his work ethic is second to none. Malouda's season has come good this past few months, where was he at the start? Players vote for this, therefore a fair decision!
Posted 12:26 26th April 2010