Every Saturday afternoon, Chris Kamara heads to stadiums up and down the country to deliver his unique match reports for Soccer Saturday.
On Sundays you can see him back in the Sky Sports studios as he brings you all of the highlights on Goals on Sunday.
And then on Mondays you can find Kammy right here on skysports.com as he brings you his picks of the weekend.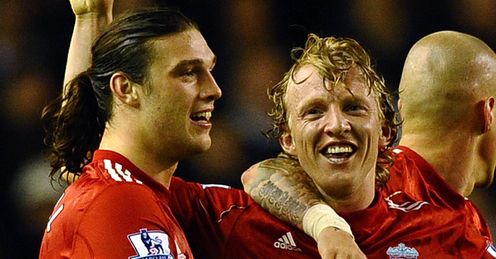 Join us every week as he runs through his highs and lows...
GAME - Sunderland 2-3 West Brom

The game of the weekend was the one I was at! I was at Sunderland's clash with West Brom for Soccer Saturday and you couldn't pick a winner as it swung one and the other, although after Youssouf Mulumbu's equaliser I felt Albion were more likely to take the three points. Sunderland have been on a poor run, but could easily have won that game and it was very even in the first half. After the break, West Brom swamped the midfield, and maybe on another day Steve Bruce would have made a change to cope with that because there were too many bodies for Lee Cattermole and Kieron Richardson to cope with. But you have to give credit to Roy Hodgson for the incredible job he has done, They probably need one more win - or maybe one more point - to be safe, but as Sunderland have found in the last few games, those points are not always easy to come by.
GAFFER - Roy Hodgson

I'd have to say Roy Hodgson. His players were 2-1 down at half-time, but they didn't change their philosophy and won the game well after the break. People are starting to say that Hodgson can only handle lesser players, but that's not true. He's been at big clubs like Inter Milan before and the fact is that at Liverpool it just didn't work for him. It's got nothing to do with his ability to handle big players... remember, people were talking about him as the next England manager last season. He wasn't accepted when he arrived at Anfield and sometimes that happens in football. Sometimes you go to a club that isn't right for you. It happened to me with Stoke; I took the manager's job there having been a former player, but I inherited some players who didn't want to accept me and I made a few mistakes along the way. That's the way it goes in football and Roy should be left to get on with doing things his way.
GOAL - Paul Scharner

I don't think this goal has got the credit it deserved. Even when we showed it on Goals on Sunday, we didn't run it right from start to finish, but if you look at the full move you'll see how West Brom carved Sunderland open with their passing. For a team under pressure to get results to go away from home and create a goal like that was something special. Hodgson couldn't mould Liverpool's players into adopting the style he wanted, but West Brom are accepting his methods. This goal showed that.
TEAM - Liverpool

They set about Manchester City and stopped them playing right from the word go. Kenny Dalglish was very clever with his tactics in that game; he saw City's strength and power in midfield and he stopped that at source. Every one of the Liverpool players was up for it and they'd won the game before the first half had finished; there was no way back for City whatsoever after the break. Under Rafa Benitez, the Liverpool side was all about Fernando Torres and Steven Gerrard and if they didn't play then they often failed to win. Well neither of them played on Monday night and it's a welcoming sign for Kenny that he's been able to change that mentality. They proved that they have quality players and the result was never really in doubt.
PLAYER - Andy Carroll

He's erased the memory of Fernando Torres from Liverpool Football Club, which is amazing because the Spaniard was adored there. The jury was out on Carroll and his £35million price tag, but in one night he has become the darling of the Kop. They can now see him forming a partnership with Luis Suarez, which could get even better when Gerrard comes back into the midfield. He won acceptance on Monday night and that was a big hurdle to get over. He looked like the ultimate centre-forward against City.
GRIPE - Lee Mason again

How could he fail to spot Laurent Koscielny's foul Gary Taylor-Fletcher in the penalty area? What a shocker! I still think Arsenal would have won the game, but a spot-kick would have made things interesting. I wrote about Lee Mason last week when even Sir Alex Ferguson said Nemanja Vidic was lucky to stay on the field, and this week he gave another big decision in favour of the "bigger club". I'm sure all of the Arsenal fans would admit it was a penalty, but on the day the only person in the ground who couldn't see it was the referee. It always seems to happen to the teams at the bottom of the table. I'm sure Wigan will complain about Fernando Torres' foul on Al Al-Habsi on Saturday as well. People say it evens itself out over the course of the season, but I'm not so sure it does. Everyone make mistakes, but this is two weeks in a row for Mason - and it's been at the expense of the teams near the bottom.
Comments (15)
Trevor Naidoo (Manchester United fan) says...
Great column as always, Kammy! Spot on with the Game, Gaffer and Player of the week. Why do so called fans keep complaining that Man United get all the decisions going their way? Do they actually believe their own hype? Maybe we should get Martin Tyler to look at the stats!
Posted 11:02 14th April 2011
Tom Ashton (Blackpool fan) says...
on the lee mason issue i think he was bang out of the order with some of the decisions he made on sunday. As you mentioned about the foul on gary taylor fletcher there was another one right at the end of the first half on the goals line scramble when again fletcher passed the ball and van persie stuck his leg straight for him to go over. It isn't just that though. Quite a few games weve had officials costing us games, for example man city at the start of the season, when one of our goals got ruled out for offside when the player he gave offside didnt even have an involvement within the attack and also there first goal tevez was stood offside for at least ten seconds and he stayed offside when he scored, also with his second goal that was a clear foul on Ian Evatt and it got to the point of howard webb telling him to go down! that is what football is coming to these days! also when we scored at west ham and marlon harewood was miles onside when he scored but that got ruled out, Blackburn the other week when fletcher had it in the corner and blackburn player comes over and clearly fouls him which he decides to give a free-kick to blackburn and book flethcer which built up to their goal! This is why blackburn are so close to the drop because of poor referee's every single week, im not being biased because it is my team but if every decision got given perfectly right we would be mid-table easily.
Posted 09:49 14th April 2011
Joe Rose (West Bromwich Albion fan) says...
I'm a big fan Chris, great column as usual. I'm one of many happy baggies fan, who are hailing Roy Hodgson for the work he has done. Firstly under Di Matteo we played good football but defensively we were poor, Hodgson has keep the football and made us more organised which has lead to some great results in particular Liverpool and Sunderland. He has been a revelation and long may it continue.
Posted 22:19 13th April 2011
Darren hunter (Liverpool fan) says...
great picks again chris. Andy Carrol on the scoresheet and the memories of Mr Torres are starting to fade but after watching the match i thought suarez just edged it for man of the match myself but what an intelligent player he is and i think they will become a formiddable partnership, got to hold my hands up and say well done to Roy he's doing a fantastic job at west brom he didn't even get a bit of luck at liverpool which you do need sometimes, got to agree with you on Lee Mason absolute diabolical decision not to give the penalty and as for evens itself out i have never believed that we'll tell it to all the Blckpool fans if they get relegated i don't think they will buy it cast iron penalty. i think i'm more sad that the season is nearly over again. Great column
Posted 18:41 13th April 2011
Mark Jones (Blackpool fan) says...
Lee Mason's decision not to give a foul on Gary Taylor-Fletcher - and other equally appalling decisions by other referees against smaller teams - really makes me wonder whether some of these referees are taking bungs. I can't see why else Mason didn't award a penalty when it was so obvious and he was in such a good position. It was absolutely shocking refereeing.
Posted 16:58 13th April 2011
Richard Bramwell (Wigan Athletic fan) says...
Agree with the comments regarding "big club/little" club decisions. They do not even themselves out over a season, having watched the games at the DW Stadium for a few seasons now. If some of the referee's had given decisions in recent games against some of the so-called big clubs, then we would still be hearing about them from certain managers. Torres on Al Habsi, Blackpool penalty claim, Rooney on McCarthy, Caldwell having dental adjustments on the field, all indicate that little clubs get a raw deal. However, on the question of one referee, congratulations to Mark Halsey and his performance at Liverpool on Monday. You were hardly aware that he was on the field of play. Excellent game and a lesson to some others I will not name..
Posted 13:44 13th April 2011
Sam A (Tottenham Hotspur fan) says...
Suarez is a class act and Carroll will no doubt prove his worth over the next few seasons, even though £35 million for a striker in his debut season in the Premier League is excessive. What is difficult to accept as a Tottenham fan is that both these players were considered, and although passing up the opportunity to sign Carroll is understandable given his over zealous price tag, Suarez £20million valuation was afforadable and more should have been done to capture his signiture. He looks so determined and sharp and is quite a simular player to that of our beloved Van der Vaart, just with more pace and desire. Looking to the future we need two big name signing's upfront, if next season we are going to keep up with the likes of Chelsea, Man City and Liverpool, who have all spent big.
Posted 13:07 13th April 2011
Tom Sheldon (Liverpool fan) says...
good to see Hodgson doing well for West Brom. I like him as a manager but when it comes to managing a club with a reputation like Liverpool have i don't think he has quite the same impact
Posted 12:27 13th April 2011
Daryl Rogerson (Wigan Athletic fan) says...
It certainly doesn't even itself out. Or at least not for smaller teams like mine. Rooney should have been sent off against us. We should have had a penalty against Spurs. This weekend we were wrongly given offside, Davis Luiz should have been sent off and the goal we conceded shouldn't have been given. Decisions like these cost us points that we need to stay in this division.
Posted 12:25 13th April 2011
Sufian Babri (Arsenal fan) says...
Yes it is right that all Arsenal fans admit if a decision goes their way but that is not the case with ManU fans. LOL. Btw, nice article Chris. I agree that Hogson was not fairly treated and I believe it was more to do with the ownership at first and then as he says "the feeling of being wanted".
Posted 10:13 13th April 2011
Brian Fitzgerald (Liverpool fan) says...
On the Lee Mason issue. Is there a punishment or some kind of repramand for referees who make these mistakes or do they just carry on as if they were after all the decisions right. As a player if you make mistakes you wont be long about finding yourself on the bench.I know the line we are only human and mistakes get made but when you see some of the things that supossedly go un-noticed you do begin to wonder is there a sway in favour to the bigger clubs .Because when a decission goes against a bigger club there is uproar and the referee gets dragged through the media spot light.where as a decission against a smaller club will pretty much go un-noticed
Posted 09:58 13th April 2011
Nathan Jacobs (Manchester United fan) says...
On the lines of Mason and Vidic although I am a Man u Fan and may come across as biased i thought the ref had a great game for a change! Cole/Ba still had to bring the ball down, fully control before taking a shot on which means it wasn't a goal scoring oppurtunity? they may have made it so but it wasn't at the time, and how could West Ham really complain when given 2 penalties to on the same day? They were both fouls...whether the 2nd one was in or out was questionable but he gave benefit to them and Im fin with that...however overall I believe his performance was hard to question especially when big decisions were necessary. i Believe he got most correct but this weekend was a definite poor decision.
Posted 20:01 12th April 2011
Michael Bryan (West Bromwich Albion fan) says...
I would just like to thank Liverpool Fc for not accepting Roy Hodgson as their manager. He has been absolutely superb for West Brom andit looks like he may of saved us from another relegation Boing Boing
Posted 18:55 12th April 2011
Tunde Bajela (Liverpool fan) says...
I don't believe it evens out over the course of the season. It is a disgrace and could potentially devalue the Premier League brand. If the league table is reconstructed after backing out referees errors Manchester United will be mid table. Sir Alex caustic tongue and revered standing intimidated referees. Over the years biased officiating had helped Manchester United more than any other club. Even in Europe, referees are begining to succumb to the mighty influence of Sir Alex. We need men of courage to salvage Premier League from the ignominy of cheating and maniupulation of results. I can't wait for someone to review the impact of poor officiating on the Premier League since its inception. It will be clear that the men in black have become a big factor in swinging the pendulum of Premier League victories. Expect more of this as we approach the end of the season.
Posted 17:41 12th April 2011
Giles Osborne (Liverpool fan) says...
Great Column as usual, just a quick point, most LFC fans have forgotten Torres because of the performances of Suarez! Carroll had an amazing game and hopefully will turn out to be a star!
Posted 15:57 12th April 2011