Every Saturday afternoon, Chris Kamara heads to stadiums up and down the country to deliver his unique match reports for Soccer Saturday.
On Sundays you can see him back in the Sky Sports studios as he brings you all of the highlights on Goals on Sunday.
And then on Mondays you can find Kammy right here on skysports.com as he brings you his picks of the weekend.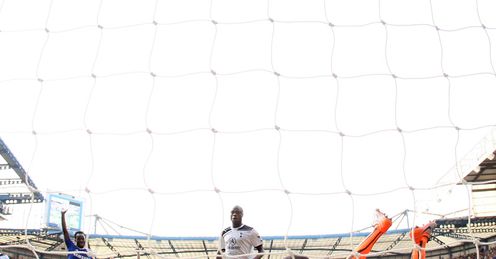 Join us every week as he runs through his highs and lows...
GAME - Arsenal 1-0 Man Utd

I have to choose this game because it's put the title race back in the balance. Arsenal have had a lot of stick of late after wasting so many opportunities to get back into it, but then they go and win the one game that people thought they might lose! It may be too little, too late for them, but it was good to see them bounce back after the disappointment of losing to Bolton. To be honest, I was surprised by the result and while some will say United were poor, sometimes you can only be as good as the opposition allow you to be.
TEAM - Arsenal

Fulham had a great win up at Sunderland, it was great to see West Brom come back to beat Aston Villa with 10 men and Blackburn picked up a big derby win against Bolton, but I have to choose Arsenal here. We all know Arsenal are capable of these performances, but they can't produce them as regularly as the Gunners teams of years gone by. The pressure was off them on Sunday - and we saw the best of them.
GOAL - Aaron Ramsey

In terms of importance, the goal from Aaron Ramsey is my pick because it's brought Chelsea back into the title race - and perhaps has even brought Arsenal back into play as well. As Arsene Wenger has said, this has been a strange season and it's not over yet. Last week I said the title race was all over, but this week I'm backtracking and saying there's all to play for! I look at the table and wonder how it's happened, but that's the beauty of football. It's also great for the player because before his long-term injury he was better than Jack Wilshere, so it's good to see him back and scoring again.
PLAYER - Maxi Rodriguez

I bet Maxi Rodriguez wishes there was 33 games to go rather than three because the forgotten man of Liverpool Football Club is finally showing us what he's all about. Rafa Benitez said he could be one of the best free signings ever, but we've not seen the best of him until now. I think he's thriving in the feel-good factor that Kenny Dalglish has brought to Anfield, he feels comfortable in himself and like the rest of them, he's realised they're not a bad bunch of players. It's come a little bit late as far as Champions League qualification is concerned, but hopefully that confidence will be there for next season.
GAFFER - Steve Kean

The Blackburn board have shown immense loyalty towards Steve Kean, but I think it would have been hard for them to stand by him if the team had lost to Bolton on Saturday. That would have left them out of the relegation zone only on goal difference and would have left a lot of questions to be answered. But he came through it and after 10 games without a win everything has changed. Now they can go to West Ham knowing that they just need to avoid defeat, rather than worrying about taking all three points.
GRIPE - The technology debate... again

I've been calling for goal-line technology for years and years and it's becoming like a broken record... in fact I'm sure people are fed up of hearing about it! But this has been an issue since Geoff Hurst in 1966 and we still haven't sorted it out in 2011. When Frank Lampard's shot squirmed past Heurelho Gomes, the referee should have been able to look at a monitor and decide quickly whether or not it was a goal. Then we could move on quickly and everybody can get on with the game, knowing that we'd got the right decision.
People say this would be the start and you'd then you'd have to use technology to make other decisions. I disagree. Nobody that I know in the game wants it for anything other than deciding conclusively whether or not the ball has crossed the goal line. We don't want to be analysing every decision, those are up to the referee, but we should be able to say whether or not a ball has crossed the line. It wouldn't take anything away from the game and in fact, it would probably add to the drama.
Comments (7)
Steve Lovatt (Stoke City fan) says...
The "goal" at Stamford Bridge may have big ramifications but despite Harry's protestations these decisions do even themselves out over a season - indeed spurs themselves clearly benefited in their away win a Stoke in August when Walters last ditch header was clearly over the line but it was not given by the myopic officials on duty that day Yes technology should be used Chris but it should only be for goal-line incidents and only when requested by officials - the moment it is extended to offsides or tackles etc using an appeal system such as in the cricket world cup then the moment football will turn into a sad US-style "entertainment" and not the sport it is today. Disputed calls actually add something to football - taking away talking points for the pub or even comments/bloggers - to remove all chance of incorrect decisions will sterilize the sport. Be careful what you wish for...
Posted 07:59 3rd May 2011
Homzie D (Manchester United fan) says...
Kammy, interesting choices...I feel the gripe should've been the decisions at Stamford Bridge..you've mentioned about the goal-line technology but I'm surprised that nobody mentioned that Kalou was 3 yards offside when he scored the injury time winner at the weekend...However, I don't think we deserved anything from our game at the Emirates...we got what we deserved....nothing! the title race is back on...we have to beat Chelsea at the weekend...it is a MASSIVE week with 2 home games...I don't think none of us (Man Utd, Chelsea or Arsenal) have easy fixtures on paper, so, it promises to be a very exciting end to the season!
Posted 03:38 3rd May 2011
Andy Mann (Middlesbrough fan) says...
The reason why goal-line technology has not been introduced is quite simple. It's the officials who make the decisions and provided they continue to remain impartial, I do not see the reason to change things. Despite what Chris says, I think that goal-line technology would definately just be the thin end of the wedge. Technology is o.k in some sports I agree, but refereeing is all part of the entertainment and nobody expects error-free officiating. Over the course of the season, every team will benefit and suffer from wrong refereeing decisions but so what ? If there was someway of ensuring that every incident in every match was refereed accurately, would it benefit any team more than another ? No. Would it detract from the entertainment value and disrupt the flow of the game ? Yes. That's why it hasn't been introduced and is unlikely to be introduced in the forseeable future.
Posted 01:31 3rd May 2011
Peter Kamau (Arsenal fan) says...
Well done ramsey and be positive always
Posted 23:53 2nd May 2011
Tony Shaer (Tottenham Hotspur fan) says...
The decision was an embarrasment to football. This isn't about if the referee or linesman wrong or right....it's about the correct decision. This blunder could cost any team ( in this case it's spurs) millions of pounds in revenue and for waht an extra 10 seconds to chack a monitor. What if that game was for the league title??? Therer has to be goal line technology.......bring soccer into the 21st century before there is major mistake.
Posted 21:21 2nd May 2011
David Pick (Newcastle United fan) says...
The technology thing - here's a much cheaper/effective way to solve this. Use the cricket method. 3 challenges per team per game - if you use a successful one, you don't lose any. If you lose one, you drop a challenge. Only to be used for decisions in or around the box/goalline. Put the 4th official in the sky/bbc editing suite so he has all 16 (?) camera angles live + zooms and gives the decision. You don't need goal line technology when the HD cameras being used at nearly every game in the top 2 divisions do this already. It might take 10-30 seconds depending on the decision so add on injury time the same as a substitiution does. If this isn't simply I don't know what is. Rugby do something seperate, but Tennis and Cricket have proven this type of method works.
Posted 17:06 2nd May 2011
Sid Sewell (Barcelona fan) says...
Another naive view that by introducing technology we can solve the issue over incidents such as the one we saw at Stamford bridge on Saturday. What pundits and supporters of letting the referee have access to a monitor and view replays of the incident is that it will stop the game for more than 5 / 10 seconds, Alan Shearer even said it would take 2 seconds - laughable !!! Even Alan Smith ( co commentator ) only 'THOUGHT' the ball had crossed the line when he viewed it after several showings and various angles. The point is that even after all the television replays it remains inconclusive in many incidents and debates last for minutes rather than seconds as pundits suggest. There are so few incidents like this that I do not consider it a priority. Instead I would like to see referees assistants become more involved and take on greater responsibilty for decisions they are yards from. They are reluctant to become involved even though they have the better view of a particular incident. By rectifying this it would improve and is far more fundamental to the game we all love than the odd decision that happens 5 maybe 6 times a season if that. On many of the 'was it was'nt it a goal ' incidents it is impossible to judge 100% that the ball has crossed the line, even after countless replays and assorted angles.
Posted 16:24 2nd May 2011