Every Saturday afternoon, Chris Kamara heads to stadiums up and down the country to deliver his unique match reports for Soccer Saturday.
On Sundays you can see him back in the Sky Sports studios as he brings you all of the highlights on Goals on Sunday.
And then on Mondays you can find Kammy right here on skysports.com as he brings you his picks of the weekend.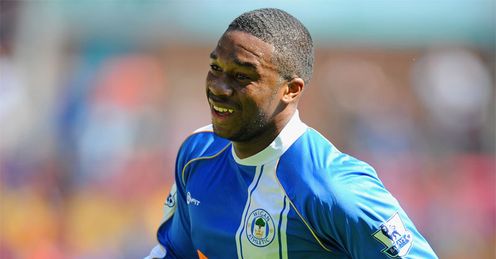 Join us every week as he runs through his highs and lows...
TEAM - Wigan

Roberto Martinez's side did it the hard way, coming from 2-0 down to beat West Ham 3-2 and condemn the Hammers to relegation. It was a real pressure game and they were staring down the barrel at half-time. They could quite easily have folded but they showed tremendous character to turn the match on its head, and they now have a real chance of preserving their Premier League status. To be fair to them, they have been playing well of late and while we know anything can happen on the final day, they will head into their match at Stoke full of confidence now. Elsewhere, Wolves were brilliant at Sunderland as they managed back-to-back wins for the first time since 2009. They have played pretty well all season without getting the rewards and that can suck the exuberance out of you, but they have stayed strong and will be hopeful of securing safety in the final game at home to Blackburn. And finally a word on Manchester United, who won their 19th Premier League title at the weekend. People say they are not a great team and maybe they're not, but you can only beat who's in front of you and over a long, hard season they have been the best side.
GAME - Blackpool 4-3 Bolton

This game was something else! Blackpool kept going and going, which is in keeping with the rest of their season. Even if they go down at the weekend, they have been an absolute credit to the Premier League, every single one of those players. Look at Jason Puncheon; he's on loan from a League One club in Southampton because he was out of favour there, but now he's scoring goals - good goals - in the top flight. Bolton played their part in this game though, that's for sure. Owen Coyle bemoaned his team's defending but going forward they were really exiting, as they have been all season. They have had a really good campaign, with the FA Cup semi-final defeat against Stoke their only real low point. Owen deserves great respect for that. Moving on to the Sunday, and the Wigan v West Ham game was an end-to-end classic; Charlie Nicholas went mad detailing it for Soccer Special! As exciting as it was though, it was symptomatic of West Ham's year; they got themselves in a reasonable position and let it ebb away. While most people were catching their breath after a hugely entertaining contest, West Ham were counting the cost of relegation.
GOAL - Charles N'Zogbia

I'm going to give this to N'Zogbia's stunning free-kick against West Ham, because not only was it a great goal, it also changed the dynamic of the game. That strike gave Wigan an injection of confidence and made West Ham fear that once more they were going to falter from a winning position. Wayne Rooney comprehensively smashed home a penalty to seal the title for Man United, while Rafael van der Vaart showed his tremendous technique again to net a lovely goal for Spurs against Liverpool. I'd also like to mention Charlie Adam's winner for Blackpool versus Bolton. Everyone loves Blackpool's positivity but they don't always get the props for their quality. The Tangerines' fourth was a wonderful passing move which was crisply finished by Adam. If Arsenal score a goal like that, people are very quick to praise them, but when it's Gary Taylor-Fletcher to Charlie Adam and not Cesc Fabregas to Robin van Persie, not enough is said.
PLAYER - Charles N'Zogbia

A lot of people have been watching N'Zogbia and Birmingham almost had him at the start of last term. After his display at the weekend even more people will take notice. He has this reputation as a bit of a maverick and someone who you can't rely on but if you look at the goals he scores, they always seem to be crucial ones. I remember he netted a wonderful winner against Arsenal late last season which helped Wigan stay up and his goals against West Ham may mean they do the same this time around. He is an excellent player - and he knows it! He will have aspirations of playing for a so-called 'bigger' club and he will become an even better player if he joins one, because he will have higher-calibre figures around him. He's really done the business for Wigan and while Martinez won't want to lose him, he may have to. DJ Campbell deserves to be pointed out; he scored twice for Blackpool to take his tally to 13 for the season and has proved the people who say he isn't a Premier League player wrong. 17-goal Darren Bent is the only English marksman ahead of Campbell and he should be praised, too. The £24millon that Aston Villa paid Sunderland looks like an absolute snip. How many goals would he have scored if someone like Chelsea had bought him?
GAFFER - Roberto Martinez

Roberto Martinez made some bold and ultimately successful substitutions against West Ham when he brought on Victor Moses and Conor Sammon at half-time. Both players made a terrific impact in the second period; Sammon even got on the score sheet to net the Latics' equaliser. Even at 2-0 down, some managers would have been quite cautious but Roberto went for it and got his rewards at the full-time whistle. Another Roberto, Manchester City boss Mancini, also had a great weekend. He has been under so much pressure at that club and I didn't think he would survive this season. But after securing a Champions League spot last week and then winning the FA Cup on Saturday, you're almost certain he will remain at Eastlands. Manchester City were crying out for success and thanks to him they've achieved it.
GRIPE - West Ham's relegation

If a side gets relegated having given their all but they fail due to a lack of quality, that's something you can accept. I don't think that's been the case at West Ham. There is absolutely no way they should have gone down with the squad at their disposal. Some things have been out of their control, like missing Scott Parker for a chunk of the season, but overall they have been poor. The manager has been constantly undermined, like when the club's pursuit of Martin O'Neill back in January became public knowledge, while their strikers have missed some absolute sitters as their position became more and more perilous. You lose count of the amount of times they have surrendered winning positions as well; they've had a shocker. Hopefully the club can make a quick recovery because they are a big team with a great tradition. Now that Avram Grant has been sacked, there will be no shortage of managers wanting to take the reins and get West Ham back on an even keel.
Comments (7)
Boic wayne Bafana (Manchester United fan) says...
all am saying is n'zogbia deserves to be at at better club than winag no offense to wigan fans.... the guy is just too much he can take on any defender in any situation and he can score you goals to... WHAT A PLAYA HE IS, id have suggested united but we already have nani and valencia Blackpool deserve to stay after killing united's unbeaten run. SCHOLES PLEASE STAY ONE MORE YEAR TEACH GIBSON 1/4 OF YOUR KNOWLEDGE
Posted 15:42 20th May 2011
Alex Brown (Newcastle United fan) says...
West Hams squad is over rated and thats why they went down. Newcasle were the same 2 years ago. Who ever said Upson was an international defender becasue he is hopeless.
Posted 11:28 19th May 2011
Andy Curry (Newcastle United fan) says...
It is a shame to see West Ham go down however, it is deserved given the way they have played over the season. It may turn out to be a blessing in disguise though (as it was for the toon) as now the hammers have the chance to get rid of the leaches and over rated players in their squad and build a team that wants to play for the badge, not the pay cheque. Just remember the state of Newcastle when we went down and look at us now. I'm pretty sure West Ham will be back at the first attempt. Wigan and Birmingham to go down as well!
Posted 09:16 19th May 2011
Arthur Gillett (West Ham United fan) says...
A fair enough assessment from Kammy . The truth is the writing has been on the wall for too long ,in fact since the Icelandics bought in we have been under constant turmoil. The wrong managers appointed, the wrong players bought and sold,stupid wages paid. Even now our board are to often spouting off to the media .Now we have to live with relegation but get the opportunity to offload a lot of the deadwood ,bring in a new hopefully british manager and invest whatever we make from player sales wisely together with the introduction of some of our academy players into the team and rebuild from the bottom whilst still playing the brand of football that used to make WHU the team that was mostly peoples second choice team after their own
Posted 13:20 18th May 2011
James Gooch (Liverpool fan) says...
Agree with all the points kammy aside from where you talk about a plethora of managers wanting to take the hammers job. I really don't think there will be many wanting it who are of a good caliber - why would they with those owners? Can't see it. They will have to aim lower than the likes of O'Neil etc.
Posted 13:05 18th May 2011
Iain Russell (Newcastle United fan) says...
Not one mention of a severely under strength Newcastle playing out a very credible 2-2 draw with currant No.2 and last years champions Chelsea. Who, in case you forgot, fielded 3 England regulars, aswell as international regulars Cech, Ivanovic, Alex, Ramires, Benayoun and Torres (Anelka only recently cut from the French team). And then to bring on Drogba, Malouda and Essien!! What international players did Newcastle have on the pitch, Jonas has had a decent amount, as has Lovenkrands, Colo has a couple of caps, Barton has 1... Then our sub's consisted of 20 year old Kazenga LuaLua's league debut for Newcastle, 19 year old Sammi Ameobi's league debut and 21 year old Nile Ranger. All this coupled with it being at the Bridge, where we haven't won a league game for 25 years now, and we don't even get a passing mention? Credit where credit's due Kammy.
Posted 11:50 18th May 2011
Stephen Hill (Wigan Athletic fan) says...
Its nice to see Wigan get some credit for once. They play great football, have lost only one league game more than Liverpool and im convinced they will stay up. Special mention to Diame, he will grow into a star next season. Reminds me so much of Viera.
Posted 04:02 18th May 2011