Every Saturday afternoon, Chris Kamara heads to stadiums up and down the country to deliver his unique match reports for Soccer Saturday.
On Sundays you can see him back in the Sky Sports studios as he brings you all of the highlights on Goals on Sunday.
And then on Mondays you can find Kammy right here on skysports.com as he brings you his views on the weekend. Join us every week as he runs through his highs and lows...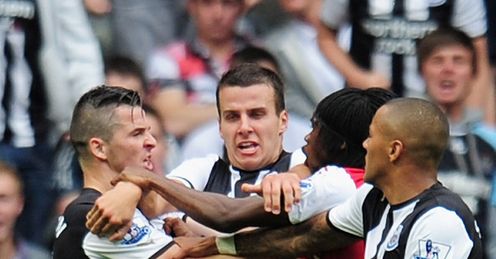 Joey Barton shouldn't have got involved with Gervinho...
There was no need for Joey Barton to do what he did on Saturday. The referee decided it wasn't a penalty when Gervinho went down, Newcastle had the ball and play was going on. Yes, the Arsenal player made a meal of it but we've seen worse, so Joey should have carried on playing. Instead he picked him up by the scruff of the neck - and, remember, that could have been enough to give away a penalty, even if the ball is at the other end of the pitch - and all hell broke loose. He shouldn't have got involved.
I listened to his radio interview on Sunday and it was pretty much along those lines. He knows he shouldn't have got involved. He also knows he went down too easy when Gervinho raised his hand to his face.
We should have been talking about Alex Song instead...
Joey Barton did nothing wrong in the first incident. Yes, he fouled Song, but then he was stamped on. Barton said if he'd done that then he would have been hung, drawn and quartered and that may be so. But that's because he has a reputation and Alex Song doesn't.
Joey's a pal of mine and I would say these things to his face. Hopefully he watched Goals on Sunday when we were discussing the situation because we always try to be constructive about things. We're not about condemning people and instead we give honest opinions and try to find solutions. Most people in the game like that and that's why people want to come on the show.
I'm worried about Arsenal...
... and I think Arsene Wenger's worried as well. All the quality - the extra ingredients you need to be successful - is leaving the club, but these are still early days. He still has stars like Robin van Persie, Andrei Arshavin, Theo Walcott and Thomas Vermaelen and he still has time in the transfer window to bring in some more. There's a lot of money coming from the sales of Samir Nasri and Cesc Fabregas and I hope he's identified a couple of players already. They are still capable of having a good season.
Kieron Richardson should have seen red...
When the Sunderland man brought down Luis Suarez, it was definitely a goalscoring opportunity. How could it be anything else? The striker was going wide to take the ball around the goalkeeper and whatever happened he was going to get a shot in. You could say a penalty is sufficient punishment and it doesn't merit a red card, but the problem with that comes when the ball doesn't reach the penalty area. If the last defender brings a player down 10 yards outside the box then it becomes a grey area. That's why the laws say the defender should be sent off and according to the rules, Phil Dowd has got it wrong. End of story.
Sunderland fans can feel very happy right now...
I was at QPR and saw Gary Cahill score a cracker for Bolton, but Sebastian Larsson scored the goal of the weekend for Sunderland. What a strike that was! I like him because he's a grafter; he grafted for Birmingham last season and scored lots of important goals for them. Sunderland fans can be very happy after coming from behind at Anfield and the new faces were playing well. They still have a few quid in the bank too!
Flavio Briatore had a wake-up call on Saturday ...
QPR seemed to hope that, by relying on Neil Warnock's expertise, they can stay in the Premier League for nothing. Well maybe the 4-0 home defeat to Bolton will act as a wake-up call. I'm not saying they need to spend £50m on new players, but they need to improve what they've got. They've brought in Jay Bothroyd and the unfortunate Kieron Dyer, but they need to strengthen the back four. I went in the Bolton dressing room before the game and they were telling the players to get at the back four, so it's clear they need to improve in that department.
To be fair to QPR, there wasn't a lot in it for an hour. The Gary Cahill goal turned it in Bolton's favour and the home team folded a little bit in the last 30 minutes. They had some bad luck with deflections - Danny Gabbidon slid in like a striker for the second goal - but at the end of the day, Bolton were too strong for them.
Norwich never know when they're beaten...
Last season, Norwich built their success on fighting spirit and battling right until the end of every match. I've spoken people who thought that fitness wouldn't make any difference in the Premier League, but I think it will. They'll go for 90 minutes and never know when they're beaten and I'm sure Paul Lambert will want his players to do that for the next nine months. When they go behind - as they did against Wigan - they must keep going because they're always likely to create a chance or two.
There were some strange decisions at the Britannia Stadium...
I thought it was strange for Chelsea not to start with Didier Drogba against Stoke, but Andre Villas-Boas got away with it. If they lost he'd have got a lot more criticism. I also thought it was strange that Fernando Torres got man of the match. Their defenders did very well and Stoke's Jonathan Woodgate was outstanding in his comeback game. He would have been my choice.
Man United have more matchwinners than anyone else...
United started with a whirlwind and my tip for top goalscorer, Wayne Rooney, got me off to a flying start. But he's not their only matchwinner and that's the problem all the other teams will encounter. There's Ashley Young, Nani, Dimitar Berbatov, Javier Hernandez, Michael Owen, Danny Welbeck and Ryan Giggs... there's no other teams with so many. I haven't bet on them to win the title yet because Man City or Chelsea could still go out and sign three or four new players but they are looking very strong.
David de Gea must get his body language right...
The Manchester United goalkeeper's confidence will not be high at all after his mistake against West Brom, but when Edwin van der Sar or Petr Cech make errors they don't show it. They might be dying inside, but outside the confidence remains. You have to be able to handle playing for Manchester United and it takes mental strength. De Gea's body language won't have been good for Sir Alex to see and I'm sure he and Eric Steele will tell him to forget that goal and move on.
Comments (49)
Shaine Edwards (Manchester United fan) says...
Moe sanderson how can you say Carrolls goal should have stood he clear nudged him nt a lot but enough to win the ball u cnt raise your arm like that and expect get away with it and cheese not even top 5 they will be top 2 with man u
Posted 12:08 18th August 2011
Mike Bannon (Manchester City fan) says...
On the subject of the Liverpool penalty, did anyone notice that even though Richardson went into Suarez with his shoulder that Suarez actually trips himself up? As for the handball claims I think Suarez was moving too fast to move his hands in time and was just protecting his face as a natural reflex. As for Joey Barton, what he did was bang out of order to react in the manner he did to Gervinho, I think anyone in any situation if they got grabbed by the throat would react as Gervinho did if not worse. Barton is a hypocrite, Gervinho went down when he felt minimal contact (replays show there was contact, no less than Lampards penalty claim in the Stoke game) and then Barton did exactly the same when he was slapped!
Posted 20:10 17th August 2011
Michael Davison (Aston Villa fan) says...
Absoloutly 100% aggree with what Joey Barton did, we are on the brink of turning into la liga and series A where tackling is not aloud. People caught diving should be sent off , and if evey player reacted to divers the way Joey Barton did , we'd soon see it out of the english game. Fair play Joey
Posted 16:58 17th August 2011
Max Bray (Chelsea fan) says...
After watching the game at the Brittania on Sunday, it's painfully clear to see Chelsea's problem. It's the wingers. Kalou has had a few appauling seasons, and his expiry date has well passed at Chelsea. Every time a move went down the right, he gave away possesion. His awareness is among the worst in the premiership, as well as his first touch, crossing and shooting. Hopefully AVB will have spotted this (which I presume he will) and will give Sturridge the starting spot on the right. There's no aggression in the final third, something which Utd have absolutely mastered. Malouda can still play a part in the squad, but we need someone with far more pace and ingenuity than him, although he does keep the ball well, he doesn't often attack the goal directly, something absolutely necessary from a winger in a 4-3-3. If we are going to go for another player, I'm not so sure Modric would be the best choice, although I wouldn't be complaining. Eden Hazard would be a quality choice for a bit of creativity behind the striker, something Lampard hasn't been able to do recently. He would be far more effective now playing from deep and arriving later rather than playing the ball higher up during the first attacking phase of play. McEachran needs time on the pitch as well. I can see him and Ramires making an excellent centre mid combination, both have great passing range and play the ball quickly rather than dither on it as Lampard and Mikel have a habit of doing. To summarise, we'd be far better off looking for a right-footed left winger, that would balance the front line, give us more options to use width, and give Torres/Drogba/Lukaku a lot more service (especially useful with Drogba/Lukaku aerial abilities) Hope other Blues supporters see the logic in this!
Posted 13:49 17th August 2011
Moe Sanderson-villas (Liverpool fan) says...
Spot on Chris Kamara, love watching you on Soccer AM and others, Luis Suarez was defo fouled by Richardson and I feel the Carroll goal should have stood. As for the Chelsea game its almost clear to see that there is a neglect for the other strikers and Fernando Torres has been made top priority, why else will he have started alone upfront. Roman seems to be the one that organises the team sheets, AVB is a muppet and will not take Chelsea to top 5 this season.
Posted 22:35 16th August 2011
Jarramag 86 (Newcastle United fan) says...
are all arsenal fans just carbon copies of arsene wenger all yous do is moan and whinge, yous are a soft bunch like moaning about bartons tackles that both took the ball away even if they went through the player. yous want to go watch some sunday afternoon football matches and see some real tackles
Posted 22:26 16th August 2011
Ezra O'neill (West Ham United fan) says...
I'm an English coach, referee/player and am currently on a football scholarship in America; I've refereed for ten years in amongst playing in England, Ireland, Canada, the USA and Costa Rica. I can't help but comment on the analysis of the Kieran Richardson red card: please people, get rid of this myth that there is a ruling in the Laws of the Game mentioning anything like the phrase the 'last man'. There is no such thing, it's the pathetic phrase used by those who suddenly become qualified referees whenever they see an incident in football that they really don't understand. People have a habit of assuming that if they don't understand something, it must be wrong which more often that not, isn't the case. The Laws state that it's the "denial of a clear goalscoring opportunity", which is worthy of a dismissal. If Richardson had committed the same foul as the 'last man" (Lol, I have to laugh at that) when the striker was 40-50 yards away from the goal would that be a CLEAR goalscoring opportunity? No, the striker still has a long way to go to get into a scoring position. Many will mention the caliber of player going to goal, yes it's highly likely that Suarez would have got a shot off because he's playing at the highest level, but when you are moving away from the goal, within the Laws of the Game, it isn't considered a goalscoring opportunity. The Laws are the same for everyone from the parks to the Premiership and although I'm not entirely fond of Phil Dowd and his refereeing, I have to stand up for him and say that within the Laws and his position as a professional match official, he got the decision 100% correct.
Posted 21:45 16th August 2011
John Smith (Manchester United fan) says...
I will probably get slated by all Liverpool fans for saying this but I'm pretty sure that when Suarez blocked Richardson's clearance, he did so with his arms? I've watched the replay several times and it looks like handball to me. Slate me all you want but we are all allowed our own opinions
Posted 19:52 16th August 2011
Emeka Anajemba (Liverpool fan) says...
KD please work on the defence to stop conceeding cheap goals. How could Larsson have had so much freedom to exercise such class. They gave him too much space.
Posted 17:27 16th August 2011
Ibrahim Oiro (Arsenal fan) says...
Kudos Chris 4 your good comments on the incident that took place on saturday between Joy Barton and Gervinho as much as we will all agree that Gervinho was abit silly on his reaction, we should also ask our self for how long will FA go on entertaining players of Barton's calibre? Barton does very stupid things provoking players from opposite team and gets away with it, after the incident between him and song why did he have to confront the fourth official and he got away with it, match officials should be fair in their desicion making.
Posted 15:20 16th August 2011
Yenchong Yap (Manchester United fan) says...
David will be another great goalkeeper for MU. I don't think those early mistakes will demoralise him but on the contrary. He is just 20. SAF please give him another few games more to adapt to the English football and you won't regret it
Posted 15:00 16th August 2011
Billy Nomates (Newcastle United fan) says...
I think in general the refs have done a good job. You could argue Richardson should have went as Suarez still had it under control. And Carrolls goal should have stood but kudos to Anton Ferdinand for making the most of it and digging himself out the do do. All in all Dowd did fairly well. Barton was correctly yellow carded, ludicrous to suggest he should have had a red or it was a penalty. Ref was trying to play advantage at the time and simply pulled play back to deal with the incident once Barton took exception to the dive. And pulling someone up by their shirt is a yellow card, not a red. You can't just change the rules because its Barton. Rio Ferdinand also takes great exception to people diving, and I've seen him drag numerous players to their feet (Tim Cahill) Funnily that wasn't even an issue for people! Finally for those saying he should also be booked for feigning injury, that would only be the case if he has not been struck.
Posted 14:34 16th August 2011
Colin Winship (Newcastle United fan) says...
I am not defending Joey Barton or Steven Taylor because I think that they only sucedded in making a bad situation worse. However, lets look at the facts. Song should have been sent off. It wasn't a leg breaking tackle that Barton put in on him (as some Gooners on here would have you think), I don't think it was even given as a foul. Cowardly act then by Song to stand on a bloke when he is on the floor. Gervinho dived several times throughout the match should have been booked in the first half for this. Penalty - NOT AS LONG AS MY BACKSIDE POINTS SOUTH !!!! Being generous to Gervinho his fall was exagerated. Barton drags Gervinho off the floor - wrong and deserved a booking. Taylor did what he did - wrong, just wrong . However you look at it you can not raise your hands. So lets assume that the ref doesn't see the slap (not a punch Joey) and Barton doesn't have his Platoon moment, then Gervinho gets done by the FA on Monday morning just as Song has been done (and rightly so). I have to disagree with Mr Wenger, and all the Arsenal fans, & say that whilst Messrs Song and Gervinho deserved red cards, Barton's yellow was correct and warranted no more. Don't know if they can do anything about Taylor, but he deserves some puishment for his part in this too
Posted 12:19 16th August 2011
Neil L (Liverpool fan) says...
Sunderlands fans moaning about a striker charging down the last man and trying put pressure on the back 4 getting a bit of luck via a ball to hand not hand to ball need to remember a couple of things, firstly a striker should never be penalised working his sock off and getting a bit of luck. It that was Anton charging down Suarez and clearing the ball off the line without knowing what he was throwing at it and the ref gave a penalty, you would be creaming blue murder! Secondly, lets not forget your little bit of Luck last year via a beach ball! A goal that should definately not have stood! Call it cheating, call it bad reffing, call it what you want. I call it reward for a grafting forward player and maybe a bit of Karma too!!
Posted 11:53 16th August 2011
I Hardy (Newcastle United fan) says...
Aggree with Michael Tuckwell. The Kieron Richardson issue should never have even been a penalty as Suarez handled the ball. He moved his arms in front of his face, rather than head the ball (players still know how to put their forehead in the way don't they?). This is clearly hand to ball, and should have resulted in a free-kick to Sunderland. Why have none of the pundits/media spotted this? I noticed it without requiring any slow-mo replays.
Posted 11:42 16th August 2011
Ian Baum (Bolton Wanderers fan) says...
How can blinkered Newcastle fans say Joey Barton did nothing wrong ? He went down like a sack of spuds from a tap that wouldnt have bothered a two year old.Oh i forgot thats what he acts like. He should be charged with bringing the game in disrepute.
Posted 11:24 16th August 2011
Tom Andrews (Cheltenham Town fan) says...
Utd 'fans' discussing dives? Well, they are the experts after all. Richardson should have gone, but Phil 'Man U' Dowd fails to send him off. No shock there. No idea who'll win the league this season. Utd have a good side and all the officials, City have all the money. Here we go
Posted 11:13 16th August 2011
Tel K (Manchester United fan) says...
Joey Barton has taken a lot of stick in the past just when you think he is getting it together the red mist desends again . It must be really difficult when other pros are trying to cheat you but he should have just stepped away . Joey Barton has the ability to play at a higher level & under the right manager on another note wonder what Joey would have done if someone had hit him round the ear outside his local on a saturday night dont think he would be shot by sniper for some reason
Posted 10:59 16th August 2011
Bruno Kaufmann (Crystal Palace fan) says...
I love how all these Sunderland and United fans claim Suarez dived. I didn't realise you had all gone blind? Suarez was obviously tripped, and it would have been harsh to send Richardson off. Dowd made the right decision. When Suarez blocked the shot it did hit his hands but he was protecting his face which you are ALLOWED to do. And you want to talk about diving? Anton Ferdinand gets the header all wrong and crumples to the floor in order to blag a free kick. An absolute joke. Last point on Joey Barton, he's an absolute hero for doing what he did. Players will think twice about diving if they know Joey's going to be on their case instantly! Diving could be the difference between a win and a loss, so I'm just thankful Man United got rid of Cristiano 'a gust of wind could knock me over' Ronaldo. The biggest disgrace in the game
Posted 10:54 16th August 2011
Dev Cal (Sunderland fan) says...
Totally agree with Dean re Taylor. The amount of times he has dived and feigned injury is embarrassing. Barton just contradicts himself when he talks about the incident - he is always the victim. Good player but needs to just concentrate on the game.
Posted 10:53 16th August 2011