Sepp Blatter's comments are incomprehensible, they really are.
There speaks someone who has never been abused for their colour or their creed throughout their whole life. This sounds like someone who has gone through life thinking that everything in the world is perfect.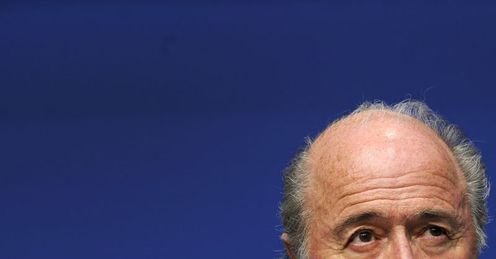 How can somebody like that be the head of FIFA, an organisation that represents so many countries and so many cultures?
It saddens me. I am a patron of Show Racism The Red Card and I'm involved with the Kick It Out campaign as well and it's so sad to hear the head of football suggesting that on-field racism can be dealt with by a handshake after a match.
It's impossible for him now to continue because all of the countries around the world cannot trust him. Regardless of whether he resigns or whether he is kicked out, he can't stay. You can't have somebody like that at the head of football.
Chris Kamara
Quotes of the week
It explains an awful lot. I look at some of the sanctions imposed on countries found guilty of racist chanting and they are laughable. Some of the fines issued in the past have been a joke, quite disgraceful, and now we understand why. It's because the issue isn't being taken seriously. It's being brushed under the carpet.
It's impossible for him now to continue because all of the countries around the world cannot trust him. Regardless of whether he resigns or whether he is kicked out, he can't stay. You can't have somebody like that at the head of football.
He should be the one person who doesn't see any colour. He should be the one person who's helping the cause, not damaging it.
Of course, he shouldn't be focussing on this all day long, his job is to govern football and we shouldn't forget that's what FIFA is all about. But he should be the one person who really hammers home the point that it doesn't matter where you're from or what colour you are, any sort of racism will not be tolerated.
Those should be the words coming out of his mouth and not "at the end of the game, we shake hands".
I accept that he has released a statement saying he is committed to the fight against racism and I'm sure that 97 per cent of the stuff he's saying is along the right lines. But there's still three per cent of what he's saying that is old; it's stuff from years gone by.
You can't suggest in one interview that it really isn't that important and then come out and say "I'm leading the fight to get rid of it." He is very wrong.
Understand
Racism exists in society and we all understand that. Yes, football has cleaned its act up over the years, but there is still room for improvement. Allegations have reared their ugly head this season and that tells you that it's not gone away completely.
When I first started playing the game in the mid-1970's it was simply horrendous. That was a world when Alf Garnett and Love Thy Neighbour were on television and you'd go into training the next day and the lads would relay stories from the show. It'd always be: "I'm not talking about you... but did you hear it when he called him this or that." That's how society was and unfortunately you had to accept it or fall by the wayside.
From where it was then to where it is today is a million miles apart and I, like all the players who were around at that time, know how different it is now. For us, it would have been a dream for the situation to be like it is in 2011.
But just because we've improved things 90 per cent, why shouldn't we try to eradicate racism 100 per cent?
All Blatter has done is to encourage people to have the attitude: "I've made a mistake there, but the head of FIFA says it's ok if I shake your hand. Is that okay?" Absolutely not. It's unacceptable.
People do say things in the heat of the moment and you'd like to think you can say sorry for it afterwards, but sometimes sorry isn't enough. You can't expect to make up for your words with a handshake, it doesn't work like that. The FIFA President should understand that more than anybody else.
Blatter cannot stay in his job, it's as simple as that. What we need now is for all of the governing bodies to get involved and say we can't have a head of football coming out with comments like this.
I honestly can't see him remaining in his job and that would be for the good of the game. We've heard his comments about women's football, we've heard his comments about homophobia and that's before we get to his views on things like goal-line technology.
This is the latest in a long line of gaffes, but this one is irreparable.
Comments (28)
Mike Adubato (Arsenal fan) says...
Face it everybody, Blatter is going nowhere. True, he should have been pushed out years ago for everything else mentioned in Kammy's article, but this guy, for some reason, is untouchable. The national FAs have no gonads and don't want to risk upsetting King Sepp.
Posted 14:14 18th November 2011
Matt Cheshire (Manchester United fan) says...
@Alec Paton Your a moron as blind as Blatter not that is does have anything to do with the current media attacks against Blatter but one of the reason that I found it shocking that we lost to Russia was the amount of racism over there towards black footballers I guess now we know why Blatter thinks it's all better after a handshake get him out before he does anything else stupid
Posted 09:36 18th November 2011
Kevin Roberts (Liverpool fan) says...
ALEC PATON, you sound as bad as Blatter, maybe you have been raised in a prejudiced household, but i think most of society wants to improve relations between different races and cultures, thank the lord you dont hold any position in the world governing body of football, between you and Blatter im sure you could send us back to the dark ages. Take a good look at yourself, you are prejudiced and have no idea about racism, you're part of the problem. THIS NEEDS TO BE
Posted 09:26 18th November 2011
Seth Bouah (Manchester United fan) says...
@ Alec Paton you are a sad man. You just proved to me that you have NEVER been abused just because of how you look. I feel sorry for you. Football is no place for that kind of flith old Sepp should step down.
Posted 01:33 18th November 2011
Ajay Mittal (Manchester United fan) says...
In response to Alec Paton's post.. I'm assuming you are white and have never been subjected to racist comments? Your comments are ridiculous.. why should anybody "be man enough" to accept racist remarks? It has no place in society, in football, or anywhere. Racism is a thing of the past and nobody should feel the need to just accept racist comments in this day and age. People like you should have been left back in an era where racist comments were acceptable (i.e. era of slavery)... you obviously have no social awareness and it is ridiculous that Sky have actually published your post. Pathetic!
Posted 00:25 18th November 2011
Paul Cahoon (Liverpool fan) says...
This fool should have been let go along time ago,so far gone from the ordinary football supporter that he has no comprehension of whats going on.
Posted 23:54 17th November 2011
John Jennings (Manchester United fan) says...
Unfortunately, despite the calls for his resignation, nothing will occur. The footballing nations of the world will not stand against him as they are able to line their own pockets with him in charge. Our FA who are supposed the defend the interests and integrity of the game here in the UK are nothing short of a castrated, frightened dog before FIFA, they won't stand up for the right course of action nor if they do grow a pair will any kind of official act be made against Sepp Blatter. This a harsh fact. Yes he should resign for many reasons and this is, should be the nail in the coffin, but he will not go.
Posted 19:47 17th November 2011
Carl Walters (Manchester United fan) says...
Alec Paton that is exactly what is wrong in football. racism is not needed and any individual should be punished severely if found guilty! sepp blatter has been troublesome not just for england but for everyone involved in football since he came to power and its time for him to go. His views are not welcome in the majority of world football and he should go before he disgraces the game any further!
Posted 19:08 17th November 2011
Sohesh Patel (Liverpool fan) says...
Sepp blatter, serious mistake but who in the world is going to make him accountable or remove him, he has too much power and the goverments of the world should suspend all international football till he is gone, its not as if the football world is poor and cannot afford it, this would make a real statement and no future president would be so arrogant
Posted 18:26 17th November 2011
Alan Richards (Birmingham City fan) says...
Blatter should go now, but I doubt very much he will do the honourable thing - he doesn't know the meaning of the word. The corruption at FIFA starts at the top, but I'm not very hopeful about Michel Platini either. He seems to be anti-Brit to me.
Posted 17:36 17th November 2011
Alec Paton (Raith Rovers fan) says...
This is just a load of rubbish, most of the comments are only anti Blatter as they think he was responsible for England not getting the world cup finals, which they did not deserve in any case, as for the racist issue if someone is called names by the colour of their skin they should be man enough to stand up to it. Blatter was correct at the end of the game just shake hands and walk away.
Posted 16:16 17th November 2011
Nathan Garbett (Liverpool fan) says...
sepp has to go no room for racism in footballl
Posted 16:10 17th November 2011
Simon Jones (Aston Villa fan) says...
Kick out racism, kick out Blatter! Quite simply, Blatter has to go! His comments are disgraceful. We don't need people like him involved in football. So much work has gone into trying to eradicate racism from our game and this totally undermines the work done by the various campaigns.
Posted 15:26 17th November 2011
Okon Effiong (Chelsea fan) says...
Blatter did not ask accused FIFA members to shake hands with their accusers when the organisation was rocked with corruption scandal. Blatter has no place in today's football. His utterances may be acceptable in a private conversation, but making a such public statement on how to tackle racism in football clearly reveals his hypocritical stance on the matter. He MUST go.
Posted 14:12 17th November 2011
Jon H (Liverpool fan) says...
Spot on Kammy, whether Blatter likes it or not, as the head of FIFA he is accountable for everything he says and mistakes such as this and others that have been mentioned cannot be brushed under the carpet. I am not saying he is inept or incapable of doing the job (a person who has been in that position for this long must be doing something right) but the media will always latch onto the thing that you do wrong rather than the things that you do right. In that regard Blatter is always seen as something of a laughing stock and it's making FIFA look 'behind the times' by keeping him there. I also agree with your comment on 'sometimes things are said in the heat of the moment'. A high level of racism is still apparent in many countries (outside of football) and whilst this is still apparent you will never get rid of it in football. I am certain that all footballers are aware of their responsibilities as professionals and role models but in the heat of the moment, that can be forgotten. Whatever your opinion of John Terry, I am certain that he is a professional and takes his job very seriously. In addition you can tell that he has a very strong bonds with the rest of the (very multi-cultural) Chelsea squad. I have no doubt that IF he said something which can be regarded as racist to Anton Ferdinand, it was instantly regretted and only said in a reactionary manner and not thought through. If found guilty, punishment should be given in the form of a fine that is given to charity a ban for a small period of time.
Posted 14:11 17th November 2011
Kanna Koopa (Liverpool fan) says...
Wat is wrong with this guy. Even if thats the way he feels, surely he should know not to say that in public. Wat an idiot. How did he manage to keep this job for so long. I wish he made those comments during the World Cup when he was here in South Africa. He would have found out very quickly what the people feel about racism.
Posted 13:55 17th November 2011
Jason Halfpenny (Manchester City fan) says...
I am a white Englishman and Manchester City fan, one who worships Shaun Goater to this very day. One who cried while watching Marc Vivien Foe fall, and one who loved watching Shaun Wright Phillips. This world will never be without hate, racism is part of hate, human nature is to hate aswell as love. I am a supporter of kick it out of sport but I am not naive to think it will ever die out in public. With that said lets not forget many people are quick and easy to use the racism card when it suits and this is a growing trend. Blatter is a dinosaur and that says it all, it has to be kicked out of sport but lets not discount the probability that the race card can be just as easily be used to get someone innicent in trouble.
Posted 13:54 17th November 2011
Paul Collins (Arsenal fan) says...
racism is wrong, kammy is right and blatter should go but cant help but think the likes of paul ince have only got anywhere because of their colour cus hes an average manager at best.
Posted 13:11 17th November 2011
James Bush (Tottenham Hotspur fan) says...
what i dont understand is how and why he is still FIFA president!!! hasnt his his past comments and the corruption that seems rife in world football ENOUGH for other Associations/federations , to say Oi blatter NO and sling him on bike!!!!! I know if the was a federation run by the fans , we would not be in this position .........
Posted 13:00 17th November 2011
Rahul Varma (Manchester United fan) says...
Does anyone outside of FIFA HQ have any confidence that Sepp Blatter is the right man to lead football? Already shown to be corrupt and woefully incompetent, Blatter's views on the women's game, homophobia and racism have no place in 2011. Get. Rid.
Posted 12:49 17th November 2011