When I first heard the news about my good friend Gary Speed my initial reaction was shock. Now the feeling is getting worse; I'm devastated.
I just can't get my head around it.
He was the life and soul of the party, an all-round nice guy who was always smiling. He was a regular guest on Goals on Sunday and we would speak each week on the phone. He was always positive and eagerly looking forward to the next football game.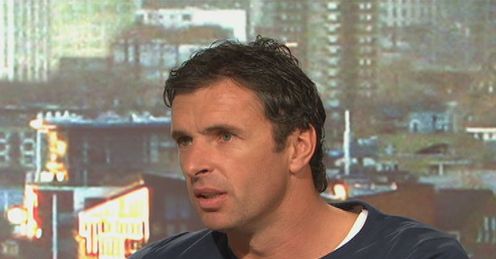 I was lucky to play with Gary at Leeds United and I have fond memories from that time. We had a brilliant dressing room at Elland Road and the two jokers in the pack were David Batty and Gary Speed, the two young boys, always playing pranks.
A fine player
One thing about Speedo was that, even as a young player, he was always a listener and trying to learn from the senior players at the club. He saw how hard we worked in training and carried that throughout his career - that's how he was able to play at the top level longer than most.
None of it makes sense. It just doesn't seem right to be writing someone's obituary who was only 42 and who I spoke to a week ago.
Chris Kamara
Quotes of the week
As a player Gary had virtually everything. The only thing he didn't have was pace, but he more than made up for not being lightning quick with his other attributes. At Leeds our manager Howard Wilkinson put him out on the left wing to make room for the likes of myself, Batty, Vinnie Jones and Gary McAllister but, because of his wonderful stamina, he always wanted to play in central midfield.
When he got that opportunity, after leaving Leeds, he flourished. He was a great team player with a magnificent leap, great technique and he was also a good tackler.
An inspiration
As a manager he was really starting to build his reputation with Wales after his time with Sheffield United. He thought he was too young to become an international manager when actually he wasn't because Wales were developing a very young squad when he took over. Many of the old guard were retiring and the new breed was coming through.
Those young players looked up to Gary. They'd watched him for years and years, playing in the top flight and proudly playing for Wales. The thing about Gary was that, even though he played for top teams, he was always committed to Wales. The national team wasn't the most glamorous team to play for at the time but he always turned up, never pulled out and would even play with injuries for his country.
As a manager he fitted perfectly with Wales. He had so much to look forward to with that team and he told me he was looking forward to qualifying for the World Cup and becoming the most successful Wales coach ever.
None of it makes sense now. It just doesn't seem right to be writing someone's obituary who was only 42 and who I spoke to a week ago.
But the grief I'm feeling for a great friend can't be anything like what his family is feeling. I'd like to send my best wishes to them.
Comments (11)
Chris E (Cardiff City fan) says...
Really cannot get to grips with this. Its like a very good friend has died. We were so excited down here to see the fantastic work he was doing with the Wales team. Cannot believe he's gone. Thoughts are with his family as this must be horrific for them. RIP Gary. A true legend.
Posted 13:05 1st December 2011
Norm Lockett (Leeds United fan) says...
Truly devastating for so many people, I find this so hard to believe. He gave so much pleasure to so many people, my favourite memory was watching the Leeds midfield of Speed, Batty, Strachan, and Macallister back in the 90's. RIP Gary you will always be remembered.
Posted 10:20 30th November 2011
Tim Wainwright (Leeds United fan) says...
nice words chris , i didn't miss many games while gary speed was playing for leeds and the memories him and his team mates gave me & thousands of others will never be forgotten , i just wish i could tell him that , he's left a big hole in the world ...... rest in peace gary speed
Posted 08:59 30th November 2011
Ricky Davies (Manchester United fan) says...
had the pleasure to meet Gary a few times when i was a kid as he had friends in the area, even back then he was a legend, a pure inspiration. he always had a smile on his face, will be missed, my thoughts are with his family
Posted 06:53 30th November 2011
Kevin G (Liverpool fan) says...
Gary Speed was a man you could feel proud to call a fellow Welshman, showing all the qualities that so many of us try to show every day with such ease, because being a dignified, intelligent and respectful man came so easy to him. A true gentleman. A man people of any colour, creed or nationality could look up to. He showed an appreciation for his football career that we all wish so many more players would show these days. A reliable, honest and committed player, qualities which he took into his Management job with Wales. The future was looking so bright for Wales under his leadership. But the real loss is to his family, my deepest sympathies to them. Rest in peace, Speedo.
Posted 23:22 29th November 2011
Michael-robert Reid (Torquay United fan) says...
Hi Kammy. As soon as I heard about Gary Speed I just broke down in tears. I am Welsh and I was immensely proud of Gary's achievements - both as a player and he was doing a brilliant job as Wales Manager. Like so many people, I am very depressed and can't comprehend just what has happened. Gary Speed was so loved and respected by those who knew him or watched him playing for his clubs or country. He always gave 100% and was the ultimate football professional. I watched the great man play for Wales on numerous occasions - and I am sure that he was going to achieve great things as Wales Manager. I've been looking through the picture galleries of Gary Speed and the one picture that stands out above all others is the picture of him receiving an award for playing his 400th match from Sir Bobby Robson. Such an iconic photo. My love and deepest sympathy goes out to Gary's family, friends, footballer friends - and millions of fans who watched him grace our football grounds. I would like to give a special mention to your colleague, Bryn Law - as he had me in tears yesterday when he did his tribute to his dear friend Gary Speed - it was very brave of Bryn. No shame in crying at all. God bless Gary Speed. xxx
Posted 12:02 29th November 2011
Dennis Cunningham (Newcastle United fan) says...
Gary Speed was a perfect professional & one of the best allround midfielders I have ever seen.
Posted 20:28 28th November 2011
Jeff Ewart (Leeds United fan) says...
What a gent, i had the pleasure of meeting Gary Speed on numerous occasions whilst visiting Elland Road. he went out of his way to meet my daughters and was a pure gentleman. RIP Speedo Legend
Posted 18:22 28th November 2011
Patrick Mcguigan (Leeds United fan) says...
As a Leeds fan for many years I always followed Gary's career at the many clubs he joined after Leeds, I thought he was a magnificent player his stamina in midfield was superb, and what a header of the ball you would almost think he had springs in his heels. Gary Speed would without doubt be held in the same esteem as all the Leeds greats, such as Lorimer, Bremner, Clarke, Giles etc, Even though i didn't know Gary personally he came across as a truly level headed and nice person in comparison to some of the spoilt Premier League players we have to witness week in and week out. RIP Speedo a true great!
Posted 15:57 28th November 2011
Richard Jones (Arsenal fan) says...
Am still in a state of shock by this. Gary Speed was one of the men in football that whenever he talked i would always listen as i valued his opinion on football hugely. Growing up he was always a player i enjoyed to watch and i was looking forward to seeing where his managerial career would take him. My deepest condolences go out to his family and friends. I hope you can all take pride in the fact that he has been so well spoken about by his fellow professionals and even the man on the street that never met him. R.I.P Speedo
Posted 14:46 28th November 2011
Barry Monaghan (Leeds United fan) says...
I met Gary while he was at Leeds United on three occasions and each time he was a thorough gentleman, interested in those he spoke to and a marvellous ambassador for the club. I cannot understand any of this- condolences to his family & friends- thanks Gary for everything you did for LUFC. R.I.P
Posted 12:45 28th November 2011