Every Saturday afternoon, Chris Kamara heads to stadiums up and down the country to deliver his unique match reports for Soccer Saturday.
On Sundays you can see him back in the Sky Sports studios as he brings you all of the highlights as well as in-depth analysis of all the action on Goals on Sunday.
And then on Mondays you can find Kammy right here on skysports.com as he brings you his views on the weekend.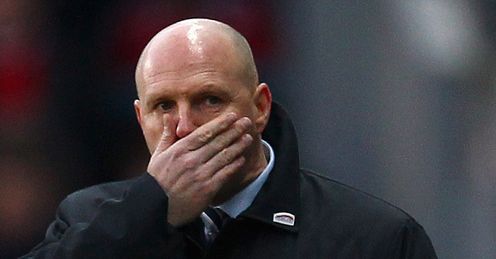 Join us every week as he runs through his highs and lows of the Premier League...
It's a worrying time for Bolton
I was disappointed with Bolton at Fulham. When they conceded the first goal all their confidence drained away, but even though you never felt they were going to score, they kept going and kept working. I still think they have too many good players to go down, but for the first time on Saturday I saw a few cracks. A few players were arguing with each other and there was a bit of dissent among the ranks.
Steve Kean's position has almost become untenable
Blackburn v Bolton is going to be an incredible game. It will send neither team down - and I think Owen Coyle will survive no matter what - but it will be very difficult for Steve Kean if Blackburn lose that. The fan protests are helping nobody and we said on Goals on Sunday he probably needs a miracle. I don't think he's got one and I wonder how long he will personally want to put up with all the abuse. Maybe for the benefit of the football club he should think about walking away from all that tension and pressure? I think the players want to play for him, but some players didn't do enough against West Brom. The Baggies scored two wonderful goals, but I'm sure some Rovers players will wish they could turn back the clock and work a little bit harder to stop those moves unfolding.
A penalty was suffice when Jonathan Woodgate tripped Matt Jarvis
My honest opinion was that Woodgate made a genuine attempt to get the ball and a penalty was enough punishment. We don't want to see players getting sent off. The only problem there was the inconsistency of it all. The week before Younes Kaboul made an innocuous challenge and he got a second yellow card and maybe if Woodgate had made the challenge outside the box it would have been a booking. You can understand why Mick McCarthy thought he should have got a yellow; if Stoke were 1-0 down with just 10 men the whole game would be different. A great result for Stoke though.
90 per cent of handballs inside the box are not "deliberate"
Ben Shephard didn't believe me when I first told him that, but I think he's coming around to my way of thinking. You see occasional instances when players deliberately flick the ball away from an attacker's head, but most handballs in the area are not deliberate. We saw it with Micah Richards and Branislav Ivanovic this weekend and also with Joleon Lescott last Monday night. His arms were above his head, but how could he possibly know the shot was going to be high? The idea of deliberate handball in the laws of the game is complete nonsense. The law should be clarified to state that if the ball is stopped on its path by the hand or the arm then the defender should be penalised.
Manchester City are a totally different team to what they were last season
I don't know if the players have put forward their angle on things, but this season they are much more offensive than they were. They needed to be against Arsenal because you wouldn't want to sit back and let them dominate things. Their tactics were spot on and it was great to see two heavyweights going at it. Arsenal are by no means a spent force, but I agree with Arsene Wenger that it will be very hard for them to win the title from the position they're in. You'd have to say their priority is finishing inside the top four.
Manchester United don't have enough squad depth
That's as plain as the nose on your face and Sir Alex Ferguson seems to be making enough noises to tell the owners they need to spend some money. The injuries keep piling up and they need to bring in people to help them out. He has said he won't make signings in January - and who am I to question what he's got to say - but if I was a Man United supporter I'd be concerned by City's ability to top up what they've got and kick on at the top. United need to remain competitive with their rivals.
Is Petr Cech the same goalkeeper he was a few years ago?
Maybe Saturday's game with Wigan was a one-off. I noticed he did an article about his head injury in Saturday's newspapers, so maybe that was on his mind, but we saw him come out for the ball with his feet, which you don't normally see goalkeepers do and then at the end of the game he came for another one and took his eye off the ball, costing them a goal. I think you have to give him the benefit of the doubt because he's played a lot of games since that head injury, but on Saturday it looked like it was affecting him subconsciously. I think we have to keep an eye on that in the future.
It was another great weekend for Swansea and Norwich
Before their defeat at Man City you'd have to say that Newcastle were the team of the season, but Swansea have gone up there and got an away draw, which is worth its weight in gold in the Premier League. They don't score many, but if they can win some home games that's all they need. Norwich are also defying the odds, drawing at Everton, but that's not a surprise any more. There seems to be an acceptance that the Canaries are a decent team.
Comments (6)
David Moore (Newcastle United fan) says...
Great article as usual. I actually disgussed the handball situation today at work. I am of the opinion that if the ball hits a defenders hand in the penalty box its handball. The amount of times i've gone to matches and seen defenders get away with throwing themselves at the ball and blockin shots intentionally or otherwise with their hands, or stopping crosses with their arms is incredible. if the ball doesn't hit their hand or arm it goes past them, surely then handball? Handball is explicitly prohibtied prohibited in the rules. When it occurs outside the box the referee automatically signals for a free kick. I've played central defence and have given away a couple of penalties this way, and yet no one seems to congradulate the attacker for good play. Pundits fight tooth and nail for clarity on the offside issue, yet introduce terms like 'accidental handball' or 'unintentional strike on the arm', and make a referees job much harder. Its like the 2 yellow card = red card rule. Them are the laws, and the only reason they are being debated is because players are getting away with breaking them.
Posted 04:49 20th December 2011
Declan Sweeney (Manchester United fan) says...
Ivanovic was a dleeberate hand ball,his hand was away from his body and he brought it to infront of his body to stop the ball and it came from 3 or 4 yards away from him.I wondering what your point about Woodgate i tought he was subituted after he conceded the penalty,i am not sure was he booked for it or not.
Posted 17:36 19th December 2011
Harry Taylor (Blackburn Rovers fan) says...
Kean has to go before its to late and if he resigns or gets sacked we have more chance of staying up or top half
Posted 16:12 19th December 2011
Len Rigby (Blackburn Rovers fan) says...
I agree with Chris Kamara re Steve Kean's position now having become untenable. I believe he has reached the point of no return, having now lost the support of the local newspaper to add to his woes. He has probably done his best but his naivety of managemnet and terrible run of results speak for themselves. His family life must be awful and I believe it would be better for his personal well-being to resign and leave with at least a little dignity. I also perceived on Saturday that some players were also beginning to feel the strain and perhaps it needs two or three of the senior squad to meet with Mr Kean and suggest the time has come for him to fall on his own sword for the benefit of the team and the club. In addition, the Indian owners of the club need to take a hard look at themselves and start to run the club in a proper manner, otherwise it may be too late to escape relegation no matter who the next manager may be.
Posted 13:50 19th December 2011
Max Bray (Chelsea fan) says...
Kammy although I do agree with you that Cech isn't the keeper he used to be, would you not agree that AVB's substitutions were far more at fault for our draw than Cech's mistake? When do you think Chelsea managers will realise that Kalou, Mikel and Malouda shouldn't be making the Stevenage squads, let alone Chelsea. Unbelievable
Posted 13:39 19th December 2011
Mark Lewis (Aston Villa fan) says...
I think Steve Kean needs to be removed. I am a season ticket holder and you can see the anger building. He is either inept or unlucky, either way not the kind of manager you want to see in charge. For the first time this season the players looked bereft of confidence and will. It is only going to take a small spark and there will be a serious incident there as fans anger is reaching bioling point. In the last two home matches some fans have been forcibly removed (not all Rovers ones), but the tension is building palpably. But who would want to come to Rovers having seen the abuse that Kean is getting? If there is no money then the team will be in the championship next season. It needs decisive action now, not something that goes with the current owners, manager and senior staff. Rovers are too slow in attack, the first 5 passes would look more at home on a rugby field, by which time the opposition are re-organised adn Rovers aren't good enough to break them down. Olsson, Hoilett and Samba could all be gone by next season, after which you are left with former glories and unreasonable expectations on kids - sounds like the Wolves/Bhatti brothers days of the eighties doesn't it?
Posted 12:08 19th December 2011